Need help writing some birthday wishes for a husband? Not sure the best way to say 'Happy Birthday Husband' to your other half? Can't find the perfect words to show how you feel?
Don't worry, we've all been there.
You would think that coming up with a birthday message for your husband would be simple, right? You know him better than almost anyone, you've probably been together for years. So writing a sweet or funny message to say happy birthday hubby shouldn't be tricky.
But yes, thinking up or writing a birthday message for your husband is tough. Maybe more so than you would have thought. We can help though!
We've put together a definitive list of all the top birthday sentiments, quotes and greetings you could want. So if you're struggling to come up with lovely or touching birthday wishes for your husband then these example messages and quotes should help you to say 'Happy Birthday My Husband!' in the best way.
Birthday Quotes for Husband
Happy Birthday to a truly wonderful man. Have a great day!
To the guy who lights up my world, have an amazing birthday. Love you!
Happy Birthday to the best husband in the world
To my partner in crime and love of my life, hoping you have a brilliant birthday
Loving you is easy. Happy Birthday hubby
After all these years you still make my heart skip a beat. Happy Birthday to an incredible husband
Happy birthday to the kindest and most thoughtful husband
I cherish every moment we spend together, and I can't wait to spend another year with you. Happy birthday my husband
Through thick and thin you've been there for me. I couldn't have dreamed of finding a better husband. Happy birthday hubby
I appreciate everyone you've done for me and the family. Happy Birthday and thank you
Words won't be enough to say how much I love you. Wishing you a wonderful birthday.
To the best dad and husband, the man I get to share my life with and who makes me truly happy – have an amazing birthday
I can't imagine a world without you in it. Thank you for being such a wonderful husband. Happy birthday
We make a great couple, and I'm so pleased to have spent another year with my soul mate. Here's to many more. Happy birthday my husband
I feel so blessed to have found true love and a husband who makes my life complete. Thank you for everything. Happy birthday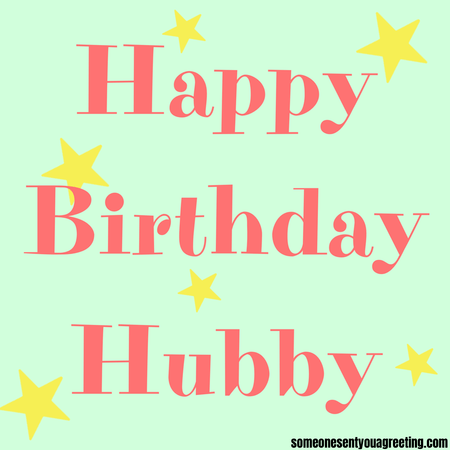 Funny Birthday Wishes for Husband
A good marriage is built on laughter and fun. So what better way to celebrate your husbands birthday than by making him laugh! Use one of these hilarious messages and put a big birthday smile on his face.
Happy birthday to my amazing husband. Just remember – I'm the best thing that ever happened to you!
Happy birthday! I love you more than I love chocolate and wine! (and that's a lot!)
You're the most annoying man on the planet and stress me every day. So obviously I married and sadly in love with you! Happy Birthday
Happy birthday from the woman who endures your farts and still loves you
For some reason when I go shopping for you I end up finding more gifts for myself. Your bury data are really expensive but you're worth it
You're getting a bit too old to hit the town and party.. but thankfully I'm still young enough, so I'll see you tomorrow morning!
Happy birthday hubby! Tonight we're going to party like the rockstars we are. And when I say party I mean lay around in our PJ's and watch TV
You are, without a doubt, my most favourite husband.. so far
Happy birthday! Nobody else would take you, so I guess I'd better plan for a lifetime together!
Happy birthday, husband. You may be getting older but look on the bright side. You have a beautiful and wonderful wife to keep you company as you age!
Happy birthday you grumpy old git!
You're such an amazing guy I decided to get you something you've been asking for all year. Me!… not spending any money. Happy birthday
Happy birthday to the guy I love. There is nobody else I would rather argue with over nothing!
Happy birthday! Like fine wine we get better with age… or rather we feel better about our age with lots of wine!
Sometimes I look at you and think… you're a lucky man! Happy birthday
Happy birthday to the person I want to grow old and cranky with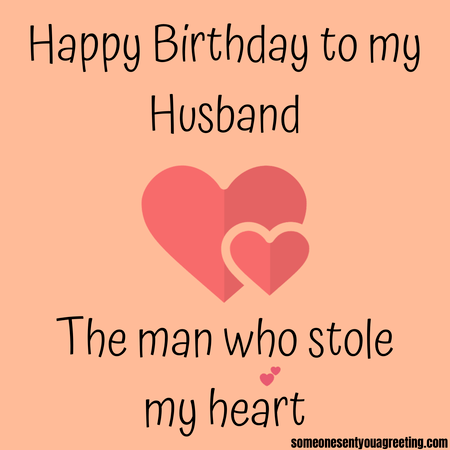 Sweet Happy Birthday Messages for Husband
Sometimes you want to share with your hubby just how much he means to you. Maybe letting him know how special he is. A perfect time is on his birthday. So use one of these sweet messages to really express your feelings and show him how important he is to you.
You make me happy and all my dreams come true. I'm so happy I get to send my life with you. Wishing my wonderful husband a fantastic birthday
You've brought joy and laughter to my life. Thank you for the years of happiness. Happy birthday and Here's to many more
To the sweetest husband a girl could get. Marrying you was a dream come true. Happy birthday
When I think of you my heart smiles. I love you so much. Happy birthday honey
We're two peas in a pod, perfectly suited and made for each other. I'm blessed to have you. Happy birthday my husband
I'm so grateful to have you in my life. Happy birthday my darling husband
I never thought husbands like you could exist outside of fairly tales. But seems do come true. Happy birthday
Life has become so perfect with you by my side. I love growing old with you. Happy birthday
Thank you for being the sweetest man alive. Have a great birthday
You're my perfect partner, the ideal companion and the one who knows me best. I love you more as time goes by and am so happy to celebrate this birthday with you
Happy birthday honey. You're one in a million
When I'm in your arms I feel safe and like nothing can hurt me. I thank you for giving me that comfort. Enjoy your birthday
Happy birthday my darling husband. May all your birthday dreams come true
Every moment we're together brings me untold happiness. I will be eternally grateful for your love. Happy birthday
Forever in my heart and always on my mind. Happy birthday to the man who brought meaning to my life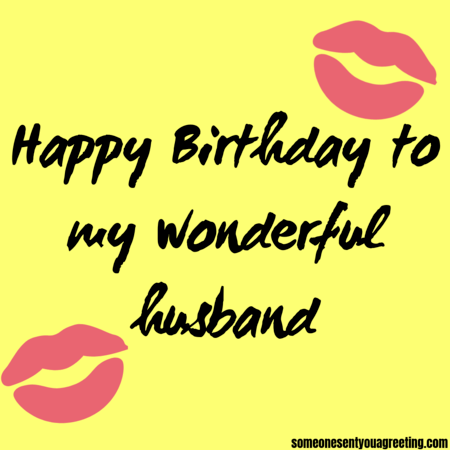 Romantic Birthday Messages
Romance certainly shouldn't be avoided on birthdays. Whilst they're probably better known for parties and gifts, keeping the romance alive in a marriage is important. So why not send your hubby a card with a romantic message, wishing him not only a happy birthday but declaring how much you love him.
I'm the luckiest woman in the world and marrying you was the best thing that ever happened to me. To my dearest husband – have a wonderful birthday
I think of you constantly, miss you when we're apart and love every minute we're together. Happy birthday to my wonderful husband
You always were and still are the man of my dreams. Thank you for making my world complete. Happy birthday honey
The day we got married was the happiest day of my life. I became the the luckiest woman in the world and continue to be day we're together. Happy birthday darling
Happy birthday to my love, my life, my best friend, my soulmate, my one and only.
You still take my breath away every day. Happy birthday to the most incredible husband
When I was at my lowest you came into my life and saved me. From then on we've been inseparable and I've cherished every second of us together. Thank you for being my light and rock. Happy birthday
I still look at you and see the most handsome, caring and truly amazing man that I married all those years ago. Happy birthday hubby
To my husband, the man who stole my heart – happy birthday
I love you with all my heart. You're a wonderful man and I'm truly lucky to have you. Happy birthday
I can't find the words to describe how much I love you. Just know that it's beyond words and will last forever. Happy birthday to the man of my dreams
Every day I discover a new reason to love you. And every day I love you a little bit more. Happy birthday hubby
To my one true love – you've made the happiest woman alive. I hope I make you half as happy as you do to me. Have a special birthday
To the man who turned my world upside down and showed me what true happiness is, happy birthday
We've had so many great years together but still have many more to come. I can't wait to spend the rest of my life with you. Happy birthday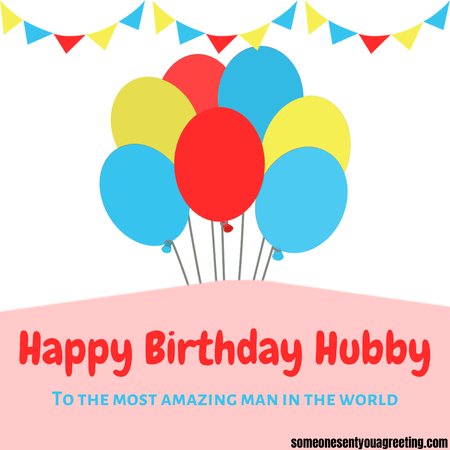 Long Distance Birthday Wishes
I miss you so much and wish I could be there with you. Happy Birthday and I'll see you soon
We may be miles apart but you'll always be in my heart. Happy birthday to my amazing hubby
To my wonderful husband – I miss you more than words can say, and on your birthday I wish we could be together. But until then know how much I love you
How I wish I was in your arms and we could celebrate your birthday together. But we will see each other soon. Until then happy birthday honey
I hope you can wait a little longer for your gift! I'll be home soon and promise you it'll be worth it. Happy birthday
Distance keeps us from enjoying your birthday together but I'll always have you in my heart. Happy birthday dearest hubby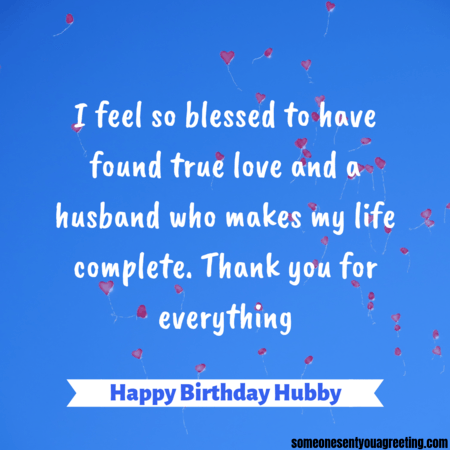 Hopefully the birthday wishes here should help you wish your husband a happy birthday and let him know just how much you care for him.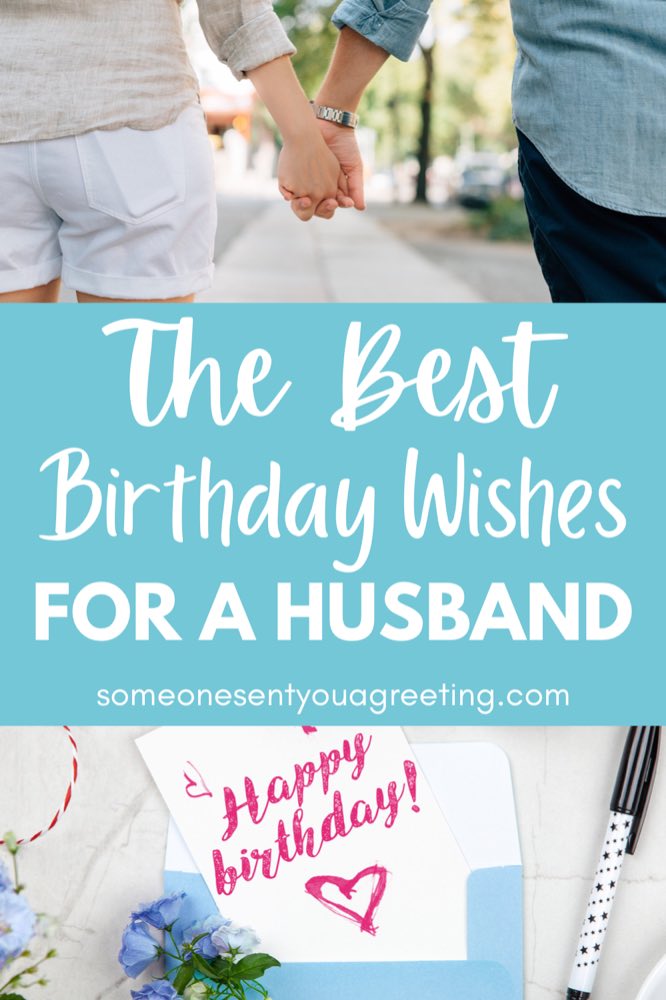 Enjoyed this post? Don't forget to share on Pinterest, Facebook or Twitter!