When we lose a loved one we experience real sadness and grief. During these times of loss we look to friends and family for support.
But finding the right words to show how much you appreciate all they did to help isn't easy. How do you say thank you for your support during our time of loss?
If you're struggling to come up with the best way to say thank you for the help during such a tough time then these example thank you messages should help.
Thank You for your Support During Our Time of Loss Messages
Say thank you to anyone who has been there for and offered you their supporting during a time of loss with these thank you messages and notes.
Thank you for the amazing support you showed us as we dealt with our loss. We appreciate it so much.
When we needed help the most you were there. We are so very grateful and can't thank you enough for your support over the last few months.
I can't tell you how grateful I am to have someone like you in my life. You have supported me through the hardest times and I don't know what I would have done without you. Thank you, it means more than I can say.
Many thanks for your support as we coped with losing a loved one. It had been incredibly difficult but with the love of friends like you it has been made easier.
It has been a real comfort to know that people like you have are there for us as we grieve. Losing someone is always going to be hard but it is easier to get through with the help of those around you. It's why we are so grateful and wanted to thank you for everything.
When you are grieving and hurting it makes a huge difference to know that there are people out there thinking of you. Thank you for your support and for making us feel like we aren't alone.
Know that we are forever thankful for your amazing support during our time of loss. You understood what we were facing and made sure we weren't alone. Thank you, it has been so helpful.
We have felt supported and like we weren't alone as we went through this tragic experience. You offered us comfort and strength to face each day with your continuous support and we are eternally thankful.
The sorrow and sadness that has engulfed us is hard to explain but your loving presence and warmth helped so much. We wanted to express our gratitude and say how we would have been lost without your support.
Amongst the darkness you brought much needed light. I doubt I could have found my way through the grief without you. Thank you for the kindness and patience you showed.
READ MORE: Sympathy Messages for Someone you Don't Know Well
Condolence Thank You Messages for Friends
Friends are usually there for each other during the hard times. These messages say thank you to the friends who gave supported you through the loss of a loved one.
I can't quite describe how important you and your support have been. You reached out without my asking and made sure I was coping. It's the support of friends like you that I've got through this and for that I'm truly grateful.
Please know that you have my unending gratitude for your support after the death of my loved one. I feel so fortunate to have friends like you that have been there for me throughout such a challenging time.
You were there with kindness and sympathy to offer us comfort when we were struggling. It's friends like you that make us realize how lucky we are. Thank you.
With all our love and thanks. You made one of the hardest things we've had to go through was made more bearable by your support.
We always need friends when times are hard, and you are always there. This has been so difficult for all of us but with friends like you we have weathered the worst of the storm.
Through thick and thin you have been there. So it's no surprise you made time for us when we lost our mom. Acing someone to talk to and that could just listen when we were struggling was so important. We really cannot thank you enough.
You really showed you understood what it was like to lose someone. That insight and ability to empathize proved to be exactly what I needed. Thank you for your wonderful help and support.
I was deeply moved by how much you showed you care. I felt your love and your understanding as you were there for me after losing my dad. I'm so grateful and can't express my thanks enough.
Thank you for thinking of us and being there with the kindness we've come to expect from you. Getting through these times of loss is less daunting when you have friends by your side.
You are a true friend and you always come through when I need you. This has been no exception and the way you made time for me and offered so much help was just the support I needed. Thank you.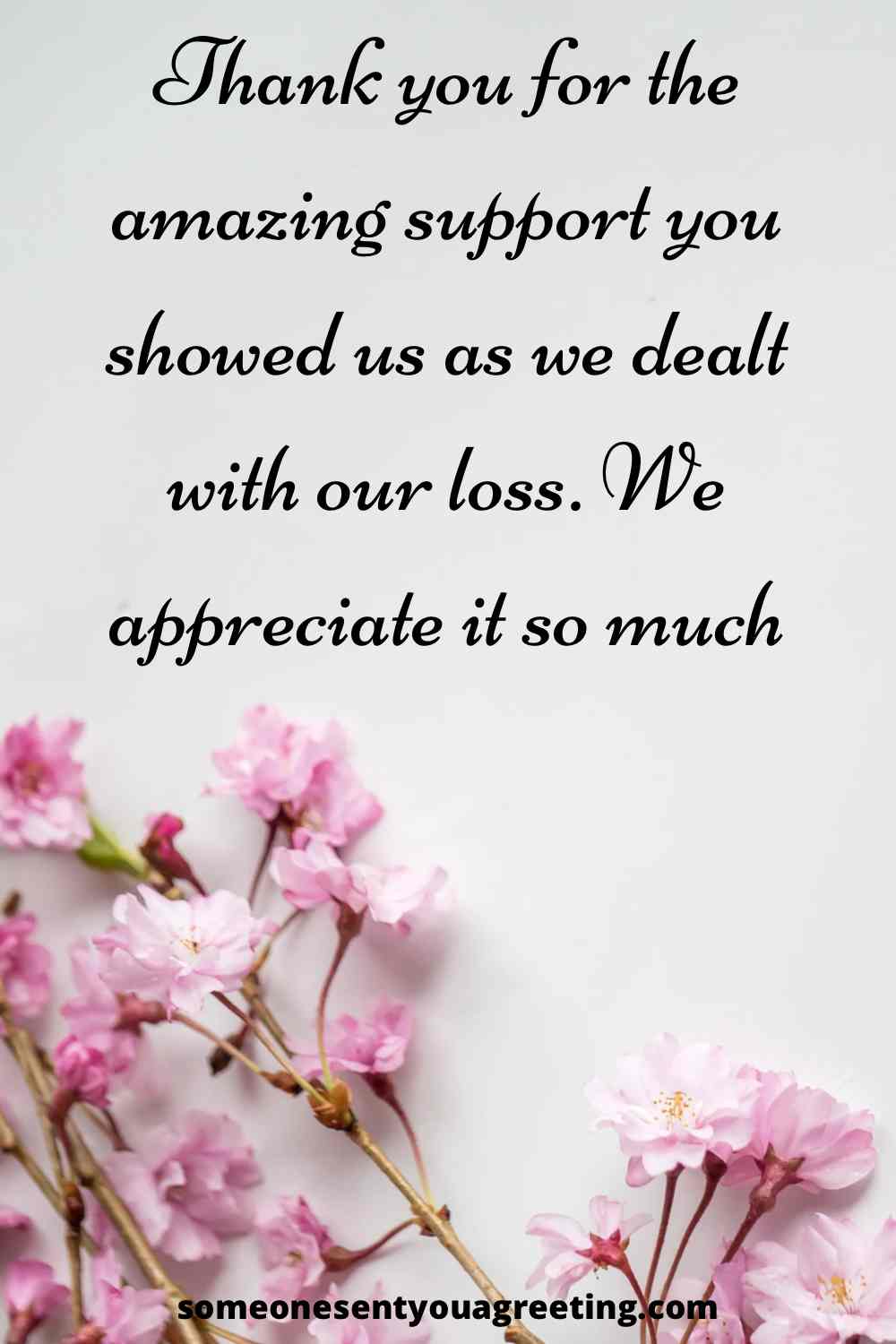 READ MORE: Words of Sympathy for Loss of Mother
Sympathy Thank You Notes to Coworkers
If a coworker has gone out of their way to support you after losing someone then thank them with these messages.
Thank you for sending your condolences. It was very touching for you to think of us.
Knowing everyone at work is thinking of us is lovely and we really appreciate you reaching out. Thank you.
Thank you for the card and gift after our loss. It was very moving to receive such a kind gesture.
We were touched by your message of support after our loss. Knowing colleagues were thinking of us was a real comfort.
I feel very fortunate to have coworkers like you who made the effort to offer me comfort and support when I needed it. Thank you ever so much.
Through the sorrow your kindness shone. I'm very thankful and wanted to say that it meant a lot to me.
It was a very welcome surprise to receive the flowers from you. We appreciate the gesture and thank you for keeping us in your thoughts during this difficult time.
It was very moving to see so many colleagues showing their support. It feels like such a family at work and this only reinforces that feeling. Thank you to everyone.
I was expecting the show of support and sympathy from a coworker that I'm not that close to but you really made me feel how much you cared. Thank you.
We really appreciate all the messages we've received and the outpouring of support. It has helped us as we face grieved. Many thanks.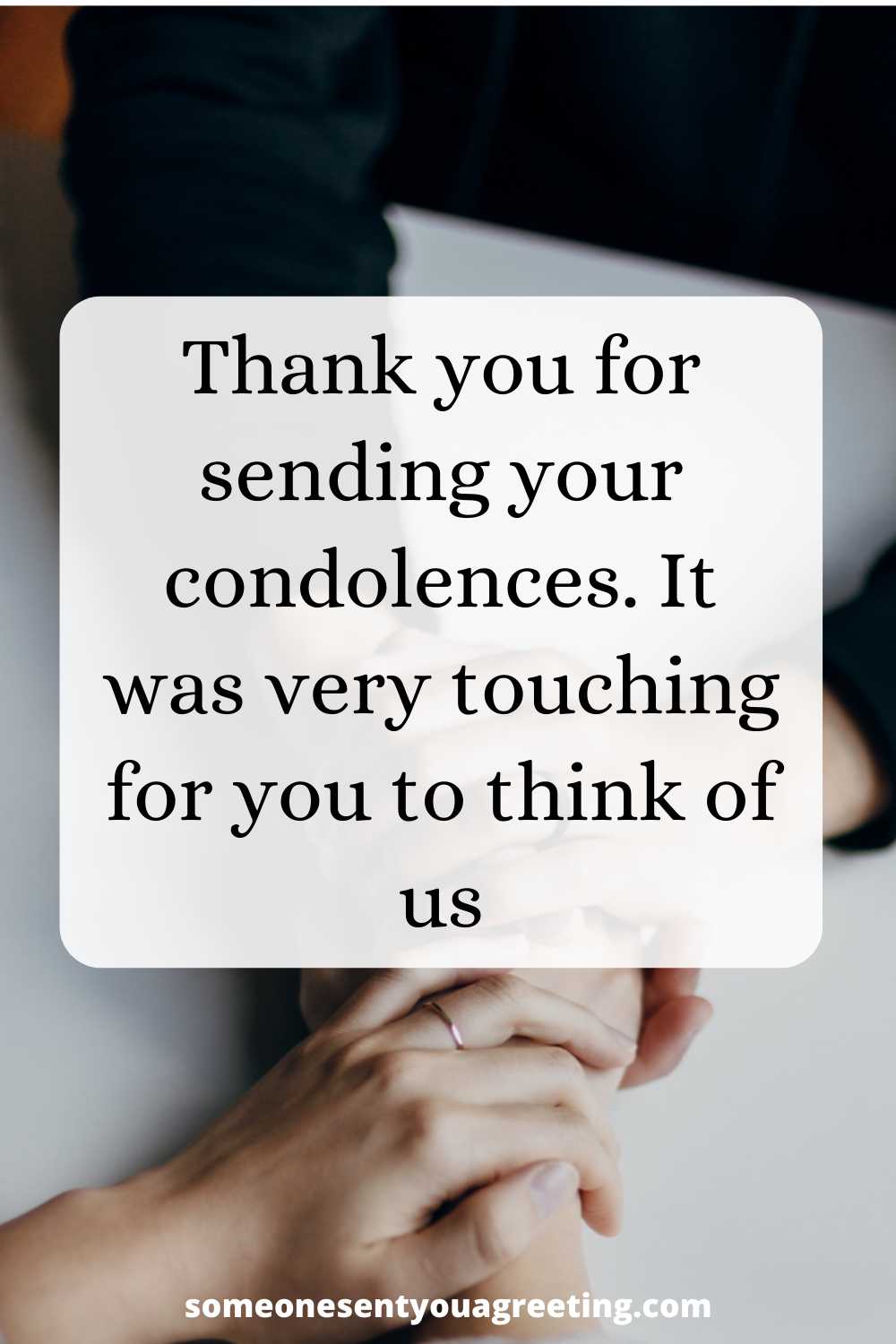 READ MORE: What to Write in a Sympathy Card
Thank You Messages After a Death
Thank you for the sympathy and kindness you have shown us.
We are truly grateful to friends like you during this tragic time.
Thank you for your thoughts and prayers at this difficult time. They mean a lot to us.
With our love and thanks for all your support.
Thank you for your sympathy card. We were very touched by your thinking of us.
Your condolences were very warmly received and we appreciated you thinking of us.
As we've dealt with a terrible loss we have been given comfort by the expressions of sympathy we've received. Thank you for your thoughts.
Thank you for being there with us at this difficult time in our lives.
It was a real comfort to have your sympathy and prayers. Thank you.
READ MORE: The Best Ways to Say 'Thank You for your Support'
We hope these messages to say thank you for your support during our time of loss have helped you to find the right words to express your gratitude. When you are dealing with the loss of a loved one having the support of people is essential to getting through, so thanking them is the least you can do.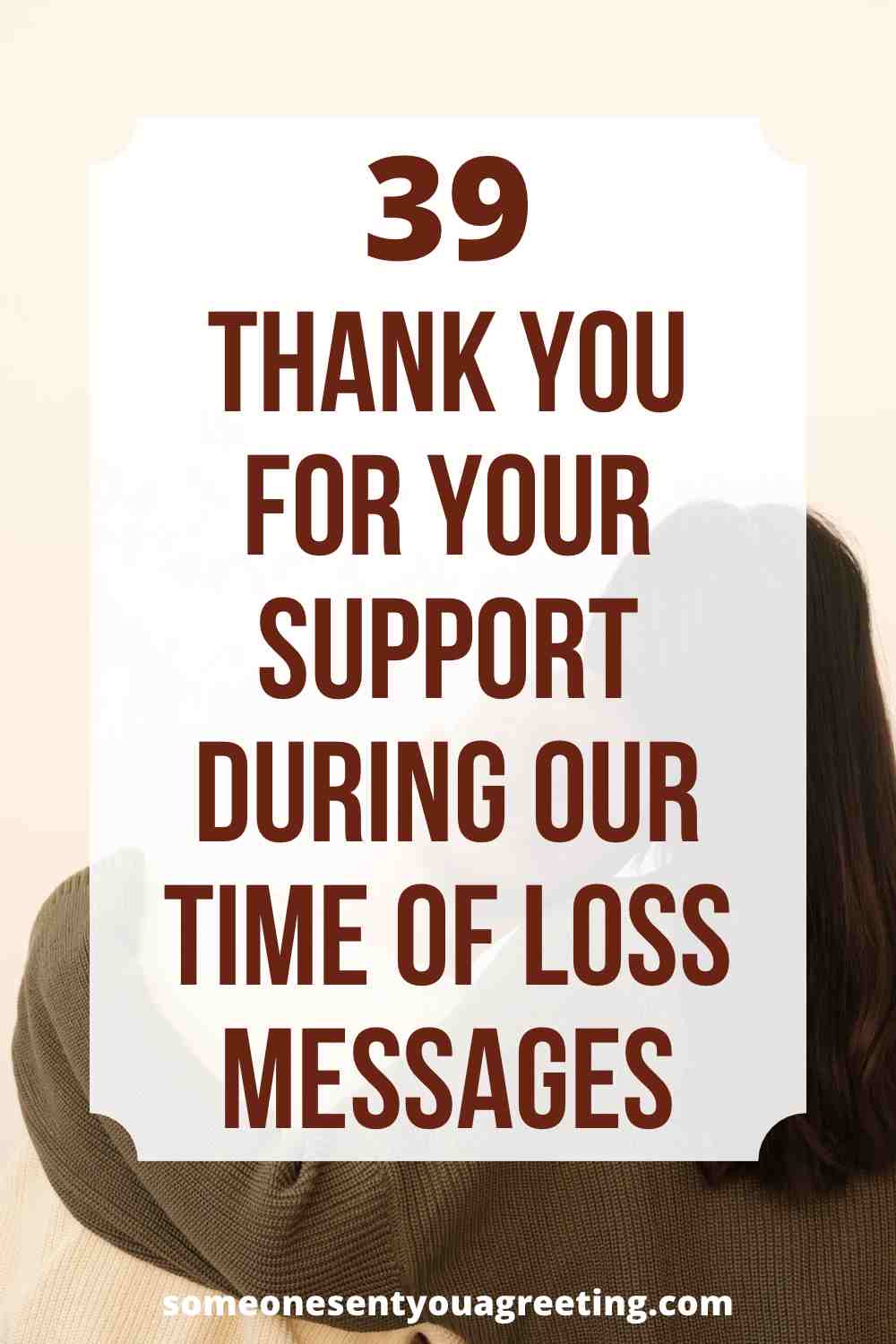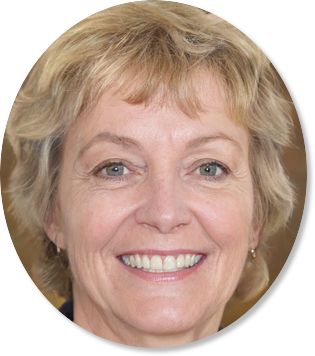 Sally Gibson is the founder of Someone Sent you a Greeting, a holiday/celebration website. Sally's writing work has been mentioned in Woman's World, Yahoo, Women's Health, MSN and more. If you have any questions get in contact with one of the team via the about page.