When it's your boyfriends birthday you will probably be planning something special. Maybe a big party or special gift. But alongside all the big events and celebrations you won't want to forget wishing him a Happy Birthday.
You might want to do it in person or through a Birthday card. Whichever you choose a touching, cute or funny message is a great way to let your boyfriend know you're thinking of him on his birthday.
But knowing what to write in a Birthday card for your boyfriend isn't as easy as it sounds. The love and strength of feelings you have towards him might be difficult to express in words. You want to make sure it captures exactly how you feel.
So if you want to say something cute, romantic and funny to your boyfriend, or just wish him a happy birthday, then use one of our collection of boyfriend birthday wishes below. You can use them as they are or change them so they fit your relationship and boyfriend.
Happy Birthday Wishes for your Boyfriend
You might want to just say a simple happy birthday to your boyfriend and let him know you're thinking of him on his big day.
Have a great Birthday honey!
Happy Birthday to the best boyfriend in the world!
I would just like to wish a happy birthday to the most amazing boyfriend ever! You make my life complete.
Each kiss I give you represents the many reasons why I love you. Happy birthday, baby!
Have a very happy birthday from your loving girlfriend. I cherish you more than you know
You get more amazing each year! Happy Birthday to my incredible boyfriend!
I can't stop loving you boy! Have an awesome Birthday
Happy Birthday to my mat favourite person! Here's to a great day!
I want your sweet kisses more than anything in the world. Happy birthday, sweetheart.
Big hugs and Birthday wishes to my special guy!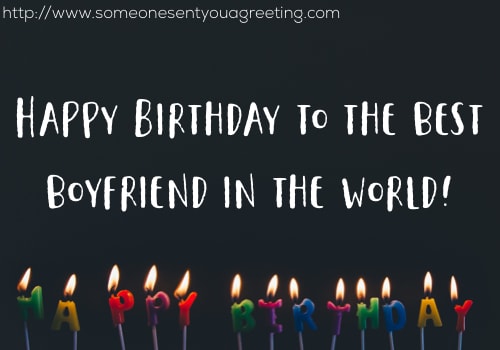 SEE MORE: Happy Birthday Wishes for Niece
Romantic Wishes
You might want to really express your love for your boyfriend and let him know what he means to you. Use these romantic messages and wishes to show your love and how much you care for him.
I could write a thousand words in this card and still not come close to describing my love for you. Thank you for completing my world. Have a great birthday
I feel so blessed you came into my life and continue to make me happier than I ever imagined I could be. Have a wonderful Birthday!
Cold nights spent with you are the most romantic. Happy birthday to my cuddle partner.
A minute apart from you is a lifetime of torture. I love you and happy birthday.
Every day, I reflect on our love and how happy I am with you. Even the darkest moments are made bright at the thought of you. Happy birthday, my boyfriend.
I treasure the moments we share and the love that we have. I pray that our fire never burns out. Wishing you a happy birthday.
I'm seeing roses and butterflies with you next to me. Hold me close and never let go. I want to make this an amazing birthday.
Our love is the gravity that keeps us from drifting apart. It's the glue that keeps us closer than ever. From my heart to yours, happy birthday.
This greeting is meant for a lovely person like you who has filled my life with lots of happiness, love and care
Every time I close my eyes, I feel you next to me. Wishing you were here to hold me. I'm sending my sweetest birthday wishes to you.
I'm always looking for reasons to shower you with love. Today is no exception.
I want your sweet kisses more than anything in the world. Happy birthday, sweetheart.
You are the author of my fondest memories. I love you so much. Wishing you a wonderful birthday.
I was weak, lost and broken before, But everything changed the moment I met you. Thanks for everything, dear. Happy Birthday!
When two hearts are meant to be together, no distance can ever be big enough to separate them. I really love you. Happy Birthday!
I know I don't always say it, but you are my everything. My life would be incomplete without you. On your Birthday, I want to declare my love for you. Happy Birthday baby, I really love you!
Happy Birthday to my hero, who has stood by me in all times. I feel so blessed that you are mine and I am yours.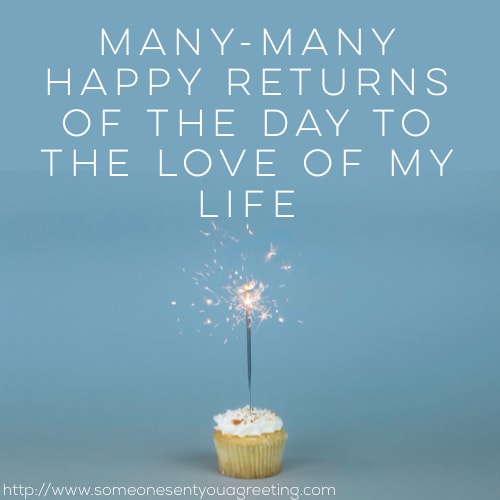 SEE MORE: Love Paragraphs for Him
Cute Wishes
These Birthday wishes are cute and lovely, even a little bit cheeky! You can use them to remind your boyfriend just how great you are together.
Me and you are just like bread and butter, perfect for each other. Happy Birthday!
To my best friend, my soul mate and my partner: Happy Birthday, my love!
On your Birthday, I want to tell you that you aren't really a good boyfriend.. actually you are the best! I couldn't have asked for more. Thank you for walking into my life and enriching it. Wishing you a very Happy Birthday!
You are my moon, my sun, my stars and my universe. Happy Birthday to the best partner in the world.
Many-many happy returns of the day to the love of my life.
Even a Monday feels like a Sunday when I am with you. Yeah, you have that effect on me. Happy Birthday my love!
I feel safe and secure in your arms. It seems no one can hurt me when I am with you. Happy Birthday!
I hope they don't send you to jail for stealing my heart. Happy Birthday!
For your Birthday I bought a big cake, balloons and a present. But there is one thing you will get that's absolutely for free and that's my unconditional love for you.
To the man who makes me go weak at the knees, Happy Birthday!
Today, I give you my heart and soul. Happy Birthday!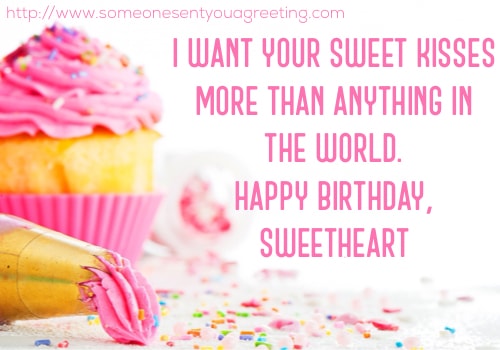 SEE MORE: Happy Birthday Aunt Wishes
Funny Messages
Sometimes you might want to make your boyfriend laugh or gently poke fun at him on his Birthday. A witty message or in-joke can be a great way to make your boyfriend laugh on his birthday. If you want to do this then try one if the funny Birthday wishes below.
Happy birthday to the reason I spend hours trying to look decent every day.
They say it's the thought that counts. So I thought I'd save my money instead of buying you a gift. Best wishes, happy birthday!
One of the best pieces of advice in life is "you have to appreciate the little things". That said, I know that spotting little things is easier said than done at your age! Happy Birthday!
Happy Birthday, Baby. I promise that if I get mad today, I won't take it out on you. I'll wait until tomorrow! Enjoy your special day.
You must have been a really good boy. Karma has brought you to me. Have a really great birthday!
I know that I can be hormonal, but after being your girlfriend, I'm convinced of the possibility that you too have a visit from mother nature every month. Happy Birthday to you
What do you, cheese, wine, and Harrison Ford have in common? They all get tastier and more badass with age! Cheers to another year older! Happy Birthday, boyfriend!
I'm not clingy, I just never want to let you out of my sight… ever! Have a happy birthday, dear!
Congratulations for making it to another birthday!! Do ya feel lucky? Well do ya? Another year older, wiser and… I take that last part back. Another year older!
Congrats, babe! You're officially too old to count all the candles on your birthday cake.
SEE MORE: Happy 70th Birthday Wishes
For Long Distance
If you are in a long distance relationship it can be difficult to know what to say to your boyfriend. Try one of these wishes and messages that sum up your feelings even when you're so far apart.
It's amazing our love grows even with the distance between us. Have a great birthday!
Even through the hardest of times and the miles we are apart our relationship has stood up to it all. Wishing you a wonderful Birthday baby!
If we truly love each other then the distance apart shouldn't matter. Happy birthday!
Even though I am not physically present with you on your special day, but all my prayers are for your happiness and well being. Happy Birthday baby. Enjoy and stay safe!
I can't wait to see you baby! I'm going to give you so many birthday kisses!
The time we've spent apart only makes our love grow stronger. Have a special birthday.
No one could ever replace your place in my heart. I hope you have a wonderful birthday.
I'm going to be thinking of only you on you're birthday. I hope it's everything you dreamed of.
Happy birthday to someone that my heart beats for!
Even though I'm missing your birthday I know we will have many more together. Enjoy yours today though!
SEE MORE: Happy Birthday Beautiful Lady
Hopefully you'll now have found the perfect message to send to your other half, and it'll be all down to our fabulous list of Birthday wishes for boyfriend!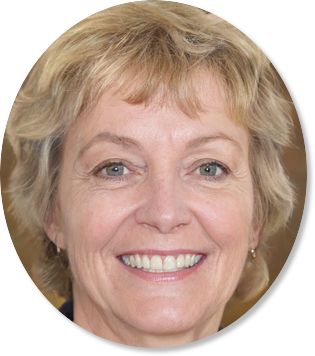 Sally Gibson is the founder of Someone Sent you a Greeting, a holiday/celebration website. Sally's writing work has been mentioned in Woman's World, Yahoo, Women's Health, MSN and more. If you have any questions get in contact with one of the team via the about page.