Funny birthday messages – the best way to give a cheap present? Well you know what they say: laughter is the greatest gift.
Making someone laugh on their birthday is a fantastic thing to do. If you get the opportunity to do so, you'd want to grab that chance. Including a hilarious quote in a birthday card is the perfect way to do this, be it being sent to a friend or family member.
And as most birthday messages are usually pretty boring, a funny birthday wish could be just what the doctor ordered.
So use some of the crazy birthday wishes below in your card or in person and start someone's birthday with a smile!
Be Careful!
The last thing you want to do is offend someone on their big day. So keep in mind the type of person your message is for. If they're the sensitive type or you don't know them that well then it might be best to stick to a regular message.
Funny Birthday Quotes
Happy birthday, you're not getting older you're just a little closer to death.
To the nation's best kept secret; your true age
Birthdays are good for you. Statistics show that people who have the most live the longest!
Money's tight
Times are hard
Here's you friggin birthday card
Growing old is mandatory; growing up is optional.
You always have such fun birthdays; you should have one every year.
So many candles… so little cake.
Happy birthday to a person who is smart, good looking, and funny and reminds me a lot of myself.
We know we're getting old when the only thing we want for our birthday is not to be reminded of it.
Happy birthday on your very special day, I hope that you don't die before you eat your cake.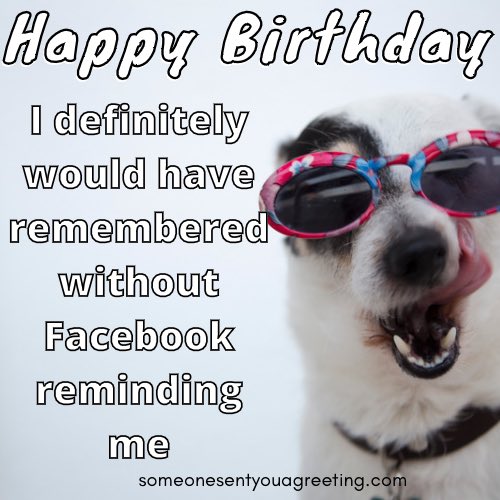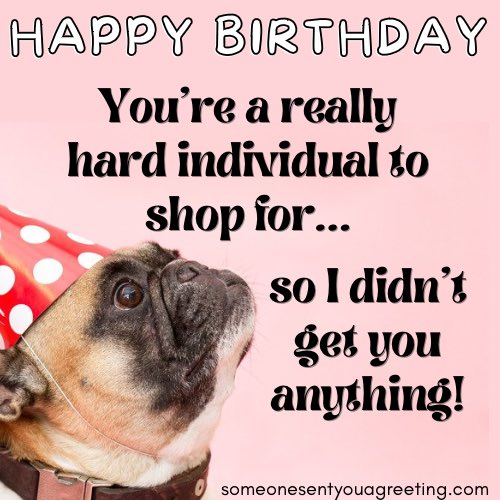 ---
Stop counting the candles and start thinking about your wishes.
You're a hard person to shop for, so I didn't get you anything. Happy birthday.
Wishing you many more candles and a cake big enough to fit them all on.
You're another year older and another year wiser. So put your brain to work and figure out there ain't no gift for you.
Some words of wisdom for your birthday, "Smile while you still have teeth!" Happy birthday you old fart.
You would have loved the gift I didn't bother getting you.
Another year, another new place that aches.
One more year of existence down the drain. Happy birthday!
The only reason you hate your birthday is because people give you odd gifts, scary cards with weird messages in them, and because you're getting older. Anyway, happy birthday!
It's ok to light the candles on your birthday cake now; I've already alerted the fire department.
With age comes wisdom. (You're one of the wisest people I know!)
I was trying to think of what to get you for your birthday but nothing came to mind. So.. enjoy!
SEE MORE: Happy Birthday Wishes for Niece
For Friends
Whether it's your best friend or just someone you know quite well, you're going to want to wish them a happy birthday. With friends you can have a bit more fun – a sarcastic birthday message is perfect for some gentle ribbing.
Great job on another year of not dying! Next year will be harder!
You're not that old! ..for a tree
Two tips on your birthday – Forget the past, you can't change it. Forget the present, I didn't get you one!
I didn't get you anything, mainly because I thought you'd be dead before now
Happy Birthday! I absolutely would have remembered without Facebook reminding me
For Mom
The best way to show your mom you really care? Wish her happy birthday with a really hilarious saying or quote! She'll definitely appreciate it (or not, depending on how savage it is!).
Smart, good looking, and funny. But enough about me. Happy birthday mom!
Don't think of it as getting older mom, think of it as becoming a classic
Happy Birthday, mom! You keep looking young, and I'll keep refusing to tell people how old you really are. Fair?
For your birthday, I wanted to get you something to remind you of your youth, but they were sold out of cave art and dinosaur bones
Relax mum, bingo is the new rock 'n' roll!
SEE MORE: Happy Birthday Aunt Wishes
For Dad
Your dad can take a joke, right? Then these messages are ideal for having some fun on his birthday.
Rounding to the nearest 100.. you are now 100! Happy birthday dad!
Happy [number] Birthday! It's better to be over the hill than buried under it!
Happy Birthday pop! As people get older they tend to forget things more easily. So please do remember to put me in your will
Enjoy your day dad! And if anyone calls you old, hit them with your cane and throw your teeth at them!
You're older. You're wiser. You're sophisticated. You're far too mature to be concerned with material things like presents. Which is good because I forgot to get you one!
SEE MORE: Happy 70th Birthday Wishes
Quotes
Birthdays are like boogers. The more you have, the harder it is to breathe
Is it weird that we're all cheering at regular intervals as your life runs out? Either way, hooray!
It is scientifically proven that people who have more birthdays live longer
As you get older, three things happen. The first thing is your memory goes, and I can't remember the other two
Just remember the more candles on the cake, the bigger the cake you'll get! Now who's laughing?
Birthdays are like cheese. They stink more the older they get
Sayings
Happy Uterus Independence Day
I hope you have a wonderful Umbilical Bungee Anniversary
Happy Womb Emigration Day
What do you always get on your birthday? Another year older!
You're a really hard individual to shop for… so I didn't get you anything. Happy birthday!
Remember that growing old is mandatory, but growing up is optional!
Aging is the worst side effect of birthdays
SEE MORE: Happy Birthday Beautiful Sexy Lady
Well that's it. We hope you enjoyed our selection of funny birthday wishes and have found just the right message to really put a smile on someone's face.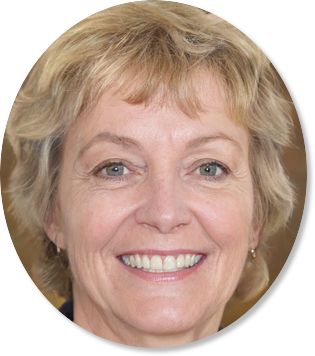 Sally Gibson is the founder of Someone Sent you a Greeting, a holiday/celebration website. Sally's writing work has been mentioned in Woman's World, Yahoo, Women's Health, MSN and more. If you have any questions get in contact with one of the team via the about page.