Throwing a Halloween party is so much fun. But also a lot of work.
It can be stressful trying to bring it all together – the food, decorations, games, and of course the invitations.
Coming up with the perfect wording for your Halloween party invite is essential. Your invitations set the scene for guests, drawing them in by giving them a hint of what's to come.
That's why you want to get the wording just right. And thankfully Halloween gives you lots of options for spooky or funny pun-filled wordings.
So if you're struggling with your Halloween party invitation wording then take a look at the brilliant examples and ideas we've collected here. Or use the tips below for your writing your own invitations.
Invitation Wording Tips
If you'd prefer to write your own invitations rather than using the examples further down then you can follow these tips:
Make sure to include all the necessary details. That means the usual date, time, location etc. But also as it's a Halloween party you need to make it clear what type of costumes (if any) you're expecting. Many Halloween parties require costumes, some are optional and some none at all. Make it clear on your invitations which type yours is to avoid confusion and additional questions from your invited guests
If you're the creative type then you can use the fact that's it's Halloween to really go mad with jokes and puns. Make your invitations funny and interesting with some clever wordplay, but don't let it get in the way of the necessary information an invitation must have – date, time, dress code, location etc.
Make it clear what the situation will be with food and drink. If you require people to bring anything – a bottle of wine, for example – then state that. For families it's important to know if the children are going to be eating a full, proper meal or just sweets and treats so they can plan accordingly. So make it clear what the arrangement will be for food and drink
You want your invitations to stand out, look interesting and most of all be 'inviting'. You're more likely to get more guests attending if the invitation is enticing. In order to really set your invite apart from the rest you need good wording but also a good design. That means some appropriate Halloween imagery – witches, jack o lanterns, spiders etc. Whether you're buying invitation cards, using a eCard or designing your own make it as fun and interesting looking as you can
Halloween Party Invitation Wording Samples
Pumpkins, scarecrows, ghosts and more!
Who will show up at your door?
Halloween's a spooky sensation – come party at our celebration!
Please dress the part
whether creepy or sweet
And we'll gladly serve up
tricks and treats
It could be scary,
It could be full of fright
But you'll never know
If you don't show on Halloween Night
Join us for our spooktacular Party
Double, double toil and trouble
Fire burn and cauldrons bubble
We're celebrating Halloween with a frightfully good party
So come one and all to ghouls and ghosts
The Jones Family are your spooky hosts
You're in for a real fright
as the witching hour draws near
Join us to celebrate the scariest
Night of the year!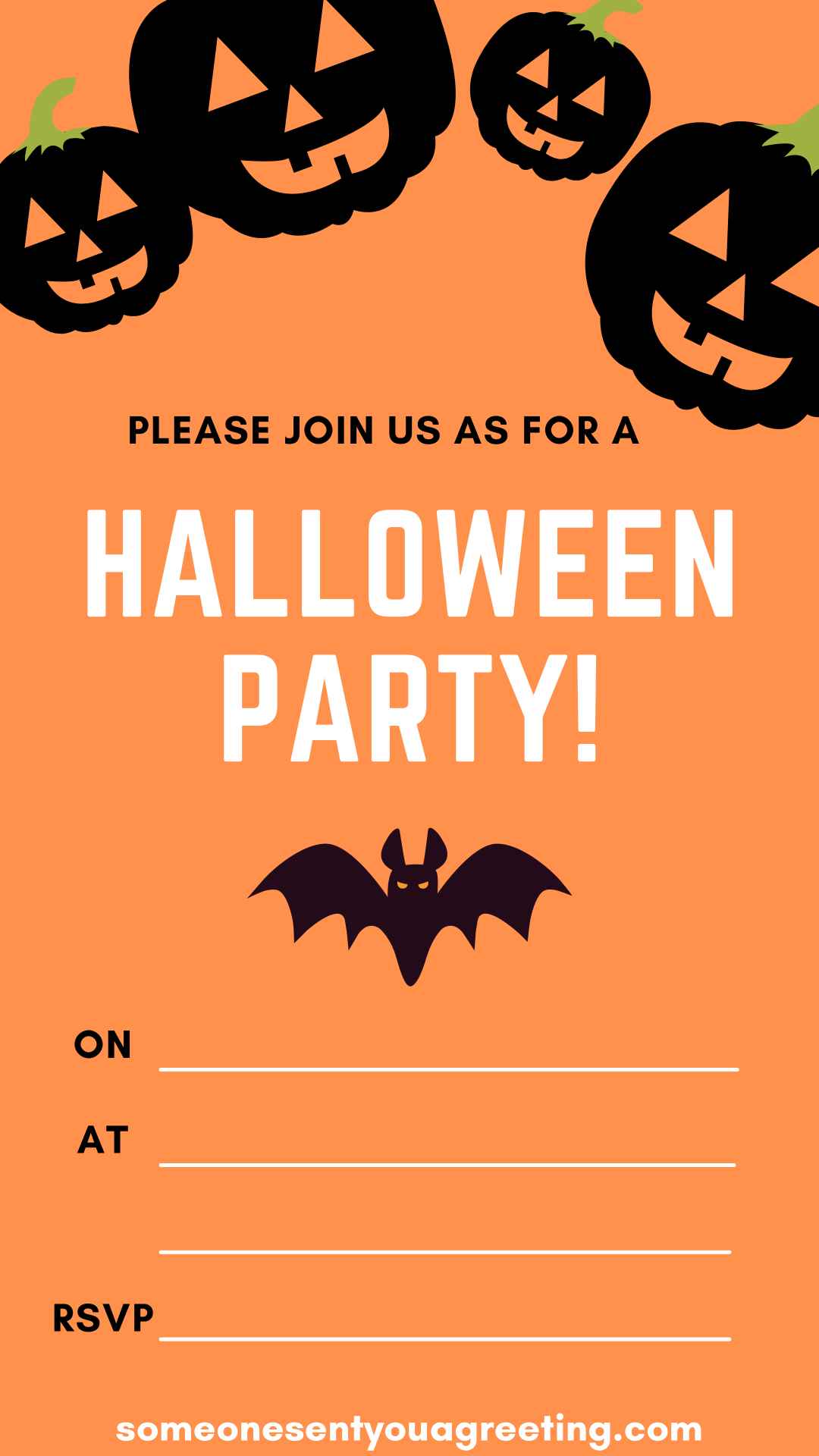 Ghouls and ghosts and creatures of fright
Join us all for a special Halloween night
Dress to impress in your best gear
Or take at a chance and face your fear
It's Halloween night, join us if you dare
But be prepared, you're in for a scare!
The Smith Family are having an All Hallows Bash
So please join us at [location]
[date], [time]
You're invited to the Jones Halloween Party
For a night of spooks and fright and fun!
We're just dying to see you there!
Witches and Ghosts
Ghouls and more
You're all invited
To come knocking at our door!
It's our annual Halloween Party
Please join us for a scarily fun night
Good food, fun times
and our famous witches brew
The only thing we really need is you!
You're invited to our Halloween party
Come if you dare!
Find the perfect costume
Everyone will be a sight
At our Halloween party
You'll enjoy a great night!
The ghosts and witches are on the prowl
The werewolves are going to howl
You'll be in fir a fright
If you don't join us on Halloween night!
For Kids
To all the kids who want some fun
The scariness has just begun
All Hallows' eve is almost here
So come to ours and face your fear!
To all the boys and ghouls
We're having a party that's sure to rule
They'll be tricks and treats
and games to play
So RSVP and don't delay!
Join us if you dare
for a night of fright and scare
Wear your best costume
and dress up for fun
Because the Halloween Party
Has just begun!
All you little cute goblins and ghouls
Are invited to our party Halloween party
Lots of treats and games
And only your best costumes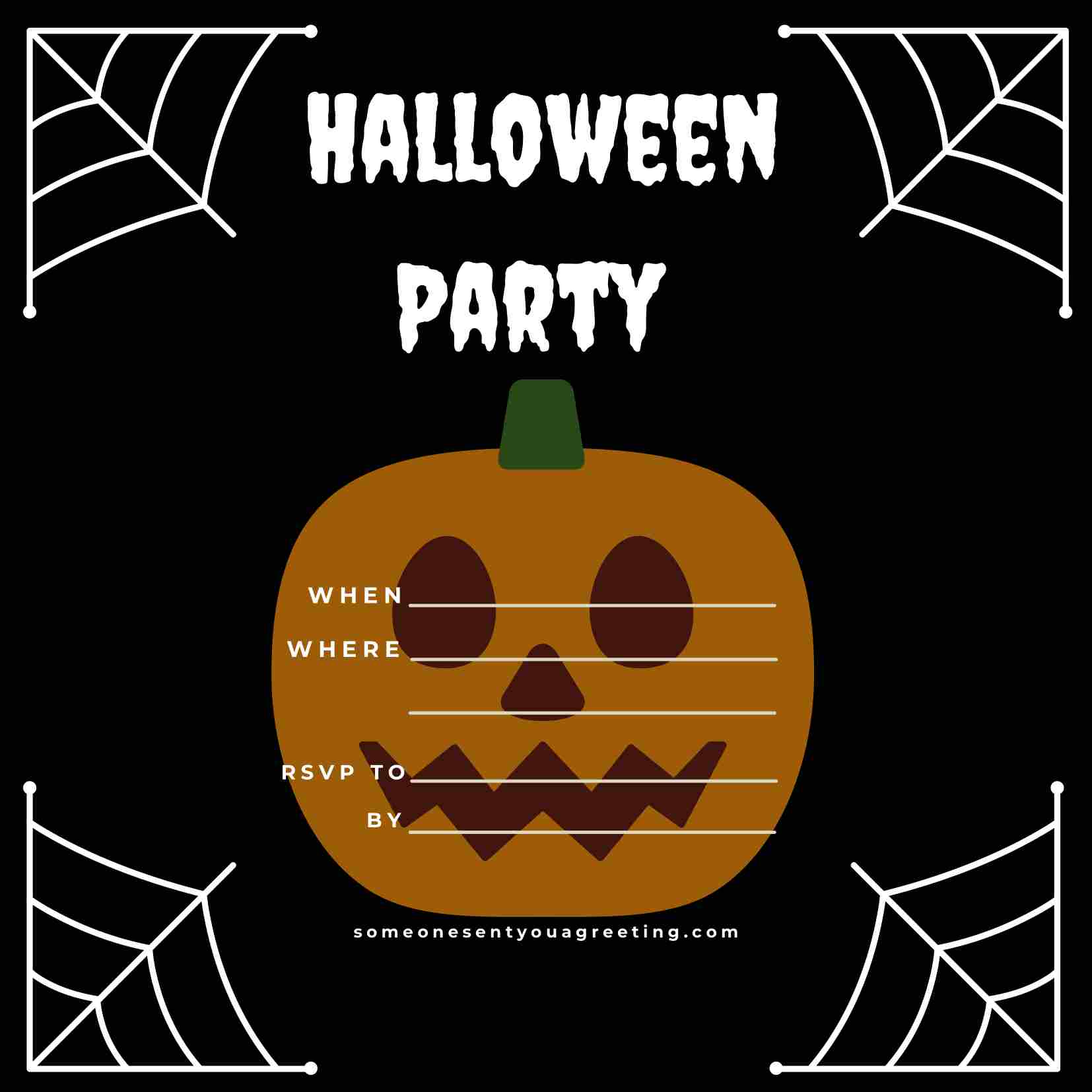 For Adults
Tricks, treats… and wine!
Please join us for a evening of
Wicked costumes and cocktails!
Let's enjoy some spirits and BOOze,
With some haunting Halloween brews
At [location]
[date], [time]
Join us at our place for a frightfully good night
Where we will enjoy all the unearthly delights
Food, fun and lots to drink
And maybe even a scare or two
What do you think!?
Funny
You have been warned
Make no mistake
You'll be haunted forever
If you leave it too late
So don't delay
Come party with us
Or there's a price to pay..
..and it involves pus!
Prepare to be transfixed,
And bewitched
By our Spook-tacular Halloween Party!
Friday night
Don't miss it – you'll be sorry if you do!
For a night of fun and gore
That will only leave you wanting more
Come to ours for a Halloween blast
The best of times is surely forecasted
If you miss out you're sure to regret
And spend the night feeling very upset!
You can wear a costume or even a mask
Just be at our party – that's all we ask!
Saturday night, 8pm
The Jones family home
You should now have some great ideas fir your Halloween party invitations. Be sure to include all the most important details and make it clear of when and where your party is taking place.
Apart from that all you have to do now is enjoy a scary and spooky All Hallows' eve!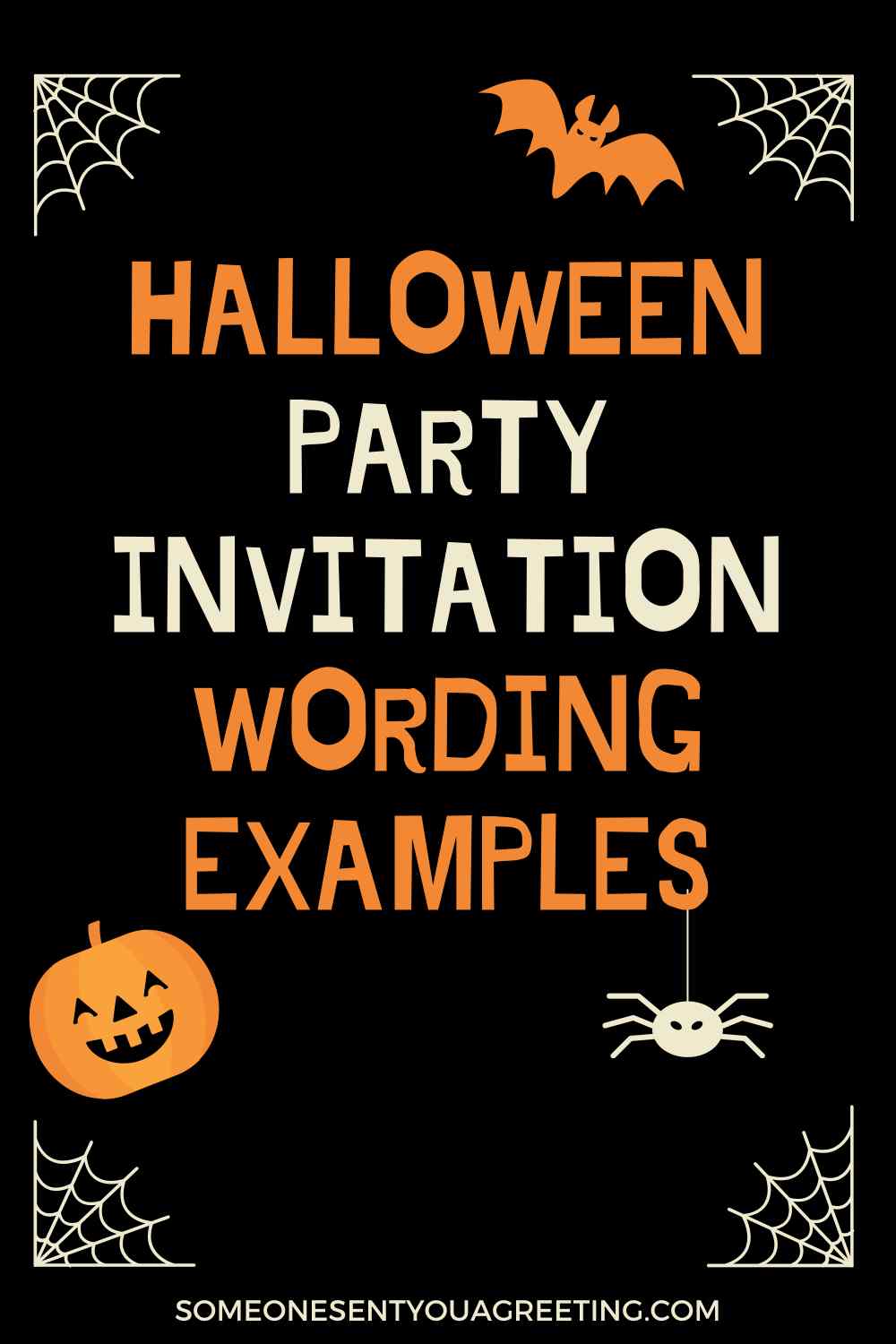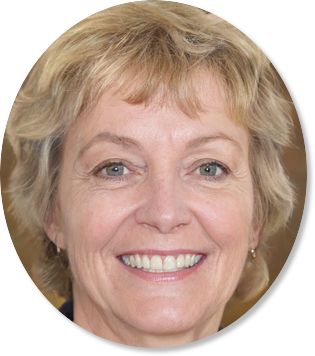 Sally Gibson is the founder of Someone Sent you a Greeting, a holiday/celebration website. Sally's writing work has been mentioned in Woman's World, Yahoo, Women's Health, MSN and more. If you have any questions get in contact with one of the team via the about page.