A bachelorette party is a big deal. It's the bride-to-be's send off before becoming a married woman.
That last chance to cut loose and really go wild before the big day. And also to celebrate with those closest friends and family in a more informal way than on the wedding day.
So if you're throwing a bachelorette party you'll need to send out invitations to the lucky guests. And that means you need to make sure the wording for them is perfect.
That will include the date, time, location, dress code etc.
You don't want to try it wrong or forget some of those important details. Imagine how angry the bride will be if no one turns up to her bachelorette party because you got the date wrong!
So try some of these bachelorette party invitation wording ideas to help you get the perfect invitations and make sure nothing goes wrong.
We've written some of the invitations out with spaces for you to include the necessary details – names, dates etc. – and some examples have made up details to show you how they would look when finished. You can still swap your own details for either type
Bachelorette Party Invitation Wording Ideas
It's time for the girls to mix and mingle
It [brides name] last days of being single!
You're invited to [brides name] Bachelorette party!
[time], [date], at [location]
Please RSVP by [date] to [name]
[phone number]
[email address]
You're invited to Sarah's bachelorette bash!
So join us for one last hurrah before she embarks on married life
May 22nd at 8PM
Amber Tavern
123 Main Street
Columbia, South Carolina
RSVP to Joan by May 12th
[email protected]
[name] is tying the knot
So join us for her last evening of fun!
At [location]
[date], [time]
RSVP to to [name]
[email address]
[phone number]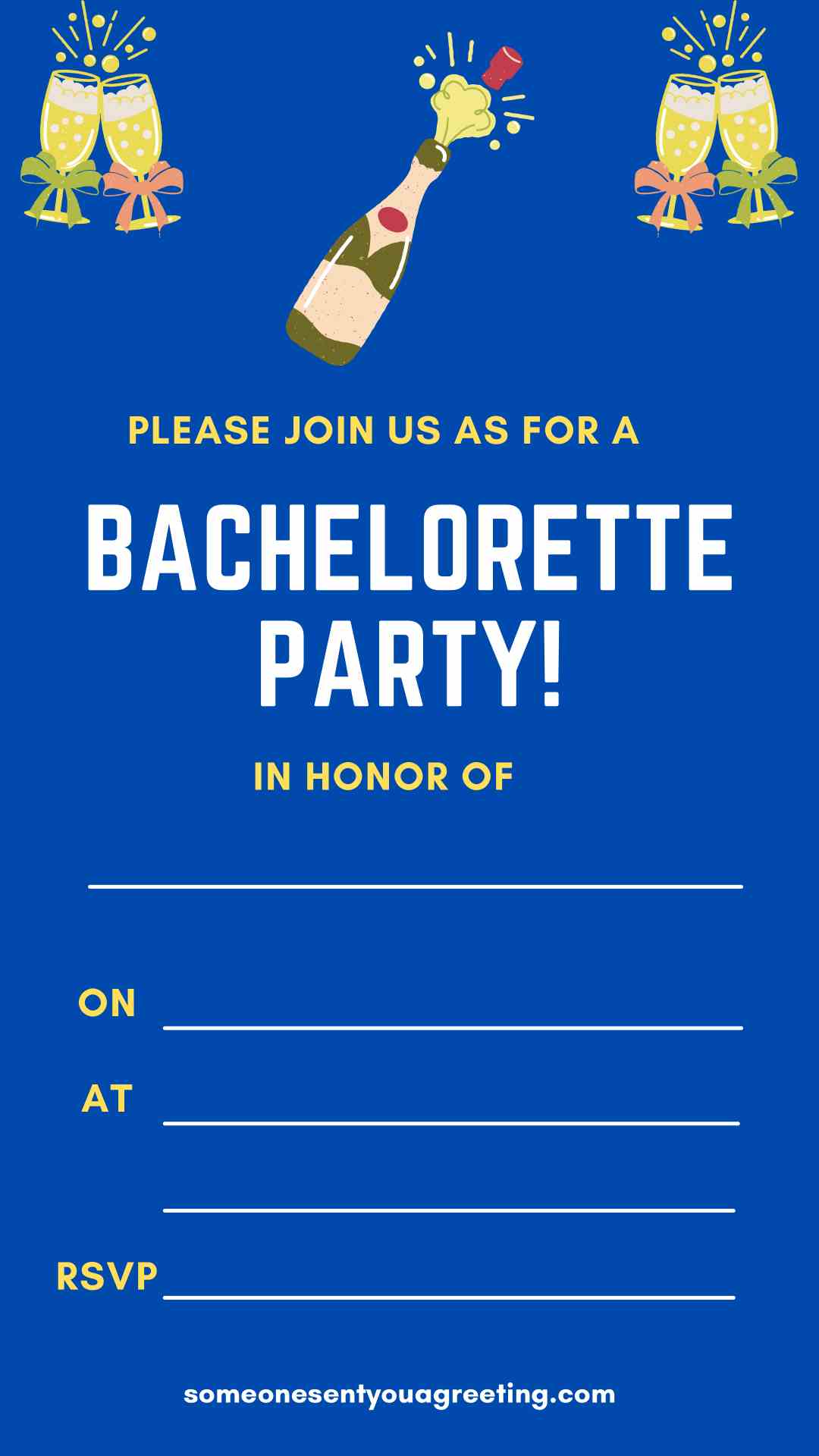 We're going to dance the night away with a girls night out honoring [name] before her big day!
That's a bachelorette party at
On [date], at [time]
[location]
It's Helen's last day of being single
So let's get ready to mix and mingle!
You're invited to a bachelorette party
For
Helen Smith
June 25th at 7pm
At The Wave Bat
123 West Street
Miami, Florida
RSVP to Joanna by June 16th
[email protected]
We're having a party weekend!
So pack your bags and get ready for a weekend of sun and fun!
You are invited to join us for a bachelorette party
Honoring
Caroline Smith
Thursday, August 23rd to Sunday, August 26th
Miami, Florida
Join us for a Bachelorette Party for our friend
Rachel Jones
May 31st, 8:00PM-12:00AM
The Lounge
123 East 12th Avenue
San Francisco, CA
Hosted by Louise Smith
RSVP to Louise at [email protected] by May 15th
Hip, Hip, Hooray!
Join us for a bachelorette cocktail party for Sally Roberts
Saturday, June 11th, at 7:00 pm
The Mixing Spoon
123 Garfield Drive | Austin, Texas
RSVP to Sasha at 123.777.4567 by June 2nd
Pack your bags!
Lisa Smith had found her Mr. Right!
So it's time for a bachelorette weekend getaway
In Honolulu, Hawaii
August 3rd-5th
The Waikiki Beach Hotel
2570 Kalakaua Avenue 
Honolulu, HI 96815
RSVP to Diane by July 26th
[email protected]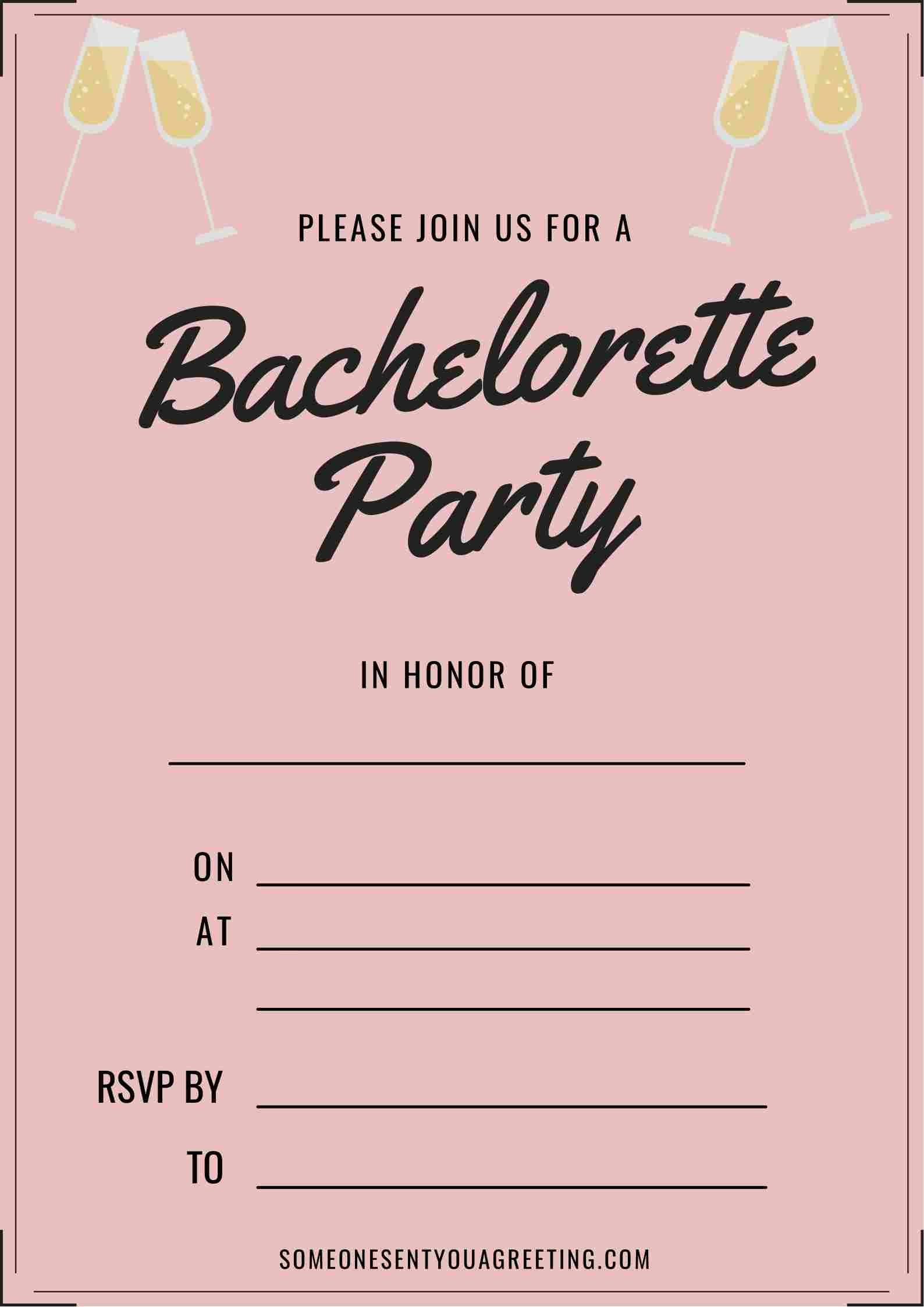 SEE MORE: 77 Beach Puns Perfect for Instagram
Funny Bachelorette Party Invitation Wording
Join us for [names] Bachelorette Party
It's going to be her one last fling before the ring!
[date], at [time]
[location]
RSVP by [date] to [name]
[email] or [phone number]
While her Prince Charming is away, we will take her out to play!
Join us for one last wild and crazy night!
August 5th at 7PM
The Punch Bowl
23 Main Street
Austin, Texas
RSVP by August 1st to Anna
[email protected]
To celebrate her saying "I Do", we're going to have a drink or two!
So join us for a bachelorette party honoring [name]
Friday, June 12th at 8:00pm
The Orange Bar
188 East Avenue, Orchard Street, New York
RSVP to Naomi at [phone number] by June 3rd
A last toast to the single life, before [name] becomes a wife.
Her Bachelorette party is going to be great!
So join us at
15th July at 7pm
Yates Bar
123 North Street
Miami, Florida
RSVP to [name] by [date]
Hopefully you've now decided on your bachelorette party invitation wording with the help of these examples. As long as you make them clear and include all the required information then you can't really go wrong.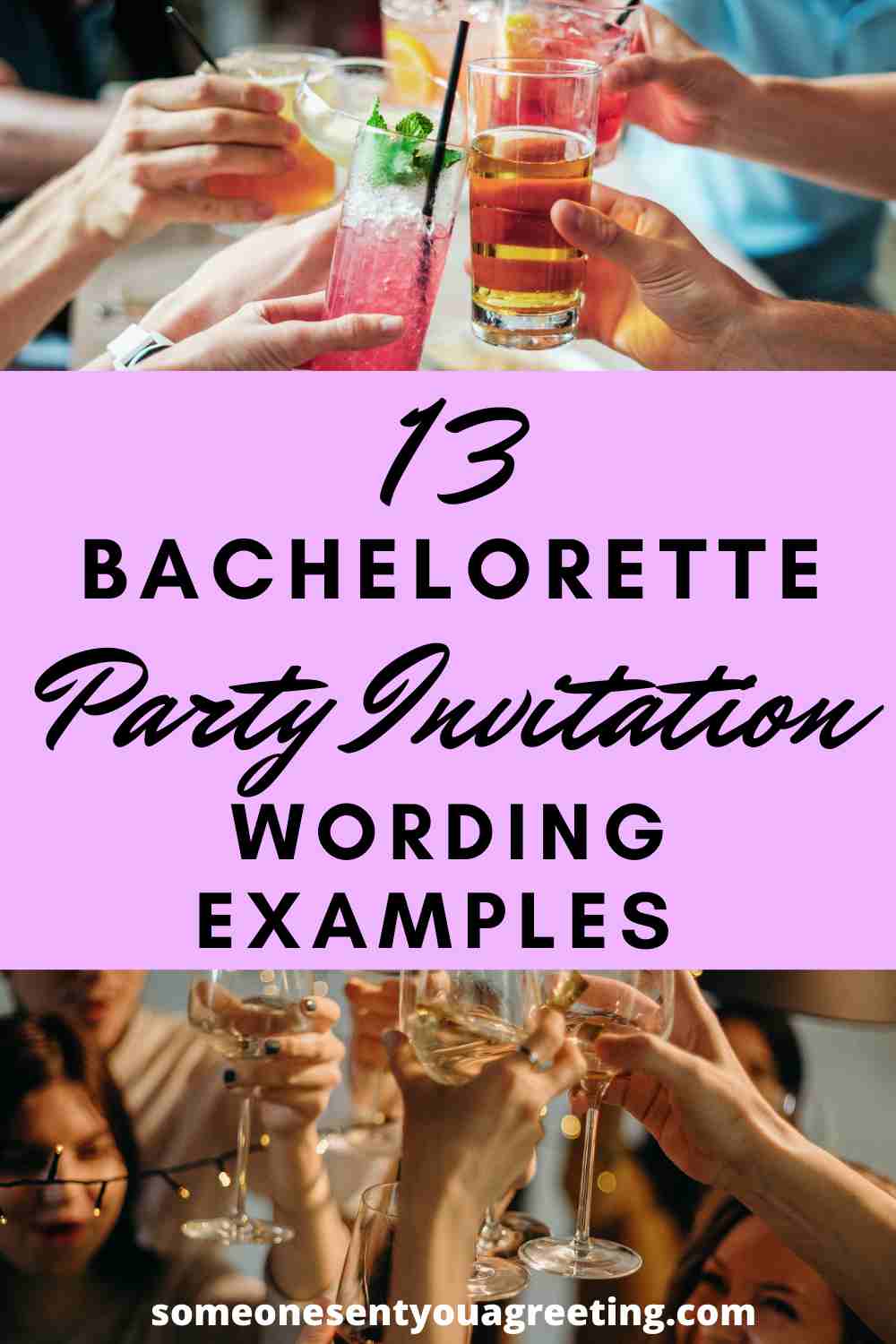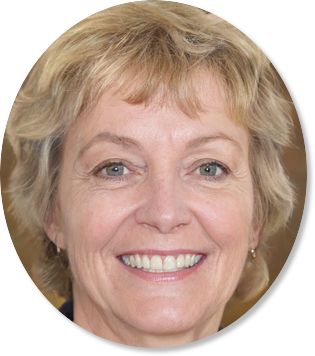 Sally Gibson is the founder of Someone Sent you a Greeting, a holiday/celebration website. Sally's writing work has been mentioned in Woman's World, Yahoo, Women's Health, MSN and more. If you have any questions get in contact with one of the team via the about page.