Is someone having a birthday and you want some backyard birthday party ideas to inspire you? Need help deciding on what to include for an outdoor birthday party?
Don't worry!
We've got you covered with this list of the best backyard birthday party ideas for adults. An outdoor gathering with some of your closest friends in the lovely weather is a fantastic way to celebrate a birthday.
What could be better than enjoying a big celebration under the sun with good food and great people. Alfresco parties are a bit different and a welcome change from more traditional get togethers.
But if you aren't sure of what your outdoor birthday party should include or the theme to pick then use these backyard party ideas for inspiration.
Backyard Birthday Party Ideas for Adults
When choosing what sort of theme to go with for an outdoor birthday party you need to consider who the party is for and who will be attending.
If it's a party for someone with a young family and lots of young families will be coming then your theme should reflect that. You will want food, drink, games etc. that are suitable for families.
If it's for a younger crowd then you might want something less family oriented and n maybe a bit more edgy or exciting.
Anyway, enough talk. Let's get into the birthday party ideas.
Regular Party
The easiest party is one that doesn't have a theme. There's nothing to say that it has to be anything more than a gathering of your friends and family – just maybe a bit snazzier.
Or the theme of your backyard party is just a party! So you get all the regular party decorations, food etc. – balloons, streamers, pizza, alcohol (of course). Really anything that sets a festive mood.
Set up a makeshift bar and improvise with bits and bobs you've got around the house. It won't all necessarily go together but that'll be part of the fun and charm of it.
Whilst it may not be particularly original it's by far the easiest way to throw a backyard birthday party. And if the guests are your friends and they've got some decent food and drinks, a relaxed atmosphere and the company is good then everyone will be more than happy.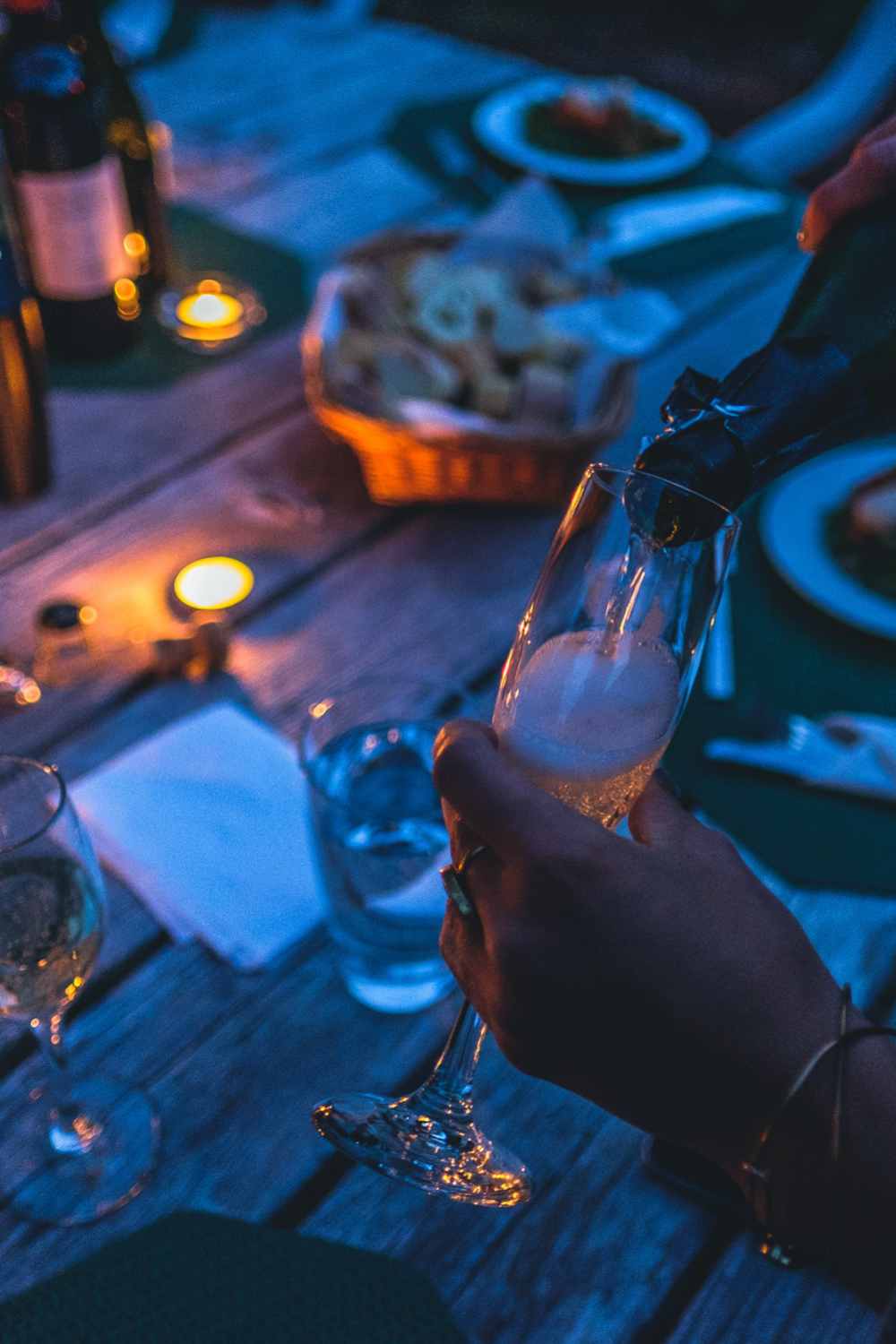 BBQ
If your party is taking place in the warmer weather then you can't go wrong with a good'ol BBQ. Under the sun, everyone with a beer and a burger – it'll be a chill and relaxed way to celebrate.
It's the type of party that from young to old will enjoy and can be as large or intimate as you like. You can even choose between doing the grilling yourself or getting it catered.
Of course food is going to be the most important aspect with a BBQ. Get your menu ready beforehand and if you want to go the extra mile you can a tabletop chalkboard or paint some wood with your menu options for that rustic feel.
If it's going to be very casual then stick to the usual burgers, kebabs and hot dogs. For something more fancy you can mix it up with prawn skewers, parmesan zucchini fries, halloumi cheese and mushroom skewers and more.
A BBQ is a simple but very effective backyard birthday party idea and one that will go down a treat with all your guests. Enjoy the good weather, have some top grub and soak up the rays.
Luau
You can bring a tropical paradise to your backyard with a Hawaiian themed party. Transform your backyard into a luau and have a laid back birthday.
The decorations and theme are straightforward – palm trees, surfboards, aloha signs, tiki lights etc. Ask guests to wear Hawaiian floral shirts and grass skirts.
You can make some umbrella drinks and cocktails we well as serving food from coconuts bowls. And add some pineapple to any sort of food – chicken, pork etc – and it's instantly more Hawaiian.
You could even have some hula lessons for guests or hire ukulelists to serenade you with island some island songs.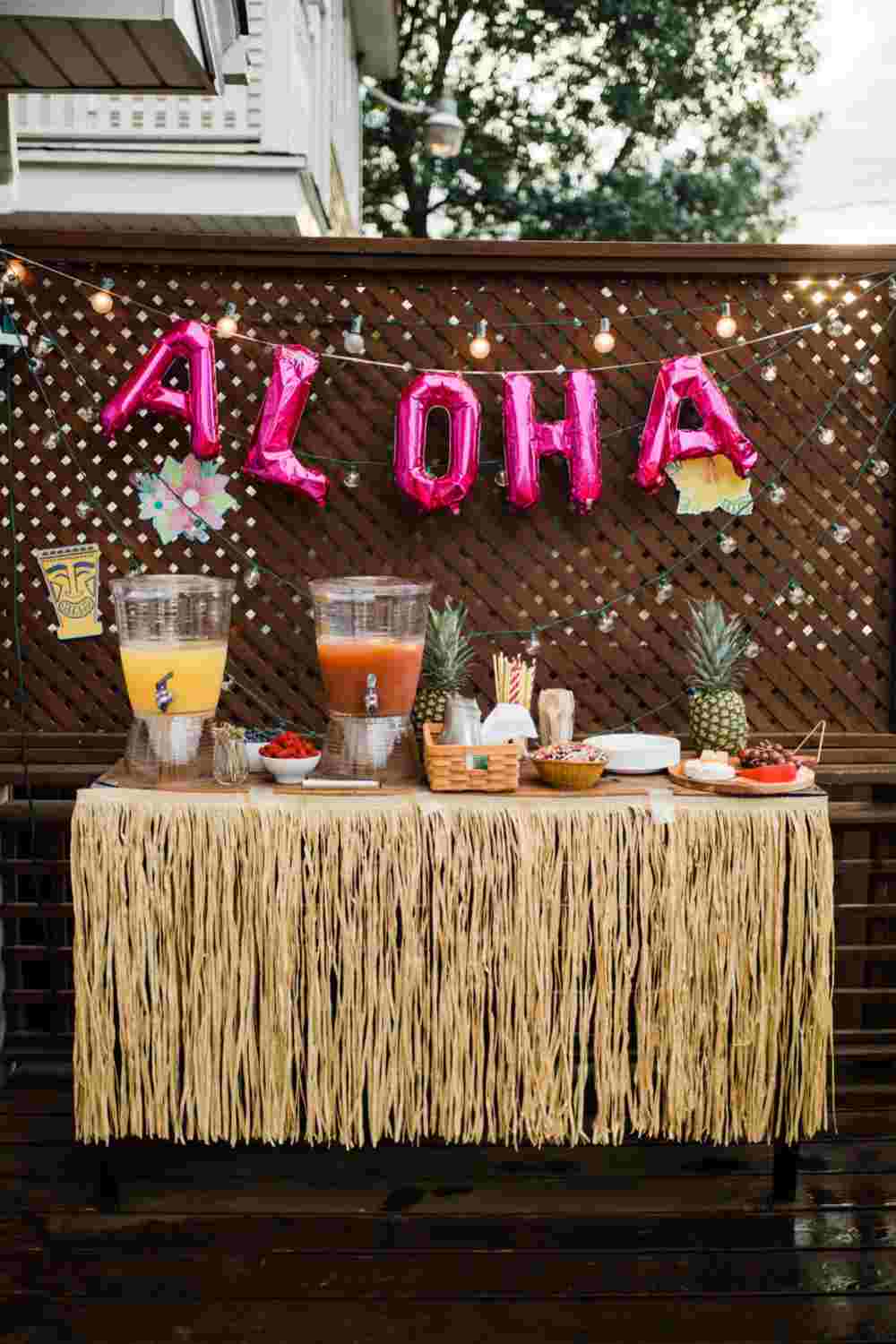 Pool Party
If you are lucky enough to have a pool then throwing your birthday party around it only makes sense. Who's going to say no to a birthday pool party!?
Whether you're aiming for a wild time or just everyone relaxing by the pool and soaking up some rays the pool can handle it all.
Combine it with summer cocktails or fruit punch, lay out some pool floats – the more interesting and funny the better – and light food and you've got yourself an awesome birthday party.
(Just don't forget to provide sunscreen for guests – you don't want any nasty sunburn!)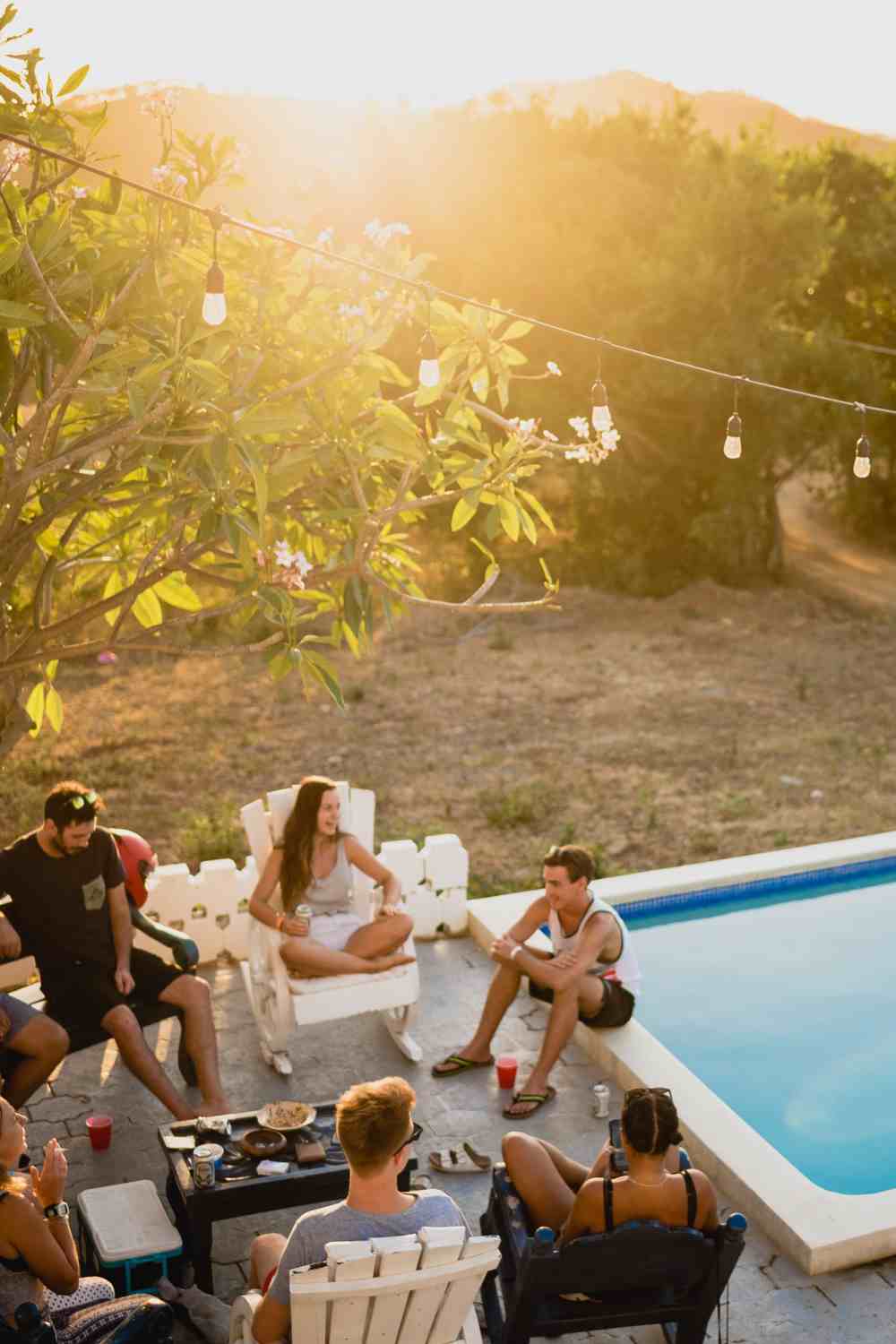 Tea Party/Tasting
For a more sophisticated party theme why not try a tea party or tasting. You can set up your backyard to look like a tea room or very upmarket restaurant.
It's a lot easier than it sounds. You only need to give the impression of respectability and high class, rather than actually going somewhere fancy.
So use a lace tablecloth for all your tables. Try to find some doilies as well – they're ideal for high tea. Folded napkins and place cards are easy but look the part.
Your menu must serve a few different types of tea – earl grey, peppermint, chai etc. If you feel like going the extra mile you could buy some proper chinaware and tea set – teapot, teacups etc.
Finger sandwiches are a must – cucumber being the most traditional and British but egg and cress and smoked salmon are perfect too. For sweets try scones (with jam and cream of course), tea cakes and regular small cakes.
You can even get guests to dress appropriately with fascinators, gloves, vintage dresses, parasols etc.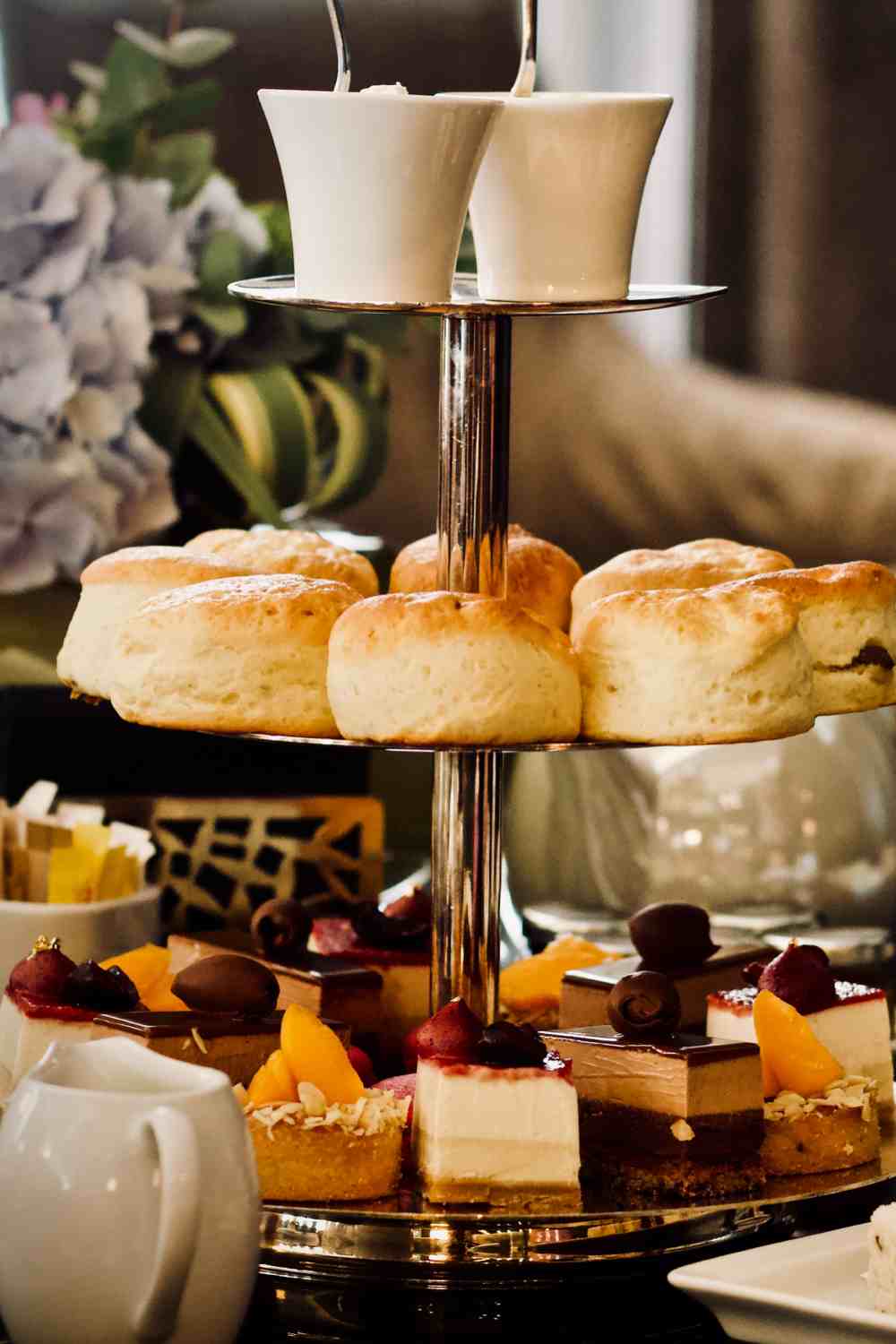 Karaoke
Whilst karaoke isn't for everyone it is extremely popular. And after a few drinks most people are happy to get up and have a go.
So either get your karaoke machine out or hire one for a hilarious night of you and your guests doing awful covers of classics!
Divide guests in to teams and play some games in between songs. Music trivia or quizzes are always fun.
Get some silly props for guests to wear whilst performing – hats and masks make for great pictures and selfies to remember the night with.
You can turn part of your yard into a mini stage and another part the dedicated dance floor.
And of course take your time getting the perfect playlist. There's no point choosing songs people don't know or like. So make sure you've got a good choice of crowd pleasers.
Beach
We all love a day out at the beach so why not bring the beach to your backyard! It's 'shore' to be a hit! (Little beach pun you)
It's also easy and fun to make a beach themed backyard birthday party. Sand will be what you need the most.
You can have sandcastle building and hula hoop contests and water balloon fights.
Tropical drinks are a must. You could go for a DIY bar so they can mix their own cocktails or just serve beach theme ones – Bahama Mamma, Pina Colada's etc.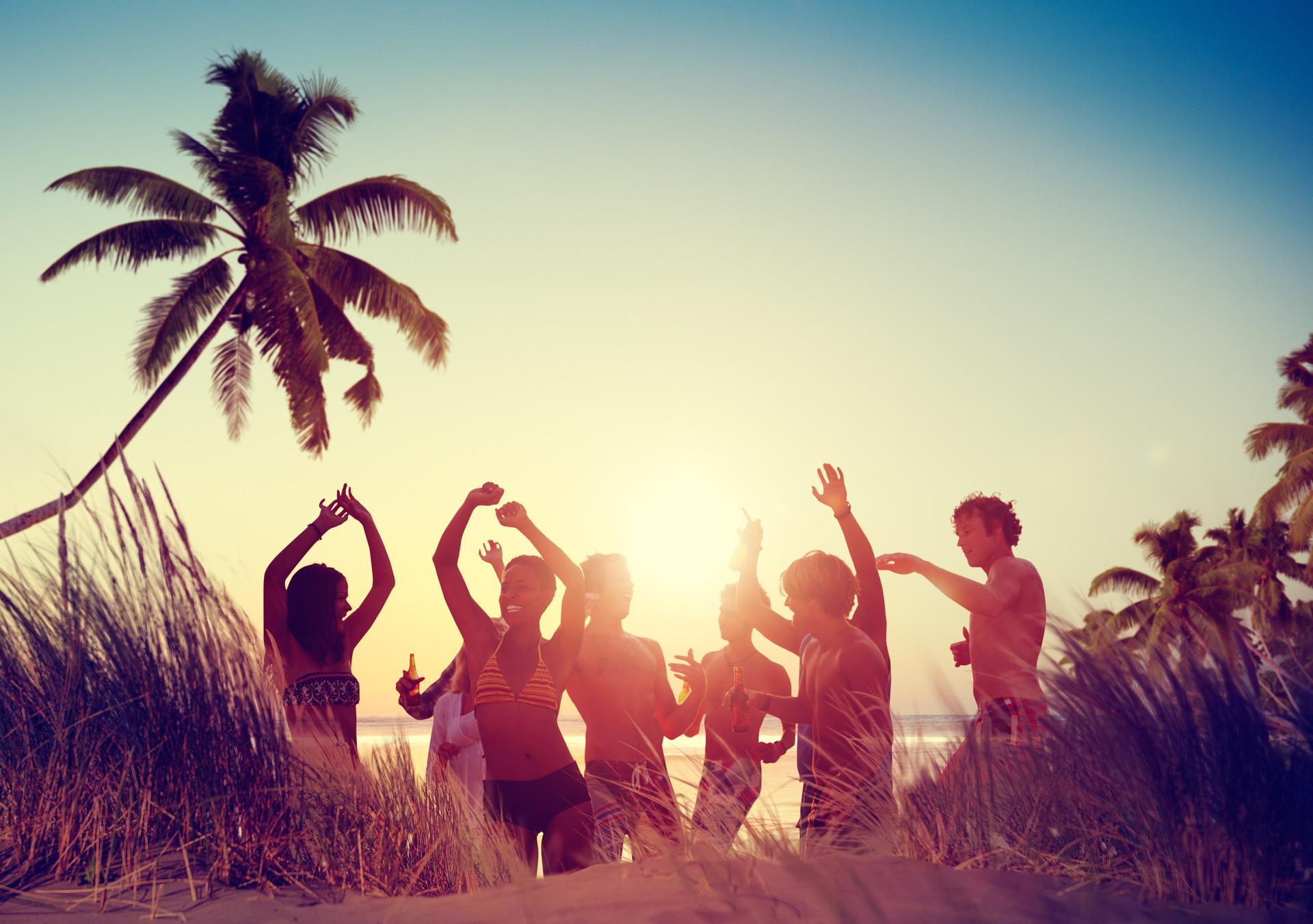 Casino
If the blackjack and roulette tables of Vegas sound exciting to you then a casino party will be right up your street!
You can get adult recreate a casino feel in your backyard. Cards, dice games, poker, maybe some pool – all great for that casino vibe. Use fake money if the idea of actually gambling is a bit too much for guests!
You could lay out a red carpet for guests as they arrive (simple but very effective) and decorate everywhere with green felt to mimic poker tables.
Cocktails are a good match for a casino night and finger food or snacks like popcorn and nuts are great for everyone to nibble on.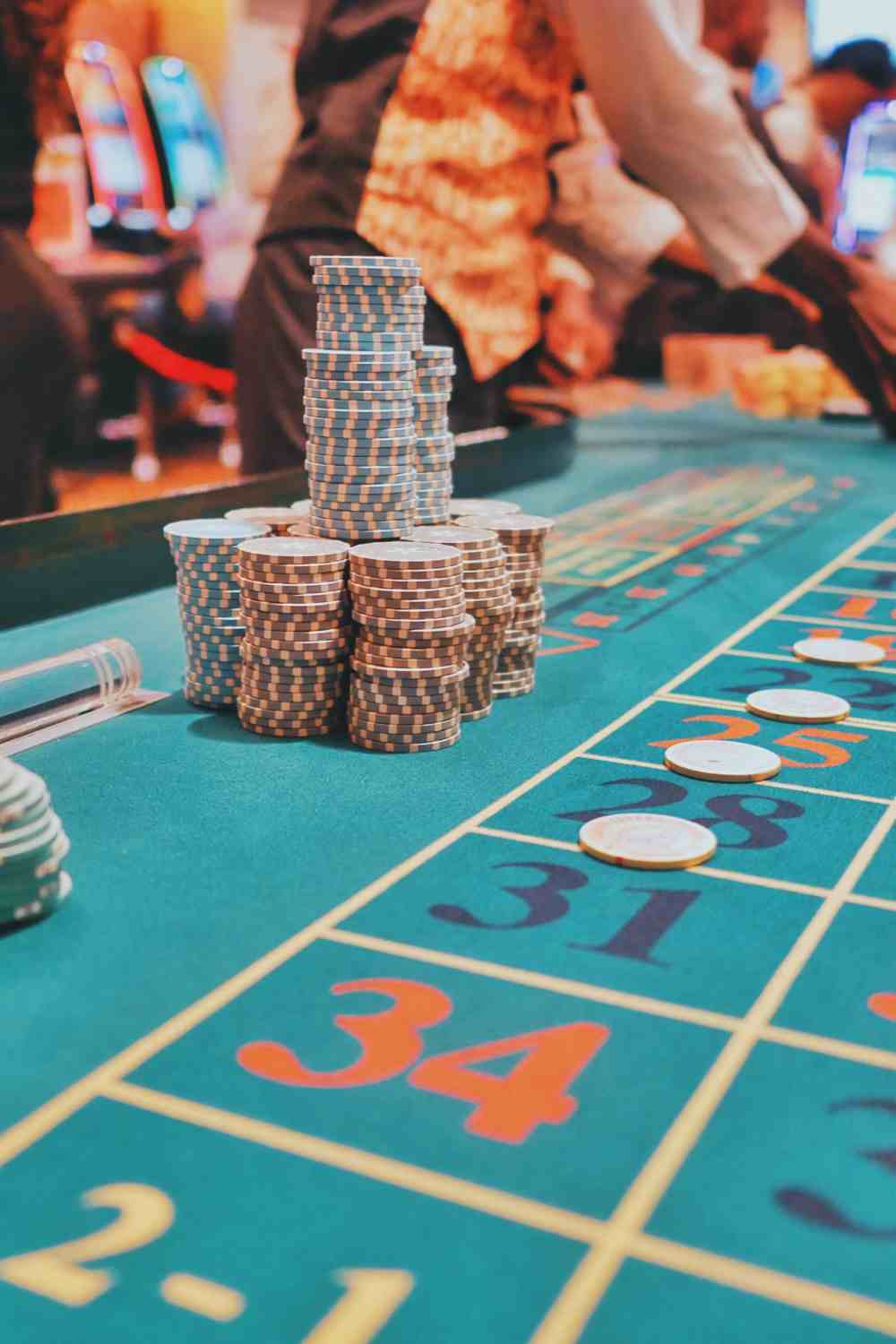 Western
Westerns is a great theme for any party because it's relatively simple. No one is going to struggle to know what it is or how to dress up for it.
The decorations are easy too – hay bales, cactuses, wanted posters, wagon wheels etc. All will easy fit into your backyard and transform it into a western wonderland.
A really fun thing to do is setup a 'Wanted' Photo booth that guests can have their photo taken to remember the party. You can also play horseshoes, saloon casino games or even have a western piñata.
Backyard Performance/Gig
If you're a big fan of live music or some form of performing arts you can always hire someone to play/perform in your backyard.
A live event is always exciting and will make for a memorable party. And as long as you have a big enough backyard it should be perfectly suited for lots of live acts.
It could be music, comedy, dance – whatever appeals most to you.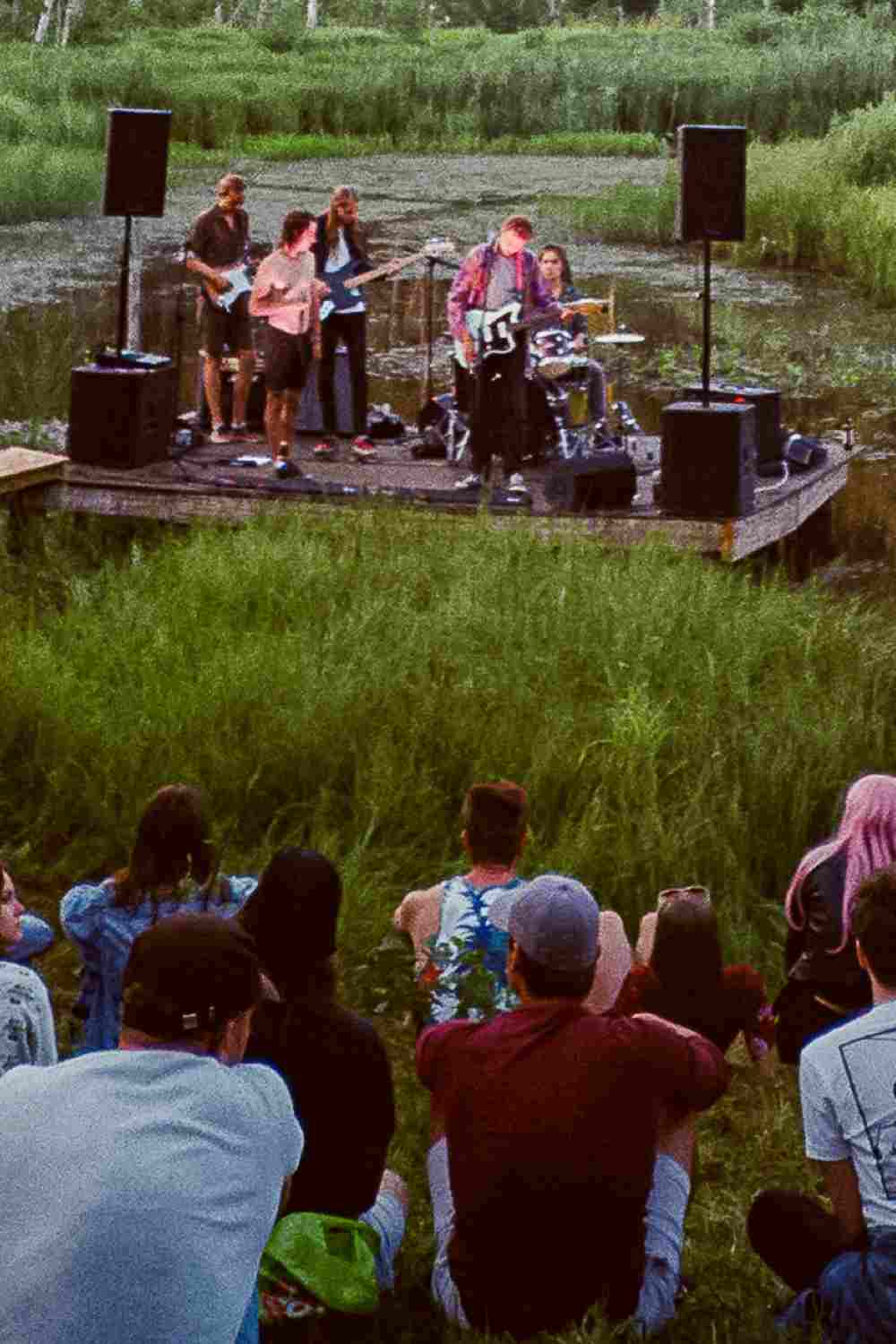 S'Mores Bar
Regardless of age s'mores are super popular. And as food is such a major part of any party you may as well theme it around some of your favorite food or snacks.
Just get a bowl full of cookies, marshmallows, assorted chocolate bits, graham crackers and more. Provide some toppings as well like sprinkles and peanuts and then let everyone get round the fire with their skewers.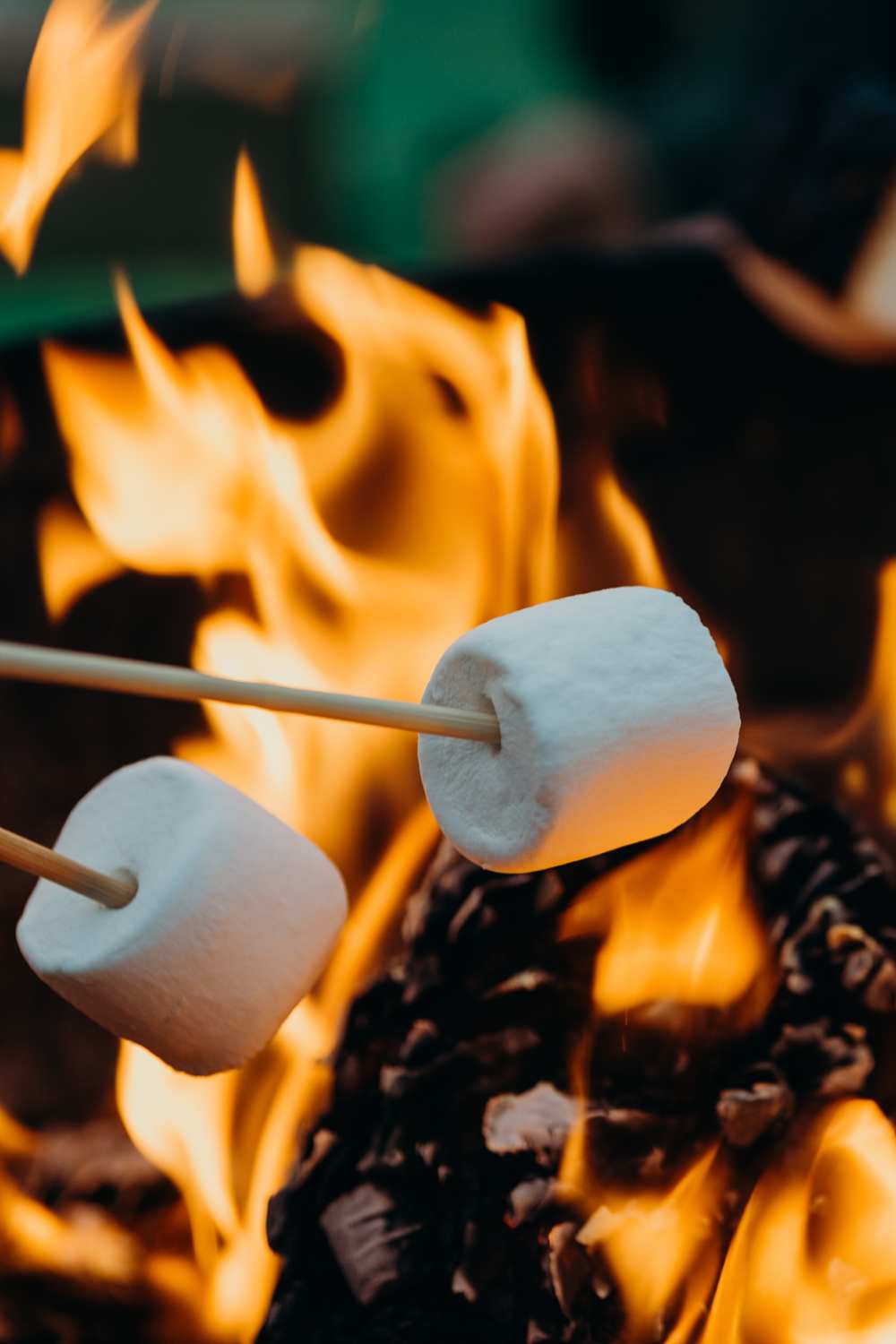 Nightime Backyard Birthday Party Ideas
Stargazing
A great way to enjoy a nighttime party – try stargazing. What could be more magical than gazing up into the night sky and locating some constellations.
And the best part – the sky does all the work for you! All you have to do is supply a backyard with no light, some blankets and cushions or chairs for everyone to sit on and food/drinks.
You can make it extra special by providing telescopes to guests so they can get a better view of the sky. Serve star shaped food – marshmallows and s'mores for example. You can even decorate with star themed balloons and twinkly fairy lights.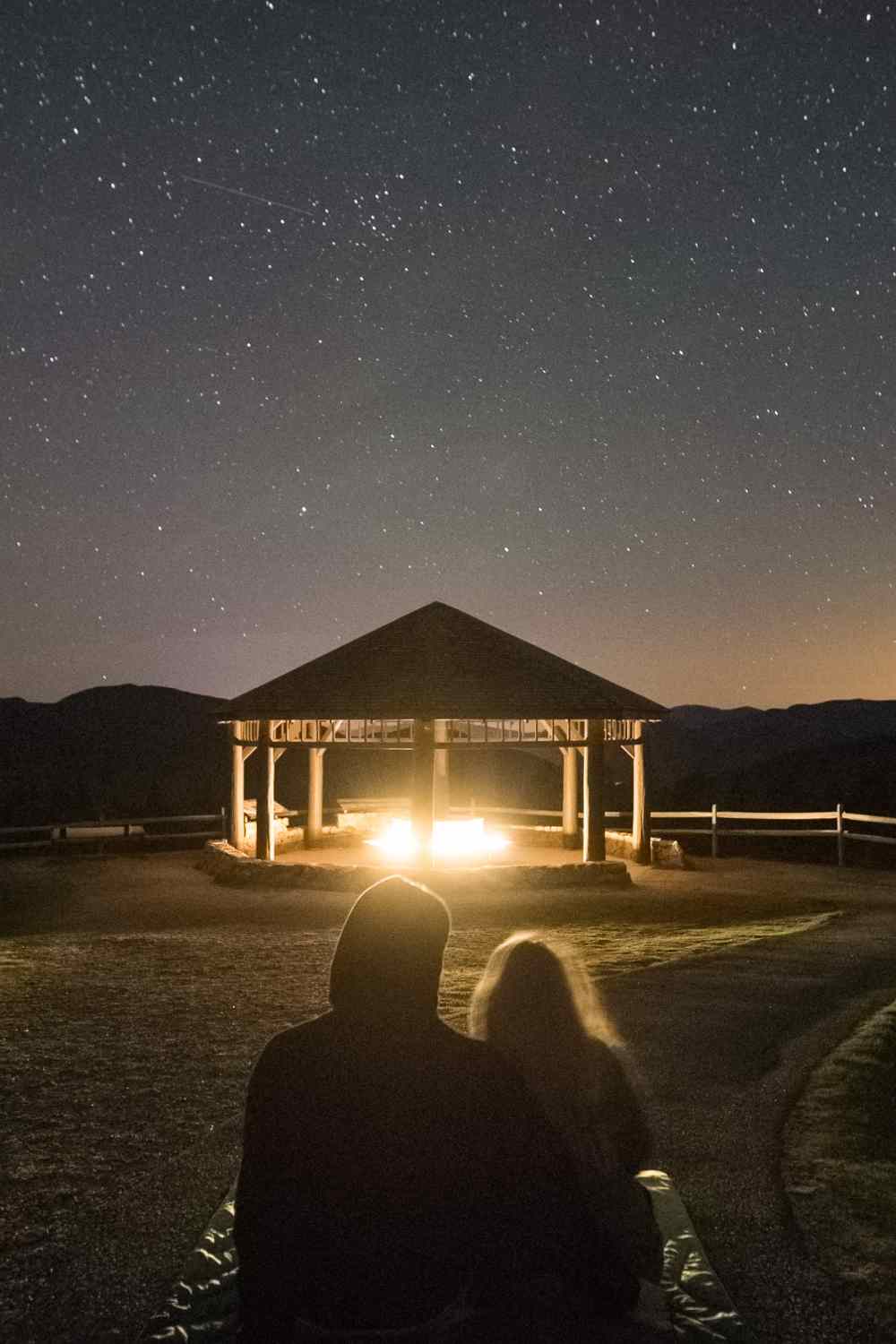 Campfire
A campfire is as old as time and a classic way to enjoy time with some friends. Fires are almost hypnotic and create a really warm and special vibe. In fact they do a lot of the work for you.
So either light up a fire or get a firepit and gather everyone round. You can roast marshmallows, sing songs if anyone can play the guitar, tell stories or just chat.
(Be sure you're careful with any fires though and let guests know about fire safety before or as they arrive)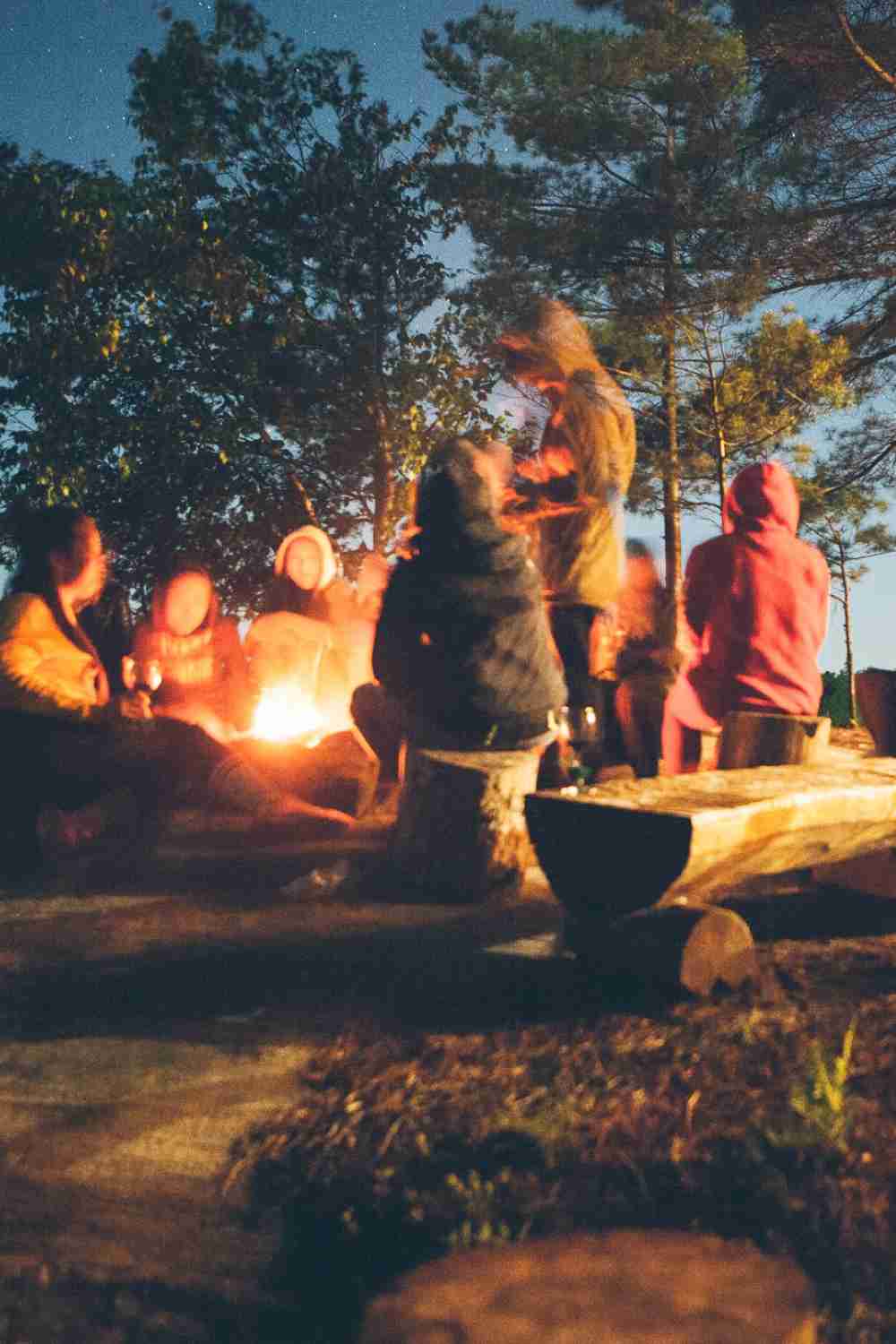 Movie Night
Everyone loves watching a movie so why not make make it into your birthday party? You can turn a movie night in your backyard into a fantastic evening.
Pick out your favorite films or some all time classics and then it's lights, camera and action!
Make sure you've got lots of popcorn, a big screen to show the films on and plenty of seating. An impressive sound system wouldn't go amiss either.
You can even get movie themed decorations to really set the scene and make some cocktails and drinks from classic films.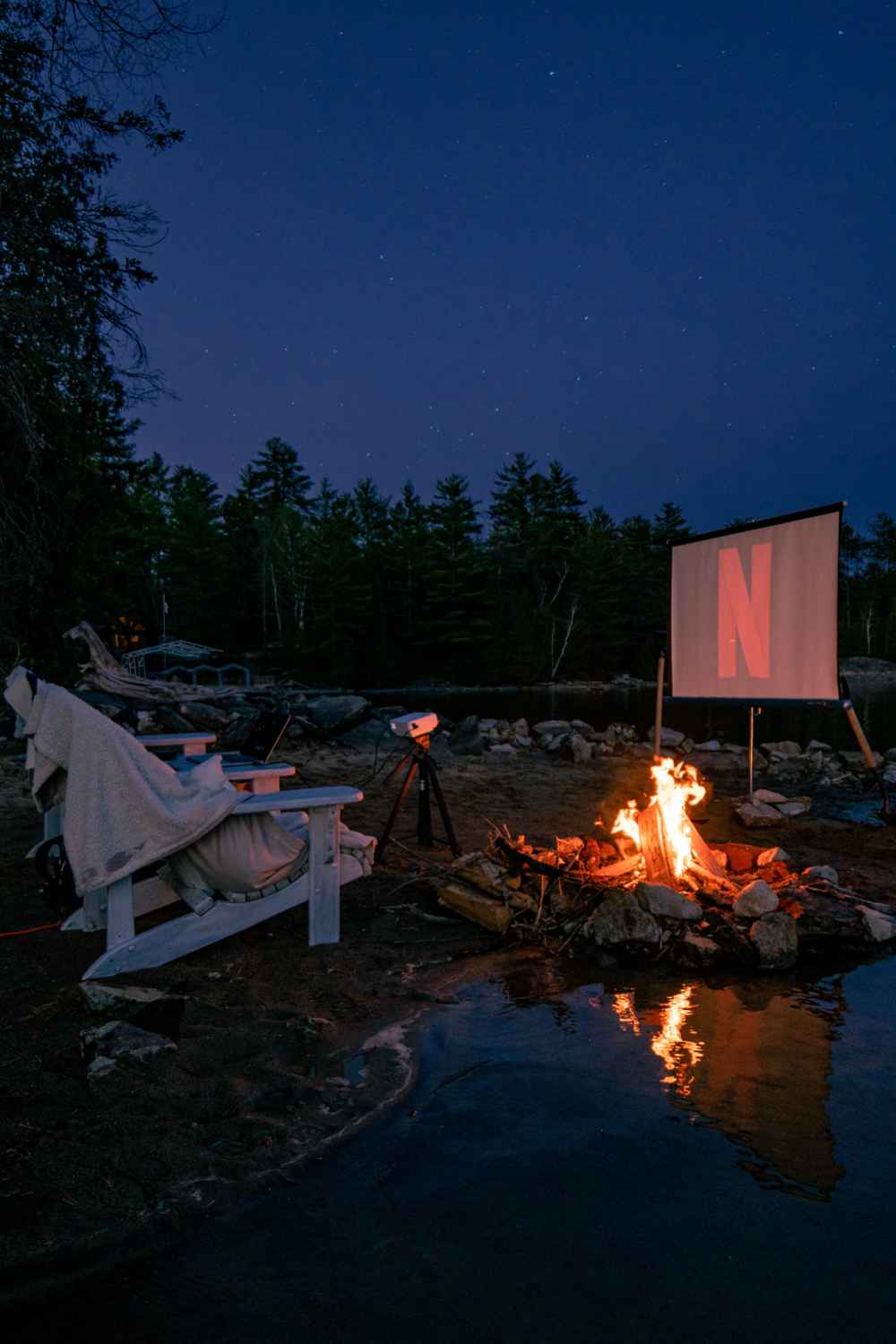 Dinner Under the Stars
If you want something a bit more intimate for your backyard party then a dinner party under the stars should be ideal. If you want to celebrate a birthday in a low key and sedate way then no look no further.
All you need is a table and chairs for guests and then to get the food and drink just right. You can go for catered if you want to sit back and enjoy the evening without any stress or get stuck in yourself.
If it's summer then lighter food is probably better. You can go rustic and hearty if it's chillier though. You could even theme the food – Italian, Indian, Mexican etc.
Wine or Prosecco are always going to be popular for drinks and cocktails are a must.
If you can set up some Bluetooth speakers or a sound system then choose an appropriate playlist. For a dinner party you aren't going to want bangin' party tunes!
You can't do much about the weather unfortunately so if it's not very warm or rain is forecast maybe think about a gazebo and some patio heaters.
Conclusion
We hope you've enjoyed these backyard birthday party ideas for adults and they've inspired you to have a really awesome party.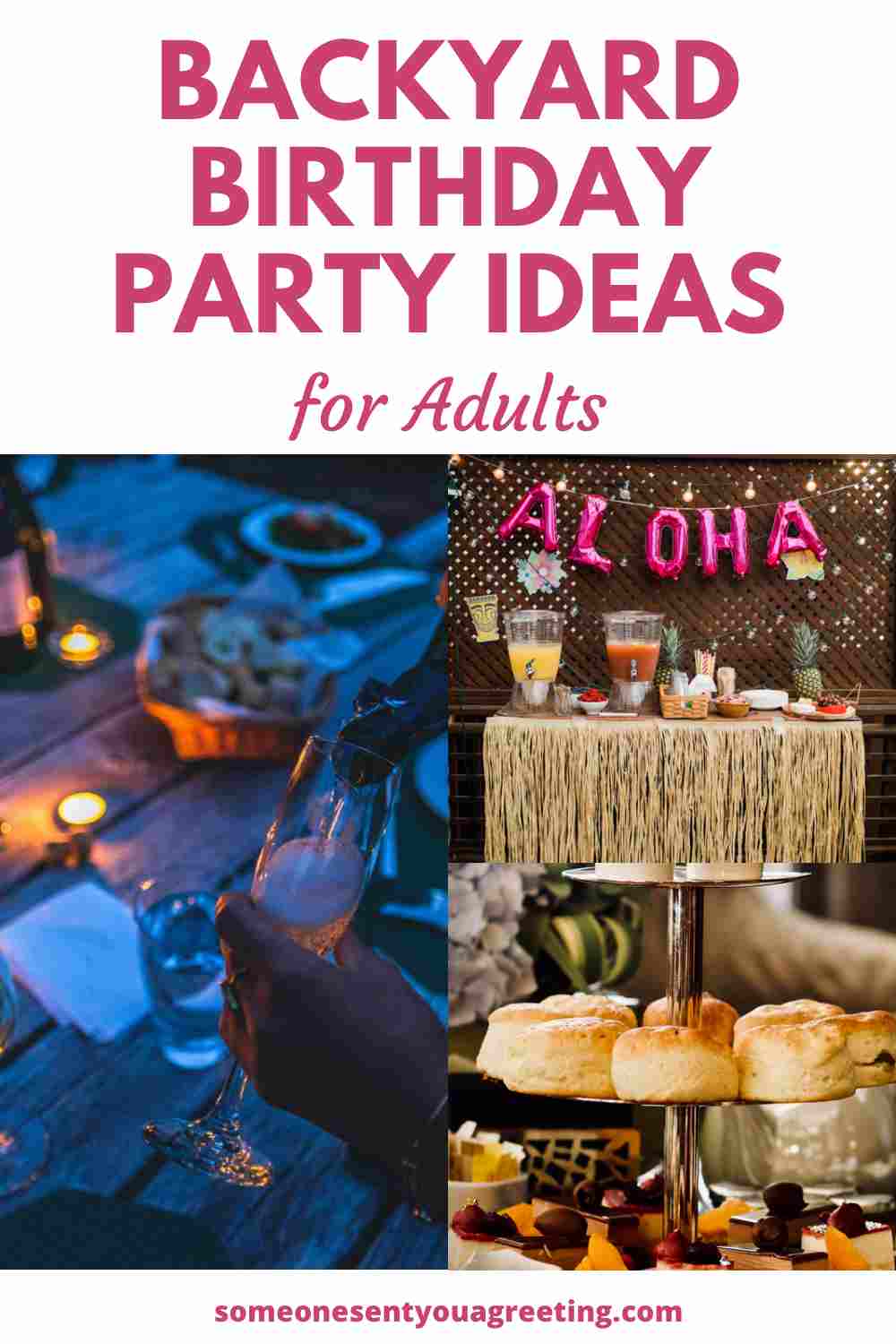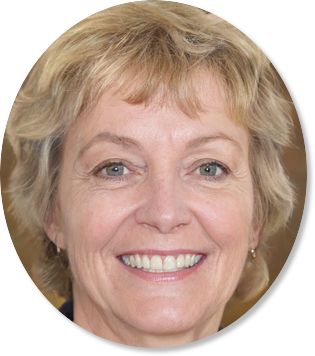 Sally Gibson is the founder of Someone Sent you a Greeting, a holiday/celebration website. Sally's writing work has been mentioned in Woman's World, Yahoo, Women's Health, MSN and more. If you have any questions get in contact with one of the team via the about page.