It's your daughters birthday! Whatever age she's turning a birthday for one of your children is a special event. You might be planning a big party or have a special gift to give her.
Whatever you decide as your celebration one thing you will definitely want to do is wish her a happy birthday. Either in person or via a card (or both!). Letting your daughter know how much you care for her and how happy you are it's her birthday is the minimum you can do as her mother!
But maybe you don't want to use the usual, fairly boring messages. A standard 'Happy Birthday' is fine but doesn't require much imagination.
It also doesn't really convey much in the way of emotion or your feelings towards her. So if you want to say a little bit more than usual try the birthday wishes below written specifically for a daughter from mom. You can use them as they are for your card or gift or you can change them to fit your situation.
Happy Birthday Wishes for Daughter
These messages were written specifically for this occasion and will hopefully give you the inspiration to write your own birthday wishes for your daughter
Happy birthday to my wonderful daughter. I hope you have an amazing day and know how much I treasure you.
Every time it's your birthday I'm reminded of the day you were born and how blessed I am. You're my angel, have a fantastic birthday baby
Happy birthday to the most incredible daughter in the world! I love you more than words can say.
You make my life complete and my days special. I'm so blessed to have you as a daughter. Happy birthday!
I wish you the happiest of times on this special day! Have a great birthday
You're not only my daughter but my best friend. Thank you for making my life complete. Have a happy birthday sweetie.
I still remember your first birthday and how small you were. So to have seen you grow into the beautiful woman you are now has been the greatest joy in my life. Have a wonderful birthday
Just wanting to wish my amazing daughter a huge happy birthday! I love you so, so much.
I'm more proud of you than you could ever imagine. You've become such a strong, incredible young woman and every day I see you achieving more is a dream come true. Happy birthday to my baby daughter
Being your mom has been the happiest time in my life and still makes me smile every day. Have a great birthday!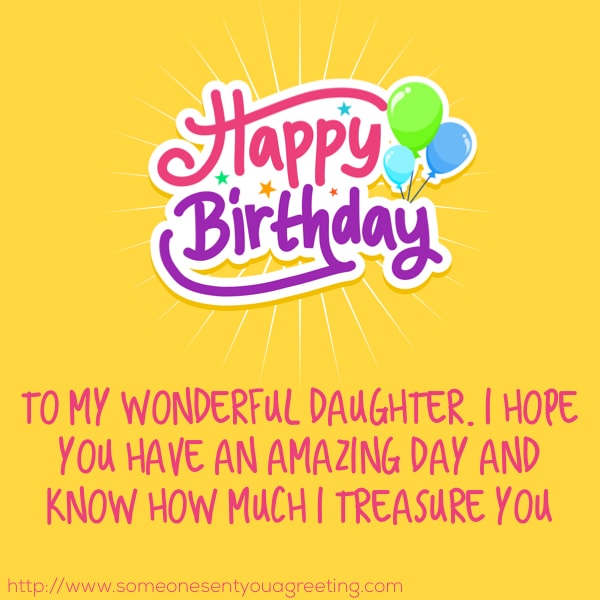 SEE MORE: Happy Birthday Wishes for Niece
Birthday Wishes for a Stepdaughter
Wishing a step daughter a happy birthday can sometimes be a bit difficult depending on your relationship. Try one of these wishes and messages if you are struggling.
I know I have come into your life unexpectedly but I'm so pleased to have firmed such a bond with you. Have a wonderful birthday
I'm proud of all you do and to call you a step daughter. Happy birthday
You and your father are so alike, and such great people. I know you make us both so proud. Have a great birthday!
I know we don't share the same blood but by in every other way I feel like you're my daughter. Wishing you the best of days today on your birthday
Seeing you grow into such an amazing woman has been such a joy. Have a very happy birthday!
I may only be your step mother but I care for you so deeply. Happy birthday darling
SEE MORE: Happy 15th Birthday Messages
Quotes for Your Daughters Birthday
You can use a funny or inspiring quote in your card as a good way of expressing how you feel in someone else words. These quotes are good at showing how much you care and inspiring your daughter on her birthday.
"A birthday is a time to reflect on the year gone by, but to also set your goals for the upcoming year." – Catherine Pulsifer
"One of the secrets to staying young is to always do things you don't know how to do, to keep learning." – Ruth Reichl
"Today you are you! That is truer than true! There is no one alive who is you-er than you!" – Dr. Seuss
"Make the most of yourself by fanning the tiny, inner sparks of possibility into flames of achievement." – Golda Meir
"Life is short, wear your party pants!" – Loretta LaRoche
"The best and most beautiful things in the world cannot be seen nor touched but are felt in the heart." – Helen Keller
"Let us never know what old age is. Let us know the happiness time brings, not count the years." – Ausonius
"The greatest gifts you can give your children are the roots of responsibility and the wings of independence" – Denis Waitley
SEE MORE: Happy Birthday Aunt Wishes
Religious Wishes for Your Daughters Birthday
If you or your daughter are religious then you can send a religious birthday message to her instead of one if the normal ones. Just be certain that religious wishes won't offend or upset her before sending your card.
May God give you a wonderful and happy birthday surrounded by friends and family.
I'm so blessed to have you as my daughter and that God granted you to me. Happy birthday
Sending you my love and may God's grace surround you always! Happy birthday
May God bless you on this happy day. Have a wonderful birthday
I pray that your special day will be filled with all the glory and the wonder of God's unfailing love and may you feel his presence working on your life all throughout the coming years!
Wonderful Birthday! May peace be upon you as you add another year in your life and may God grant all the desires of your heart!
SEE MORE: Happy 70th Birthday Wishes
We hope you will have found just what you need to come up with a great message for your baby girl. Take these birthday wishes for a daughter from her mom and use them to really express how you feel and as what your beloved daughter means to you.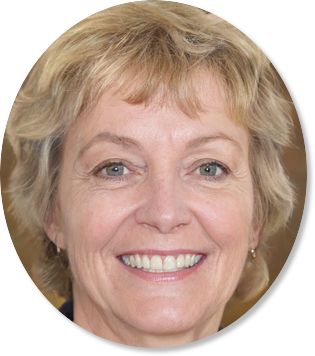 Sally Gibson is the founder of Someone Sent you a Greeting, a holiday/celebration website. Sally's writing work has been mentioned in Woman's World, Yahoo, Women's Health, MSN and more. If you have any questions get in contact with one of the team via the about page.