Celebrating an anniversary, be that your own with your partner or congratulating someone you know, is a fun and happy time. The marking of a milestone in a relationship indicates the love the two people have for one another and celebrates that bond. No matter if it's the first or 50th anniversary they're always a cause for celebration.
If it's your own anniversary then you will probably be getting your significant other a gift and card. Knowing what to say or write in your anniversary card can be a bit difficult though.
Expressing your love for him or her and making it touching and heartfelt without being too cheesy is harder than it sounds. A good way to do so is reflect back on happy memories or try to sum up your feelings in a quick sentence.
If you're sending your wishes to a couple who are celebrating their anniversary then you can tell them how great a couple they are and that you admire their relationship. If it's a family member or your parents then you can be more personal and perhaps even use an anecdote from their lives. You might also want to consider a funny message if you feel it is appropriate.
Whatever sort of quote you choose to use, if you find yourself struggling with an anniversary message then try some of the examples below. Hopefully they will help you find the right words for the perfect message. You can use them as inspiration or copy them exactly as they are.
Wedding Anniversary Quotes
These Anniversary Quotes are fairly general and would fit most scenarios or couples. They do a good job of reflecting the love and commitment a long relationship has and hopefully sums it up well in a short message.
I love you so much and thank each day I get to spend the rest of my life with you. Happy anniversary
"An anniversary is a reminder as to why you love and married this person"- Zoe Foster Blake
Happy anniversary to the love of my life! You complete me
The memories we've made together are the happiest of my life, and I can't wait to make so many more. Happy anniversary
I can't imagine a world without you by my side. I don't say it enough but I love you. Happy anniversary
"The secret of a happy marriage is finding the right person. You know they're right if you love to be with them all the time" – Julia Child
Thank you for always loving me for who I am. Happy Anniversary
"Chains do not hold a marriage together. It is threads, hundreds of tiny threads, which sew people together through the years"- Simone Signoret
Every year I feel like the luckiest person in the world as I think about how I get to spend my life with my best friend. Happy anniversary!
Another year of celebrating with my soulmate. I love each day I get to grow old with you. Happy anniversary
"A wedding anniversary is the celebration of love, trust, partnership, tolerance and tenacity. The order varies for any given year" – Paul Sweeney
I never knew what true happiness was until I found you. Thank you another year of joy, happy anniversary!
Words alone will never be enough to show how much I care for you. Happy anniversary my treasure
"Love grows more tremendously full, swift, poignant, as the years multiply"- Zane Grey
My love for you is endless and our bond unbreakable. Happy anniversary
I thank each day I found you. Happy anniversary
You are the sunshine and light in my life. Forever together
Even after all these years you still make my heart skip a beat. Happy anniversary darling
I don't tell you how much I love you nearly enough. But know that on our anniversary I couldn't be happier that I get to spend my life with you
"Whatever our souls are made of, yours and mine are the same" -Emily Bronte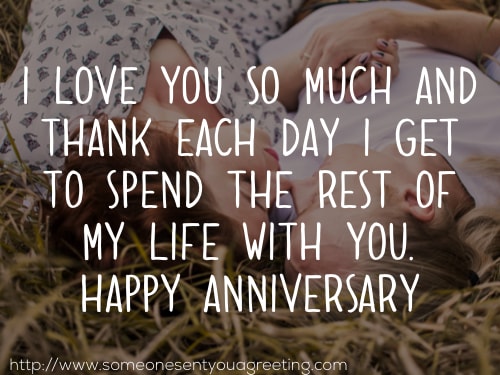 Anniversary Messages For your Husband
When it's your own wedding anniversary you'll want to reflect the happy years you've had together, taking that love and devotion and putting it into your card message. The below wishes and quotes are written for a husband and can be used or changed to fit your own.
Happy anniversary to the best husband in the world!
Thank you for being my husband, the light of my life and an everlasting rock to support me. Happy anniversary
Thank you for always being there. No matter what we've been through your strength and courage has been a constant. I cherish every day we're together. Happy anniversary
Thank you for treating me just as special even when it's not our anniversary. That's the sign of true love! Happy anniversary
Not only are you my husband and love of my life but you're also my best friend. Through thick and thin you're the one I can turn to and rely on. I love you so much, happy anniversary
If I had to choose again, I'd still choose you. Happy anniversary!
I loved you more than words could say on the day we married and I still feel the same way now. I won't ever stop loving you. Happy anniversary
Until I met you I felt incomplete. You're my soulmate and love of my life.
No one else would understand our relationship, and no one else in this world would understand me the way you do. Happy wedding anniversary!
I treasure every memory we've made together, every discovery we've made about each other and every moment if happiness you've bought to my life. Thank you for choosing me as your better half. Happy anniversary!
From the first time our eyes met I knew we were meant to be. I thank every day you chose me. Happy anniversary hubby!
Marriage is a relationship in which one is always right and the other is the husband!
You're the only one I want to annoy for the rest of my life. Happy wedding anniversary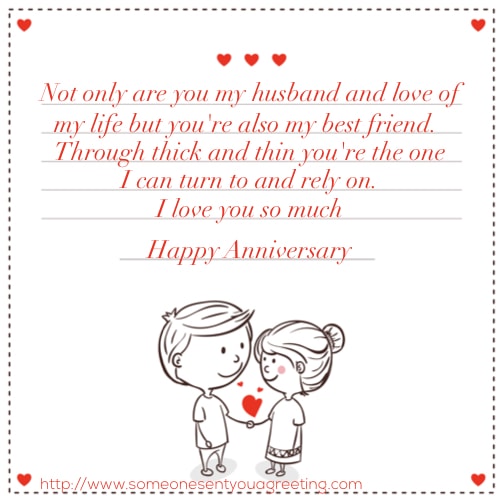 Anniversary Wishes for your Wife
Much like above with a husband if you are wanting to send or tell your wife how much you care about her on your anniversary then use one of these quotes below.
Thank you putting up with me for all these years. I love you so much. Happy anniversary
Here's to many more years of happiness! Love you
Marrying you was the greatest decision I ever made. I count myself the luckiest guy on earth that you said "yes". Happy anniversary honey!
Thinking of a life without you is unbearable. I cherish every moment we get to spend together and love you more than I can express. Happy Anniversary
Even through all the stupid things I've done and mistakes I've made you've stuck by me. You're the most perfect wife I could ever have hoped to have found. Thank you for everything and have a wonderful anniversary
It's an honor and a privilege to be your husband. My love for you is as strong as ever and will only continue to grow. Happy anniversary
You have bought a happiness and joy to my life that I never thought I could experience. I love you more than words would do justice. Happy anniversary
I've fallen in love many times. Always with you.
No one understands me like you do and no one would put up with me like you do. I'll be forever grateful I found you. Happy anniversary
I'm a better man every day because you love me. I hope we have so many more happy years together. Happy anniversary from your adoring husband
Every love story is beautiful, but ours is my favorite. Happy anniversary!
I can't imagine living a life without you. I'd probably be doing the dishes, laundry and having to cook for myself! So a big thanks!
When I look into your eyes I see the most perfect woman. My lover, my best friend and my wife. Happy Anniversary darling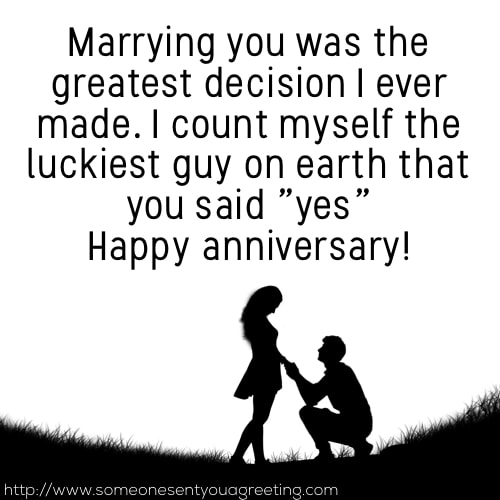 Wedding Anniversary Quotes for a Couple
If you know a happy couple who are celebrating their anniversary then a card with a lovely message or quote is the perfect way to wish them a happy day.
Happy anniversary to the most loving couple I know! Here's to many more happy years
Your relationship is one to be admired. Happy Anniversary
Wishing you a love that never ceases to grow. Happy Anniversary to a great couple.
Congratulations on a successful and happy marriage
I hope one day I find the happiness you have both found with each other. Happy anniversary
As each year passes your relationship and love for each other continues to grow. You're an inspiration to us all and a shining example of what happiness can be.
You've proven you can stand the test of time and anything life throws at you. Congratulations on a wonderful marriage and a happy anniversary
We wanted to wish you a lovely anniversary and many more
You're a wonderful couple who I deeply admire. Happy anniversary
May you continue to bring joy and happiness to each other's lives. Have a great anniversary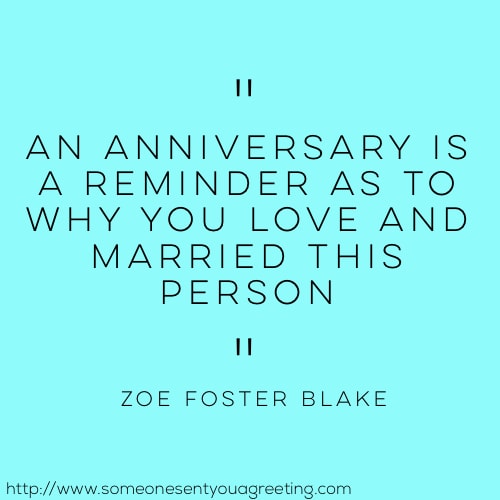 Funny Wedding Anniversary Messages
If your partner is the right type then a funny quote or message could be the perfect way to let them know you care. A clever tweaking of your relationship will put a smile on their face and remind them of the fun you have together.
I'll love you even when we're old and wrinkly. Happy anniversary!
Today we celebrate the best decision you ever made!
Well we made through another year without one of us ending up in jail or dead. I'd call that a success! Happy anniversary
On our anniversary I just wanted to let you know how much I've enjoyed annoying you all this time and how excited I am to do so in the future! Happy anniversary
Sometimes I wonder how you put up with me. Then I remember, oh, I put up with you, so we're even.
We hope you found the perfect words to let your partner know just how special they are on your anniversary with our wedding anniversary quotes. Remember to speak from the heart and be sincere and whatever you say will be received with gratitude and love.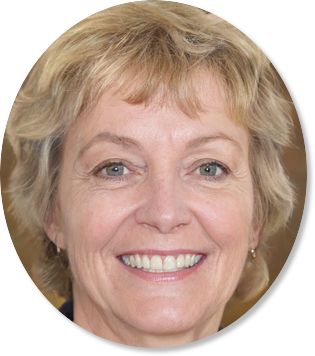 Sally Gibson is the founder of Someone Sent you a Greeting, a holiday/celebration website. Sally's writing work has been mentioned in Woman's World, Yahoo, Women's Health, MSN and more. If you have any questions get in contact with one of the team via the about page.