Not sure what to write in a birthday card for your mom? Need some really heartwarming and sweet birthday wishes for a mom? Read on as we've got just what you'll need.
When your moms birthday comes around you will probably want to make it special for her. You can't get away from it, a mom is one of the most important people in the majority of people's lives.
She brought you into the world, raised you, help guide you through your early years. Her love and strength is so impressive. All in all, moms are pretty great!
So making her birthday a really special event and something she will remember and cherish is understandable. The main ways to achieve this is usually with grand gestures – a big party or gift.
Those are perfectly good ways to show your love and how much you care, but sometimes smaller tokens of your appreciation can speak the loudest.
That's why a touching, well thought out or even funny birthday card and message can be such a lovely way to show in a more understated manner just how important she is to you.
But here comes the problem: even though a mom is so important to us it can still be really difficult to know what to say to her. Expressing your feelings in a few words can be tricky. You want to make sure they reflect exactly how you feel without sounding too cheesy.
Thankfully writing a birthday card message doesn't have to be as hard as it seems. To help we've put together a whole range of birthday wishes and greetings that are written specifically for moms. From wishing her a happy birthday to funny or religious messages we've got you covered!
You can either change them to fit your situation or copy them directly into a card, send them in a text or even use them on Facebook.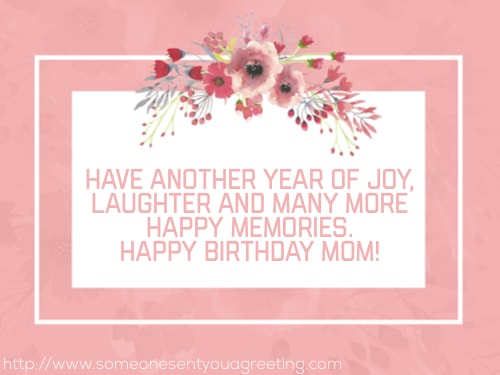 Happy Birthday Wishes for Mom
These birthday wishes are ideal for saying happy birthday to your mom and showing just how much she means to you. Write these in your card or on Facebook to touch her heart and make her feel extra special on the big day.
You sacrificed so much so that I could have everything I needed. I love you more than words can say. Happy birthday mom
You've always been my guide, mentor and inspiration. I'll never stop loving you. Have a wonderful birthday
If I grow up to be half the woman you are I'll be more than happy. Thank you for everything mom and have a great birthday!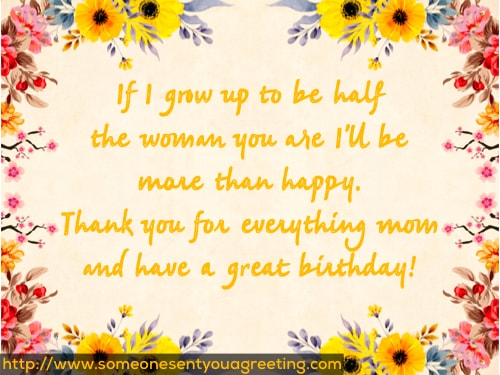 Home will always be wherever you are mom! Happy birthday
You put so much love and support into my life, you made me the person I am today. Thank you fur everything mom
Only a mother believes in your best even after seeing you at your worst.
No one else is as lucky as me, because I've got a mom as awesome as you. Happy birthday.
Happy birthday to the best mom ever! Even if you get older every year, you get younger at your heart.
I love you so much mom! Huge hugs and kisses, have a great day. Happy birthday!
To the most special mom in the world – thank you always being there for me. I don't know what I'd do without you. Have a wonderful birthday
You're not only mom but my best friend. I love you so much and wish you the happiest birthday
Thank you for your continued support and unending love, mom. You're my hero. Happy birthday
Don't ever forget that you're a remarkable person and mom! Happy birthday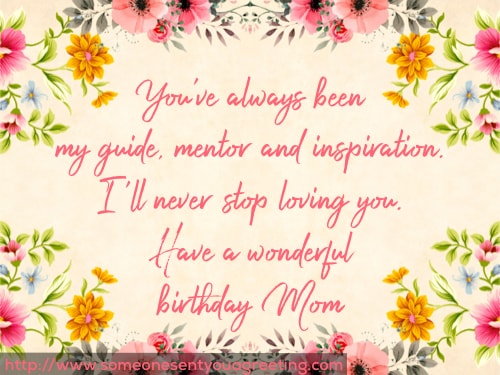 SEE MORE: Happy Birthday Wishes for Niece
Birthday Wishes for Mom
Dearest mom, please know that you mean the absolute world to me and I will always love you. Happy birthday
I hope you make so many happy memories today! Have the best birthday possible
Happy birthday to the best mom in the world! No one comes close to comparing to you
Happy birthday mom! I'll do my best to make you proud and repay you for all the love and support you've given me. Have a brilliant day
Wishing the greatest mom on earth the greatest birthday on earth too!
Dearest Mom, I love you with every beat of my heart. Have a perfect birthday, you deserve it
Here's to you, Super Mom! You are the strongest, bravest, most intelligent woman I know. Happy birthday, my hero!
Everything in the world I owe to you mom. Have a wonderful birthday!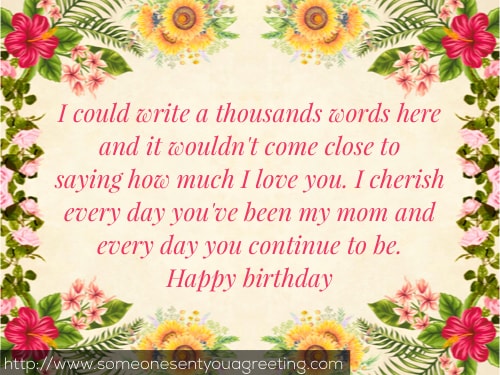 I could write a thousands words here and it wouldn't come close to saying how much I love you. I cherish every day you've been my mom and every day you continue to be. Happy birthday
Happy birthday mom! You've always enabled me to do anything I wanted and I can't thank you enough for being an incredible inspiration.
Not only have I got you this card and gift but you get the honourary title of 'Best mom in the world!' Enjoy it and have a great birthday!
A loving and caring mom like you is all I need in this world. I love you so much. Happy birthday, mom.
Whenever I've need you you've been there. Whenever I've struggled you've supported me. Whenever I've fallen you've picked me up. I cant thank you enough for everything. Have a special birthday mom.
Have another year of joy, laughter and many more happy memories. Happy birthday mom!
Roses are red. Violets are blue. You're my very own super mom. Believe it, it's true! Happy birthday!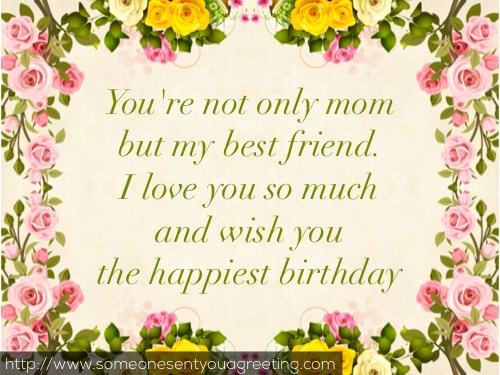 SEE MORE: Happy Birthday Aunt Wishes
Birthday Messages for Mother
It's that time of year again where we celebrate your special day! Enjoy it mom, you deserve it!
I am who I am because of you mom. You made me the person you know today and I will always be eternally grateful for everything you did. Have a happy birthday
Here's to you, Mom! May your light continue to shine bright as it always has, this day and always. Happy birthday!
Warmest wishes to the most amazing mom in the world!
The love and faith you've shown in me has helped me become the person I am today. Thanks for being an arson mom, and have a fantastic birthday!
I hope you have an awesome day and party like there's no tomorrow! Happy birthday mom
I bet everyone is jealous of having a mom like you! Happy birthday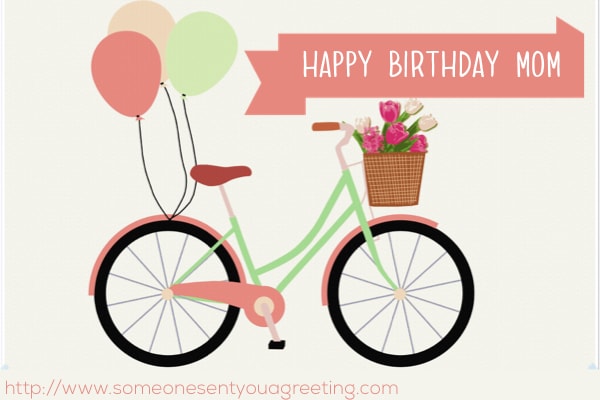 Birthdays are like chocolate. It's best not to keep count of how many you have, and just enjoy them instead. Happy birthday to the most amazing mother
Sending you all the love I've got on your special day mom.
I love you from the bottom of my heart. You are very special, Mom! Happy birthday!
I'm so grateful for having a mom like you. Have the best birthday!
Have a really great day and let your hair down. You deserve it. Happy birthday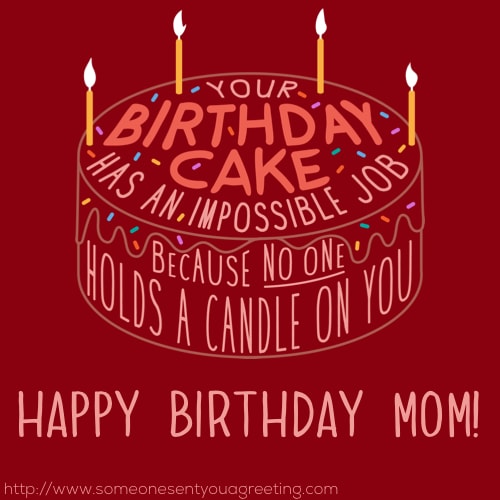 SEE MORE: Happy 70th Birthday Wishes
Funny Birthday Wishes for Mom
You might prefer to make your mom laugh on her birthday. A witty or funny birthday message can be a great way to put a smile on your moms face. And let's face it, birthdays are meant to be fun and filled with happiness. What better way to achieve that than with laughter!
Don't feel overwhelmed by the number of candles on your cake. It won't trigger the fire alarm yet. Next year, maybe! Happy birthday Mom!
Dear Mom, here's wishing you the happiest of birthdays today! From, your favorite child (who is also the smartest, most handsome, and funniest)
Happy birthday, Mom! Here's to you… and birthday cake!
Happy Birthday, mom! I'm so happy that you look so good because these genes give me a rocking good look!
You are a special woman because all women give birth to ordinary children, but you gave birth to a legend! Happy birthday!
I've been thinking about a funny and charming present for your birthday for a long time, but then I've remembered that you have me already. Happy Birthday, mom!
Mom, you know you are getting old when the candles cost more than the cake! Happy birthday from your favorite child!
We want you to have a wonderful birthday, Mom. So as your gift, we are sending Dad away on extended vacation.
Happy birthday to a mom who still looks good enough to have creepy men ask us if we're sisters.
I knew exactly what you wanted for your birthday this year. Me… out of the house for a day. Happy birthday, Mom!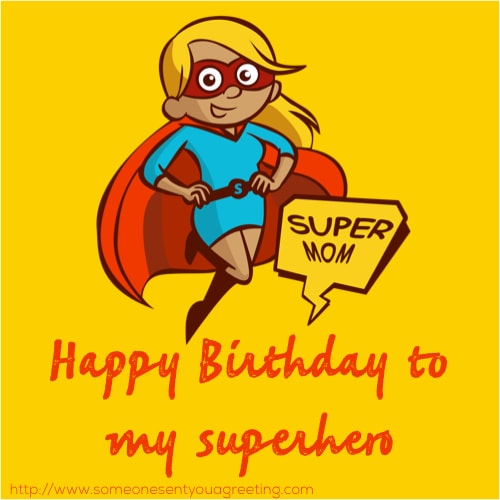 SEE MORE: Happy Birthday Beautiful Lady
From Son
If it's your moms birthday and you're her son then you might want to say something extra special. Maybe let her know what she means to you or thank her for everything she's done. Try one of the birthday wishes below.
To the worlds greatest mom – have a great birthday! From your always grateful son
Happy Birthday mom! Sorry for always being such a nuisance.
Thank you for always being supportive and understanding. I couldn't imagine a world without you. Have a great Birthday!
You've been the most amazing inspiration and helped me to fullfil my dreams. I'm wishing you the happiest of birthdays!
I am happy and successful, and I owe that to you mom. Have such a wonderful birthday!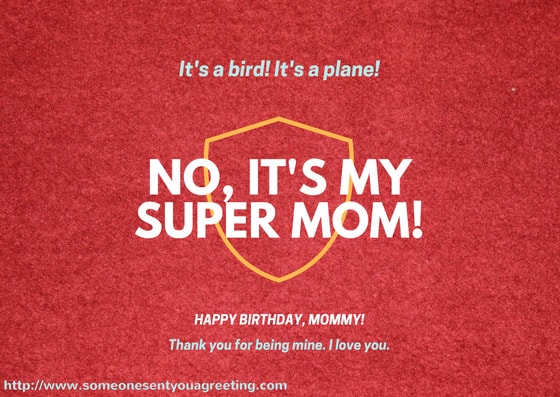 From Daughter
Like above with a son, if you're a daughter then you can tell your mom how much if a role model she had been and an inspiration to you. A sweet message from her daughter will be very special to a mom on her birthday.
You've been an amazing role model Mom, and someone I could always look up to. Happy Birthday!
Thank you for setting me on the path to success and guiding me through hard times. I love you so much. Happy Birthday
I can't be grateful enough to you for the way in which you brought me up and made my life so happy. Have a special birthday mom!
Your strength and poise are an inspiration. I cherish you more than words can say. Have a lovely birthday!
Mommy, you've managed to turn this black and white world into a fairy tale for me. Thank you for filling my life with bright colors. Happy Birthday!
Happy birthday to the most awesome mom! Each time I do right things in life, I remember that it was you who taught me to do them. I owe so much to you!
Religious Wishes
If your mom is religious then sending a religiously themed message might be appropriate and appreciated. Be sure you know that a religious card is the type she would want though. There is the possibility for causing offence here so tread carefully and be absolutely certain before going ahead with it.
Mom, all your life, your prayers have always been for our happiness. Today, my prayer is for you. Happy birthday.
May God bless you with another special birthday. Have a wonderful day mom.
On your birthday, I wish you a joyous celebration and the priceless blessings of the good Lord. Happy birthday to the greatest mother in the entire universe.
A mother like you is a blessing for her children. You have made our house into a home and our lives into a ministry. God bless you, Mom. Happy birthday!
Have a fabulous birthday, Mom. To me, you are the world's most loving mother. Happy birthday, once again, and may the Lord let your heart to always overflow with happiness.
Mom, as you count your blessings on your birthday, I pray that you may enjoy good health all the days of your life. May your life be filled with only things that make you smile. Have a wonderfully happy birthday, my dearest mother.
I thank God not just today, but many days for the blessing you have been in my life. Today I get to officially celebrate what I know in my heart every day.
I thank God not just today, but many days for the blessing you have been in my life. Today I get to officially celebrate what I know in my heart every day.
Every day is a great day to celebrate God's wonderful works. But today is a great day to celebrate you, one of God's most wondrous creations, have a wonderful birthday mom!
Rejoice, for this is the day that God made you! Please know that I am really proud to become a part of your wonderful journey in life. May you have a wonderful birthday and so many great years ahead! Happy Birthday!
Happy Birthday Mom Images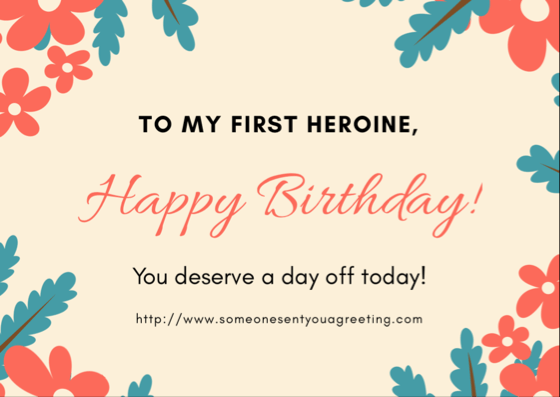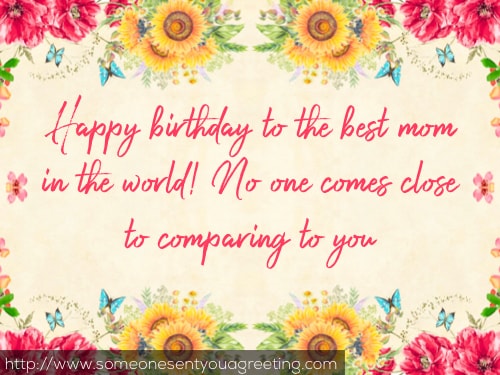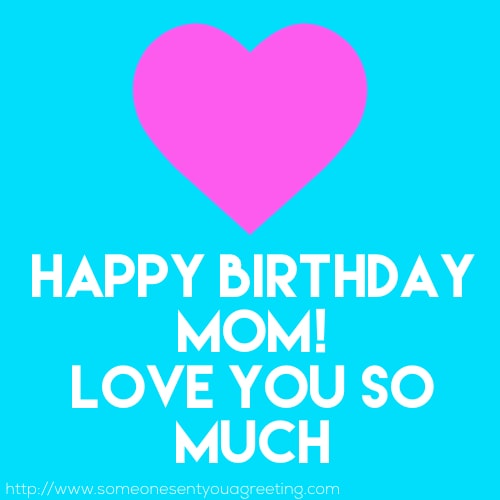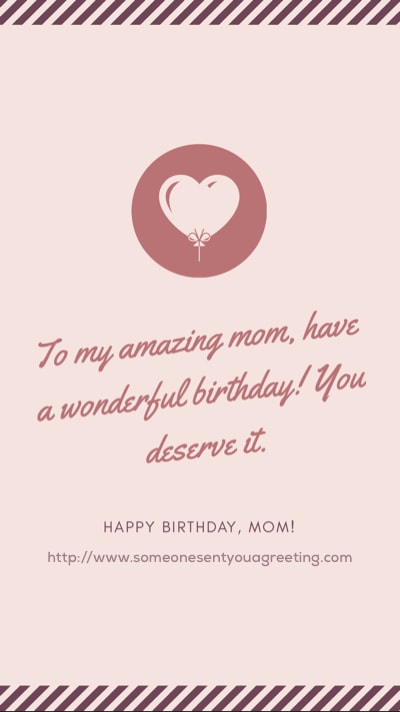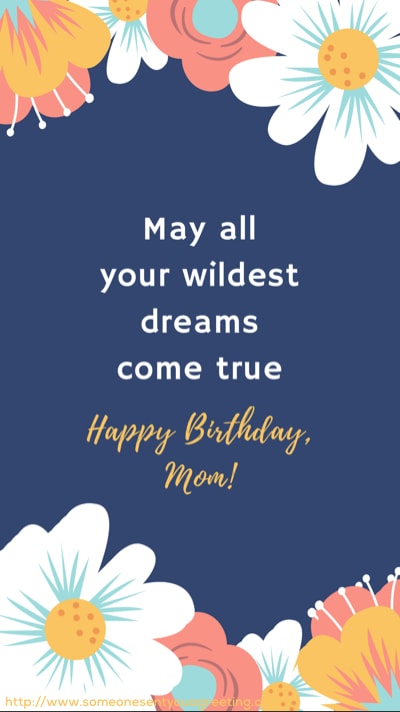 We're confident these examples will help you get the ideal message. Letting your mother know just how amazing she is shouldn't have to be hard or embarrassing. So reach out and say how you feel with these Happy Birthday wishes for mom.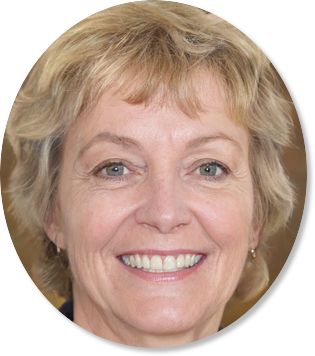 Sally Gibson is the founder of Someone Sent you a Greeting, a holiday/celebration website. Sally's writing work has been mentioned in Woman's World, Yahoo, Women's Health, MSN and more. If you have any questions get in contact with one of the team via the about page.