Bridal or wedding showers are a great celebration of love and happiness. For the bride, having all her friends and family by her side to enjoy and celebrate the upcoming wedding is such a lovely event.
It's obviously a joyous time but can also help to settle any upcoming nerves she may have about the big day. Just being surrounded by all the most important people in your life who are so pleased to see you get married can be incredibly heart warming and reassuring. And we haven't even mentioned the gifts yet!
A bridal shower usually means you give a gift to the bride or couple, and a gift mostly comes with a card. But knowing what to write or say in your card isn't as simple as it might first seem. Bridal showers are different to a wedding so require different sorts of wishes and congratulations.
If you are finding the right words difficult to come by for your bridal shower card then try some of the examples below. You can copy them directly to your card or change them to fit the bride or couple they it is for.
Bridal Shower Messages
These bridal shower wishes are perfect for letting the bride or couple know know how excited you are for them and encouraging them for their special day.
We're so excited for you! You're going to be so happy together!
Can't wait to see you in the big day! You're going to look so beautiful in that amazing dress!
We're so thrilled to be a part of your wedding! Best wishes
Congratulations! I'm so happy for you both. Wishing you all the best
I hope your big day is full of memorable and magical moments.
Wishing you the best for a happy marriage full of endless love
A beautiful wedding is just the beginning of a beautiful marriage!
May your marriage bring you a lifetime of happiness and special memories
This is just the beginning of your 'happily ever after.'
Thank you for the invitation and to share this special event with you. I wish you the best on your upcoming wedding and am sure you're going to be so happy
I'm so looking forward to the big day!
Married is such a huge step but I'm certain you've found the perfect soulmate. Enjoy all the excitement!
I hope all of your wedding plans come together smoothly, and that you two are able to enjoy your last few weeks of engagement.
Watching you walk down the aisle is going to be so perfect, I can't wait!
You're so lucky to have found that special someone to spend the rest of your life with. Have a wonderful day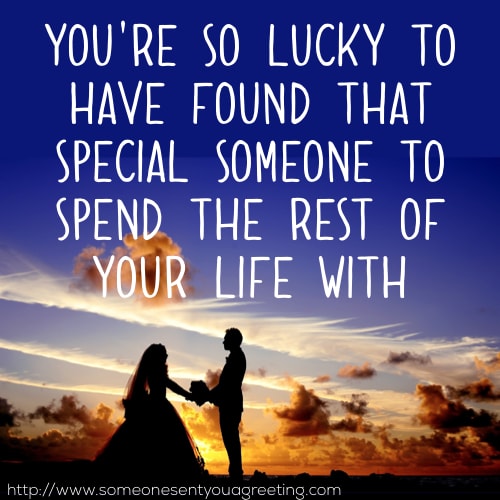 For Family
If the shower is for a family member then you can make it very personal, perhaps recounting an anecdote. Be less formal and really express your feelings towards them.
Tickled pink and fuzzy inside that my daughter is going to be a bride! Congratulations!
Let me know if I can help with any wedding preparations. I know that sometimes you might need someone to help who will listen to you and respect your wishes.
Awaiting the day to see my beautiful daughter draped in white lace from head to toe. My how you've grown into such a beautiful, young lady! Congratulations.
I can't quite believe my sister is actually getting married! I'm so pleased for you and know you're going to be happy and in love for eternity
Congratulations to my beautiful sister. I could not be happier or more proud of you.
You two are living proof that soulmates do exist. Congratulations
Congratulations, soon-to-be-Mrs! I can't wait to see you start this next chapter in your life with an incredible guy
May you grow together and always find new ways to love and support each other.
I can't believe you're getting remarried Mom! But know that I'll be there to support you a the way and am so glad to see you fall in love again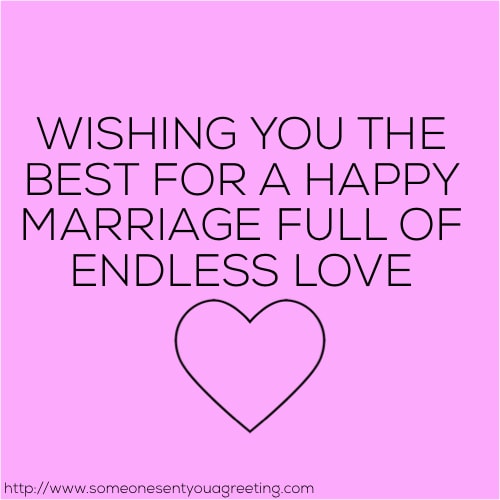 For Friends
Most bridal showers you attend will be friends of yours. So having a card and message for them is important.
I still remember you the day you two met and fell in love. It's amazing to see you both have found true happiness. Wishing you a truly special day
I can't believe how much time has flown by! It just feels like yesterday we were both at school, and now you're getting married! I know how happy you're going to be though and can't wait for the big day
The big day is almost here! Wishing you so much happiness and if you need any help just ask!
Congratulations on finding that special guy. Have a wonderful life together
You couldn't have found a better person to share your life with! Wishing you both so much happiness
May you and your husband be blessed in your marriage by the blending of your friends and family!
Congratulations to my best friend! I am so happy to see you experience the joy of getting married
Kiss every day, laugh often, and never stop being friends. You two were made for each other.
Congratulations on finding your perfect mate! Wishing you, my best friend, and your new spouse the best on your upcoming day.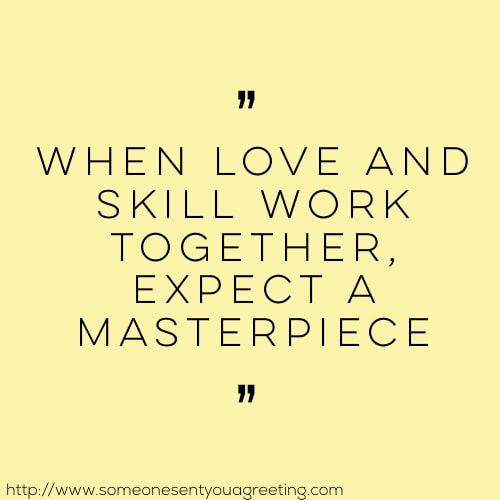 Funny Bridal Shower Messages
A funny message is a great way to make the bride it couple smile on their bridal shower. If they've got a good sense of humour then including a witty or funny message could be a great tension easer.
You're one of the lucky ones who got a great guy. If you changer your mind before the wedding, send him my way. Just kidding!
Bridal showers are good for letting you know how well the ladies of each family will get along!
May your wedding be almost as beautiful as you!
If you didn't go through the stress of planning a wedding, then how could you be prepared for the challenges that marriage will bring?
I'm glad that bridal showers are a tradition. Otherwise, brides might stink on their wedding day!
They say opposites attract – If that's the case this marriage could last for a very long time. Best wishes.
Congratulations! It's a boy! And he's going to be your husband soon!
Congratulations! May you forever stay consciously coupled.
We hope you found these messages useful. And that they will have helped you decide on the perfect wording for your bridal shower wishes.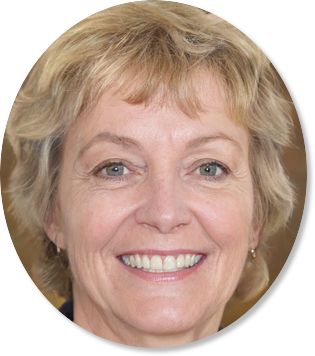 Sally Gibson is the founder of Someone Sent you a Greeting, a holiday/celebration website. Sally's writing work has been mentioned in Woman's World, Yahoo, Women's Health, MSN and more. If you have any questions get in contact with one of the team via the about page.