If you're sending a card or flowers to someone special in your life then a great way to show how much they mean to you, or just to say "I love you", is with a love quote or saying.
In fact you may just want to tell them in person how important they are to you, or even post something on Facebook. Whatever the reason, using one or more cute, touching or funny love quotes is the perfect way to get your feelings across.
Especially if you struggle with finding the rights words to express exactly what you're feeling. Often someone else has said what you want to say but in a much better way!
So we've compiled a huge list of our favourite love quotes and sentiments to cover every type of occasion.
Below you'll find funny, profound and famous love quotes as well as ones specifically for your partner, be that a he or a she! So whatever the need these quotes will be the perfect way to tell someone "I love you"!
Cute Love Quotes
You might fancy a sweet love quote that's cute, warm and fuzzy rather than something overly romantic or a bit risqué. If so then our selection of cute love quotes below should do the job perfectly.
"If you live to be a hundred, I want to live to be a hundred minus one day so I never have to live without you."
— A. A. Milne
"True love stories never have endings."
– Richard Bach
"You know you're in love when you can't fall asleep because reality is finally better than your dreams."
– Dr. Seuss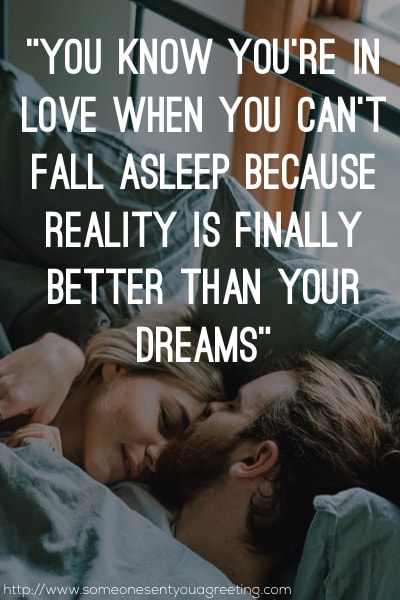 "A friend is someone who knows all about you and still loves you."
– Elbert Hubbard
"If I know what love is, it is because of you."
— Herman Hesse
"I love you not because of who you are, but because of who I am when I am with you."
— Roy Croft
"There is a madness in loving you, a lack of reason that makes it feel so flawless"
— Leo Christopher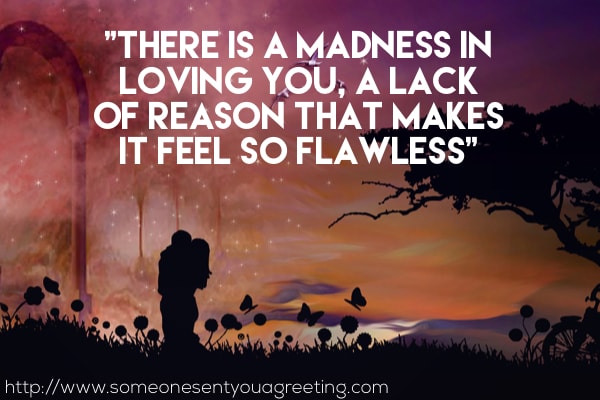 "Love recognizes no barriers. It jumps hurdles, leaps fences, penetrates walls to arrive at its destination full of hope."
— Maya Angelou
"If I had a flower for every time I thought of you… I could walk through my garden forever."
— Alfred Tennyson
"Keep love in your heart. A life without it is like a sunless garden when the flowers are dead."
— Oscar Wilde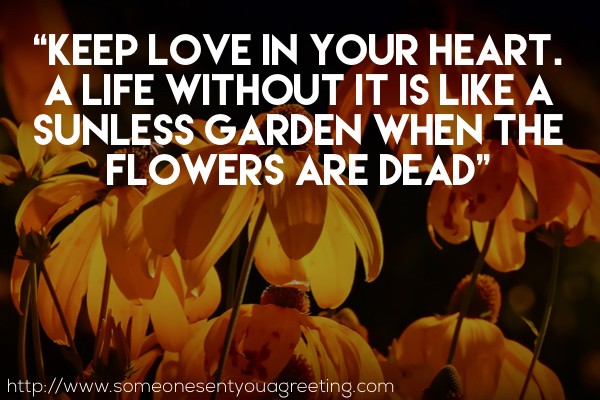 "The best and most beautiful things in this world cannot be seen or even heard, but must be felt with the heart."
— Helen Keller
"In the end, the love you take, is equal to the love you make."
— Paul McCartney
"Anyone can catch your eye, but it takes someone special to catch your heart."
— Anonymous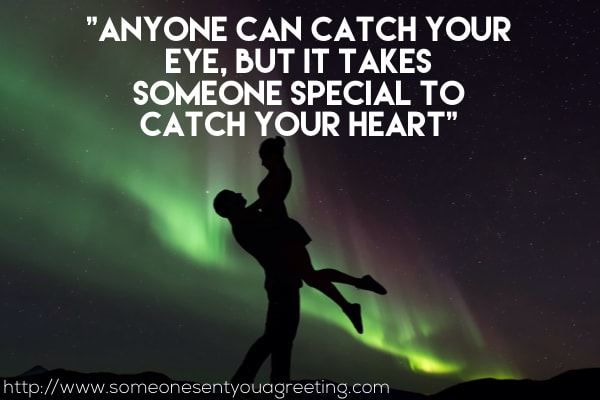 "The only thing we never get enough of is love; and the only thing we never give enough of is love."
— Henry Miller
"A kiss is a lovely trick designed by nature to stop speech when words become superfluous."
— Ingrid Bergman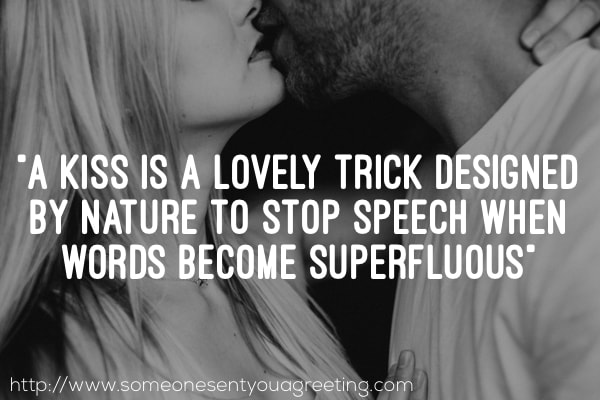 True Love Sayings
Have you found your true love? Or are you still looking for that special one? Maybe you want to lament the lack of true love in your life or celebrate it's joy. Whatever the reason the true love quotes we have here look at it from all angles and will have you covered.
"Life is a game and true love is a trophy"
— Rufus Wainwright
"True love is not a strong, fiery, impetuous passion. It is, on the contrary, an element calm and deep. It looks beyond mere externals, and is attracted by qualities alone. It is wise and discriminating, and its devotion is real and abiding"
— Ellen G. White
"You don't love someone because they're perfect, you love them in spite of the fact that they're not."
— Jodi Picoult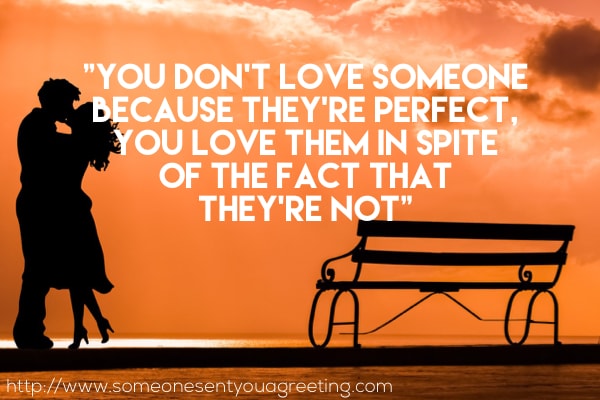 "True love cannot be found where it does not exist, nor can it be denied where it does"
— Torquato Tasso
"True love is selfless. It is prepared to sacrifice"
— Sadhu Vaswani
"True love comes quietly, without banners or flashing lights. If you hear bells, get your ears checked."
— Erich Segal
"Every person has to love at least one bad partner in their lives to be truly thankful for the right one."
— Unknown
"True love will triumph in the end—which may or may not be a lie, but if it is a lie, it's the most beautiful lie we have."
– John Green
"True love lasts forever." – Joseph B. Wirthlin
"It can only be true love when you enable your other half to be better, to be the person they're destined to be."
– Michelle Yeoh
"Thinking of you keeps me awake. Dreaming of you keeps me asleep. Being with you keeps me alive."
— Lisa Brooks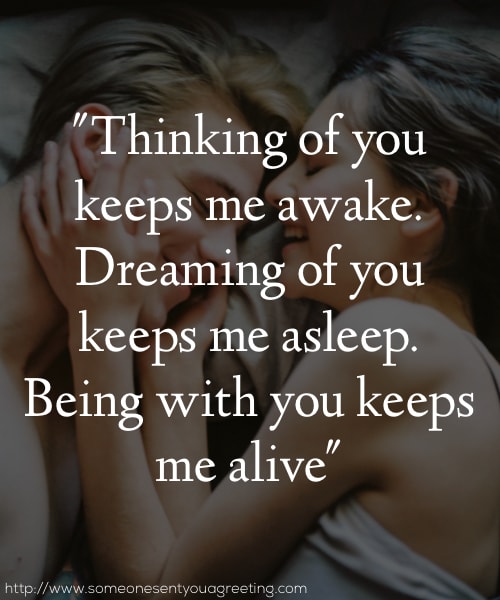 Short Love Quotes
Love often leads to sonnets, poems and lengthy masterpieces that recount the ecstasy and agony in all it's glory. But sometimes you just want a quick way to sum up that magical force in our lives. Well here are some short love quotes that prove you don't have to eulogise for days about love to say it all.
"Where there is love there is life."
— Mahatma Gandhi
"Fortune and love favor the brave."
— Ovid
"The best proof of love is trust."
— Joyce Brothers
"There is no remedy for love but to love more."
— Henry David Thoreau
"Love is a friendship set to music."
— Joseph Campbell
"Love is a better teacher than duty."
— Albert Einstein
"Love in its essence is spiritual fire."
— Seneca
"Love is so short, forgetting is so long."
— Pablo Neruda
"If I know what love is, it is because of you."
— Hermann Hesse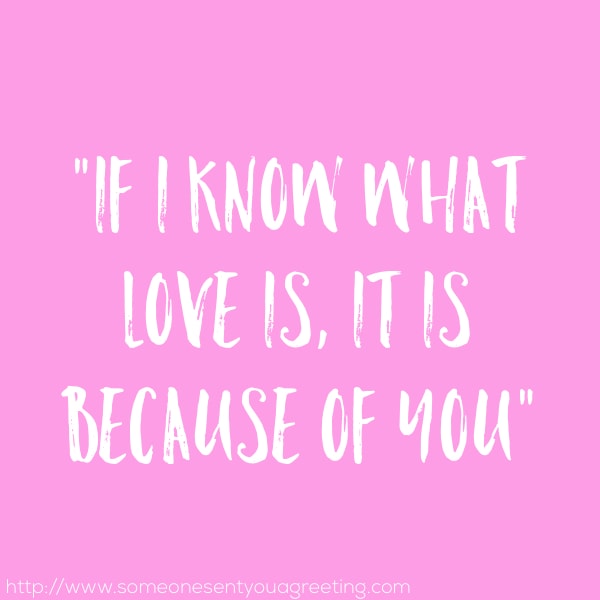 "If you would be loved, love, and be loveable."
— Benjamin Franklin
"At the touch of love everyone becomes a poet."
— Plato
"Love is what you've been through with somebody."
— James Thurber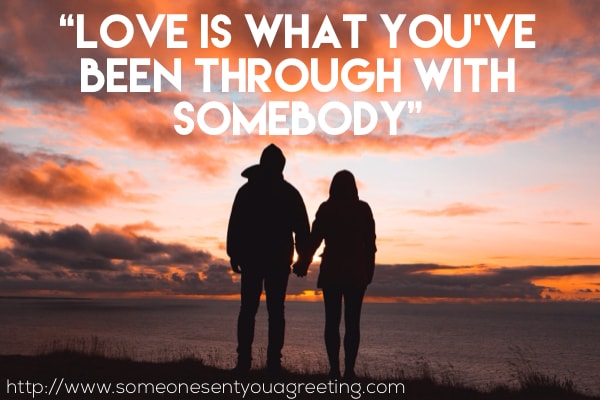 "Love does not dominate; it cultivates."
— Johann Wolfgang von Goethe
"I'm much more me when I'm with you"
— Anonymous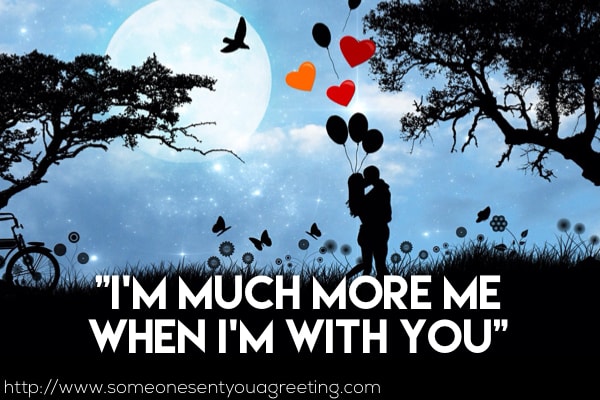 Inspirational Love Sentiments
The power of love is well known. It can give you emotions and feelings like nothing else – spurring on creativity, inspiring you to new heights and healing wounds or hurt. Try these inspirational love quotes to inspire you through the awesome power of love!
"Love yourself first and everything else falls into line. You really have to love yourself to get anything done in this world."
— Lucille Ball
"Love is the only force capable of transforming an enemy into a friend."
– Martin Luther King, Jr.
"Don't brood. Get on with living and loving. You don't have forever."
— Leo Buscaglia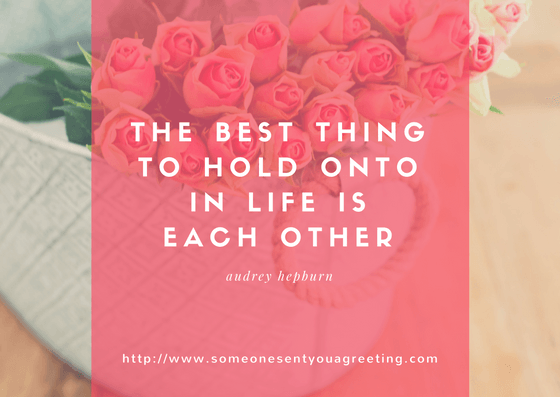 "Darkness cannot drive out darkness: only light can do that. Hate cannot drive out hate: only love can do that."
— Martin Luther King, Jr.
"In all the world, there is no heart for me like yours. In all the world, there is no love for you like mine." – Maya Angelou
"The most important thing in life is to learn how to give out love, and to let it come in."
— Morrie Schwartz
"I have decided to stick with love. Hate is too great a burden to bear."
— Martin Luther King, Jr.
"You yourself, as much as anybody in the entire universe, deserve your love and affection."
– Buddha
"When you arise in the morning, think of what a precious privilege it is to be alive – to breathe, to think, to enjoy, to love."
— Marcus Aurelius
"Love is when the other person's happiness is more important than your own."
— H. Jackson Brown, Jr.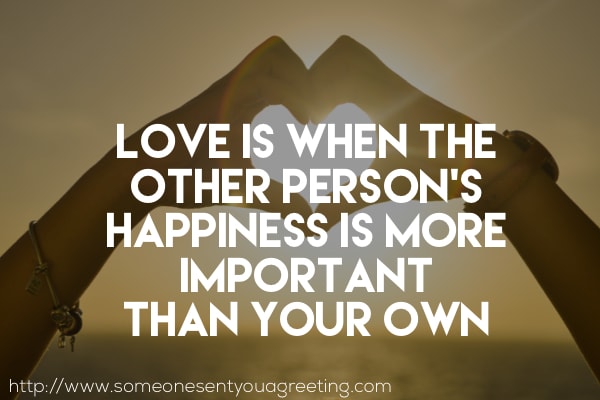 Love Quotes for Him
When it comes to speaking to that special guy in your life you're probably better off avoiding anything too sentimental or sappy. Nothing from the 'The Notebook'! Instead try one of these love quotes for him that are bound to have a much more positive reaction.
"Chemistry is you touching my arm and setting fire to my mind."
– Nayyirah Waheed, poet
"Your words are my food, your breath is my wine. You are everything to me."
– Sarah Bernhardt
"Our love cannot be measured, it just is."
– John Paul Stevens
"You are imperfect, permanently and inevitably flawed. And you are beautiful."
― Amy Bloom
"I miss you even more than I could have believed and I was prepared to miss you a good deal."
— Vita Sackville-West
"Come live in my heart and pay no rent."
— Samuel Lover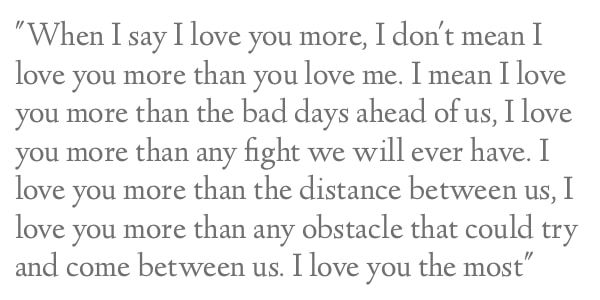 "The last of your kisses was ever the sweetest; the last smile the brightest; the last movement the gracefullest."
— John Keats
"I wish I could turn back the clock, I'd find you sooner and love you longer."
— Anonymous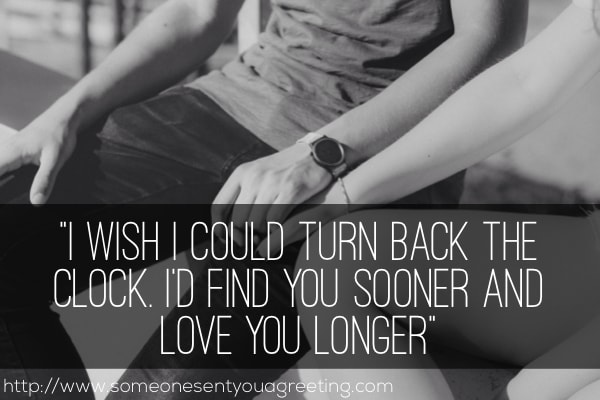 Love Quotes for Her
Sending or saying something sweet or touching about your girl is a no brainer. There's no way she won't like it, you'll look even better in her eyes and you get to say how special she is to you without the awkwardness of thinking it up yourself! That's why the love quotes for her like the ones below are ideal.
"You should be kissed, and often, and by someone who knows how."
– Gone with the Wind
"I choose you and I'll choose you over and over. Without pause, without a doubt, in a heartbeat, I will keep choosing you."
— Anonymous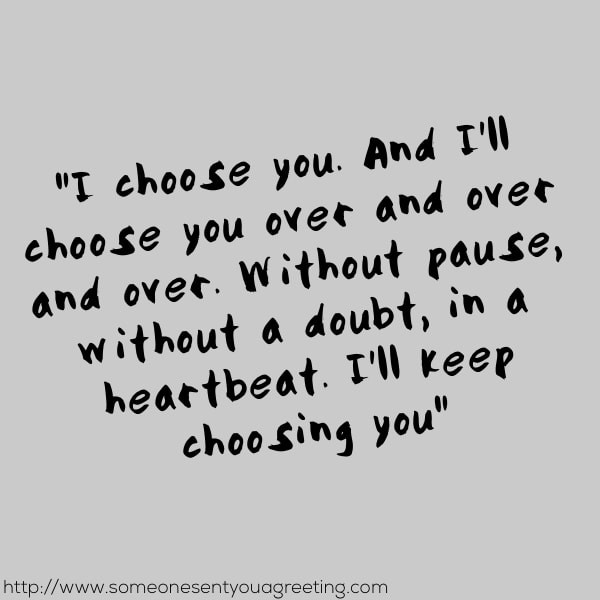 "For you see, each day I love you more, today more than yesterday and less than tomorrow."
– Rosemonde Gerard
"You have bewitched me, body and soul, and I love, I love, I love you. I never wish to be parted from you from this day on."
– Pride and Prejudice
"I want you. All of you. Your flaws. Your mistakes. Your imperfections. I want you, and only you."
— Anonymous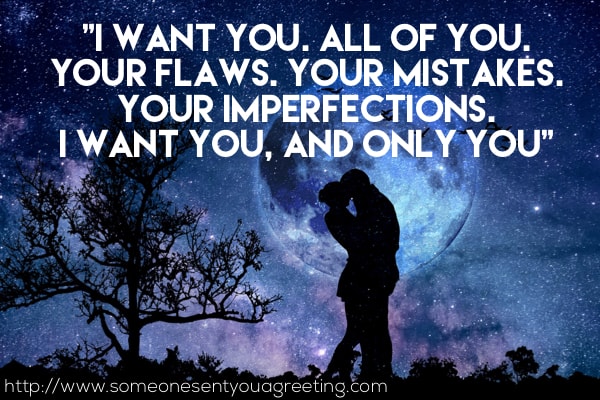 "You are the finest, loveliest, tenderest, and most beautiful person I have ever known—and even that is an understatement." – F. Scott Fitzgerald
"I kiss your vision as it rises before my mind."
– Winston Churchill
"I wish you to know that you have been the last dream of my soul."
– Charles Dickens, A Tale of Two Cities
"My night has become a sunny dawn because of you."
– Ibn Abbad
"I cannot exist without you—I am forgetful of everything but seeing you again—my Life seems to stop there—I see no further. You have absorb'd me."
– John Keats
"I swear I couldn't love you more than I do right now, and yet I know I will tomorrow."
— Leo Christopher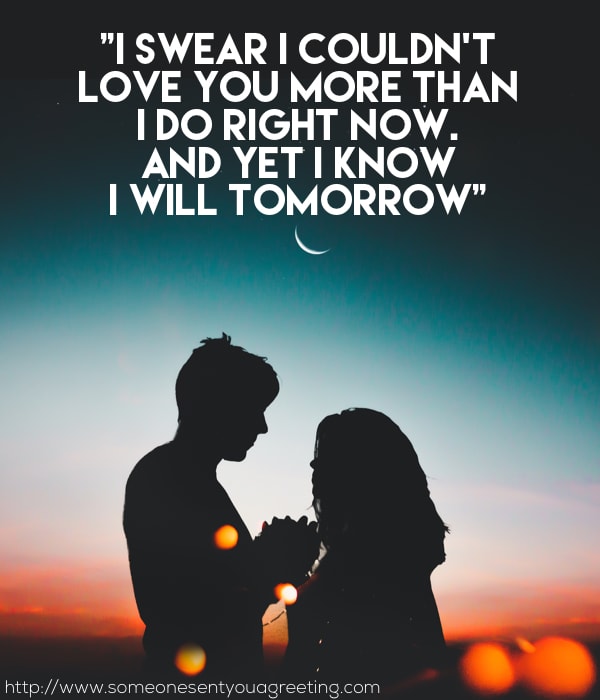 Funny Love Quotes
Love doesn't have to be serious all the time. In fact it often isn't. Some of the happiest and best memories we have with loved ones is when we're laughing or sharing a joke. So if you're looking for something a little less serious then a funny love quote is definitely the way to go.
"All you need is love. But a little chocolate now and then doesn't hurt."
— Charles Schulz
"Love is something sent from heaven to worry the hell out of you."
– Dolly Parton
"Real love amounts to withholding the truth, even when you're offered the perfect opportunity to hurt someone's feelings."
– David Sedaris
"Love is a two-way street constantly under construction."
– Carroll Bryant
"The art of love is largely the art of persistence."
— Albert Ellis
"A dog is the only thing on earth that loves you more than you love yourself."
— Josh Billings
"I love you and it's getting worse."
— Joseph E. Morris
Falling in Love Sentiments
"No one ever fell in love gracefully."
— Connie Brockway
"Falling in love is like leaping from a cliff. Your brain screams that it's not a good idea and that hurt and pain will inevitably come to you. But your heart believes you can soar, glide and fly."
— Marie Coulson
"You know you're falling in love when the feeling of falling actually feels like you're floating."
— Rashida Rowe
"You can't help who you fall in love with."
— E.L. Montes
"No one ever fell in love without being a little bit brave."
— Mario Tomasello
"Don't try to stop your heart from falling in love, because in the end it may be worth it."
— Fad Ibra
"No one believes in love at first sight until that special person comes along and steals your heart."
— Unknown
"We never get enough of falling in love and believing in love."
— Shemar Moore
"Falling in love consists merely in uncorking the imagination and bottling the common sense."
— Helen Rowland
Best Love Sayings
The crème de la crème of love quotes are the ones that sum up love in the most concise and fitting way. They get straight to the heart of what love is without any messing about. These are the best love quotes available.
"There is only one happiness in this life, to love and be loved."
— George Sand
"We are most alive when we're in love."
— John Updike
"Love is not only something you feel, it is something you do."
— David Wilkerson
"One word frees us of all the weight and pain of life: That word is love."
— Sophocles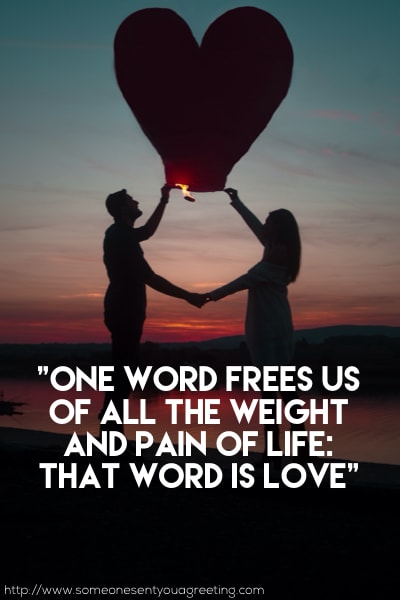 "You know it's love when all you want is that person to be happy, even if you're not part of their happiness."
— Julia Roberts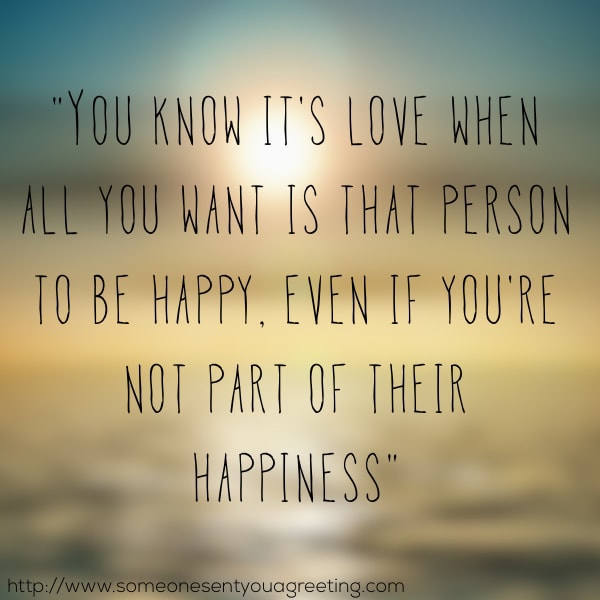 "Friends show their love in times of trouble, not in happiness."
— Euripides
"To love is nothing. To be loved is something. But to love and be loved, that's everything."
— T. Tolis
"I love you, and I will love you until I die, and if there's a life after that, I'll love you then."
— Cassandra Clare
"You don't love someone for their looks, or their clothes, or for their fancy car, but because they sing a song only you can hear."
— Oscar Wilde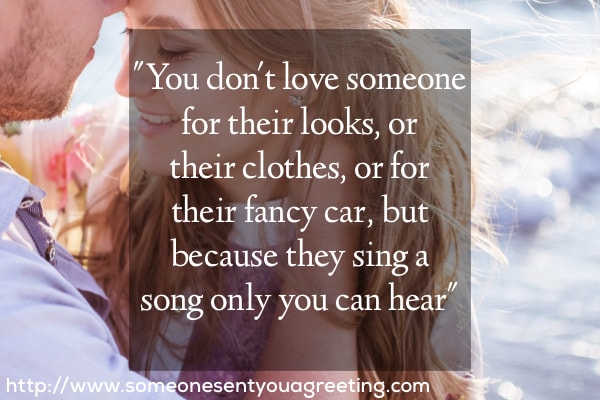 Profound Love Wishes
Sometimes you will read or hear someone say something that makes you stop in your tracks and think. The quotes below do just that but entirely about love.
"The way to love anything is to realize that it may be lost."
— Gilbert K. Chesterton
"The more one judges, the less one loves."
— Honore de Balzac
"Your task is not to seek for love, but merely to seek and find all the barriers within yourself that you have built against it."
— Rumi
"The love we give away is the only love we keep."
— Elbert Hubbard
"The giving of love is an education in itself."
— Eleanor Roosevelt
"Love takes off masks that we fear we cannot live without and know we cannot live within."
— James Baldwin
"We are shaped and fashioned by what we love."
— Johann Wolfgang von Goethe
"Life without love is like a tree without blossoms or fruit."
— Khalil Gibran
"Love is composed of a single soul inhabiting two bodies."
– Aristotle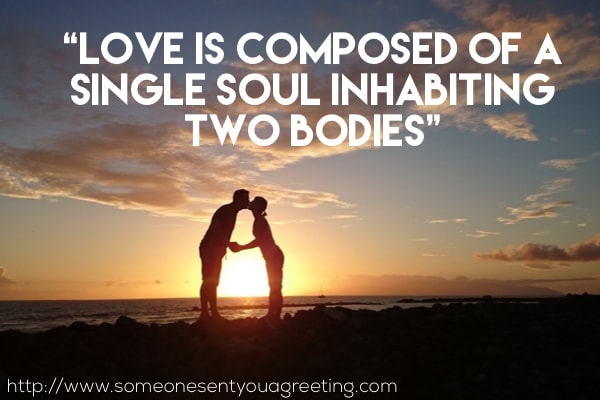 "It takes courage to love, but pain through love is the purifying fire which those who love generously know. We all know people who are so much afraid of pain that they shut themselves up like clams in a shell and, giving out nothing, receive nothing and therefore shrink until life is a mere living death."
— Eleanor Roosevelt
"Love is of all passions the strongest, for it attacks simultaneously the head, the heart and the senses."
— Lao Tzu
"A woman knows the face of the man she loves as a sailor knows the open sea."
— Honore de Balzac
"When we are in love we seem to ourselves quite different from what we were before."
— Blaise Pascal
"Love is an untamed force. When we try to control it, it destroys us. When we try to imprison it, it enslaves us. When we try to understand it, it leaves us feeling lost and confused."
— Paulo Coelho
"Love is when you meet someone who tells you something new about yourself."
— Andre Breton
"Being deeply loved by someone gives you strength, while loving someone deeply gives you courage."
— Lao Tzu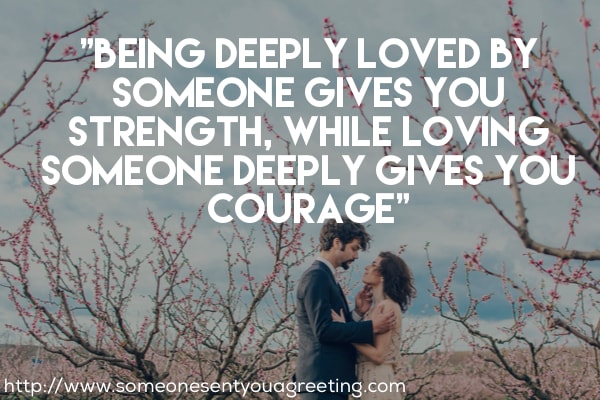 Bible Quotes
Love is a key part of the Bible and because of that it is littered with quotes and sayings about it. If you're sending a religious card or want to celebrate a special occasion then these Bible live quotes are just what you're looking for.
"Be devoted to one another in love. Honor one another above yourselves."
– Romans 12:10
"Be completely humble and gentle; be patient, bearing with one another in love."
– Ephesians 4:2
"We love because He first loved us."
– 1 John 4:19
"Above all, love each other deeply, because love covers over a multitude of sins."
– 1 Peter 4:8
"Most of all, let love guide your life, for then the whole church will stay together in perfect harmony."
– Colossians 3:14
Famous Love Quotes
Some of the most well known people, films and books have the most quotable lines about love. They've become part of modern culture through their universal appeal. So using a famous love quote that we all know is a great way to express your love to someone.
"Better to have lost and loved than never to have loved at all."
— Ernest Hemingway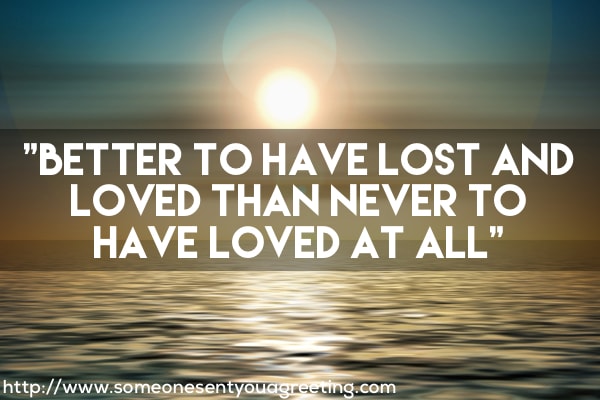 "Of all the gin joints in all the towns in all the world, she walks into mine."
– Casablanca
"Love is a promise; love is a souvenir, once given never forgotten, never let it disappear."
— John Lennon
"Love is like the wind, you can't see it, but you can feel it."
― Nicholas Sparks
"Where there is love there is life."
– Mahatma Gandhi
"We're all a little weird, and life's a little weird. And when we find someone whose weirdness is compatible with ours, we join up with them and fall in mutual weirdness and call it love."
— Dr Seuss
"Life is a flower of which love is the honey."
— Victor Hugo
"Love is a serious mental disease."
— Plato
"The heart wants what it wants. There's no logic to these things. You meet someone and you fall in love and that's that."
— Woody Allen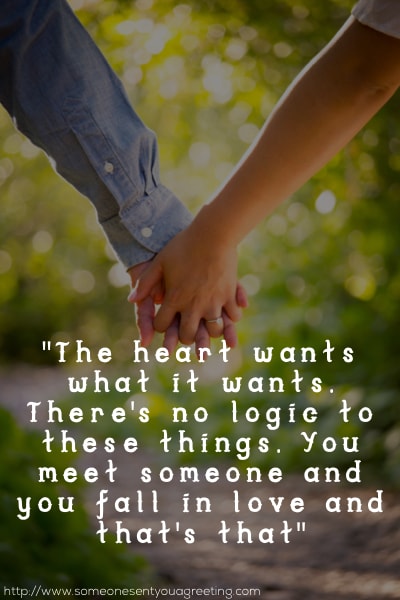 SEE MORE: Love Paragraphs for Him
Shakespeare Quotes about Love
The bard was one of the most influential people when it came to love. His writings are some of the most famous love stories in the world and the characters staples of what we think of when we it comes to romance. So who better to turn to for a love quote than Shakespeare?
"The course of true love never did run smooth"
— A Midsummer Nights Dream
"Now join your hands, and with your hands your hearts."
– King Henry V
"The sight of lovers feedeth those in love."
– As You Like It
"Love all, trust a few, do wrong to none."
– All's Well That Ends Well
"I do love nothing in the world so well as you."
– Much Ado About Nothing
"Doubt thou the stars are fire;
Doubt that the sun doth move;
Doubt truth to be a liar;
But never doubt I love."
— Hamlet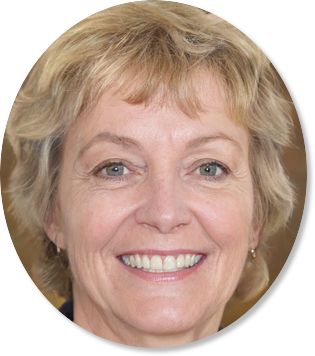 Sally Gibson is the founder of Someone Sent you a Greeting, a holiday/celebration website. Sally's writing work has been mentioned in Woman's World, Yahoo, Women's Health, MSN and more. If you have any questions get in contact with one of the team via the about page.