An engagement is definitely a time for celebrating! What happier event could there be than two people deciding to get married and share their lives together.
It'll melt even the coldest of hearts! And when a happy couple announces their engagement you're going to want to congratulate them on the amazing news. This will be one of the most joy filled moments of their lives and signal a new chapter of their future together.
So you'll want to send them the warmest wishes and engagement congratulations, letting them know how pleased for them you are.
But we understand that finding the right words to say congratulations on your engagement can be tricky. Writing a lovely card message or a note to go with flowers or gift doesn't come naturally to everyone.
We aren't all Shakespeare! And even if you're feeling so delighted for them getting those feelings expressed in a short message is easier said than done.
So use the engagement congratulations messages and wishes below to inspire you to write your own. Or you can copy them as they are directly into a card or note.
Engagement Congratulations
These congratulations messages will let you congratulate the newly engaged couple and tell them how amazing it is they're getting married. Don't be shy, let them know just what it means to you and how happy you are for them!
Congratulations on your engagement! We're so happy for you!
We're so excited for you! Congratulations
You're going to make a wonderful husband wife. Congratulations
You're perfect for each other and I couldn't be happier for you. Big congratulations!
You were made for each other, congratulations
Congratulations on a love so pure and strong.
I know how happy you're going to be together. Congrats
Congratulations, I hope your lives are filled with joy and happiness.
Congratulations! I can't wait for the wedding!
We're so happy you've found love and happiness in each other. Congratulations on the wonderful news
Congratulations to the future bride and groom. May you have the perfect life together /li>
We know this is just the beginning of a long and happy life by each other's side. Congratulations!
Its about time! We thought it might never happen!! Congratulations on the fantastic news
Congratulations on taking such a big step. May your future together be filled with love and happiness
Congratulations! Sending you both all my love
Engagement Wishes
You can wish the couple happiness and a wonderful future together if you prefer. The engagement wishes below do a great job of telling the happy couple just how pleased for them you are.
Wishing you all the best for your engagement
May you stay in love forever! Best wishes for the engagement
Wishing you both endless happiness
We can't wait for the wedding! Wishing you both much love
Best wishes to the both of you and may your life together be nothing but joy filled
Warmest wishes to our favorite couple!
Happy engagement to you, may all your dreams and prayers come true!
I can't think of a better couple than you. Wishing you so much happiness for your engagement and beyond
I hope you celebrate today and make it a special memory to match all the ones to come!
I hope this commitment brings you a happy, exciting and joyful new life ahead. Best wishes for engagement!
Best wishes for the future. I know you're going to make each other so happy.
Happy engagement day!
Sending you warm wishes, big hugs and congratulations for your engagement.
I hope you have a long and amazing life with each other. Best wishes on your engagement
Funny Engagement Wishes
A good alternative to congratulations and best wishes is something a bit witty or funny. You can poke fun at the couple or tell a joke. Putting a smile on their face during this time shouldn't be too hard but we're sure they'll appreciate something a little funnier than the usual.
It is a truly beautiful thing that you have finally found the one person that you want to spend the rest of your life annoying!
I must say, I am so proud of you for getting engaged out of love. I always figured you'd get knocked up first!
Marriage is a relationship in which one person is always right, the other person is the husband!
Congratulations on your engagement. Enjoy this magical time between now and when reality smacks you in the face.
Don't rush things from here. A long engagement is a great way to delay the inevitable drudgery of an actual marriage.
Marriage is the world's oldest workshop: the husband works while the wife shops!
Never again laugh at your fiance's choices, because you are one of them!
Engagement advice: make sure the ring is really tight so it can never be taken off!
Engagement is the first of 3 rings: the engagement ring, the wedding ring and the suffering!
Tip
Remember to be certain that the couple you're sending a funny message to are the type that can laugh at themselves or an engagement. They may be taking it very seriously and not appreciate you poking fun at their special day. So if you're in doubt or worried at all then play it safe and don't use anything funny.

Engagement Congratulations Images
These engagement images are perfect for posting on Facebook or Twitter to the happy couple.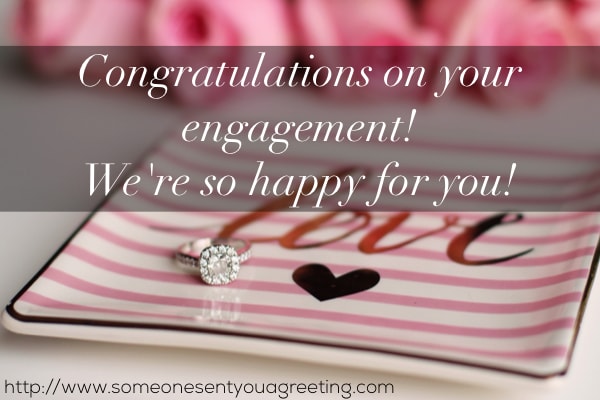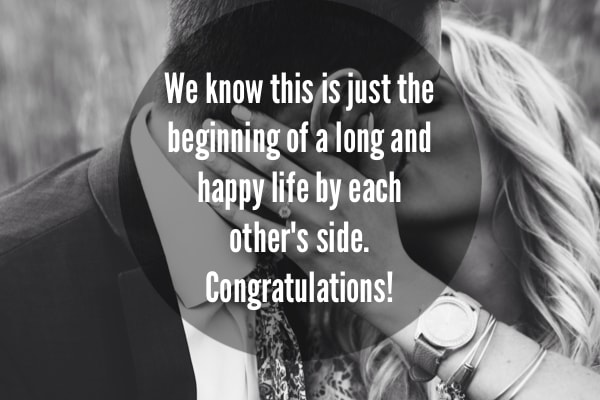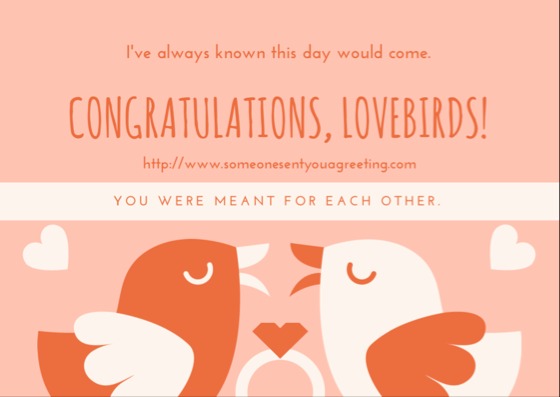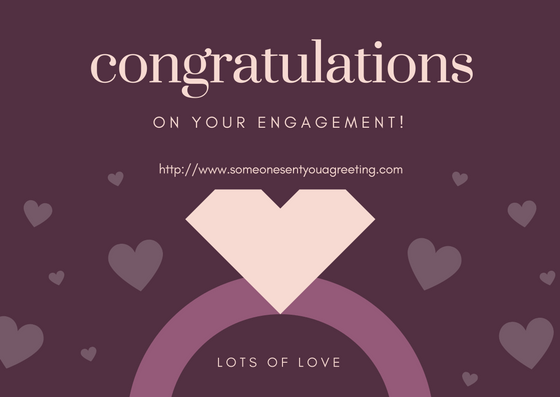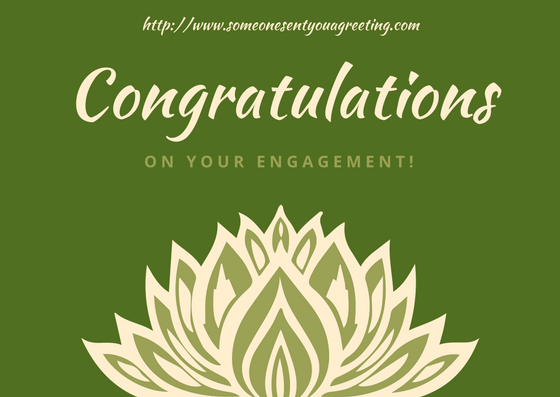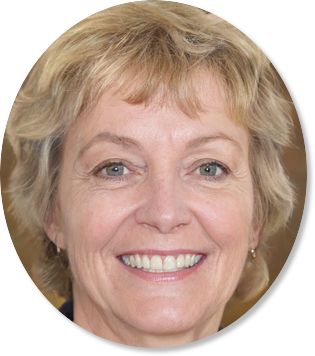 Sally Gibson is the founder of Someone Sent you a Greeting, a holiday/celebration website. Sally's writing work has been mentioned in Woman's World, Yahoo, Women's Health, MSN and more. If you have any questions get in contact with one of the team via the about page.