Ooops! You've gone and forgotten your anniversary, haven't you? I don't need to tell you what a mistake that is!
Fear not though as it can still be rescued, albeit with a forgiving partner. The first step to mending fences and building bridges is to give them a card or note containing your apologies.
At the same time you should include a belated anniversary message to let them know you still want to celebrate the occasion and acknowledge how big a deal it is. Just an apology for missing it won't be enough.
You're struggling with what to say though, right? Writing belated anniversary wishes aren't as easy as you might think.
You want to be apologetic, sincere and try to still capture the moment if the special day (even though you missed it!). Alternatively if you're partner is the type then saying something funny or self depreciating about the situation can work wonders to break the ice and thaw relations. Or you can use both covering all options.
So take a look at the belated anniversary wishes and messages below to give you some ideas and inspiration. You can copy them as they are or edit them to fit your own needs.
Belated Anniversary Wishes
Use these belated wishes to apologise and show how much you care even though you messed up to your partner. Hopefully they will be a start to making it up to your significant other and make amends.
I'm so sorry for missing our anniversary. Please accept my apologies
Can you ever forgive me? I promise I'll make it up to you! Happy belated anniversary
I know how special our anniversary is and can't believe I forgot it. I'm so sorry and will do all I can to make it up to you
I was feeling confident you wouldn't mind me being a bit late with this but now I'm not so sure. Please forgive a forgetful but loving partner
Happy belated anniversary! Better late than never, right?
Will a thousand apologies make up for missing out anniversary? I'll start now – I'm so sorry
Happy anniversary! I love you more each and every day. I'm so sorry I was a little late with this
Sorry this is so late. You know how busy I've been but that's no excuse. I love you and treasure each year we're together. Happy belated anniversary
Our anniversary is one of the most important days of the year so to miss it is unforgivable. I hope you know that it doesn't mean I love you any less and never will. Happy belated anniversary honey
D'oh! I'm an idiot. It's a bit late but happy belated anniversary
I'm really sorry I had to be away on business. I know it's not much but happy belated anniversary.
I never thought I'd be the sort of person who would forget an anniversary. And yet here I am. So sorry darling, I'll make it up to you I promise
No excuses – I missed our anniversary and I'm truly sorry. I love you so much and will definitely make it up to you. Happy belated anniversary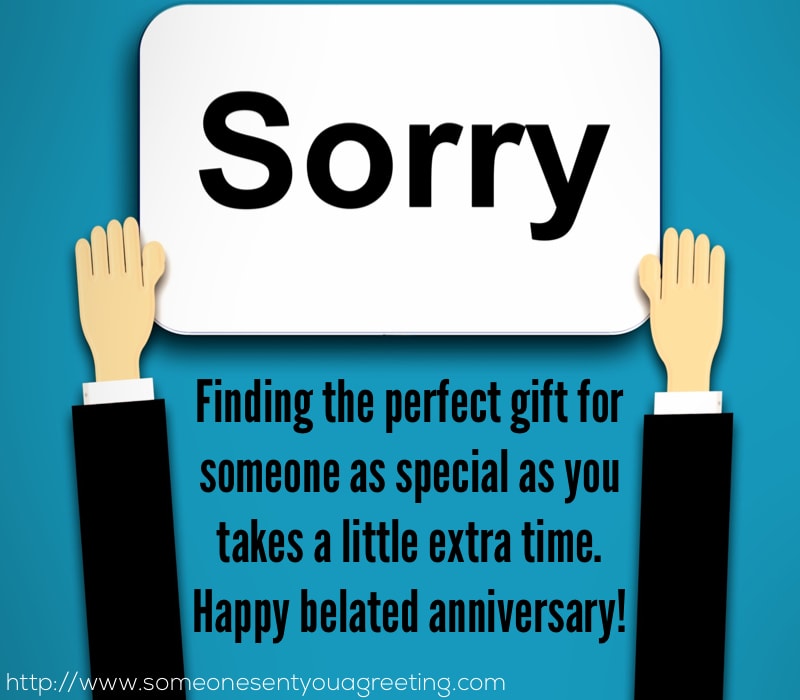 SEE MORE: Anniversary Quotes for Friends
Funny Belated Anniversary Messages
Try these funny messages for your belated anniversary card to (hopefully!) put a smile on your partners face. Just be sure they have a good sense of humour!
You know what, I'm mad about celebrating our anniversary late as well. It's my anniversary too!
Finding the perfect gift for someone as special as you takes a little extra time. Happy belated anniversary!
You do a lot of things for me, and this year I did something for you. I gave you an opportunity to prove how loving and forgiving you are. Happy Belated Anniversary!
Seeing your Facebook post thanking everyone for wishing you a happy anniversary reminded me to get you this belated anniversary card. Happy belated anniversary!
Happy belated anniversary! "Belated" in this instance means "the art of sending things after the fact, so that yours is noticed more"
A belated anniversary wish is technically a really, really early wish for next year. So I messed up, but I am covered for next year now! Just so you remember.
I didn't forget our anniversary. I'm just fashionably late. Happy belated anniversary!
Apologies for my time perception disorder. Happy belated anniversary.
I love knowing there's nothing I can do to make you stop loving me, including giving you a late anniversary card
Tip
Make sure you're significant other is the type who will be able to laugh at you being late. Using a funny message when they're genuinely upset or annoyed over you missing the anniversary could only make things worse. So be 100% certain beforehand.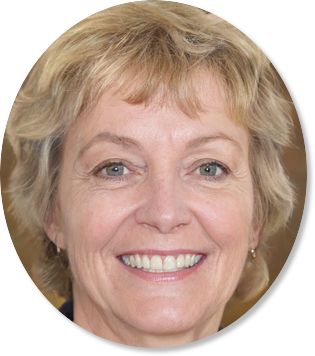 Sally Gibson is the founder of Someone Sent you a Greeting, a holiday/celebration website. Sally's writing work has been mentioned in Woman's World, Yahoo, Women's Health, MSN and more. If you have any questions get in contact with one of the team via the about page.