A first anniversary is a significant milestone in a relationship. It's no surprise then that you will probably want to celebrate it in the best way possible.
Making sure you send your other half a nice anniversary card with appropriate message is key. But knowing exactly what to say can be tricky.
So try one of the funny, sweaty or loving anniversary wishes below for your card and show the person you love just how much you care.
Happy First Anniversary Wishes
Life has never been so beautiful as it has been this past year with you by my side. Happy anniversary
Even after one year together, I get butterflies every time I see you. Here's to every year being like our first
Thanks for being the perfect partner! Happy first anniversary
Even after a whole year together, I still think I'm dreaming. How could I ever be so lucky as to have a life with you?
Just being in your presence makes me fall in love with you all over again. Happy anniversary my love
The more time I spend with you, the deeper I fall in love. Here's to the years to come
I thought all guys were the same, but you proved me wrong! Here's to the most incredible guy I know
One year ago, you kissed me goodnight for the first time. And that was the beginning of the most wonderful time if my life. Happy anniversary
The only thing I regret in our relationship is that it didn't begin earlier. Happy first anniversary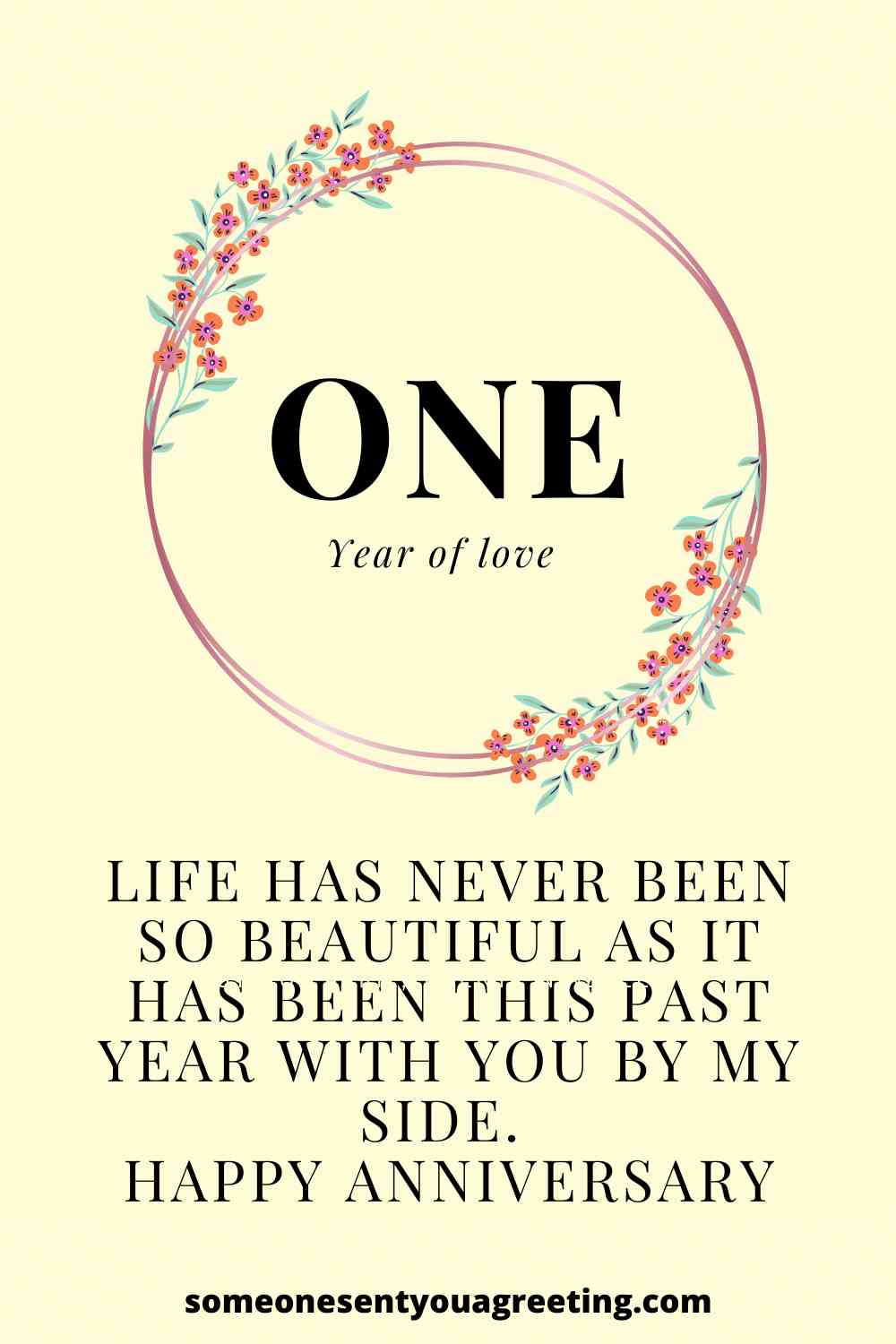 SEE MORE: 7 Year Anniversary Quotes
1st Anniversary Quotes for Couples
Use these sweet messages to congratulate a couple of their one year anniversary.
Sending my best wishes and lots of love on your anniversary. Congratulations on your 1st year together
Seeing you two and the love you have for one another warms my heart. If ever there were two people meant for each other, it's you. Happy first anniversary!
You are so cute together. You prove that true love really dies exist. I hope you enjoy your anniversary today and remember how you fell in love
It may only be your first anniversary but it definitely won't be your last! You are the perfect couple and will last forever. Happy anniversary
One year of wedded bliss and you go from strength to strength. Congratulations and happy 1st anniversary to my favorite couple
Congratulations on the first year of marriage. I've loved watching you two get to know each other even better and see you blossom into such a happy couple. Enjoy your anniversary
No one could epitomize love and marriage better than you. You are soulmates who will be with each other through thick and thin. Congratulations on your 1st anniversary
We will celebrate your love and Union today as it's a whole year since you became man and wife. Happy first wedding anniversary my friends
SEE MORE: Anniversary Wishes for Parents
1st Anniversary Wishes for Husband
Wish your husband a happy anniversary with one of these first anniversary quotes and messages.
Happy first anniversary to my husband. You've been my rock and there for me whenever I have needed you. I know that we face so many more happy years together
To the man who will be by my side forever. I am so grateful for you and am looking forward to many more happy anniversaries with the best husband in the world
Happy first anniversary my wonderful husband. I love more than words could ever hope to say. Thank you for making me so happy
You are funny, handsome and kind. I couldn't be any luckier than to have found you. This is just the first year of so many we can enjoy together. Happy anniversary
Nothing makes me happier than being with you. Thank you for being my husband and completing my life. I would be lost without you. Happy anniversary darling
We have the perfect love story and one that will last for eternity. You have brought me a happiness I never knew existed and I will be forever grateful for the blessing you truly are. Happy anniversary
I want to celebrate today and all we've been through together this year but also to think of what is still to come. We have so many exciting moments left that I cannot wait to share with you. Happy anniversary my amazing hubbie
SEE MORE: Late and Belated Anniversary Messages
1st Anniversary Messages for Wife
You are the most beautiful person in this world or any other. I am blessed to face you and thank God every day that you came into my life. After one test together nothing has changed and I am the happiest man alive. Congratulations to us and happy anniversary
My life is wonderful because you are in it. I will celebrate our first anniversary but be looking forward to all the amazing times we will have in the future
Wishing you, my beloved wife, a very happy first anniversary. You're my everything and I am the luckiest person the world. Thank you for bringing such joy to my life
Life has been so special since I met you. I love you so much and thank you for everyone you do. Happy 1st anniversary
Thank you my amazing wife for your love. I didn't know how incredible life could truly be until you came into mine. Now I know I can't be without you. Happy anniversary for now and forever
I will love you just as much on our 50th anniversary as I do today on our 1st. You are the most important thing in this world to me and you always will be. Happy anniversary
Since I met you my life had found meaning. I look forward to the future with an excitement I never had before. With you the world shines with color. Thank you and happy first anniversary my love
Thank you and happy 1st anniversary. You are my wife, my best friend and the most beauty woman in the world. I am forever grateful for having you by my side
Boyfriend 1st Anniversary Quotes
Happy anniversary to my boyfriend. One year with you is more than enough to tell me you are the man of my dreams. Thank you for being my knight in shining armor
We've had one year together and it has been the best of my life. Thank you for being such an amazing boyfriend and happy anniversary
Happy anniversary to the love of my life and most special guy in the world. It's been a year of total bliss and I am overjoyed to have found someone as loving as you
I can honestly say this has been the best year of my life. Thank you for making me so happy. I love you. Lets enjoy our anniversary
No love is more true than ours. Even after just a year I know this is the real thing. Happy anniversary my special guy
SEE MORE: 34 Love Paragraphs for Him
First Anniversary Wishes for Girlfriend
To my girlfriend on our first anniversary, I am indebted to you for bringing such joy and love into my life. Thank you for an amazing year together
No one could give me the love you do. One year is just the beginning of our lives together. Happy first anniversary baby
We share something so great, a bond that can't be broken. Happy first anniversary – the first of many
Thank you for your love this past year. The best thing to happen to me was finding you and I'm going to do everything I can to make our lives perfect. Happy 1st anniversary
A big happy anniversary and congratulations to us! After a year together I am happy than I have ever been. Thank you for being such an incredible girlfriend
One Year Anniversary Quotes for Daughter and Son in Law
Happy anniversary my precious daughter. You mean more to me than I can say and I'm so pleased you have found the man to make you happy. Enjoy your anniversary my angel
Happy first anniversary to my special daughter and son in law. Congratulations on your first year together and the love you bring each other
You are my daughter and you mean everything to me. Your first anniversary is a huge moment and I know your love will only keep growing with each passing year
You both are just starting a perfect life together and can look forward to lots of love and happy memories. Happy first anniversary my daughter and son in law
Know that you are always in my thoughts, my daughter, and that your happiness is my greatest wish. Enjoy your first anniversary
May your first year of married life be just the start of an eternity of love. You and my amazing son in law are the perfect couple. You will be happy forever. Congratulations on your first anniversary
Happy first anniversary to the two most special people in the world to us – our beloved daughter and her husband
1st Anniversary Quotes for Son and Daughter in Law
Happy first year anniversary to my son and daughter in law. I'm delighted to see you both thriving and how happy you are. Congratulations and here's to many more glorious years
Congratulations on your 1st anniversary. You deserve so much happiness and I know you have found it with one another. Enjoy your day
To my son and daughter in law – on your first anniversary remember how much you love one another and cherish every moment
When I see you together I see true love. You deserve a life of laughter and fun. Happy first anniversary to you both
Happy anniversary and all the love of your parents and in laws! It may only be a year but it feels like you two have been together for a lifetime. Congratulations on such happiness
Your first year is only the start of your happy lives. Congratulations and all the best for the future
We wanted to send our love to you both as you celebrate your first anniversary. Congratulations!
1st Anniversary Greetings for Brother and Sister in Law
Happy first anniversary to you both. Wishing you a wonderful day and many years of blissful marriage
Congratulations to my brother and sister in law! You make a brilliant couple and one year is just the start of your long and happy marriage
It is no accident you ended up together. You were made for each other and I'm delighted I get to witness your love grow. Happy first anniversary
Have a wonderful first anniversary
Best wishes for your first anniversary. Hoping you get to enjoy the day and it reminds you of the love you have for one another
Sister and Brother in Law 1st Anniversary Wishes
Happy first anniversary to my sister and brother in law. I'm delighted to see you having enjoyed your first year of marriage so much and know that you will enjoy the many more decades even more so
Wishing you a fantastic 1st anniversary and all my love. Enjoy today and each other!
Sending our loving wishes for your first anniversary. May your love only grow and you be blessed with years of happiness
1st Anniversary for Friends
You're the best couple in the world! Happy first anniversary to two of my closest and best friends
You both deserve the love and happiness you bring each other. It's so great to see the smiles on both your faces. Happy first anniversary
Your love will only continue to grow and as every year passes get stronger. You have found your soulmates in one another. Happy 1st anniversary
To my best friend – have a happy 1st anniversary. Enjoy your life with the person you love the most and cherish every moment with them
I wish you the happiest of days as you celebrate your first anniversary. From the bottom of my heart I am delight to witness two of my best friends enjoying a truly inspiring life together. Congratulations
May your marriage be blessed forever and all your dreams come true. Happy first anniversary, pal
There are few couples as good as you are. You were destined for each other and a first anniversary is only the beginning. Congratulations and happy anniversary!
Sending you both all my love and best wishes for your first anniversary. I love you guys and am so happy to see you happy!!
SEE MORE: 70+ Happy Anniversary Wishes for Friends
Funny 1st Anniversary Messages
The only way to my heart is through chocolates!
We better party our hearts out on our first anniversary today. Because I've heard future anniversaries tend to get pretty boring
Today I'm giving you breakfast in bed, followed by a quick shoulder rub before shower. Then I'm taking you shopping, followed by a romantic dinner and a late night movie. Enjoy it while it lasts, because anniversaries come only once every year
I've tolerated you for one full year, so I deserve a gift, don't you think? I'm just kidding; I'd love to tolerate you for a lifetime! Happy first anniversary
I hope you got me something nice on our anniversary today. If not, be prepared for 12 months of annoyance, anger, and nagging.
I love you unconditionally and I'm sure you do, too. So I hope it will be fine if I don't buy you a gift for today and just wish you a happy first anniversary.
Let's celebrate our first anniversary by not celebrating at all. How about some alone time? After all, I've heard that absence makes the heart grow fonder
A first anniversary is a big deal and one that should be celebrated. Every couple remembers that first year and huw happy they were together.
So hopefully the first anniversary wishes and messages here will have helped you to find the perfect words to wish someone a very happy 1st anniversary.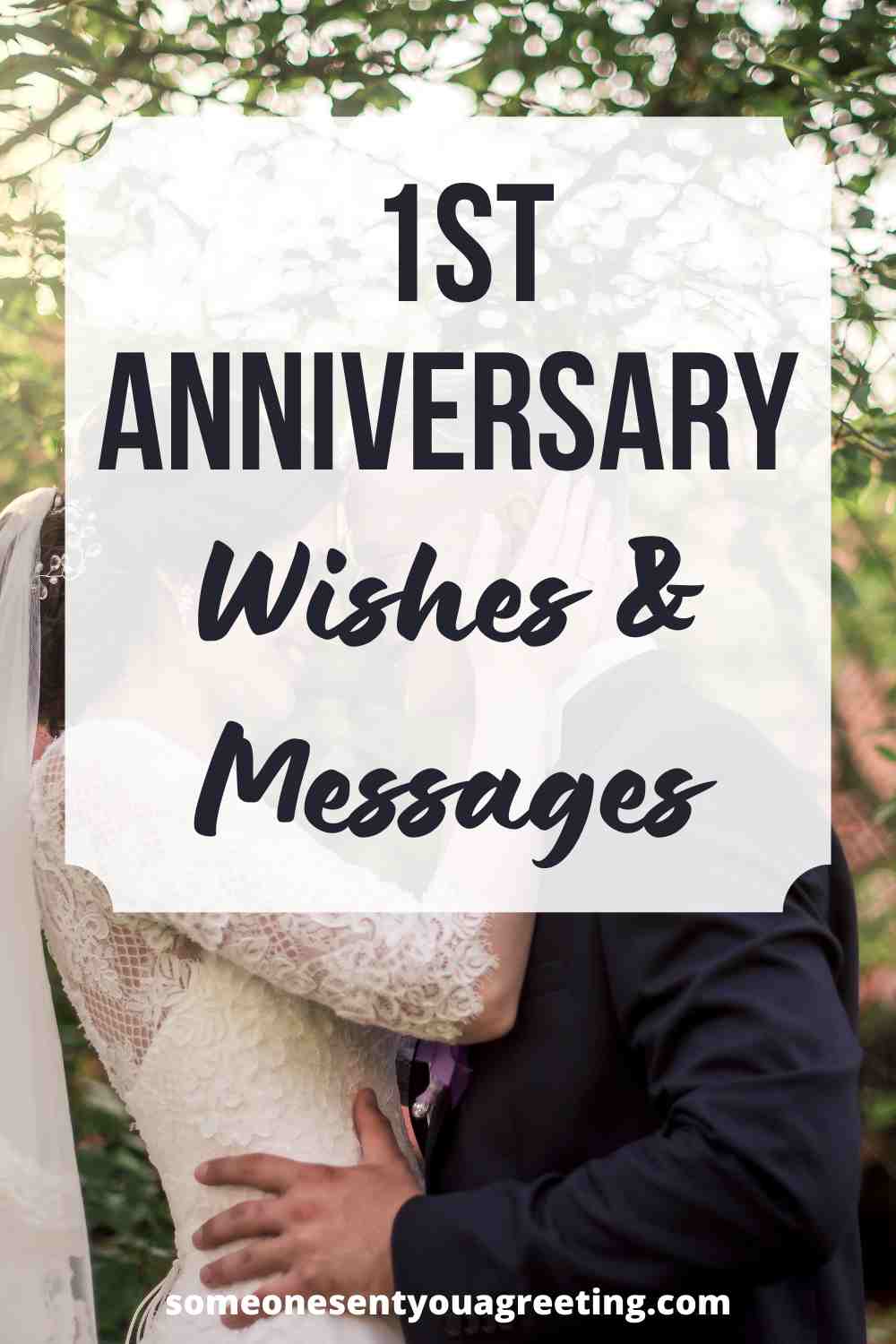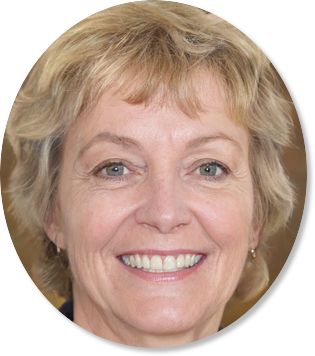 Sally Gibson is the founder of Someone Sent you a Greeting, a holiday/celebration website. Sally's writing work has been mentioned in Woman's World, Yahoo, Women's Health, MSN and more. If you have any questions get in contact with one of the team via the about page.