Summer is the season for fun, relaxing and enjoying the good weather! You can take a break from some of the stresses of life or enjoy the sun and get out do things.
So whether you're planning a vacation or simply looking to make the most of the summer this list of summer quotes and messages should inspire you.
From funny and lighthearted messages to heartfelt and inspirational quotes, I'm sure there will be something for everyone. They're perfect for sending a summer message to friends, family or even colleagues.
Quotes for a Great Summer
"Life is better in flip flops." – Unknown
"Summertime is always the best of what might be." – Charles Bowden
"The tans will fade but the memories will last forever." – Unknown
"Summer: a time when 'doing nothing' is the best use of your time." – Unknown
"Live in the sunshine, swim the sea, drink the wild air." – Ralph Waldo Emerson
"I could never in a hundred summers get tired of this." – Susan Branch
"Summer means happy times and good sunshine." – Brian Wilson
Summer afternoon—summer afternoon; to me those have always been the two most beautiful words in the English language." – Henry James
"Summer is the time when one sheds one's tensions with one's clothes, and the right kind of day is jeweled balm for the battered spirit. A few of those days and you can become drunk with the belief that all's right with the world." – Ada Louise Huxtable
"Summer is a state of mind." – Unknown
"Summer: Hair gets lighter, skin gets darker, water gets warmer, drinks get colder, music gets louder, nights get longer, and life gets better." – Unknown
Have a Great Summer Messages
Wish a friend a great summer with these messages.
Hoping your summer is filled with laughter, sunshine and good times!
Wishing you a summer that brings you lots of new experiences and adventures.
Here's to enjoying every moment of your summer and making it one you'll never forget.
May your summer days bring you cherished memories and so much fun. Have an amazing summer!
Here's to lazy days, warm nights and unforgettable memories.
Sending you the warmest vibes for an incredible summer ahead. May it be a season full of amazing memories and lots of sunshine.
I hope this summer allows you to relax, rejuvenate and fully enjoy the warmer months. Have a great summer.
May your summer be the best one ever! Enjoy every second of it my friend!
Summer is about having the best times with friends. Kick back, have a BBQ and enjoy the weather.
Wishing you a summer of the brightest sunshine and the best times. I just know your summer is going to be an absolute blast!
Funny Summer Quotes
Put a smile on someone's face with one of these hilarious quotes about summer.
Sorry, did you say it's too hot? I could t hear you over the sound of my air conditioning.
"A perfect summer day is when the sun is shining, the breeze is blowing, the birds are singing, and the lawnmower is broken." – James Dent
Summer: the season when flip-flops are an acceptable footwear for any occasion.
I'm pretty sure my sweat glands have sweat glands it's so hot this summer!
"Summertime is the best excuse for being lazy."
"My favorite summer activity? Doing absolutely nothing in the sunshine." – Unknown
I'm pretty sure my summer body is just my regular body with a little extra sweat!
"I'm definitely a summer kind of person, I like to be hot.. and sweaty." – Unknown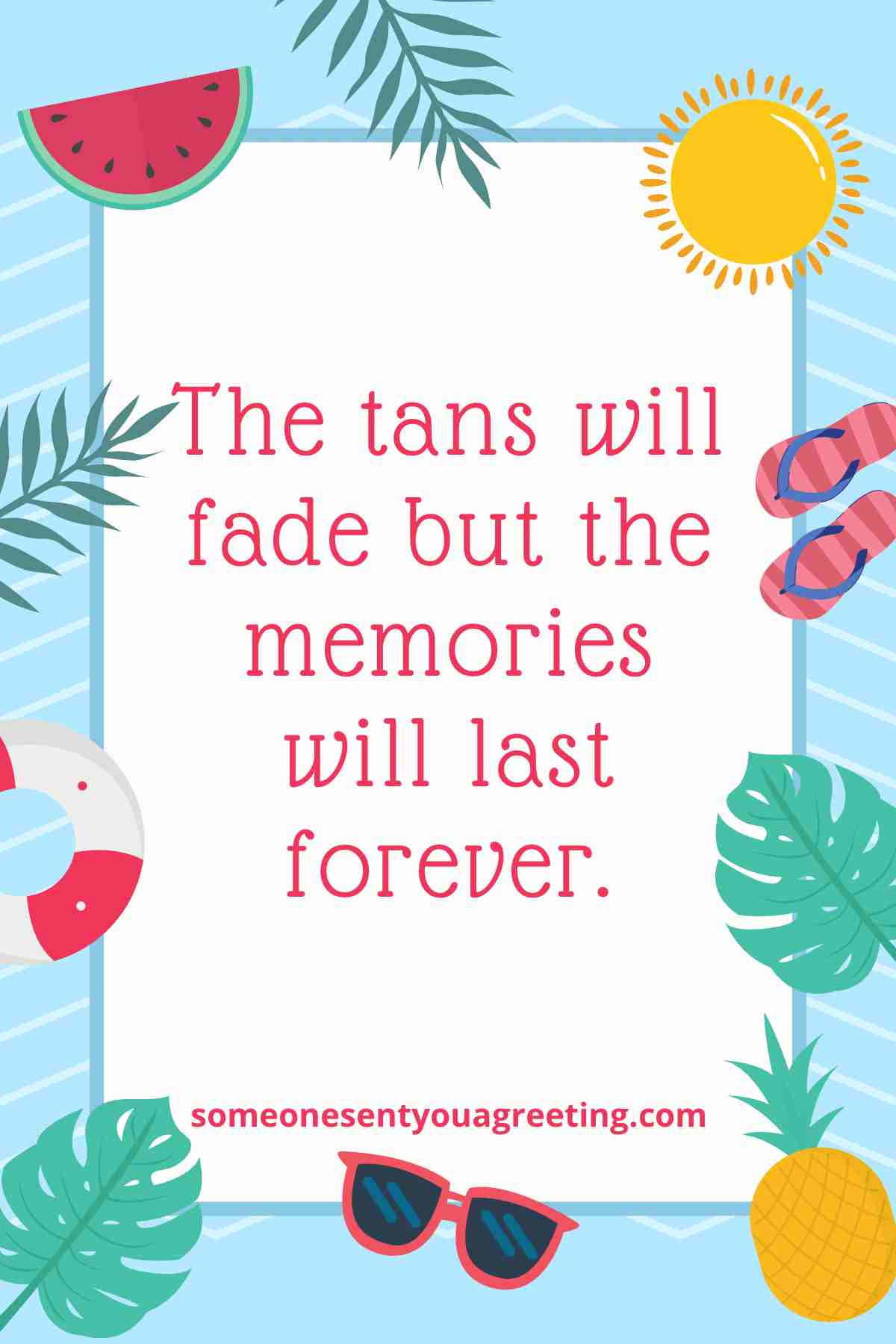 Inspirational Quotes about Summer
If you need some inspiration to get you in the summer mood the these quotes should do the trick.
"Summer means happy times and good sunshine. It means going to the beach, going to Disneyland, having fun." – Brian Wilson
"In every walk with nature, one receives far more than he seeks." – John Muir
"Everything good, everything magical happens between the months of June and August." – Jenny Han
"Summertime is always the best of what might be." – Charles Bowden
"The sun does not shine for a few trees and flowers, but for the wide world's joy." – Henry Ward Beecher
"The summer night is like a perfection of thought." – Wallace Stevens
"It's like a beach blanket and a bottle of wine, it feels something like summertime." – Jon Bon Jovi
"It is easy to forget now, how effervescent and free we all felt that summer." – Anna Godbersen
"Summertime. It was a song. It was a season. I wondered if that season would ever live inside me." – Benjamin Alire Saenz
"If it could only be like this always—always summer, always alone, the fruit always ripe." – Evelyn Waugh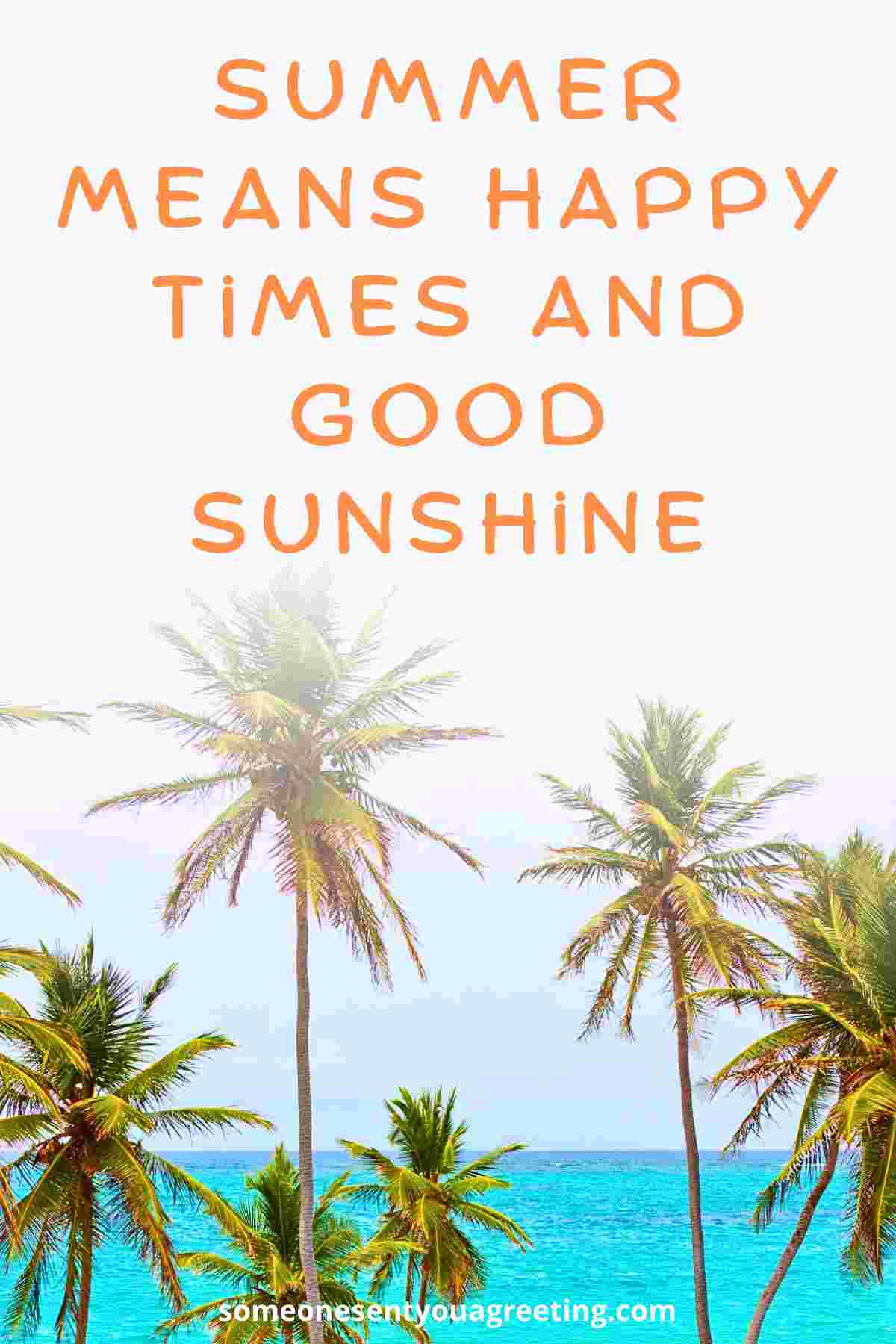 Great Summer Quotes for Instagram Captions
A summer quote for an Instagram caption will be the perfect way to kick off your vacation or how you're going to be spending the warmer months.
Life is better in flip flops.
Good times and tan lines.
Sandy toes, sun-kissed nose.
Sunsets are proof that endings can be beautiful too.
Summer lovin'.
Life's a beach, enjoy the waves. 🏖️🌊
Salty hair, don't care. 🌊🌞
Chasing sunsets and dreams. 🌅✨
Feeling beachy keen. 🏖️😎
Sunshine is the best accessory. ☀️💫
Keep calm and soak up the sun. ☀️😌
Summer state of mind. 🌴🌞
Sippin' on sunshine. ☀️🍹
I hope you liked these have a great summer quotes and messages and they have got you in the spirit for the summer months ahead!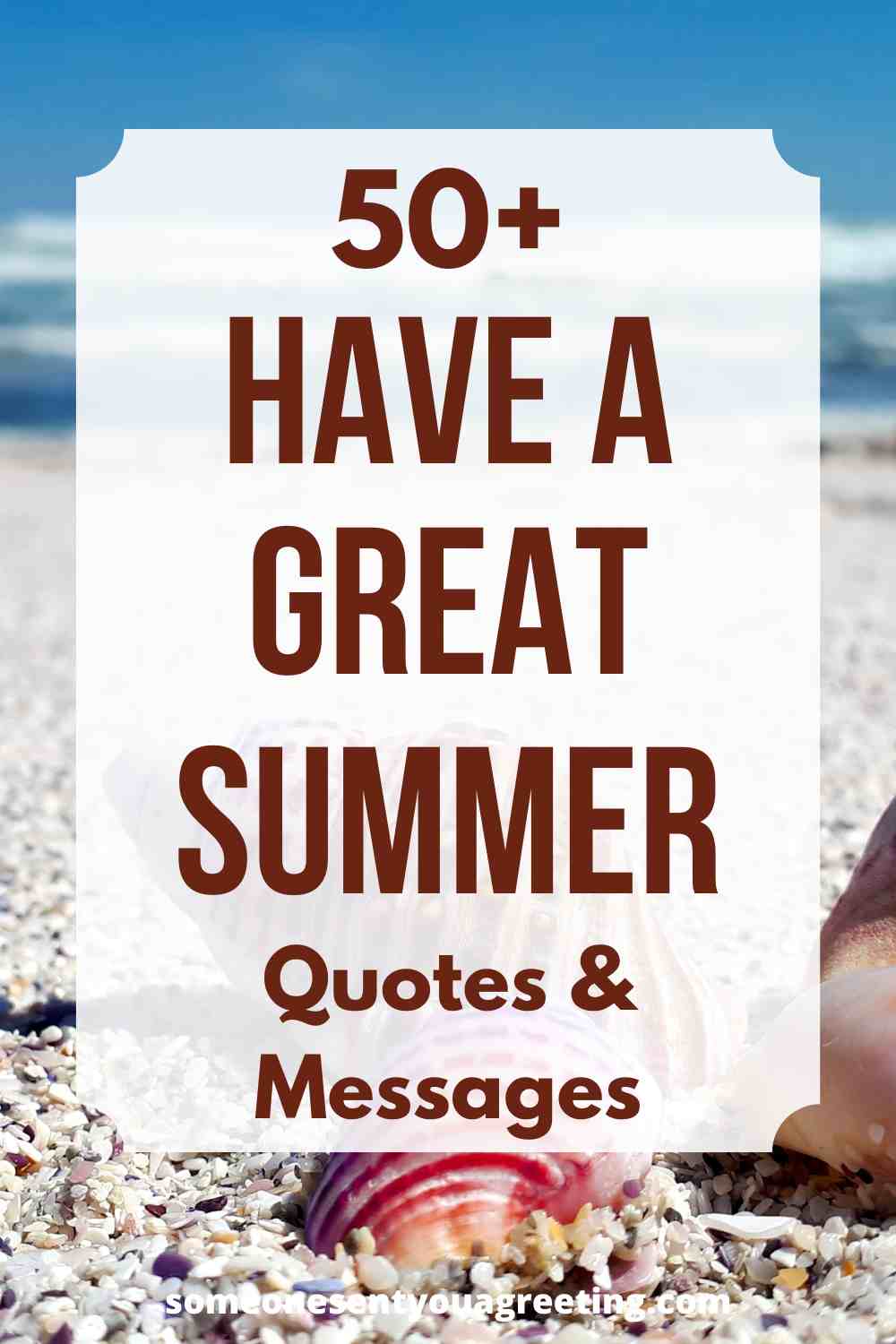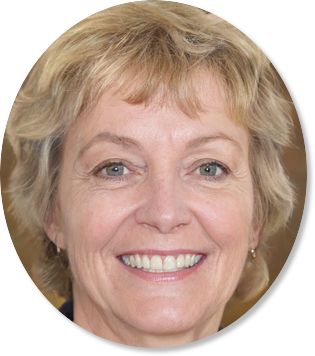 Sally Gibson is the founder of Someone Sent you a Greeting, a holiday/celebration website. Sally's writing work has been mentioned in Woman's World, Yahoo, Women's Health, MSN and more. If you have any questions get in contact with one of the team via the about page.