Telling your husband he is a wonderful man and partner is a good way to strengthen your marriage. Letting him know once in a while how special he is will only bring you closer together.
But if you're not sure how to say thank you for being a good man then the following ideas and example thank you messages should help. You can share them with your husband to show appreciation for his life and support.
Thank You for Being a Good Man Messages
These are some sweet and meaningful messages you can share with your husband in appreciation of his good character.
Thank you for always putting our family first. You have a heart of gold and never let us down. You are our hero.
I'm so grateful to be married to a man of integrity who leads by example. I look at you in awe of how strong you are and the way you fight for what is right. You make me want to be a better person.
The way you work so hard for our family and still make time for us means everything. We are lucky to have a man that does all he can for the important people in his life. Thank you for your selfless love.
The patience you have and generosity you offer never cease to amaze me. It's what made me fall in love with you in the first place and I'm reminded of it every day. Thank you for blessing me and our family with those gifts daily.
You make me feel safe and wanted. And the respect I get from you is unlike I have from anyone else. I know you see me as your equal and a partner. Thank you for making me always feel comfortable and treasured.
Your commitment to our marriage and family gives me so much security. I know you're in it for the long haul and will be by my side through thick and thin. I'm so grateful every day for your love and your loyalty.
You handle life's challenges with such grace and courage. It doesn't matter what is throw at you, you are able to deal with it without any issues. That steadiness helps keep me anchored and calm during any rough times we hit. I'm really thankful for that and for you.
Thank you for inspiring me with your compassion. You are committed
to lifting up those around you and bringing happiness to as many people as possible. It amazes me how big your heart really is.
I'm so grateful I have a man like you as my partner. You have so many wonderful qualities I couldn't begin to list them all here. But please know how much I appreciate you and the sort of man you are.
No matter how difficult things get I know you'll always have my back. Thank you for being my best friend and biggest fan.
Thank You to My Husband for Being a Great Man
These are some heartfelt messages to thank you husband for being such a great man.
Being married to you is an honor and privilege. Thank you for being the most amazing and giving man and father.
I don't know where I'd be without you. You never fail to encourage and support me, no matter what. Thank you for believing in me when I struggle to believe in myself.
Watching you with our kids makes my heart almost burst. I can't describe how happy it makes me. Thank you for being their hero and role model, as well as mine.
The little things you do mean the world to me – whether it's bringing me coffee in bed, doing the laundry or simply telling me I'm beautiful. It all adds up and makes you such a good guy.
God knew exactly what I needed when He brought you into my life. You are everything I ever wanted. Thank you for being the husband I always dreamed of.
Words won't do justice to how much I appreciate the way you love me through the best and worst times of my life. Thank you for sticking by me and being the person I lean on.
Thank you for your shoulder to cry on, the way you listen and the warm hugs I always get after a hard day. You are my safe place.
Any time I'm ready to throw in the towel it's you who inspires me to keep going. You always know how to lift me up and keep my head high when I'm struggling. Thank you for believing in me no matter what.
I can't express my gratitude for the way you look after our family. We have the stability and love we need because of you. I am lucky to have a husband who is as devoted as you are.
I don't take for granted the incredible man I married. You keep the kids and me your priority whilst still providing all we need. How you juggle everything is a mystery to me but I am so grateful for it. Thank you my love.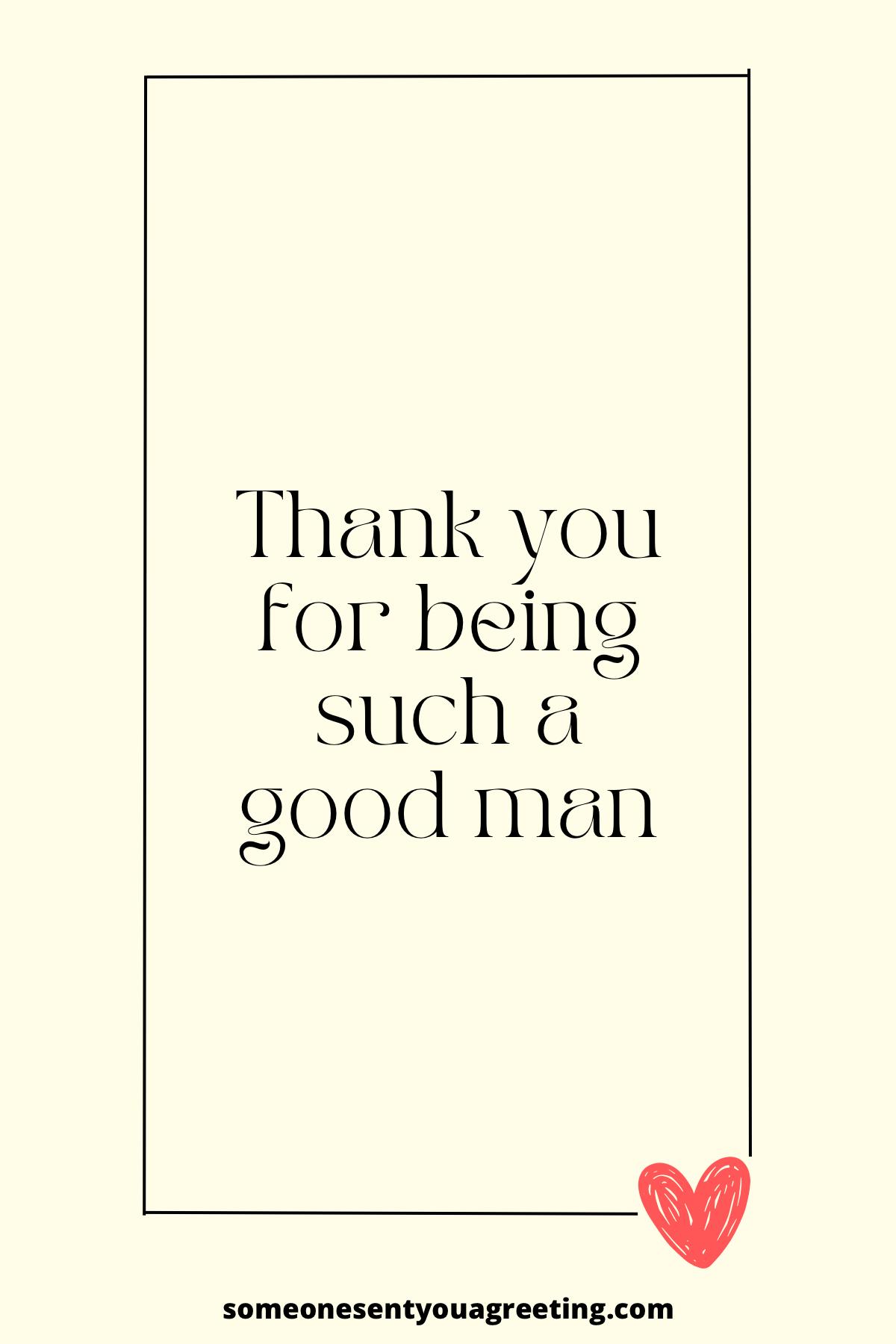 Funny Thank You Messages for Being a Good Man
These humorous messages poke fun while appreciating your husband's best qualities.
I want to thank you for putting the toilet seat down… when we have company over. Chivalry isn't completely dead!
Thank you for telling your friends I'm a great cook when we both know takeout is the key to my heart.
Thanks for only rolling your eyes three times when we watch my favorite rom-coms. You're a real trooper.
You know how much I need my beauty sleep so thank you for not snoring… too loudly!
You're such an awesome person you're making the rest of us look bad. I would say thank you for being so great but your decency is like a spotlight on my questionable life choices.
Being someone of such upstanding character is so overrated, but thanks for showing us how it's done. Now we all have to pretend to be nice.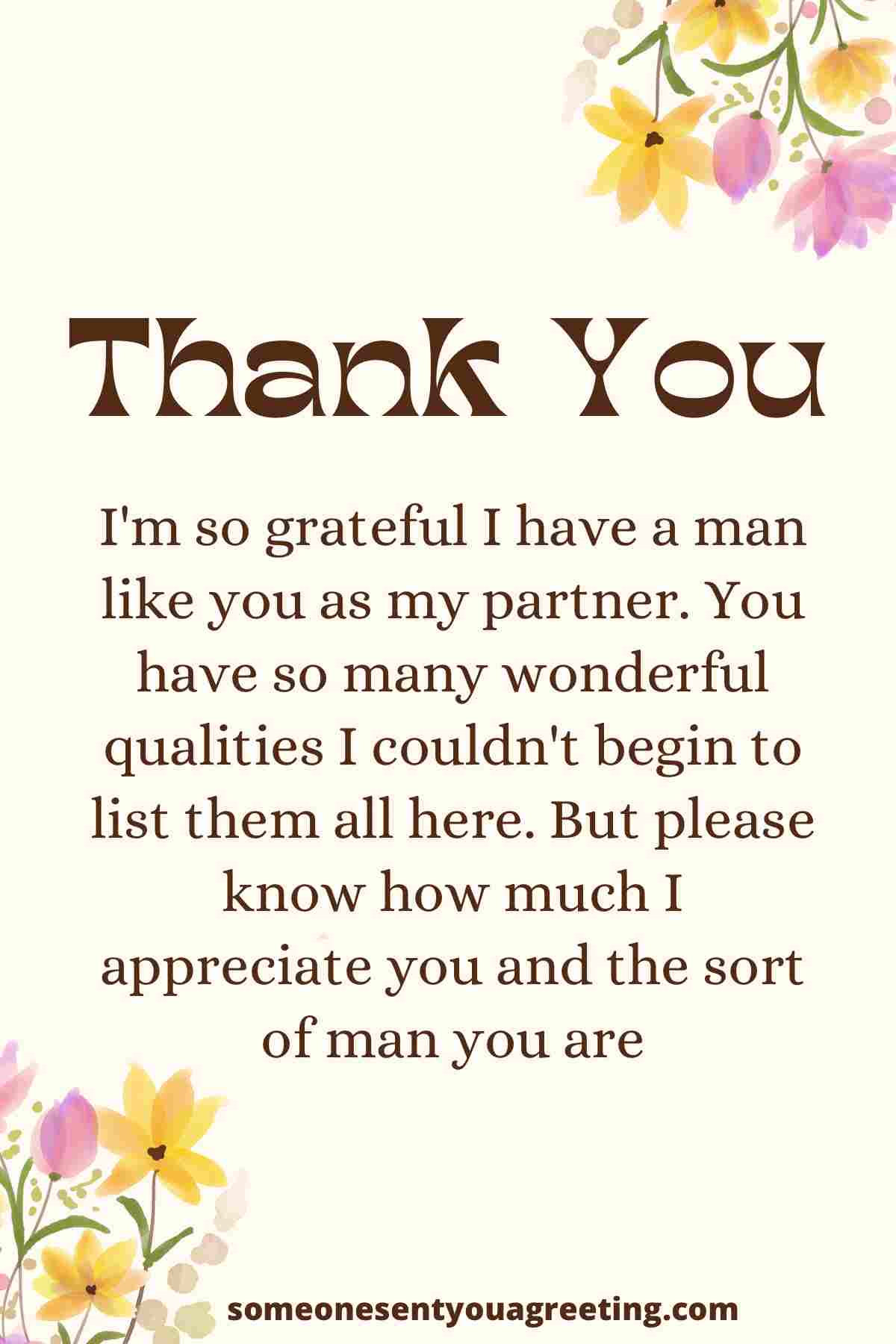 Thank You for Being a Good Man Birthday Wishes
You can use these example messages to celebrate your husbands birthday by talking about all his great qualities.
Wishing the most patient, kind and loyal man I know a very happy birthday. Thanks for adding so much love to my life.
Happy birthday to the greatest man I know. Thank you for being a wonderful husband and father every single day.
Happy birthday to a very special man. I hope you have a fantastic day! And thank you for making every day brighter with your smile and hugs.
To the most hardworking, supportive and caring husband – happy birthday! My love for you is endless and I appreciate you more than words can say.
Here's to another year with the most selfless, giving and amazing man. You make my world happier than I thought possible. Happy birthday, my love!
Every day is like a celebration when I get to spend it with you. So on your actual birthday I want to thank you for being such a special person.
Wishing you a day filled with joy on your birthday, just like you fill my heart with joy every day. Thank you to a wonderful man!
Happy birthday! You're more than a good man, you're the best. I am blessed to have you and hope I can make your birthday extra special. You deserve it.
I hope these messages to say thank you to your husband for being a good man will help you let your husband know how much you appreciate all he does and the type of man he is.
More Thank You Messages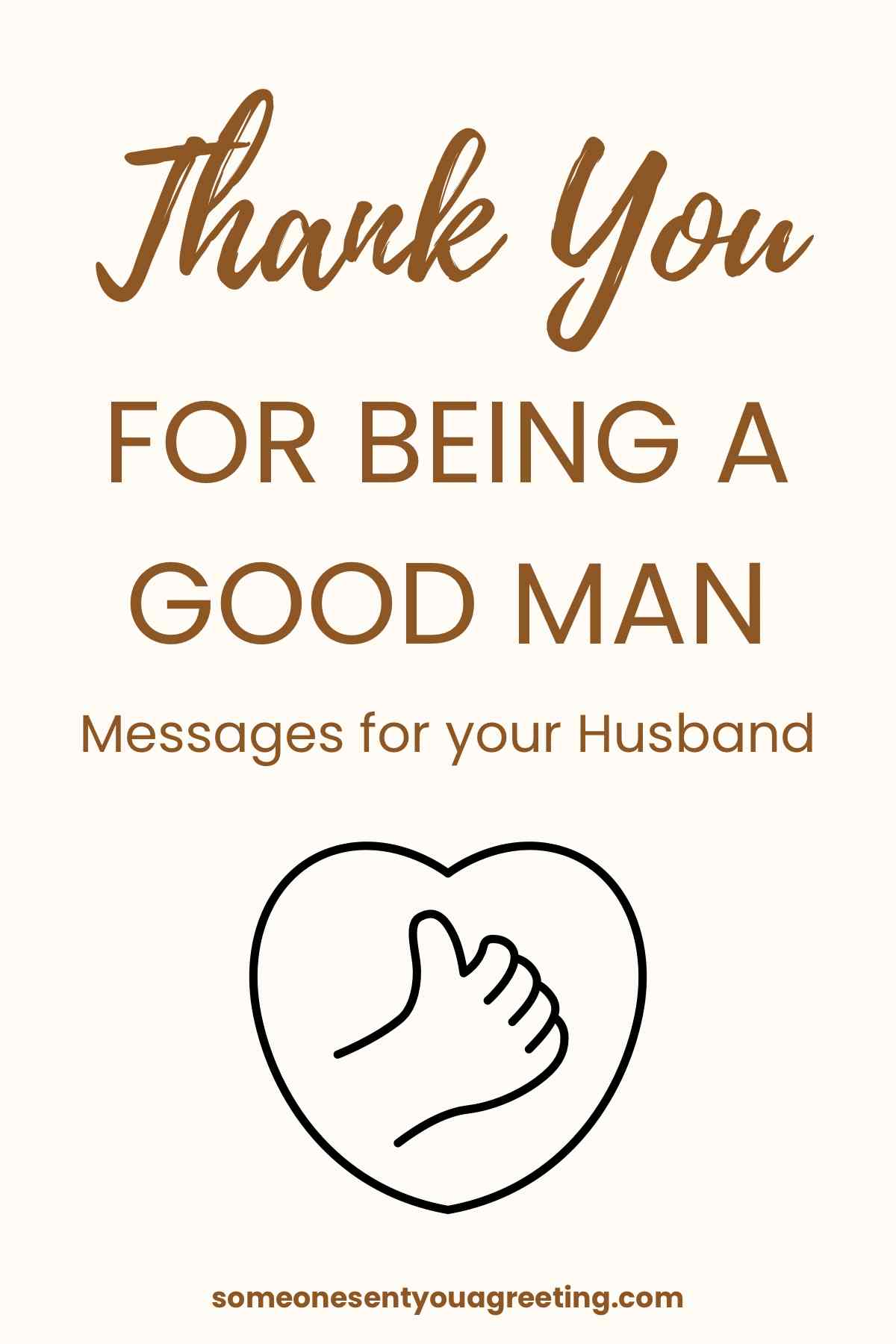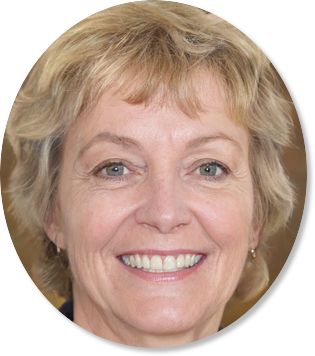 Sally Gibson is the founder of Someone Sent you a Greeting, a holiday/celebration website. Sally's writing work has been mentioned in Woman's World, Yahoo, Women's Health, MSN and more. If you have any questions get in contact with one of the team via the about page.