Adopting a child is an amazing thing to do. Sometimes the motivation is for selfish reasons – you aren't able to have your own children – but the result is still the same. A child without a home is given a family. People become parents and the child finds the love it's been missing.
But adoption isn't all happy-ever-afters. The process can be long. Lots of waiting and hoping, both for the adopting parents and the child. There can be heartbreak along the way. Not everyone's dreams come true.
So sometimes it can help to know others have been through the same things. Both the good times and the bad. That's why we've put together this definitive list of adoption quotes and sayings. Seeing your own problems in the words of others can be comforting. To know adoption can be filled with highs and lows for everyone can help us put our own issues into perspective.
So take a look at the different adoption quotes below. From funny to inspiring, hopefully they will offer you comfort if it's needed or inspiration to carry on your adopting journey.
Inspirational Adoption Quotes
Be inspired by the amazing commitment and love that adoption involves. These sayings and quotes show the dedication and selfless nature of adopting a child.
"If you have the heart for adoption, don't let fear stand in the way" – Doug Chapman
"We loved you before we even knew you, even when there was just a hope for you, we loved you" – Unknown
"Biology is the least of what makes someone a mother" – Oprah Winfrey
"Being a mother is an attitude, not a biological relation" – Robert A. Heinlein
"God knew that it doesn't matter how your children get to your family. It just matters that they get there" – Kira Mortenson
"Somehow destiny comes into play. These children end up with you and you end up with them. It's something quite magical" – Nicole Kidman
"It's important to realize that we adopt not because we are rescuers. No. We adopt because we are rescued" – David Platt
"Adoption is when a child grew in its mommy's heart instead of her tummy" – Unknown
"Families don't have to match. You don't have to look like someone else to love them" – Leigh Anne Tuohy
"Adoption is not the call to have the perfect rosy family. It is the call to give love, mercy, and patience"
"He is mine in a way that he will never be hers, yet he is hers in a way that he will never be mine, and so together, we are motherhood" – Desha Wood
"Adoption carries the added dimension of connection not only to your own tribe but beyond, widening the scope of what constitutes love, ties, and family. It is the larger embrace" – Isabella Rossellini
"If the standard route for creating a family had worked for me, I wouldn't have met this child. I needed to know her. I needed to be her mother. She is, in every way my daughter" – Nia Vardalos
"You don't have to give birth to someone to be family. We're all family – extended family" – Sandra Bullock
Short Adoption Quotes
These short quotes range from being insightful and touching through to cute adoption sayings. If you want a quick quote to sum up adoption perfectly, these are just that.
"However motherhood comes to you, it's a miracle" – Valerie Harper
"Parenthood requires love, not DNA" – Unknown
"Every child deserves a home and love. Period" – Dave Thomas
"Family is not defined by our genes, it is built and maintained through love" – Amalia G.
"Adoption is not about finding children for families, it's about finding families for children" – Joyce Maguire Pavao
"Adopting any child is a walk into the unknown. It takes Faith" – Unknown
"Adopting one child won't change the world: but for that child, the world will change" – Unknown
"There are no unwanted children, just unfound families" – Unknown
"Adoption is a journey of faith, from beginning to end" – Johnny Carr
"You are not just waiting in vain. There is a purpose behind every delay" – Mandy Hale
"Will it be easy? Nope. Will it be worth it? Absolutely" – Unknown
"Adoption is the most intentional process on Earth" -Jody Cantrell Dyer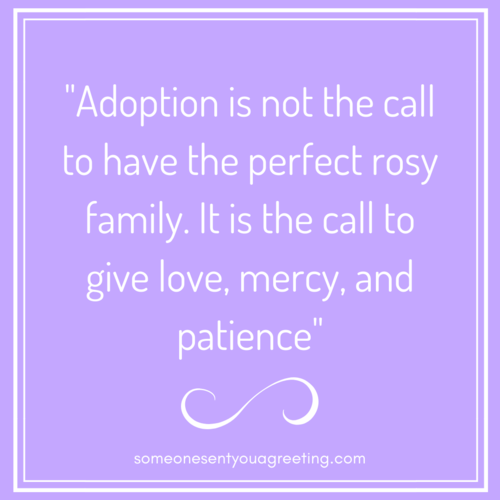 Funny Adoption Quotes
Adoption doesn't have to be just tears and moving stories. It's often filled with laughter and jokes. So take a look at the lighter side of adopting with these funny sayings and quotes.
"There are times when the adoption process is exhausting and painful and makes you want to scream. But, I am told, so does childbirth" – Scott Simon
"Keep calm and fill out the next form" – Unknown
"This adoption process is so easy! I should have listened when everyone told me to 'just adopt' – said no adoptive parent ever"
"Just because you're adopted doesn't mean they actually love you!"
"Adopted. Big deal; so was Superman" – Chris Crutcher
"Never annoy your parents when you're adopted, because then they start asking about your "Return Policy."
"I have four children. Two are adopted. I forget which two" – Bob Constantine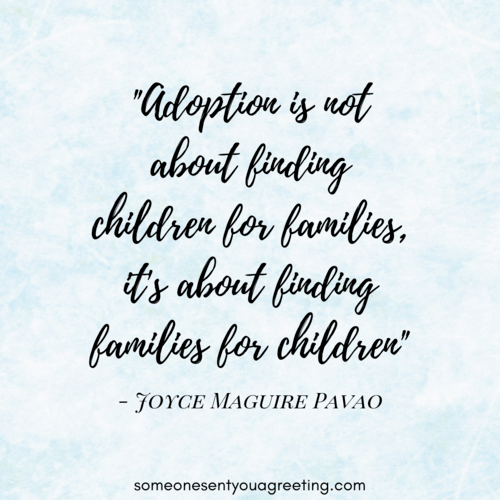 Quotes for Adoptive Parents
If you're the parent or parents that are going to be adopting then these sayings should show you what a wonderful thing you're doing.
"Whether your children are yours through biology or adoption, they are yours through love" – Sadia Rebecca Rodriguez
"Not flesh of my flesh, nor bone of my bone, but still miraculously my own. Never forget for a single minute, you didn't grow under my heart but in it" – Fleur Conkling Heylige
"Adoption was a bumpy ride, very bumpy. But, God, was it worth the fight" – Mariska Hargitay
"We should not be asking who this child belongs to, but who belongs to this child" – James L. Gritter
"Adoptive Mom? I am Mom. I need no other label or prefix" – Joanne Greco
"Born not from our flesh, but born into our hearts. You were longed for, wanted, and loved from the start"
"The adoption was challenging – the LOVE arrived instantly" – Unknown
"Motherhood is about celebrating the child you have not the child you thought you'd have" – Joan Ryan
"A child born to another woman calls me mom. The depth of the tragedy and the magnitude of the privilege are not lost on me" – Jody Landers
"I am convinced, completely convinced, that there was nothing random about [the adoption], she is the daughter I should have" – Meg Ryan
"What makes you a man is not the ability to make a child, it's the courage to raise one" – Barack Obama
"The moment a child is born,
the mother is also born. She never existed before.The woman existed, but the mother, never. A mother is something absolutely new" – Rajneesh
Quotes for birth Mothers
Placing your child up for adoption is a really brave thing to do. This will often lead to feelings of regret, grief and failure. Hopefully these quotes will help to ease some of the fears of having done the wrong thing.
"If a baby is not a blessing for you right now, let them be a blessing to someone else" – Unknown
"Children and mothers never truly part, bound together by the beating of one another's heart" – Charlotte Gray
"Adoption is not a birth-mothers rejection but an unconditional love that inspires her to put herself last and do all she can for her baby" – Unknown
"A birthmother puts the needs of her child above the wants of her heart" – Skye Hardwick
"Giving birth does not make a mother.. Placing a child for adoption does not make her less of one" – Unknown
"There are young people having babies every day that cannot possibly take care of them, and, as people who believe that every life is beautiful, we need to make them aware of another choice – to give that beautiful life up for adoption" – John Schneider
"If you love someone unconditionally and with your whole heart, then you will do what is best for them, not you. I have never learned a harder lesson than giving my child up for adoption, and I probably never will" – Talitha
"Adoption should be an empowering option for young women in crisis, knowing that the people around them- family, friends, church – will respect their choice" – Unknown
"Adoption isn't a birthmother's rejection but an unconditional love that inspires her to put herself last and do all she can for her baby" – Mary Hines
"There are two different kinds of strength. There's the strength to make a parenting plan and then there's the strength to give that plan to another" – Unknown
Quotes for Adoptees
You might be the child who was adopted. If so then it can be tricky trying to make sense of confusing feelings. The sayings below will hopefully help to make things clearer.
"I was chosen, I was wanted, I was cherished, I grew in their hearts, I was the missing piece, I was loved, I was adopted"
"My birth mother brought me into this world, but it was my adoptive parents who gave me life" – Christina Romo
"I have a lot of respect for my birth mother… I know she must have had a lot of love for me to want to give what she felt was a better chance" – Faith Hill
"We know a mother and father can love more than one child, so why is it so hard to understand that a child can love more than one mother and father?" – Unknown
"My adoption was treated as a celebration" – Michael Reagan
"I am a living testament you can be adopted and successful" – Daunte Culpepper
"The circumstances surrounding your birth are not as important as the opportunity to live life" – Lailah Gifty Akita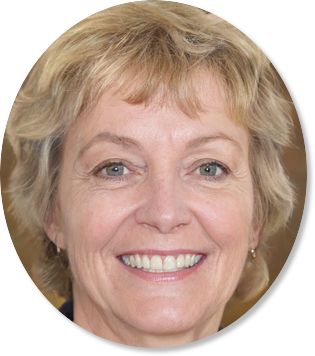 Sally Gibson is the founder of Someone Sent you a Greeting, a holiday/celebration website. Sally's writing work has been mentioned in Woman's World, Yahoo, Women's Health, MSN and more. If you have any questions get in contact with one of the team via the about page.