Learning to drive and passing your driving test is a rite of passage. For so many people it means freedom and is a significant milestone in growing up.
So if you know someone who has just passed their driving test you should be congratulating them on their achievement. It's a really big deal!
That might mean sending them a card, email or message on Whatsapp. Or just wishing them congratulations in person.
But if you're not sure of how to congratulate someone after passing their driving test then use the example messages and best wishes below to show them how pleased you are they're mobile!
Congratulations on Passing your Driving Test
Congratulations! You did it! Sending you all my best and a big well done on passing your diving test
After all the hard work and lessons you've finally passed! Congratulations and enjoy driving!
Massive congratulations on passing your driving test. The open road is all yours now!
There is nothing like the feeling of independence you get behind the wheel. Congratulations, enjoy and take care
Congratulations! I always knew you would pass.. maybe
Enjoy the freedom driving brings and happy motoring!
I'm really proud and happy for you. Congratulations on your passed driving test
Congratulations and well done. Especially as you passed on your first attempt! You've done a great job
Huge congratulations on passing your driving test. The open road beckons..
Don't forget to drive responsibly! Congratulations
Now you're going places! But, and I know I'll sound like a killjoy, remember to stay safe and that driving is a responsibility as well as a gift. Congratulations
The open road has been a pull to so many of us for years. You can now join those who have driven into the sunset and enjoyed all the freedom that driving offers. Well done
We are all very proud of you for hitting one of life's milestones and passing your driving test. Huge congratulations
Congratulations and I look forward to seeing you all over town now!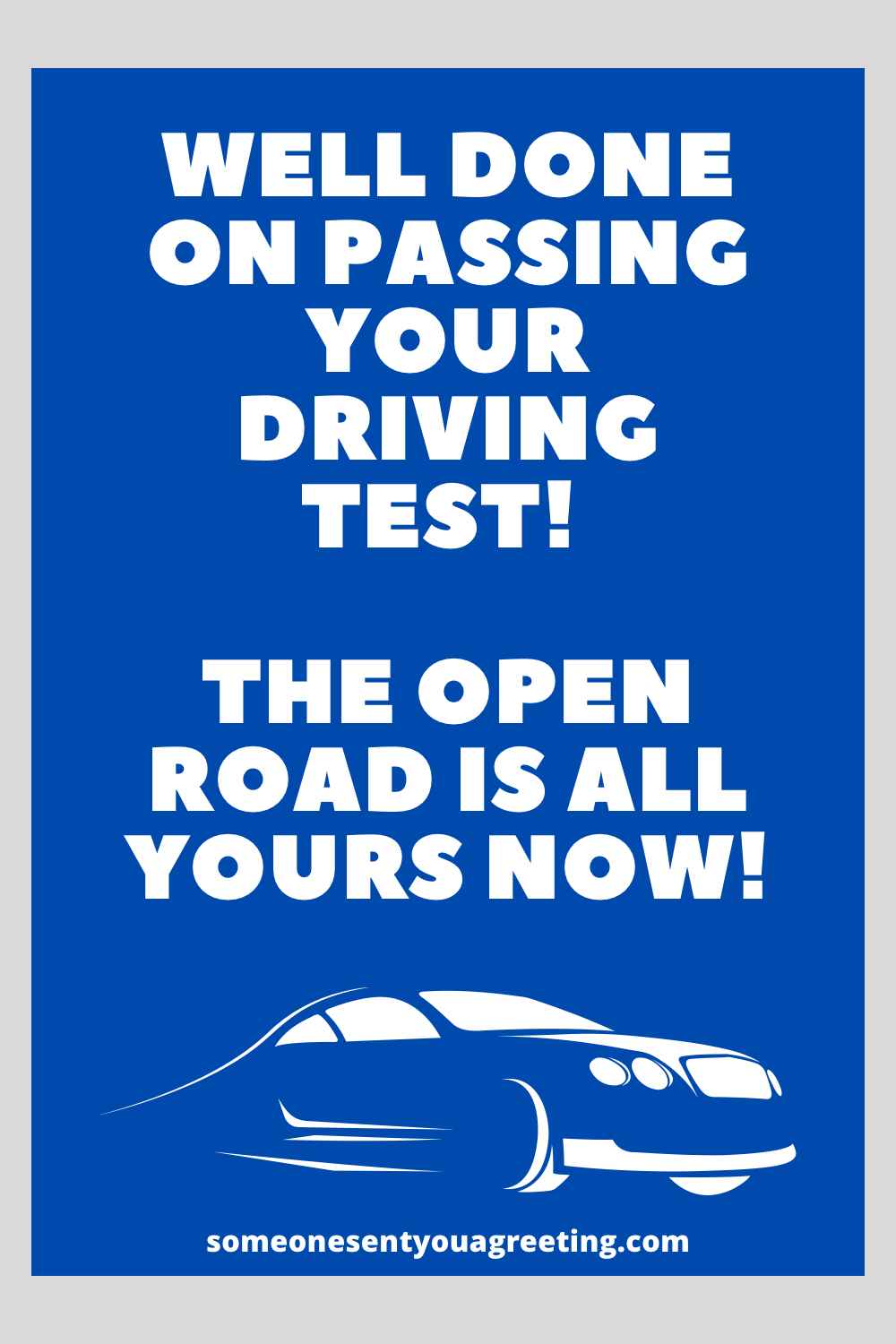 SEE MORE: Congratulations on your New Car Messages
Congratulations Messages for a New Driver
Congratulations! You're going to be an excellent driver and I'm really proud of you and all you've achieved
I know how important it was for you to pass your driving test so I'm delighted to be able to congratulate you on doing so
Now you're really going places (see what I did there)! Well done and congratulations on passing your driving test
Well done! You should be very proud of yourself
Enjoy that moment where you get your drivers license – you've earned it
I admire your perseverance and that you never give up. You got back out there and passed after your initial set back. Congratulations and enjoy the driving
We all knew you would do it! Well done for never giving in and acing the test
It took a lot of hard work but you can now enjoy the independence that driving brings. Well done!
Congratulations – you're the new king of the road!
May you always be safe on the road and free from accidents. All my best and enjoy the pleasure of driving
Well done my friend! Now.. can you give me a lift!?
You've dreamed of being able to drive for years and now it's here – you've passed!
Independence and freedom are just two of the things you gain after passing your driving test. You've so much to look forward to now. Congrats
Now you've passed I'm looking forward to experiencing your driving first hand!
I'm very proud of you for passing your driving test, son. It's just another major milestone in your life as I watch you grow
You did it! Let's hit the road and take advantage of the freedom you've now got after passing your diving test
I'm so happy for you as I know how much it means to you to be able to drive. Enjoy it, pal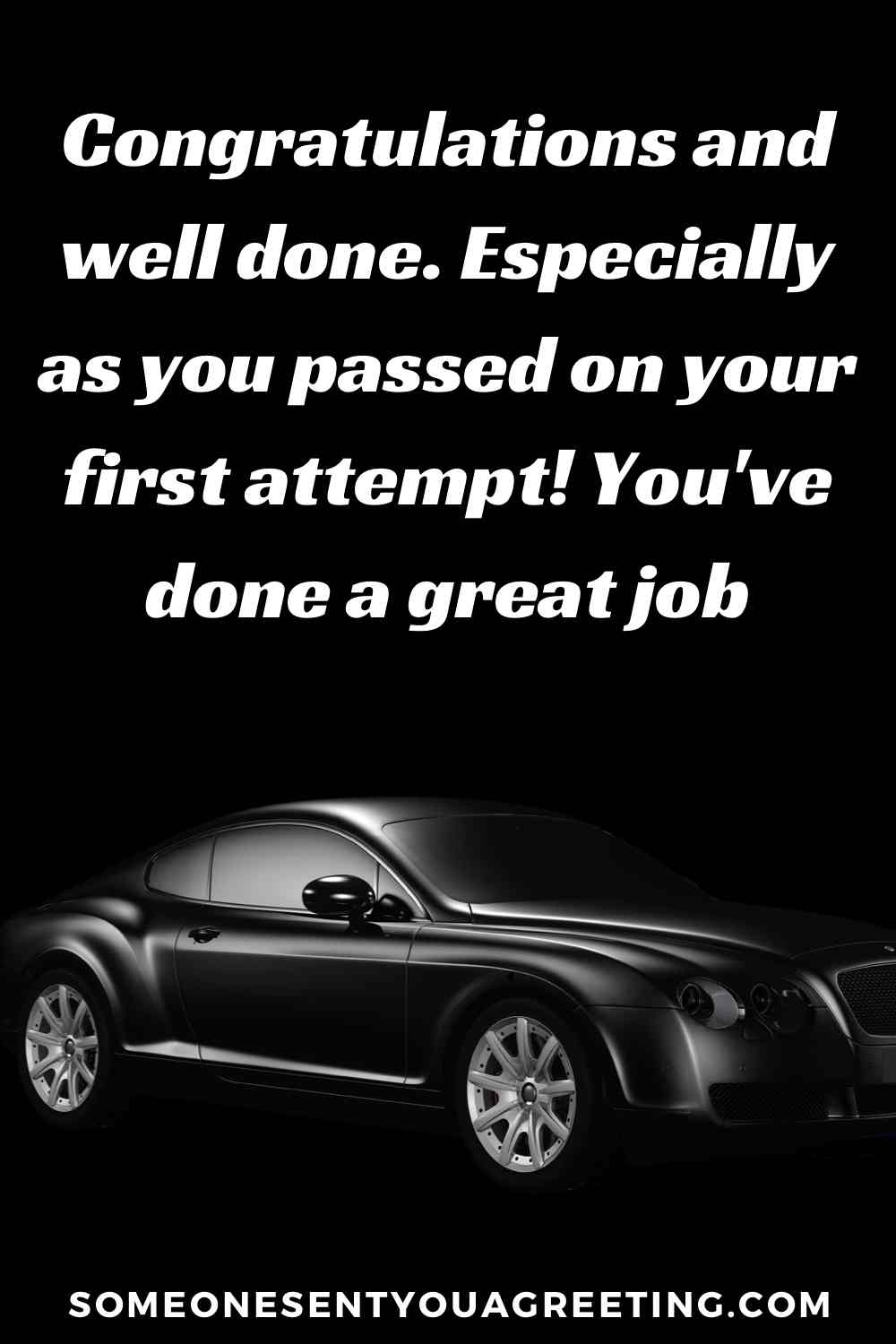 SEE MORE: What to Write in a Congratulations Card
Funny Congratulations Messages for Passing Driving Test
It's about time!!!
Congrats! I can't wait to constantly be bothering you for a lift now
The McDonalds' drive-thru called to give you their congratulations. They are looking forward to serving you all the time!
Well done on passing your driving test on the… what was it again, 5th attempt?
Congratulations and welcome to the world where you swear at people you've never met
You've finally done it! Now it can be your turn being the designated driver for once
Congratulations on passing your driving test… but really? They're going to let you drive a car, on the road, with other people? On your own? Alright then
I know I should be wishing you congratulations but frankly I'm a bit preoccupied thinking about the poor other drivers now on the road with you
Congrats! Now good luck tackling the bollards in a multi-storey carpark
Congratulations, you smashed the test! Now just remember not to smash the car
Clear the streets, he passed!
They say the best drivers don't pass the first time – so you must be the exception!
At last you passed, now remember, there's no such thing as a "pink traffic light"
Don't worry, you're going to be an awesome driver. It's just all the rest on the road you've got to watch out for now!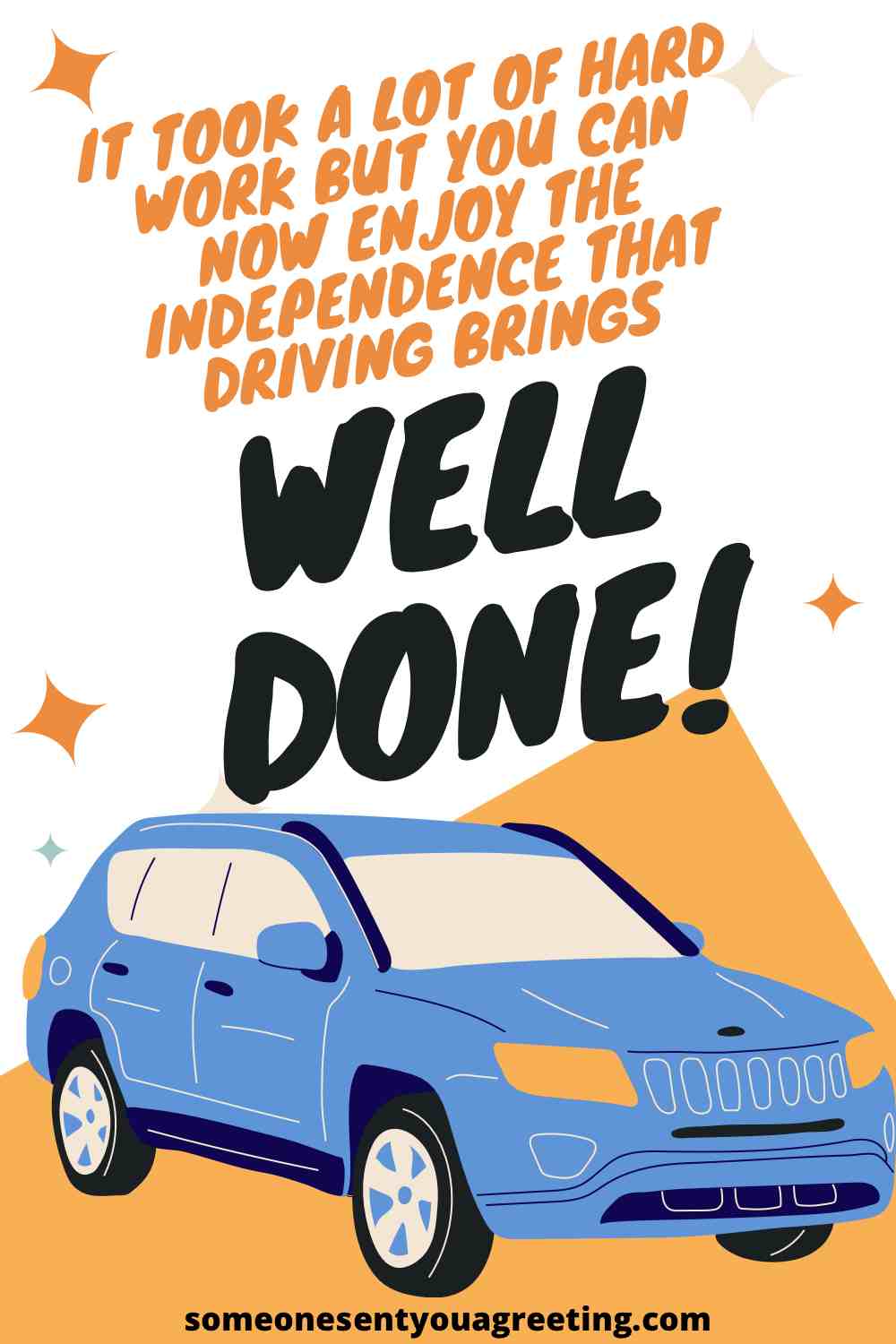 We hope these driving test congratulations messages will have helped you to congratulate a friend or family member who has passed their driving test.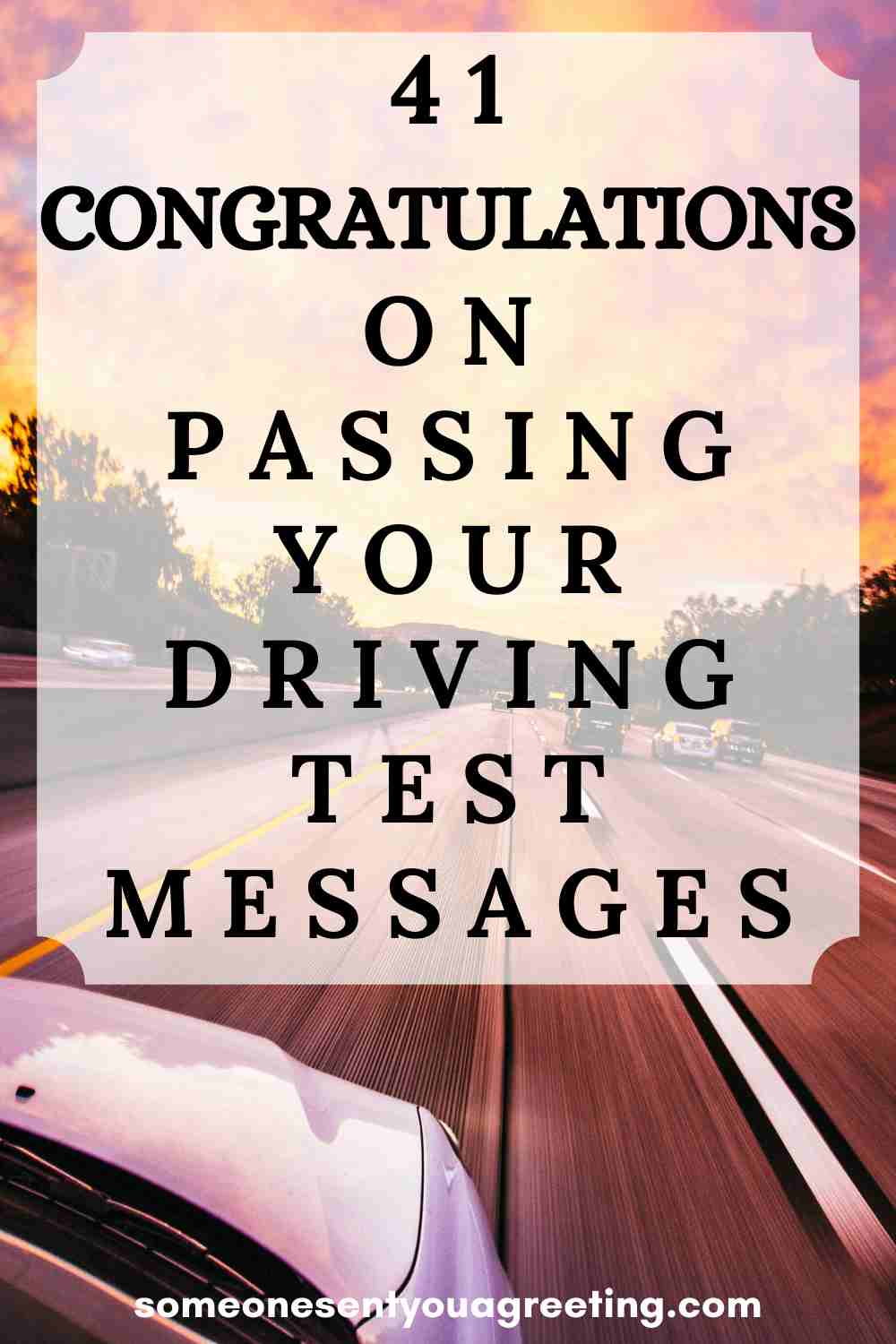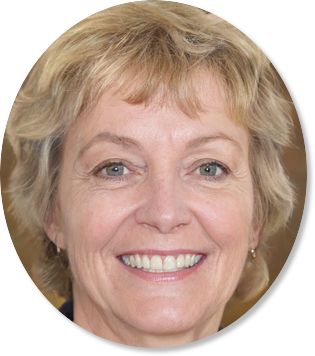 Sally Gibson is the founder of Someone Sent you a Greeting, a holiday/celebration website. Sally's writing work has been mentioned in Woman's World, Yahoo, Women's Health, MSN and more. If you have any questions get in contact with one of the team via the about page.