There are so many reasons you may want to congratulate someone. Maybe they're getting or have got married, got engaged, have a new job, expecting a new baby, are graduating, retiring or many more.
All of these events are things that deserve celebrating and congratulating the person or persons about. A good way to do that is by sending them a congratulations card expressing your best wishes.
But for these sorts of wishes and messages it can be tough to know what to write. You may not know the right tone to strike, struggle with finding the correct words or just expressing the way you feel. Getting that down on paper (or card) and making it sound good is more difficult than it might sound.
If you're finding this to be the case then use one of the pre written messages below. You can copy them directly or change them to fit your situation. Alternatively you can follow the quick guide just under here that will show you how to write your own congratulations card and get the perfect sentiment.
What to Write in a Congratulations Card
You can follow this short guide to writing your own congratulations message.
Start your card by addressing the recipient you want to congratulate. Something simple like "Dear _____" is perfectly fine.
Next congratulate the recipient on whatever it is they've achieved. For example if it's an engagement you could put something like "congratulations on getting engaged! I can't wait to see the ring!" or if it's a promotion "well done on getting that new job! You've worked so hard and really deserve it"
Following this you can let them know how proud you are of their achievement, possibly using a personal anecdote or story. Talk about their success
Next you can wish them well in the future and how things will be considering what it is your congratulating them on
Finish by closing your message and signing the card. Something like "Lots of love, _____"
You don't have to stick exactly to this guide. You can add in extra parts if you want or keep it shorter if that fits better. But this general outline should at least give you an idea of how to write one.
Congratulations Messages
These are general congratulations wishes that can be used in most situations. They can also be added to or expanded in order to fit the person you are congratulating. But they can be a useful starting point if you are struggling with your own. For more specific examples (new job, wedding, retirement etc) scroll further down.
Congratulations! I'm so proud of you and wishing you all the success in the future
Well done! I'm so pleased for you
Best wishes and congratulations. Hoping you enjoy more success and happiness
All your hard work has paid off! Congratulations!
I'm so excited for you! Congrats
Congratulations and best of luck
You're amazing, and I knew you could do it. Congratulations and fully deserved
You have earned all your success, congratulations
Hard work, persistence and talent – you have all 3 in abundance. Your success is completely deserved and I'm so pleased for you
I hope you'll accept my best wishes and congratulations on the big news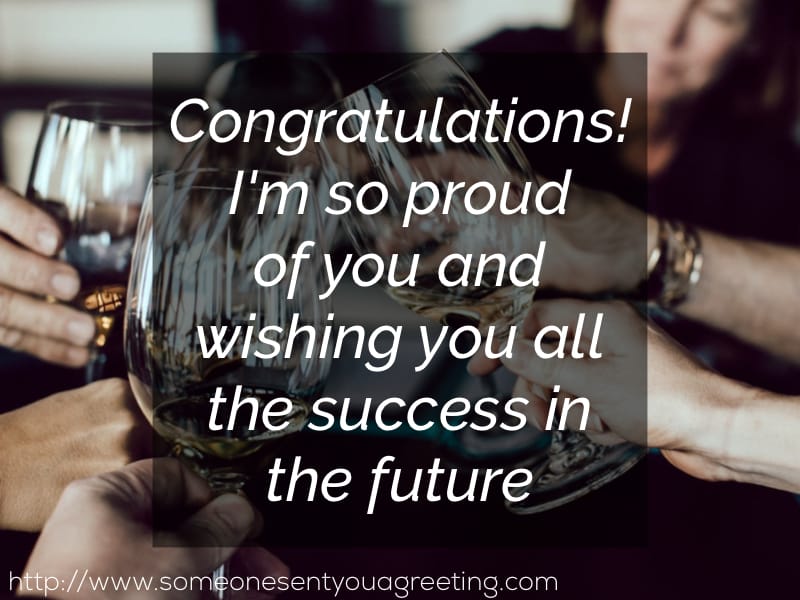 Congratulations Quotes
You can use a quote in your card instead of or alongside a message as well. A congratulations quote can sum up your feelings very well and do a better job than you could.
"Only those who dare to fail greatly can ever achieve greatly" ~ Robert F. Kennedy
"Only those who attempt the absurd can achieve the impossible" ~ Albert Einstein
"I think a hero is an ordinary individual who finds strength to persevere and endure in spite of overwhelming obstacles" ~ Christopher Reeves
"Congratulations!
Today is your day
You're off to Great Places!
You're off and away!" –Dr. Seus
"No one does it better than you!" ~ Anthony Hincks
"Victory is won not in miles but in inches. Win a little now, hold your ground, and later, win a little more" ~ Louis L'Amour
"There is an easy way to silence your critics; just try to do what they say you can't do. If they are still not content, do more of it! Keep doing it until you become a master. Then look around, and you will see fewer critics and many compliments!" ~ Israelmore Ayivor
"Victory is sweetest when you've known defeat" ~ Malcolm S. Forbes
For Graduation
Graduating is a huge event in a young persons life, be it from high school or college. Celebrate and congratulate them on their achievement with one of these graduation messages.
Congratulations on your graduation!
So proud of you! You're a college grad now!
Congratulations! Graduating college isn't easy but you've done amazingly well
Congratulations, I wish you much success in the future
Congratulations and best of luck with whatever you choose to do next
Graduating takes a tremendous amount of hard work and perseverance, so you deserve all the praise in the world for your achievement
Congrats on such a huge accomplishment!
The world is your oyster now – go out and chase your dreams
Today we celebrate your incredible achievement. Congratulations on graduating
Let's party! You've graduated!
For Wedding
If you're sending a wedding card then you will want to congratulate the happy couple on their big day. Use one of the wedding wishes below.
Congratulations! You two were made for each other
I'm so pleased to have been there to celebrate your big day! Congratulations
Congratulations on a wonderful wedding
I hope your lives are filled with joy and happiness. Congratulations
Congratulations on a love so pure and strong. Have a lovely wedding and happy life together
To see the joy you bring each other is so inspiring. Congrats on your gorgeous wedding
To a perfect couple on their perfect wedding day – congratulations!
The coming together of two people that are clearly made for each other is a time for huge celebrations. Wishing you so much happiness
To see you two fall in love and now be at your wedding has been such a thrill. I couldn't be happier for you
Enjoy your day and congratulations!
For Retirement
Retiring after years and years of hard work is a big change. Some hate the idea and want to continue working whereas others can't wait for the rest and free time. If you know someone like the latter then offer them congratulations on achieving a huge milestone in their life.
Congratulations on retiring! After all these years you've earned it
Congratulations, may you enjoy your retirement to the fullest
Congratulations on your retirement; the end of an era but the start of a whole new chapter
Wow, you look way too young to retire! but congratulations on beginning the next phase of your life
Congratulations on your retirement. Have an adventure in your new life
Congratulations and now take it easy!
Remember to keep in touch and don't rub all that free time in our faces!
Congrats on finally getting out of the rat race
No more work? Sounds like bliss to me!
Enjoy your well earned retirement
For a New Job
Getting a new job or promotion is such an achievement and something people often strive a long time to get. Let them know how well you think they've done with a card and include a message of congratulations.
I know how much you've wanted this position so just wanted to congratulate you on getting it. Well done!
Wishing you all the best in your new job! Congratulations
A fully deserved promotion. Congratulations
Best wishes and success in your new job
Congratulations on never giving up and eventually reaching that goal.
All your hard work has come to fruition. Enjoy the next stage of your career
Well earned and sure to be a huge success. Congrats
At last they've seen your full potential! You're going to be great, congratulations
New job? Drinks are on you!
For a New Baby
There's nothing quite like a new arrival! A new baby is one of the biggest causes for celebration. If you know a couple having a new child then let them know how happy you are for them with one of the messages below.
Congratulations on your new bundle of joy!
We cant wait to see the new arrival! Congratulations
Congratulations to the new mom and dad. We know you'll be amazing parents
Your family is now complete! Congratulations
Congratulations and best wishes on your new baby. Wishing you much love and happiness
Your new baby will bring you more joy than you could ever have imagined. Congrats
To the new parents – congratulations on the start of a wonderful and happy family
Congratulations on your adorable little baby boy/girl
You're going to make incredible parents. And if you need a babysitter at any time – just ask!
Welcome to sleepless nights and endless diaper changes! Enjoy all the fun of having a new baby
For a New House
Moving into a new house whilst stressful is also a really exciting change. It may be a first house or just a step along the ladder but either way wishing someone congratulations is a great way to celebrate their big event.
Congratulations on moving into the house of your dreams!
I hope the moving goes well and your new house becomes a loving family home soon. Congratulations on
A new house – what an exciting change! Congratulations
Congratulations on your first house!
Wishing you all the best in your new house
All the best in your brand new forever home
Your the new king of your own castle. Enjoy the freedom
I hope your new house soon becomes a real family home
They say home is where the heart is, and I know you had your heart set on this home. Congrats!
May all your dreams come true in your new home
We hope these examples messages have been useful. Ideally you should now be confident about how to say congratulations to someone and the sort of things to write as a congratulations message.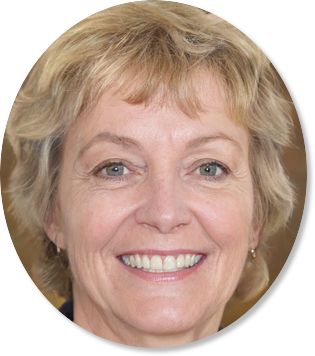 Sally Gibson is the founder of Someone Sent you a Greeting, a holiday/celebration website. Sally's writing work has been mentioned in Woman's World, Yahoo, Women's Health, MSN and more. If you have any questions get in contact with one of the team via the about page.