Are you trying to finding the best way to say good luck on your test to someone? Maybe you want some good luck quotes for exams to write in a card or on Facebook.
Don't worry, we've all been there.
Saying best of luck to someone is something we do all the time. But when it's an important test or exam you might want your words to be a bit more interesting or special than usual. That means you've got to come up with a good luck message that express more than a boring sentiment.
And yes, writing good luck wishes can be tricky. But they don't have to be.
So if you're struggling to find the right good luck wishes for an exam you'll find a great selection below. Use them to wish a friend, family member or even just acquaintance best of luck and success with whatever their exam is.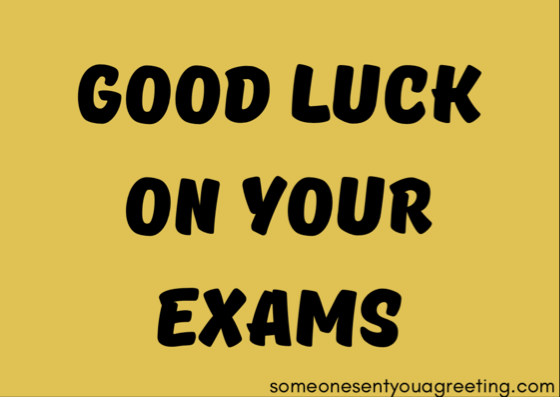 Good Luck Wishes for Exams
Use these quotes and messages to wish someone good luck on their exam in person, on Facebook or maybe even in a good luck card.
Best of luck on your test. I know you're going to ace it!
Believe in yourself and you can achieve anything. Good luck with your exam.
Exams may seem like they're the most important thing in the world but regardless of what happens everything will work out. Best of luck!
You've put in all the hard work – you're going to do great!
Good luck with your exam. Stay clam and it'll be a breeze.
Relax, keep calm and you'll pass with flying colours. Good luck!
Remember that tests are just measure of how much you've learned and nothing else.
Fingers crossed you get the grades you want. I'm sure you will!
I've seen how much preparation and hard work you've put in for these exams. You're as ready as you can be so keep calm and I just know it'll all go well.
Best of luck! I know you're nervous but as someone older and wiser trust me when I say one exam isn't going to change your life. You'll do great, but whatever happens it'll be fine.
Give it your all, try your best – that's all anyone can ask.
Don't forget to breathe! Good luck, you're going to pass, I'm sure.
Being nervous is normal. Just try to avoid those nerves overwhelming you. Best wishes
I'll be praying you ace your exam. Good luck!
Never be afraid of failure. As long as you learn and grow from it then it won't hold you back.
I'll be here with love and support whatever the results of your test
Focus on the positives and how you'll feel when you pass your exam. Block out the negatives and visualise that success – then go and get it!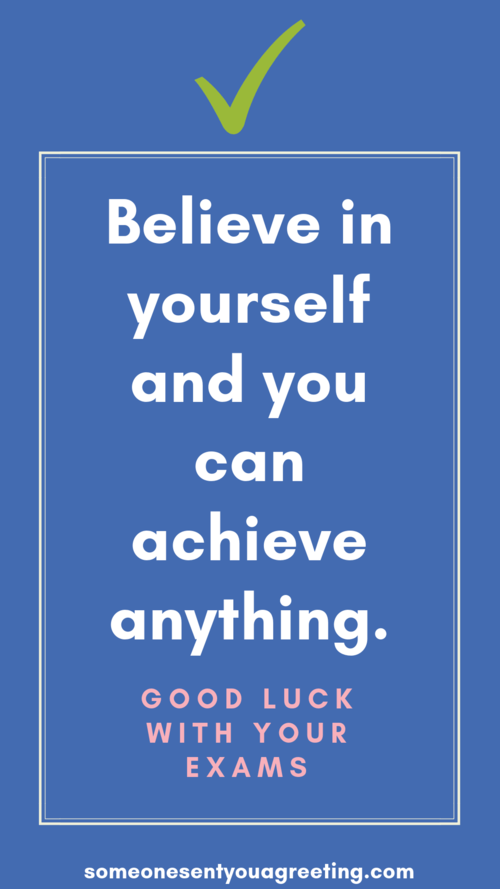 As your best friend I just wanted to wish you the best of luck. We're all in the same boat so we pass together and we fail together!
Big hugs and best wishes for success on your test
I know how smart you are and frankly this exam is going to be a walk in the park for you. Go and smash it!
Let all your hard work do the talking for you!
Don't let the pressure of grades stress you out. There's more to life than exams.
Exams are as much about staying calm than what you know. So relax, try not to worry and it'll go fine
Go and prove everyone who doubted you wrong! Best of luck
Forget the haters and do your best
Don't fret and try to be confident as you can do this. You just have to have belief in yourself.
Every exam is another stepping stone to the future you've wanted. Go and grab it, I know you can!
Try not to worry, even if this one goes wrong (and it won't!) you'll have lots more opportunities
You? Fail!? You've got the best memory of anyone I know! This will be a pice of cake for you
Grab this opportunity by the scruff of the neck and take full advantage. Good luck!
Don't let anyone tell you you can't, because you can.
Just imagine how great it'll feel when these exams are done and you've passed them all. Best of luck
When you feel that relief and the joy of passing it'll all be worth it
There's no guarantee to passing except hard working and graft. You've put the hours in now reap the rewards
You don't need me to wish you luck as you're going to pass without any problems… but I'm going to wish you it anyway!
I know you're nervous but be strong and face down those fears. An exam can't hurt you so go out there and beat it
Give it your best and I know you'll do great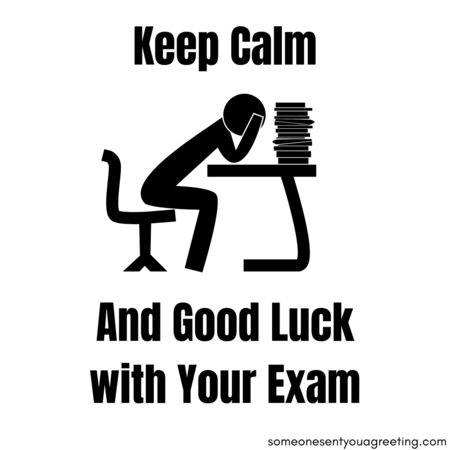 Good Luck Wishes for Exam to Girlfriend
Wish your girlfriend the best of luck on her test or exam. Tell her how much you want her to succeed and that you're rooting for her as she takes her tea. She'll appreciate knowing you're their for support and encouragement.
I've been inspired by your hard work and dedication. You're going to ace this exam babe!
I've seen the sacrifices you've made to be ready for this test and I know all your hard work will pay off
Whatever happens remember that I'll be here for you. Best of luck
You've got this darling!
If you need any help I'll be just outside miming the answers for you! Just kidding, I know you're going to do great
I don't care if you pass or fail – I'll love you no matter what happens
Regardless of how this test goes we'll be fine. We've got an amazing future and one exam doesn't change that.
I know how smart and intelligent you are, you just need to believe it yourself. Good luck, sweetheart
You can do it honey! I'm rooting for you!
Stay positive and remember that there will be other chances of things don't work out. I love you, good luck
If you were taking a test for the best girlfriend you'd get 100%! Good luck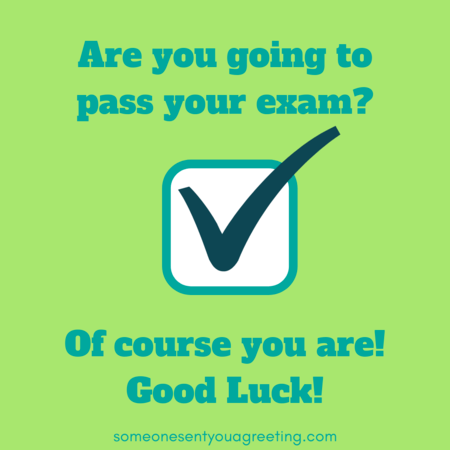 Good Luck Messages for Exam to Boyfriend
If it's your boyfriend taking an exam then you'll also want to wish him the best of luck on his test. A touching or thoughtful good luck quote will help him to feel confident about taking the exam and hopefully relax about it.
I don't care what happens, you're the smartest most amazing person I know. Good luck but I'm sure you won't need it
To my wonderful boyfriend – wishing you so much luck for your test
I know you've been worrying about your exams but you shouldn't. You're so smart and have worked so hard you're going to ace them
I hope all my massages and back rubs relaxed you before your big test! You're going to pass with flying colours so don't stress
You'll always be a success to me. Good luck honey
Exams will come and go but we'll be together forever. Good luck babe
You know I'm your biggest fan and will be there for you through thick and thin. Good luck darling
Good luck baby! You're my hero everyday and I'm convinced you're going to do great
This exam is going to be simple for a boyfriend as smart as you! Best of luck
To the best boyfriend in the world – good luck honey, I'm with you all the way
Good Luck Quotes for a Driving Test
A driving test is one of the most important we take. It's seen as our first route to freedom. So wish whoever it is taking their driving test all the best with these good luck messages.
All the best on your driving test
Good luck with your driving test today! Remember, check your mirrors and hands at 2 and 10!
Best of luck! Don't forget to take the hand brake off!
You know that when you pass you're going to have to give me lifts everywhere? Good luck!
There's no doubt in my mind you'll pass. Best of luck
You've got nothing to worry about – I'll be seeing you later pulling up outside my house in your new wheels looking very smug about passing!
Good luck and enjoy your freedom when you pass
Looking forward to getting on the open road? There will be no holding you back once you've passed. Best of luck
You know what it means once you've passed – road trip! Good luck, we're all wishing you the best
Best of luck with your driving test
The pressure around taking tests can be really intense. Hopefully the quotes here will have helped you to offer anyone you know a bit of support and wish them good luck on their exams.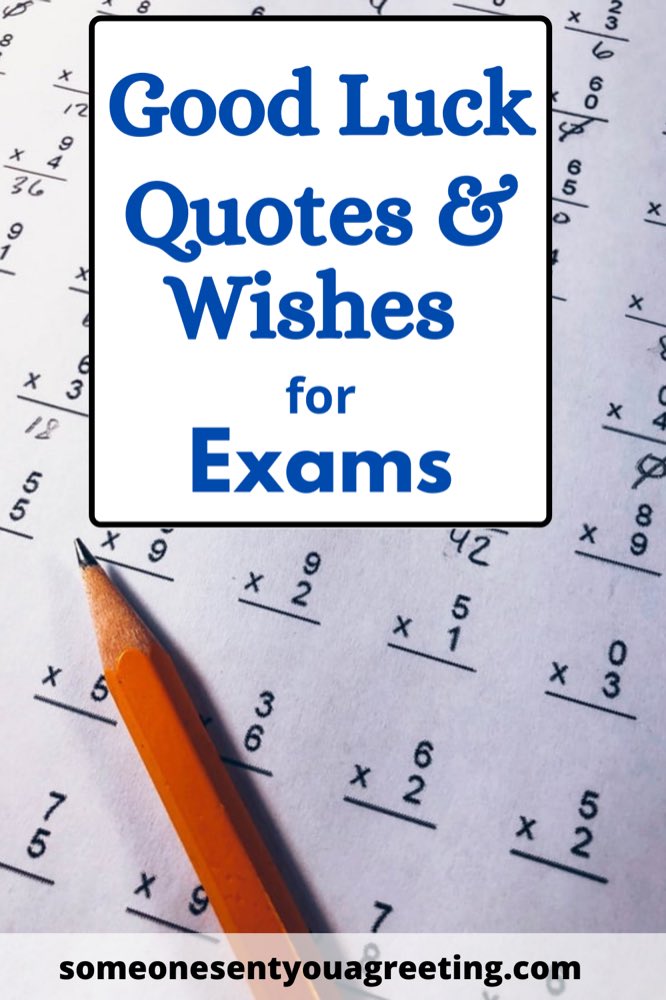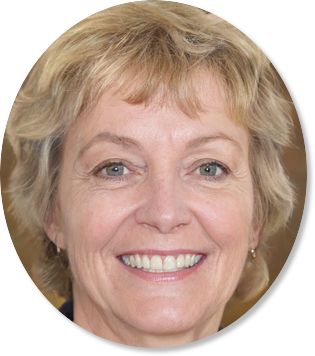 Sally Gibson is the founder of Someone Sent you a Greeting, a holiday/celebration website. Sally's writing work has been mentioned in Woman's World, Yahoo, Women's Health, MSN and more. If you have any questions get in contact with one of the team via the about page.