Are you looking to say 'Happy Birthday Auntie' but aren't sure how? Need some heartfelt or touching auntie birthday wishes and messages for a card?
Don't worry, we've got you covered!
You might feel under pressure and that everyone else is writing some lovely or touching birthday wishes for your auntie. You want your words to match up, but aren't sure how to express exactly how you feel or say what your auntie means to you on her birthday.
So yes, writing auntie birthday wishes are tricky, but they don't have to be.
And if you're having a hard time putting your thoughts into words to say 'Happy Birthday Auntie' then use the example wishes we've put together below to get the perfect auntie birthday message.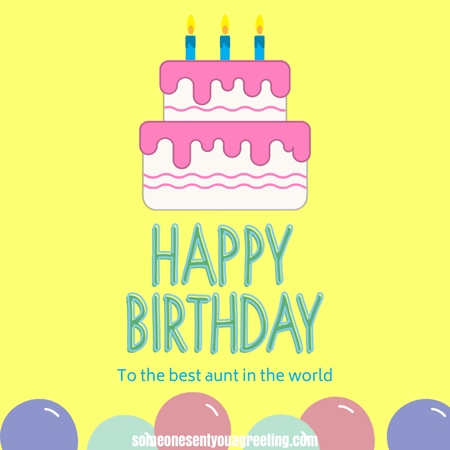 Birthday Messages for Aunty
The relationship we have with some family members can become much closer than others. In some cases it's our aunties that are some of the most important people in our lives.
They can be easier to talk to, maybe you have more in common with them. So when it comes around you will want to make sure you say the biggest 'Happy Birthday Auntie' you can. So use these heartfelt birthday wishes to show just how much she means to you.
To my amazing auntie – have a wonderful birthday!
Happy Birthday to the best aunt in the world!
I'm so grateful for having you as not just an aunt, but a friend. Happy Birthday and I hope you have a fantastic day
Thank you for always making me feel loved and special. Happy Birthday
I treasure and cherish all the memories I've made with you over the years. Happy Birthday Auntie
Happy Birthday to my favourite person in the world – my auntie. Love you so much
Sending you warm thoughts and best wishes on your birthday.
You've become more than just an aunt to me – you're my best friend. Happy birthday!
Whenever times were tough I could always turn to you, my aunt. Thank you for everything and have a great birthday
I know we don't see each other as often as we'd like but you're still my special aunt! Hope you have a fab birthday
You may be a year older but you're only getting better with age. Happy Birthday
Here's to you having the best birthday possible!
Few people can claim to have an auntie as truly amazing as you. I'm so lucky. Happy Birthday!
Through all the hard times you've been by my side and there to support to me. I love you auntie, happy birthday
I feel blessed to have you as my auntie. Happy Birthday and many returns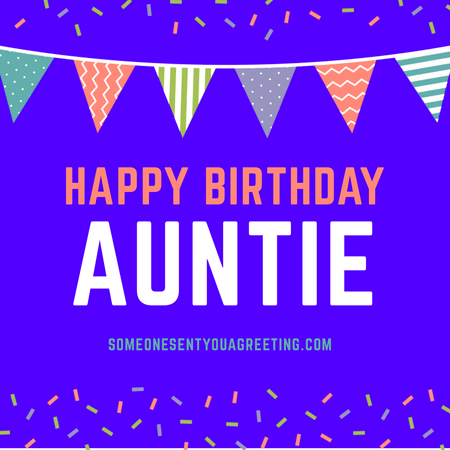 Happy Birthday Aunt Quotes
Bigs hugs and best wishes for a brilliant birthday, auntie
Dance, sing and celebrate – it's your birthday
To my auntie – may your birthday be as beautiful as you are!
We're going to throw you the biggest party! Happy birthday auntie
I'm delighted I get to celebrate your birthday with you, my auntie. Let's make it a special one!
You've always been like a 2nd mother to me and I will forever be grateful for all your love and wisdom. Happy Birthday
You deserve a birthday filled with happiness, love and joy. Happy Birthday aunt
You will always have a special place in my heart auntie. I hope you have a wonderful birthday
As if I'd forget the birthday of my favourite aunt! Here's to many more years
Enjoy a special birthday and have a day where it's all about you
I hope your birthday brings you joy and love, surrounded by us, your family. Happy birthday dearest aunt
From as earlier as I can remember you've been the rick of this family. Thank you for everything and have a tremendously happy birthday
We don't get to choose our family but if we did I would choose you as my aunt in a heartbeat! Happy birthday
Sending you big birthday hugs! Have a great day auntie
Not just me but the whole family is lucky to have you. To the best aunt there could possibly be – happy birthday!
Inspirational Birthday Messages for Aunt
You can use the opportunity of sending/giving a card to wish your aunt an inspirational birthday message. Sometimes birthdays can be upsetting as they show our age or that we're getting older. Maybe even making us think we're becoming less useful or not needed. So send an inspirational message to show your aunt just how important she is to you.
You may be a year older but your warmth, generosity and wisdom are vital to the entire family. We're so lucky to have you. Happy birthday
I've looked up to you as much as anyone in my life. I cannot thank you enough for your guidance and inspiration. Have a happy, happy birthday
I just wanted to let you know how special you are to me. You've always be there for advice and support. Have a very happy birthday
I know we don't see each other enough and for that I'm sorry. Every time we get together you cheer me up and brighten my day. I'm very lucky to have you as an aunt, happy birthday
You've always been such an inspiration to me and everyone who meets you. Have a brilliant birthday
I hope one day to be half the person you are. Have an amazing day!
You've been such a positive influence and inspiration to me. On your birthday I just wanted to let you know how important that's been and hie lucky I feel. Enjoy a lovely birthday
I've always looked up to you auntie. Thank you for being such a great role model. Happy birthday
I still look to you for advice in tough times. You've always been there when I've needed it most. Wishing you the happiest birthday
Friends have come and gone but I know you'll always be there. Happy birthday auntie
You're like a fairy godmother to me! Always helping with advice and solving my problems. I really don't deserve you. Happy birthday my fabulous aunt!
Words can never express how much you mean to me, but I'll spend the rest of my life trying. Have a wonderful birthday aunt!
To have a strong woman like you in my life has been such a blessing. I always look up to you for what to do. Have a special birthday auntie
You've always made me feel like I could achieve anything. Thank you for such positivity and inspiration. I hope your birthday is full of joy
Happy birthday to one of the strongest women in my life. I just want you to know that you are charming, brilliant, and utterly unforgettable. Let's celebrate another year of being blessed with your presence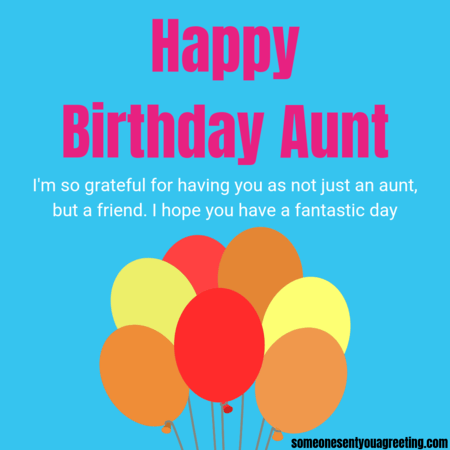 Happy Birthday Aunt Funny
You might prefer to say happy birthday to your aunt with a funny message. A humorous or witty message could put a smile on your aunts face and give her a laugh on her birthday. So try one of these funny wishes that are perfect for a card or to be shared on social media.
I smile because you're my aunt. Then I laugh because there's nothing you can do about it. Happy Birthday!
For all the amazing things you've done for me I promise I'll smuggle the alcohol up into the nursing home when you want it! Happy birthday to the coolest aunt
I don't need a therapist – I've got you, an aunt! Happy birthday
Happy birthday auntie! I'd say you've been like a mom to me, but that would be a lie. You don't nag, so you're even better!
When mom and dad would say no I did the only thing I could – phoned you, auntie! Have a great birthday
Happy Birthday to the best aunt by who always covers for me when I've messed up!
Another year older. But don't take it so seriously. If you can't laugh at yourself call me.. I'll laugh at you! Happy Birthday!
Of course I'm your favourite niece/nephew.. I'm freakin' awesome! Happy birthday auntie
Happy Birthday to an aunt who
is talented, pretty, smart, creative and fabulous! (I love that we're so much alike)
I have a long list of women that I truly admire. It came as a shock to me, too, when you made the list. Happiest birthday, dear auntie! Save some cake for me!
Happy Birthday auntie! Here's to more years god growing old disgracefully
Hi, favorite auntie! Did you know that being related to someone cool and amazing like me is the only birthday gift that you need? Well, now you know! Happy birthday!
The interesting thing about old age is that you go back to being a child. When that happens, dear aunt, I would be honored to babysit you. Happy birthday
Happy Birthday to an amazing and beautiful aunt… who is just like her amazing and beautiful niece!
For the woman who let me do all the things mom never did: thank you and happy birthday!
We hope you now feel confident and have some ideas of what to say to your aunt on her birthday with these sweet birthday wishes.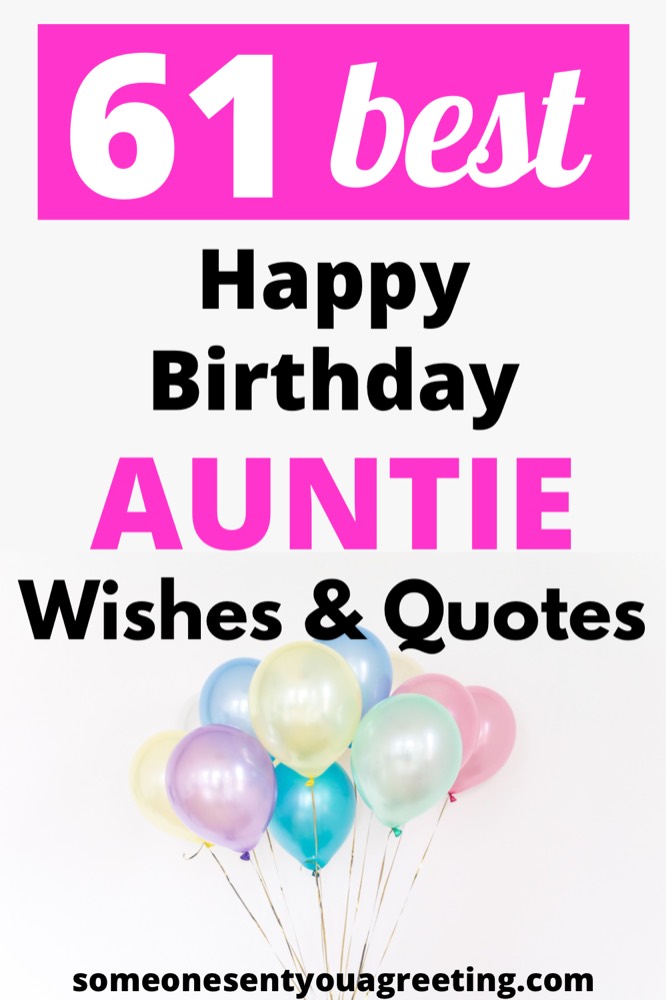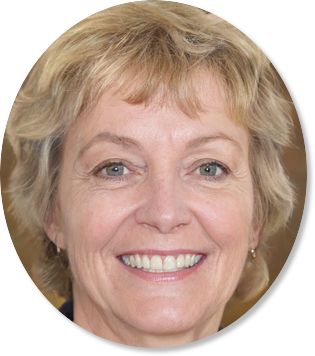 Sally Gibson is the founder of Someone Sent you a Greeting, a holiday/celebration website. Sally's writing work has been mentioned in Woman's World, Yahoo, Women's Health, MSN and more. If you have any questions get in contact with one of the team via the about page.