Is someone leaving your workplace and you want some farewell wishes for a colleague to write in a card? Need help finding the right words for a goodbye messages to coworkers?
You aren't alone!
A colleague leaving your workplace is a sad time. We forge strong connections with our coworkers so having to say farewell can be tough. Especially if you were close to them.
That's why when they're departing you should let them know just how much they meant to you. So in order to help find the right words we've put together some of the best farewell wishes for a colleague to help you out.
Writing farewell messages are harder than they might first seem. Saying goodbye is tough. It can be hard to express how you feel to a colleague.
They become friends, but because of knowing them through work it can make those relationships that bit different to other people in our lives. So when they leave work you can feel conflicted.
They might be moving on to a new job or promotion, maybe even retiring, so your feelings might be mixed. Pleased for them but also sad to see them go. And so if you're giving them a farewell card or gift then deciding on what to say in your message can be tricky.
So use the farewell colleague messages and quotes below to help inspire you to let a coworker know how much you'll miss them!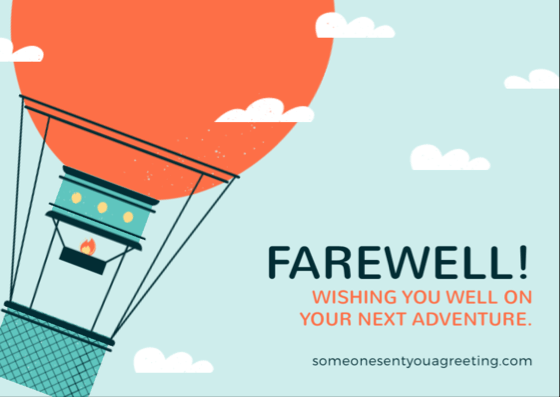 Farewell Wishes for Colleagues
These sample farewell wishes are perfect for saying how much you're going to miss a colleague that is leaving. Use them in a farewell card, with a gift or even to share on social media.
Wishing you well on your next adventure. Farewell and good luck!
We're all going to miss you so much. Farewell!
It just won't be the same around here without you. Best of luck for the future
You started off as just a colleague but you quickly became a friend. I'm really going to miss you. Farewell
Don't forget to stay in touch! Wishing you all the best
I'm sure you're going to do great with whatever comes next. Farewell and good luck!
Congratulations on the promotion! Going to miss you but I'm really pleased and proud of all you've achieved.
Farewell to my partner in crime. The office pranks are going to suffer without you to help me!
I'm not going to miss your messy desk and stupid jokes.. but I'm really going to miss you. Farewell to a great friend
We're/I'm so sad you're leaving. Wishing you all the best for the future
Farewell to my favourite coworker. Still can't believe you're going. It just won't be the same without you
You may be moving on to bigger and better things but promise not to forget us! Farewell!
I'm really excited for your next chapter. I know it's going to be huge. Farewell
Wishing you all the best and may success follow you wherever you go!
Farewell to an amazing colleague. Don't worry, we're going to throw you an amazing going away party!
Wishing you much joy & happiness as you begin a new chapter in your life.
You were an asset for the entire department. We will surely miss you. Wishing you a great future!
The coffee breaks, the canteen chats, office gossips and long hours schedule – I will miss all of them I had with you. Farewell and take care
Congratulations! Best of luck in your new career
I hope you find as much joy in your next career as you have here. Best wishes
The whole workplace is going to miss you. Farewell and all the best!
The office is gong to be so dull without you. We're really going to miss you. Farewell
You've not only been a colleague but a mentor and friend. It's going to be weird not having you around but I know we can't hold you back. Good luck with everything
We were lucky enough to click instantly and I'm so pleased to have had you as my colleague by my side. So best wishes on your new adventures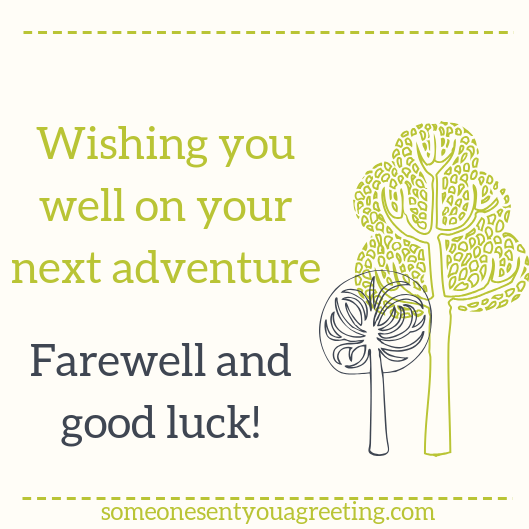 Goodbye Messages to Coworkers
Sometimes a heartfelt goodbye is the best way to wish a colleague farewell. These messages do just that – saying goodbye when you know you're going to find it tough.
I don't want to say goodbye but I know I can't stop you leaving. All the best and farewell
I'm so lucky to have known someone who is so hard to say goodbye to
I don't know what I'm going to do without you, but I sure you'll do great on all your future endeavours. Goodbye and good luck!
So long, farewell, auf weidersehen, goodbye – it's gong to feel lonely with you gone.
Just a quick note to say adieu! We'll all miss you so much.
I'll raise a glass to all you've achieved and remember the good times. Goodbye to a brilliant coworker and good pal
We may be saying goodbye but I know this isn't the last we'll see of you. Good luck with everything
So long! Beers are on you tonight!
Even as you move on to bigger and better things don't forget to stay in touch. Goodbye and congratulations on promotion
It's with sadness that we're saying goodbye. You've become such a good friend over the years. I'm really going to miss you
Big hugs and goodbyes to my favourite colleague. Keep in touch!
All the best in your new endeavours. Goodbye from everyone
As you move into a new venture may luck and success always be with you! Good luck and goodbye
We're in the office so I don't want to cry but I'm going to miss you so much. Goodbye
It's time to move on and scale new heights. But we sincerely hope that you don't forget the old friends you've made along the way. Goodbye and farewell
Funny Farewell Messages to Colleagues
If you're colleague is the right type then a funny message poking fun at their leaving could be the ideal choice. Enjoy a final laugh with your coworker and make a joke about their leaving.
All the best for the future. Can I have your chair?
I hope that your next boss will hate you so much so that he'll kick you back here. Just kidding! Be good there and all the best for your new workplace.
You'll be back…
How much more money are they giving you? Write that number down. Double it. Throw the paper away. I don't have that kind of money, but I can bribe you with brownies, my delightful smile, jokes, and my friendship. Reconsider staying!
I want to hunt down the head hunter who hunted you and tell him that he has managed to hunt the best hunt ever. Farewell.
You're leaving? Pfft, I never liked you anyway!
You might be leaving but you can't get away from me that easily!
Take me with you!!!
If I had to play a final prank on you before bidding you farewell, I would tie your legs to your cubicle when you aren't looking so that you can never leave us. Goodbye.
I'll never forget you [insert wrong name].
Please don't leave me alone with these people!!
On one hand I feel happy that I no longer have to listen to your angry rants, but on the other the thought of having a new boss makes me wet my pants. Farewell.
So long, I'll miss our awkward conversations about the weather.
I can't wait to steal your desk. I mean, sorry you're leaving… good luck for the future.
Good luck finding better co-workers than us in your new job!
I've worked with many people and I can honestly say you were one of them.
I would like to taste the cakes before writing anything nice or contributing to your fund, please.
We're all going to really miss doing your work for you.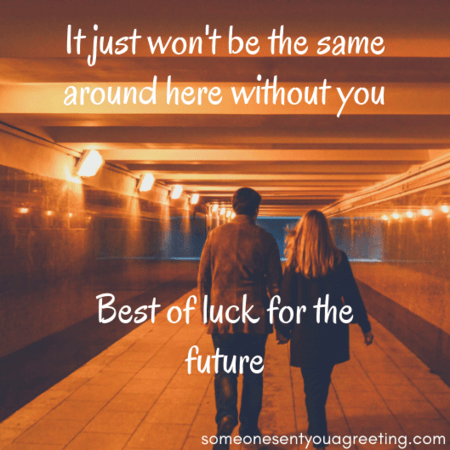 Thank You and Farewell Message to Colleagues
Often colleagues have helped us or become a really important part of our lives. These farewell messages go beyond saying goodbye but also thank the colleague leaving for everything they've done for you.
You've been an inspiration around the office. Thank you for everything and best of luck in the future
I can't thank you enough for all your help when I first joined the company. You took me under your wing and enabled me to settle in so well. I'm going to miss you – farewell to an awesome colleague and friend
Thank you for being such an incredible colleague and friend. I'm really going to miss you
Monthly targets and performance appraisals will come and go, but the memories of working with a colleague like you will stay in my heart forever. Thank you for all your hard work
In the journey of life you meet several people who are hard to forget. I am glad to have met a person like you. I hope the path ahead is smooth for you and may you reach your goal without fuss. Thank you for being a part of my life.
I'm sad that you're leaving because of all the help you gave me but I'm thrilled to hear of all the success I know you'll have in your next adventure. Thank you for everything and best of luck
Your hard work and dedication won't be forgotten. Thank you for all you contributed to the company
It was a pleasure working with you and your loss will be greatly felt. Thank you for your time and dedication while you worked for us. Best wishes as you embark on a new challenge
It has been a truly enriching experience to work with someone like you. Thank you for your support and help – I, alongside everyone else, will miss you
I've learned a lot working with you these past years. I know you'll be successful in your new position. Thank you and goodbye!
Having you as a partner at work was one of the best professional experiences in my career. Thank you for your guidance. Best of luck.
The boss may be sad because of losing a hardworking and efficient employee, but we are sad because your heart-warming smile we will no longer see. Thank you and farewell.
Goodbye Wishes When You're Leaving the Company
Maybe it's you who have decided to leave or got a promotion, and you want to wish your colleagues goodbye. If so then knowing what to say to those coworkers might be causing you problems. Try some of these examples messages.
My time here has been amazing and I've learnt something from each and every one of you. Thank you all and farewell
The experience and skills I've obtained at this company will serve me in the years to come. I can't wait to start on my new journey, but I'm going to miss you so much. I hope we see each other very soon
Although I am looking forward to staring my new role and exciting new career I have enjoyed my time here immensely. Thank you for your support and guidance. I'm going t miss all my colleagues. Goodbye
I want to thank every single one of you for your encouragement and support. I couldn't have asked for better coworkers and loved every minute of working here.
I'm so grateful for the time I've spent working here but retirement beckons! It's time for rest and relaxation.
The new opportunity that came up was too good to turn down but I'm so sad to be leaving you all. This company is truly special as are each of you. Thank you and farewell
The memories I've made here are some I'll never forget. It has been an incredible experience being your boss. I hope I wasn't too mean and you'll remember me well! Farewell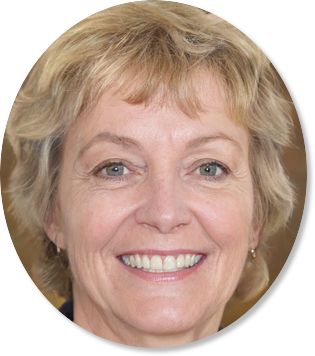 Sally Gibson is the founder of Someone Sent you a Greeting, a holiday/celebration website. Sally's writing work has been mentioned in Woman's World, Yahoo, Women's Health, MSN and more. If you have any questions get in contact with one of the team via the about page.