Pastors are so important to many of us. So on their special day say "Happy Birthday, Pastor!" with these thoughtful wishes.
I've compiled a collection of birthday wishes, inspiring quotes, heartfelt messages and prayers that are all dedicated to celebrating a pastor's birthday.
So if you aren't sure how to say happy birthday to a pastor or minister these example messages will give you all the inspiration you need.
Happy Birthday Pastor Wishes
Happy birthday, pastor! Thank you for your dedication to spreading the gospel and all you do to care for our church family. Enjoy your special day!
Thanks for being a wonderful shepherd and leading our congregation with so much grace. Have a blessed birthday!
Happy birthday, pastor! Your dedication to serving our church does not go unnoticed. Enjoy a wonderful day.
Wishing you a birthday filled with God's love and blessings. May He continue to use you powerfully in ministry this year.
I thank God for your life and ministry. Have a fantastic birthday celebrating with family and friends!
May the Lord shine His face upon you on your birthday and throughout the year ahead.
Happy birthday to our pastor! Every week your sermons inspire us so much. We hope you enjoy this special day and are surrounded by love.
Wishing you abundance of blessings on your birthday and always. Thank you for all your spiritual guidance.
Your compassion, wisdom and leadership are a gift to our church. I hope your birthday brings you joy and draws you even closer to Christ.
Wishing our caring pastor a very happy birthday! Thank you for friendship and guidance.
Dear Pastor [name], we wish you happiness beyond measure on your birthday. Your unwavering faith and optimism has taught us to find joy in every moment. May this special day be a reminder of the blessings that surround you.
As you celebrate your birthday we pray that you find time to reflect and some moments of peace. The devotion and faith you show is so uplifting and we are grateful for all you do.
Wishing you a birthday filled with the love and appreciation you truly deserve. You are always there for us with support and kindness. May this year be one of many blessings and answered prayers.
We are praying you feel God's presence with you on your birthday. Thank you for bringing His light to our lives.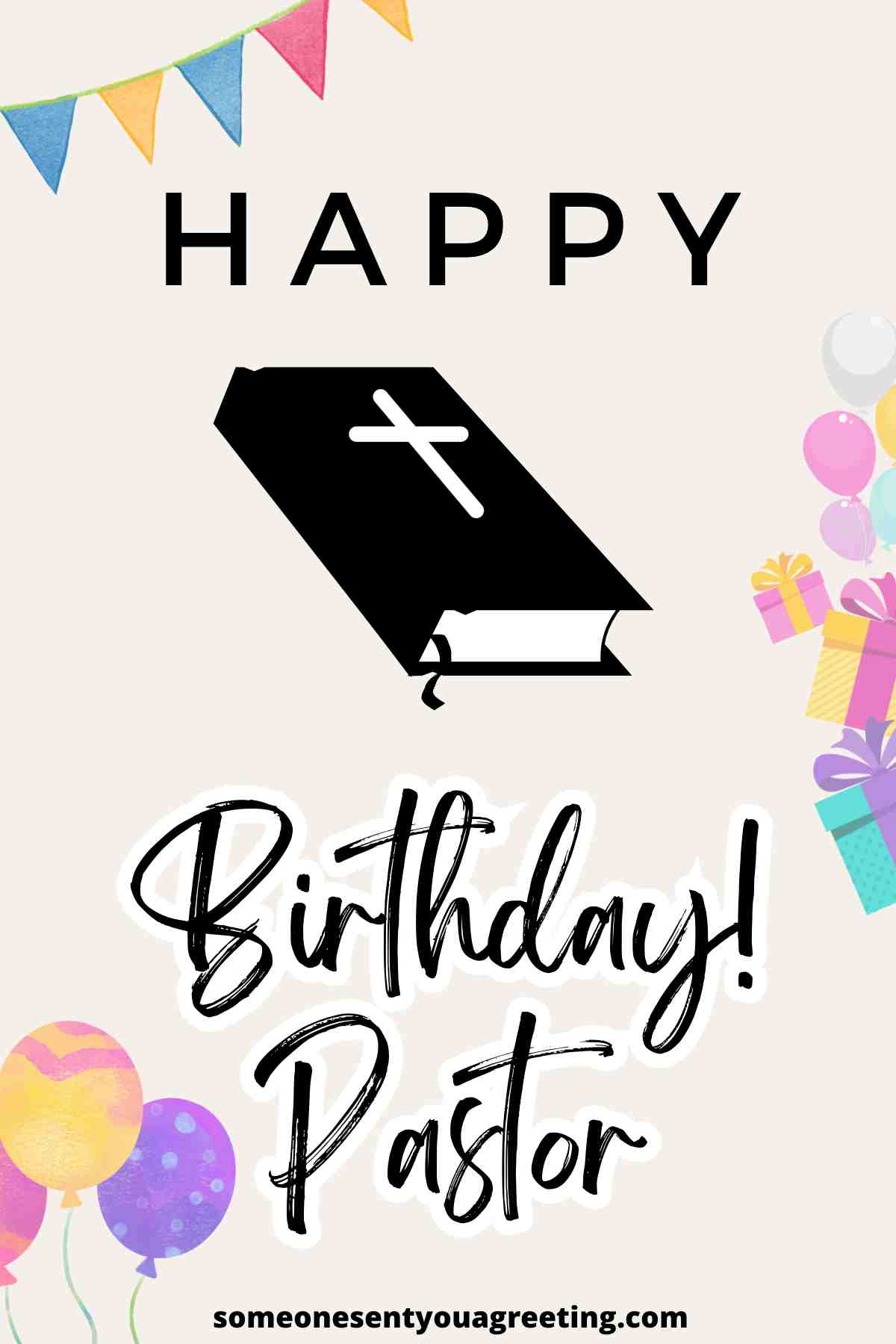 Heartfelt Birthday Messages for a Pastor
These are some heartfelt birthday messages for your pastor to show your thanks and convey your appreciation.
Dear Pastor, your selfless devotion to our spiritual growth has touched our hearts deeply. Thank you for being our guiding light. May your birthday be filled with the same love and blessings you have bestowed upon us.
Happy birthday my dear pastor! May this day be filled with joy and laughter surrounded by your loved ones.
On your birthday we celebrate not only the past but the bright future that lies ahead. The passion you have for spreading God's love and transforming lives has helped so many and left a mark on our hearts. May you continue to touch even more souls. Happy birthday, pastor.
Happy birthday to my wonderful pastor! Your caring nature and genuine concern for each member of your congregation is a joy to behold. Enjoy a brilliant day.
As you mark another year of life we pray that you can enjoy the day with those closest to you. Your ministry has touched our lives in remarkable ways. We hope you know the impact you've had on so many souls.
Happy birthday! As you step into the future I pray that God's hand continues to guide you in every decision and step you take. With all my love.
Happy birthday to the most caring pastor. Today I am celebrating not only your birthday but the joy you have brought into my life. Your kind words always lift my spirits when I need it most. Thank you for being an amazing minister and have a lovely birthday.
Dear pastor – happy birthday! I hope that today is as wonderful as your Sunday sermons! All my best wishes.
The warmest wishes to you pastor on your birthday. May the Lord renew your spirit on your birthday as you continue preaching His good word.
Happy birthday. I wish you another wonderful year serving God and bringing comfort to others.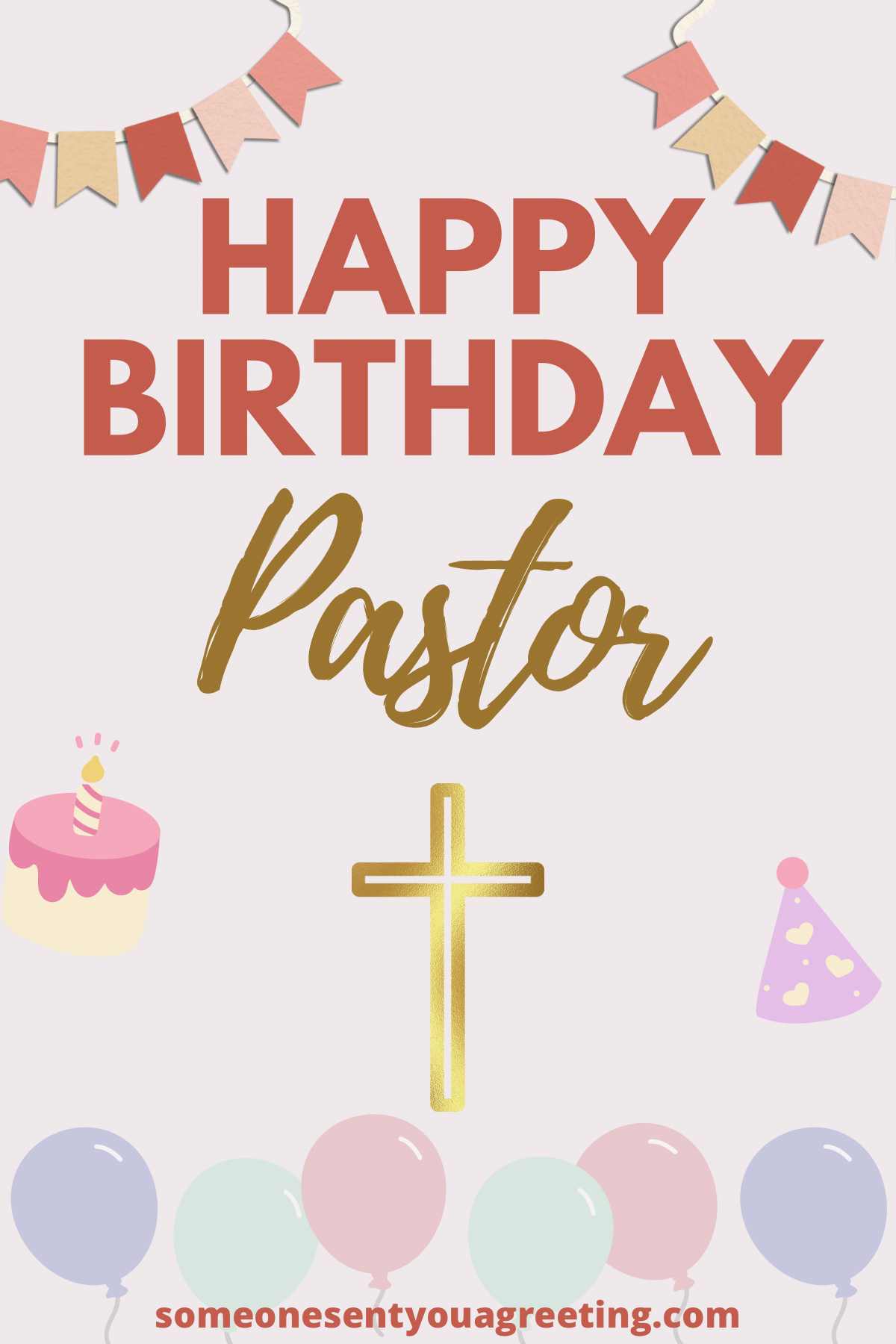 Birthday Quotes for a Pastor
A pastor's journey is often filled with challenges and blessings. So use some of these uplifting quotes that will resonate with the as their role as a spiritual leader.
"A good shepherd lays down his life for the sheep." – John 10:11
"Preach the Gospel at all times. When necessary, use words." – St. Francis of Assisi
"Preaching is not the performance of an hour. It is the outflow of a life." – E.M. Bounds
"The best and most beautiful things in the world cannot be seen or even touched – they must be felt with the heart." – Helen Keller
"I can do all things through Christ who strengthens me." – Philippians 4:13
"The best way to find yourself is to lose yourself in the service of others." – Mahatma Gandhi
"The function of prayer is not to influence God, but rather to change the nature of the one who prays." – Søren Kierkegaard
"God does not call the qualified. He qualifies the called." – Unknown
"You have not lived today until you have done something for someone who can never repay you." – John Bunyan
"In the end, it's not the years in your life that count. It's the life in your years." – Abraham Lincoln
"A pastor is not a career, but a calling." – Joel Osteen
"A good shepherd leads the way. He does not merely point the way." – Leonard Ravenhill
Biblical Birthday Blessings
The Bible is filled with verses that convey God's love, grace and favor. These biblical birthday blessings will really speak to your pastor and help them to find meaning on their birthday.
"The LORD bless you and keep you; the LORD make his face shine on you and be gracious to you; the LORD turn his face toward you and give you peace." – Numbers 6:24-26
"May he give you the desire of your heart and make all your plans succeed." – Psalm 20:4
"For he will command his angels concerning you to guard you in all your ways." – Psalm 91:11
"This is the day that the LORD has made; let us rejoice and be glad in it." – Psalm 118:24
"Trust in the LORD with all your heart and lean not on your own understanding; in all your ways submit to him, and he will make your paths straight." – Proverbs 3:5-6
"For I know the plans I have for you," declares the LORD, "plans to prosper you and not to harm you, plans to give you hope and a future." – Jeremiah 29:11
"You are the light of the world. A town built on a hill cannot be hidden. Neither do people light a lamp and put it under a bowl. Instead, they put it on its stand, and it gives light to everyone in the house. In the same way, let your light shine before others, that they may see your good deeds and glorify your Father in heaven." – Matthew 5:14-16
"Come to me, all you who are weary and burdened, and I will give you rest." – Matthew 11:28
"I have come that they may have life, and have it to the full." – John 10:10b
"May the God of hope fill you with all joy and peace as you trust in him, so that you may overflow with hope by the power of the Holy Spirit." – Romans 15:13
"And God is able to bless you abundantly, so that in all things at all times, having all that you need, you will abound in every good work." – 2 Corinthians 9:8
"Now to him who is able to do immeasurably more than all we ask or imagine, according to his power that is at work within us, to him be glory in the church and in Christ Jesus throughout all generations, forever and ever! Amen." – Ephesians 3:20-21
Prayers for a Pastor's Birthday
If you would like to say a prayer for your pastor on their birthday the the following examples will help.
Heavenly Father, we thank you for the gift of our pastor. As they embark on another year of life and ministry we pray for your divine guidance. Give them strength and wisdom to continue to lead your people. May they be an example of your faith and love and always walk in your ways. Grant them grace to fulfil their calling and touch the lives of those who need it through their ministry.
*****
Dear Lord, on this special day I pray for you to bless our pastor. Please fill their heart with joy and their soul a renewed passion for your work. May they be refreshed in all they do and find rest in your presence.
*****
Father, we are grateful for the compassion and love our pastor shows us. On their birthday we pray that they are filled with your love and they can be a vessel of that love to those they serve. May they experience another year of joy and blessings.
*****
Heavenly Father, today we celebrate the life of our pastor and his service to the church. We are grateful for his ministry and ask that he feels supported and appreciated on his birthday. May he be blessed with family time, rest and your continuous love. Amen
*****
O Lord, we praise you for giving us such a wonderful pastor. On his birthday we pray that you bless him for the year ahead and heal him with all his good work. May he always feel your presence in his life. Amen.
*****
What to Write in a Birthday Card for a Pastor
You have always lead our congregation with grace. Thank you for such dedication. Have a blessed birthday!
Have a loving and restful birthday, pastor. You have earned it. Thank you and enjoy your day.
Happy birthday dearest pastor. I am proud to have you as my minister and value all you do. I hope your birthday is filled with much love and joy.
We are lucky to have a pastor as kind and giving as you. Happy birthday.
It is a blessing to get a pastor with the wisdom and compassion of you. We wish you the best birthday and look forward to celebrating with you.
Sending birthday wishes to you, pastor. I appreciate all you do and hope it will long continue.
Wishing you a beautiful birthday filled with God's peace, love and grace.
May your birthday only reaffirm your commitment and bring you a refreshed sense of purpose. Happy birthday, pastor.
With loving wishes for your birthday, pastor. Enjoy a lovely day and I hope you make many happy memories.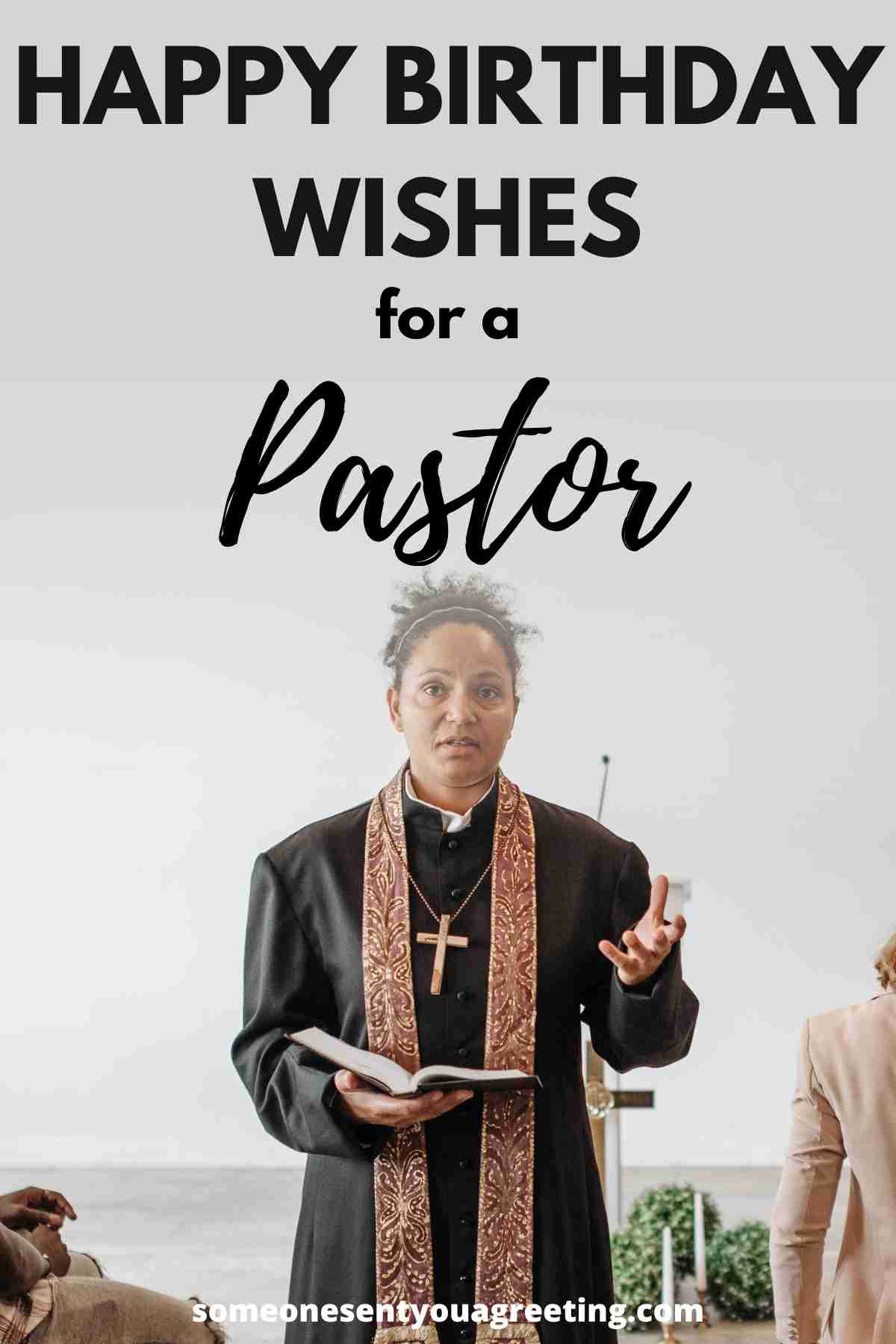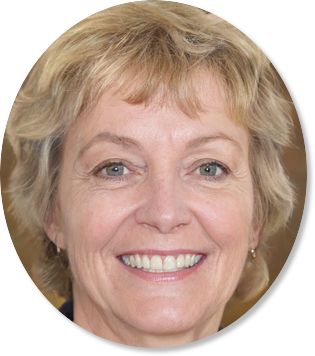 Sally Gibson is the founder of Someone Sent you a Greeting, a holiday/celebration website. Sally's writing work has been mentioned in Woman's World, Yahoo, Women's Health, MSN and more. If you have any questions get in contact with one of the team via the about page.