When facing surgery we often wish a friend or family member good luck. It's the most commonly used phrase to show you're thinking of them.
And it's a perfectly good sentiment that demonstrates the way you're feeling. You want the surgery to go well for them.
But you might want to say something else. Something that hasn't been used quite as much. Something that means more to you or them, and that expresses the way you feel in a better way.
What you say to someone when they are having surgery can be important to them. Having family and friends offering their support and knowing they are there for them can help to ease any fears they gave about the surgery.
The person who is on the receiving end of your words will appreciate you making the effort and thinking longer about something more than just 'good luck for your surgery'. They may even find those words offer them more comfort.
So if you're looking for an alternative to 'good luck for your surgery' then the examples here should help you to say good luck but in a more meaningful way.
What Can I Say Instead of Good Luck for your Surgery?
Instead of saying 'good luck' before surgery try these encouraging alternatives that show your support and care during such an important time.
Wishing you a successful surgery! Best of luck.
Thinking of you and sending positive thoughts.
Hoping that everything will go smoothly for your surgery. I'll be thinking of you.
Best wishes for a smooth operation
You are going to be in the hands of such a talented medical team.
I'm praying for your speedy and full recovery from your surgery.
You're in my thoughts and prayers as you have your procedure.
Sending healing vibes and thoughts your way.
I know the medical team will take excellent care of you.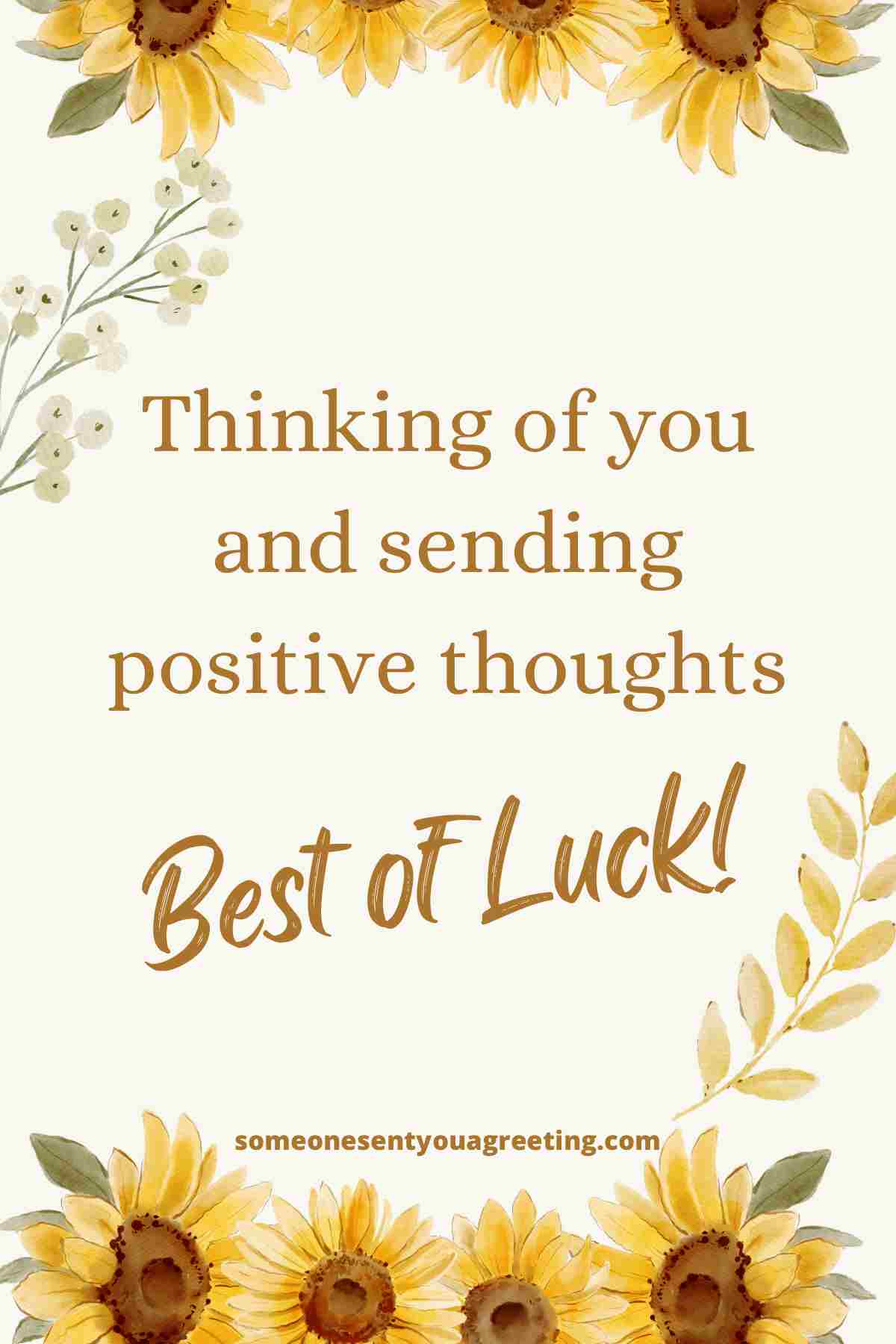 'Good Luck for your Surgery' Alternatives for a Friend
A friend's upcoming surgery is an opportunity to show your support. Rather than a simple 'good luck' consider these heartfelt alternatives that will let your friend know you're there for them every step of the way.
You've got this, my friend!
Wishing you all the strength you will need. I'll be by your side.
I believe in you; you'll do great.
Praying for a successful surgery and quick recovery.
Stay positive. I know you're going to come through with flying colors.
Always remember that I'm here for you every step of the way.
Wishing you a smooth surgery and a speedy return to good health.
You're a total warrior! Keep your spirits high, it'll be fine, I promise.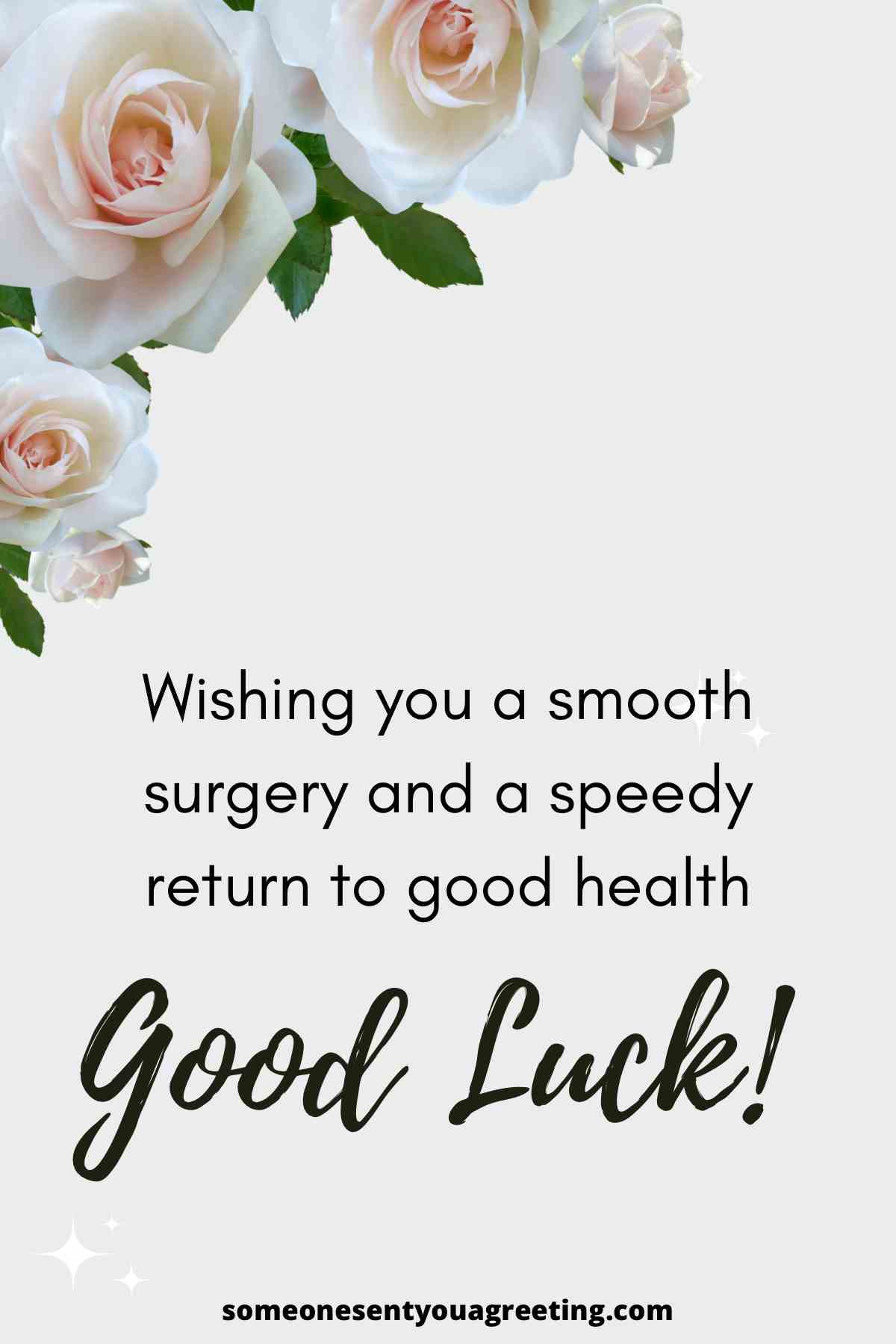 Phrases Instead of 'Good Luck for your Surgery' for Family Members
When it's a family member preparing for surgery your words can make a big difference. Instead of using the traditional 'good luck' these alternatives will let them know how much you are thinking of and love them.
For Parents
You're in safe hands mom/dad. Everything will be fine.
Wishing you a successful surgery mom/dad.
Stay strong. We will all be waiting and there when you get out.
I'll only be thinking of you mom/dad. Sending positive thoughts and love your way.
I have faith it'll all go smoothly. Don't worry and know I'll be waiting when it's all over.
All the family is rooting for you. It'll be done soon!
May the surgery be successful and your recovery quick.
Thinking of you mom/dad. You're always in my heart!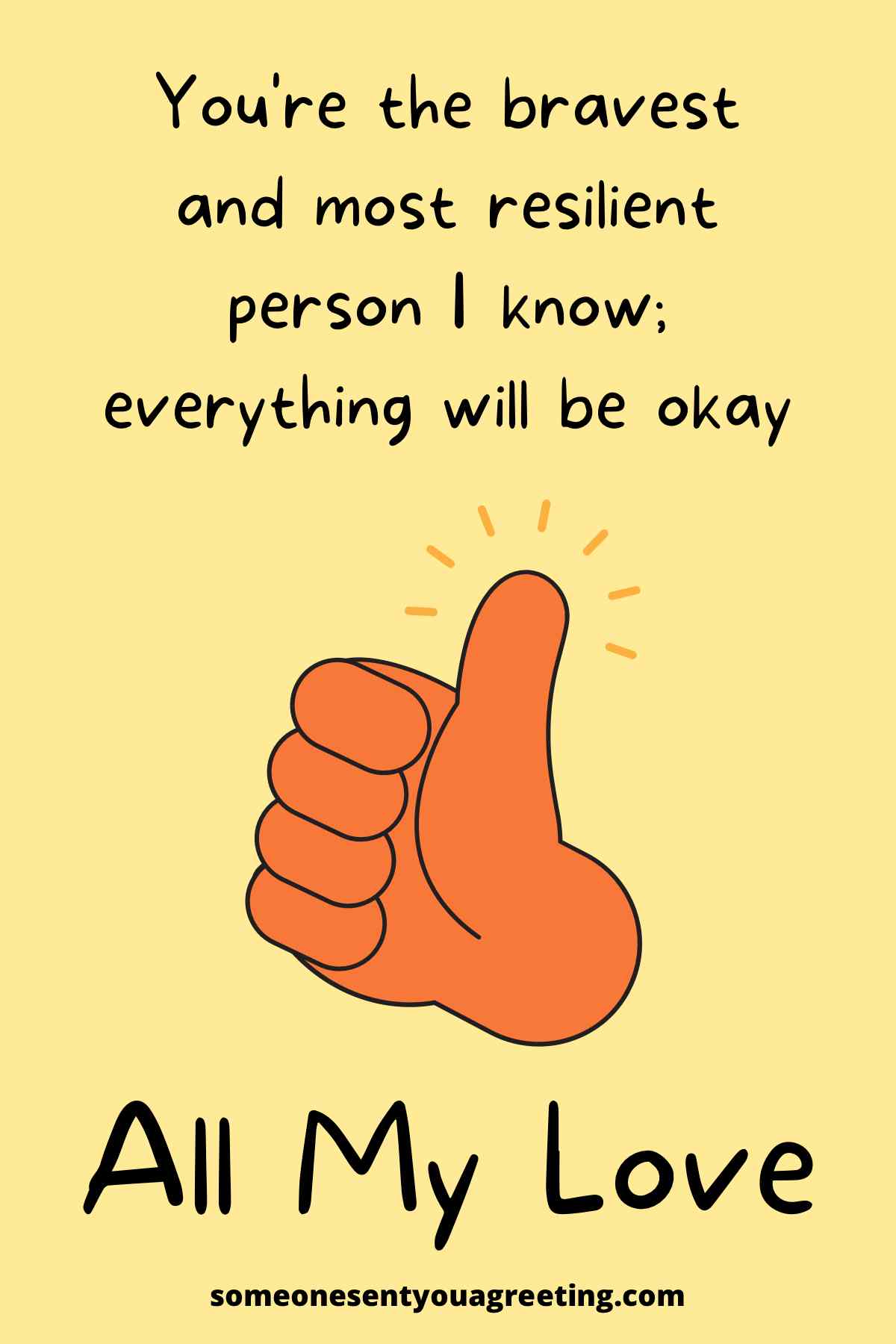 For Partner/Spouse
Stay strong my love and know that I'm here supporting you.
My heart is with you during the surgery and beyond.
You're the bravest and most resilient person I know; everything will be okay.
I love you and will be by your side throughout the journey.
You've got this, darling. Don't be scared, I'll be waiting for you.
I don't need to wish you luck as I know everything is going to work out.
I'll be counting down the seconds until your surgery is over. I can't wait to have you back.
I am going to be sending you all my love and positive energy.
Ways to Say 'Good Luck for your Surgery' to a Coworker
As a coworker faces surgery your support can have a meaningful impact. Instead of a normal 'good luck' these professional yet thoughtful alternatives will offer them encouragement before their procedure.
Wishing you a successful surgery and a swift return to work.
You've got this; we'll hold down the fort until you're back.
Everyone at work is sending positive vibes and crossing our fingers for a smooth and successful operation.
We'll miss you while you're away but be sure to take your time to heal fully.
Please know that your colleagues are rooting for you!
Looking forward to seeing you back in the office soon. Best of luck.
Wishing you lots of courage and strength during this time.
Hoping for a speedy recovery from your surgery. All the best.
'Good Luck for your Surgery' Alternatives for an Someone You Don't Know Well
When offering your best to someone you don't know well who is about to undergo surgery you can still do so with positivity and understanding. Say something other than a generic 'good luck' with these alternatives that shows your support even if you don't know them that well.
Wishing you all the best for your upcoming surgery.
Take care and don't worry – you're in the best hands.
May your surgery be successful and your recovery be swift.
Sending positive thoughts and well wishes for your surgery.
Sending healing thoughts your way.
May your surgery be a stepping stone to better health.
Hoping your procedure goes without any issues and you feel better soon.
I will be thinking positive thoughts for your surgery.
Know that others are thinking of you and hoping for the best.
I hope these examples of what to say instead of good luck for surgery have helped you to let a friend or loved one know how much you're thinking of them. Surgery can be scary. So make sure you reach out to those going through it and offer some kind words beforehand.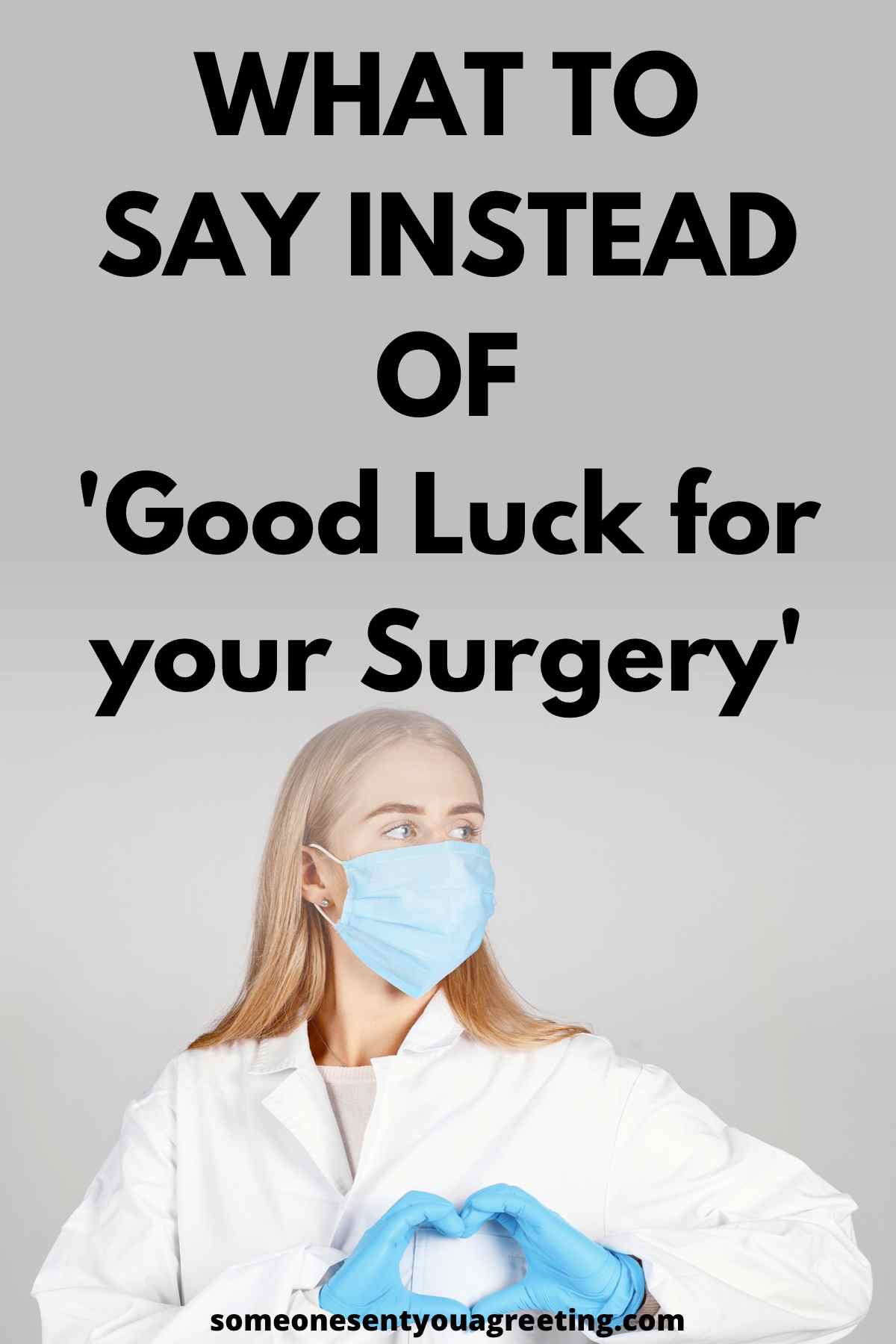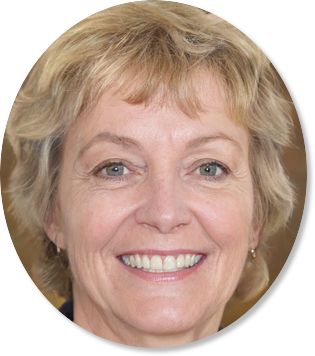 Sally Gibson is the founder of Someone Sent you a Greeting, a holiday/celebration website. Sally's writing work has been mentioned in Woman's World, Yahoo, Women's Health, MSN and more. If you have any questions get in contact with one of the team via the about page.