Ah, Birthdays. A joyous time for celebrations, fun and happiness. Who doesn't love a birthday? You get a party, gifts and cards. But knowing what to write in a birthday card can be tricky.
Don't worry though, we've got you covered. From touching and sincere messages to funny examples and birthday quotes, you've got everything you could need right here. We're sure you will find the best message for whoever's Birthday it is.
What to Write in a Birthday Card
If you want to write your own birthday message rather than using a pre written one then follow some of these tips to make sure it's perfect.
Consider who the message is for and then the type you're going to write for them. For example if it's to a close friend you might want to go with something funny and irreverent. For your mom or dad a touching message might be more fitting. So the recipient will determine the sort of message you use.
Make your message personal to the recipient. You want to avoid your message sounding generic and like anyone could have written it. So maybe reference something only you could know – talk about experience you went through together, possibly an in-joke between the two of you. Making the message personal sets it apart from the rest and shows you took the time to consider what you were writing.
If you got a gift to go with their card then you might want to reference that in your message.
Do a rough draft first. This way if you make any mistakes or you end up wanting to change the wording you can do so before you've commuted it to the card. You can also check your pen for smudging or ink blobs this way as well.
Keep it short. Whilst you shouldn't feel like you have to keep it to only a few words you also don't want to turn it into an essay! So try to be concise and not go on for too long.
What Not to Write
There are a few things you will want to avoid writing in a birthday card. Avoid these to make sure you don't cause any offence or have your message come across the wrong way.
Generally if you're going to include any sort of joke you need to be careful. Knowing the person well is essential, and being certain they're the type who can laugh at themselves.
Anything that touches on death or end if life should be steered well clear of. Birthdays are meant to be fun and celebratory, so joking about someone's death could really dampen the mood.
Try to stay on the side of being cheeky and witty rather than getting personal and nasty.
It depends on who you are sending it to but raunchy or smutty jokes should largely be avoided. Let's face it – you wouldn't send your mom sister a birthday card with a dirty joke!
And finally, don't use anything that could be considered racist, stereotyping gender or religion, or just discriminatory.
But of course with all these you will be the best judge of what is or isn't appropriate for sending to the recipient of your birthday message. Just be mindful of some of the areas you may end up causing offence.
Birthday Card Messages
These are general birthday messages that can be used in most situations and for most people. They're a good starting point but if you want messages for specific people (friends, mom, dad, boyfriend etc) then scroll down.
Happy Birthday! I hope you have a great day!
Happy Birthday and many returns
Happy Birthday! Enjoy your day and don't eat too much cake!
Have a wonderful Birthday and many more to come
Wishing you a happy birthday for today and the year ahead
Like a fine wine you just get better with age. Happy Birthday
I hope today is just the start of an amazing year for you
Have an awesome day filled with extra special memories. Happy Birthday!
Fingers crossed you got everything you wanted and all your Birthday wishes come true
May your Birthday be filled with joy and laughter surrounded by friends and loved ones
Hoping your Birthday leaves a smile on your face for the whole year!
My heartiest wishes to you on your Birthday
Have a truly awesome day! Stay cool Birthday boy
Celebrate and party – it's your Birthday!
Take the time to enjoy today and the joy it brings. Have a truly memorable Birthday
A special day for a special person. Happy Birthday
Wishing you a year full of joy and fun
Not just a year older but a year better!
May this day be one you remember for years to come. May it be the best birthday ever!
Here's to another year of tremendous memories and wonderful experiences
Dance, love, and find the joy and happiness in everything you do today – it's your birthday!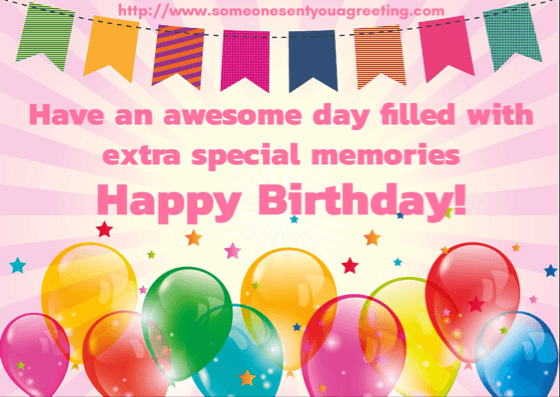 Funny Quotes
Birthdays are a great time to have some fun and make a joke about the birthday or girl. So try one of these funny birthday wishes for your card and put a smile on someone's face.
You would have loved the gift I didn't bother getting you.
You're old enough to know better… than to expect any gift from me!
Only a good friend will keep your darkest secrets. Don't worry. Your age is a secret I'll keep safe.
You've got a great life, you look wonderful, and your health is good. How could a measly present from me compete with that?
Count your blessings, not your wrinkles
If you look back through all the years you've lived, the first thing you'll notice is that you need a telescope.
A very Happy Birthday to a person who is good-looking, intelligent and someone who reminds of myself!
Another candle on your cake? Don't pout. Be glad that you still have the strength to blow the things out.
Another birthday? Why it seems only yesterday that you were a whole year younger.
Birthdays are like tax day. Those who have the most look forward to them the least!
29 again? Talk about recycling!
You're older, wiser and too mature to be concerned with material things, like presents.
I always forget to get the gifts but I'm always there when you cut the cake!
Go ahead and have another birthday if you want to. But don't expect me to keep up with you.
Celebrate your birthday! Take TWO naps.
When a tree gets a year older, it makes a growth ring by adding another layer of tissue around its girth. Boy, does that sound familiar.
Another birthday? Before you start feeling old and depressed, just keep this in mind: I have pantyhose older than you!
It's ok to light the candles on your birthday cake now; I've already alerted the fire department.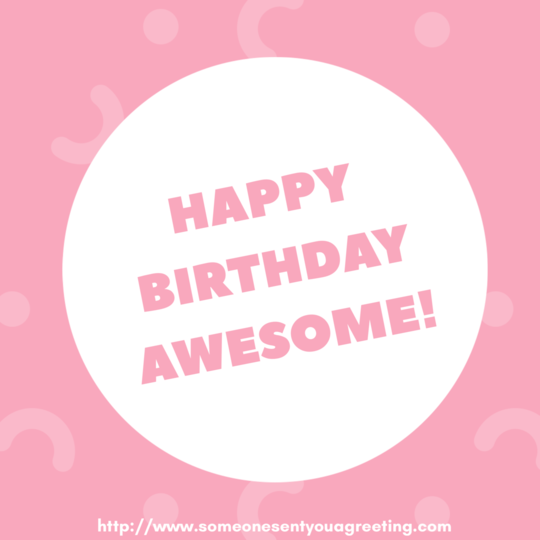 Funny Birthday Sayings
Break a leg at your birthday party, but try not to break a hip.
I used to think that I was good at math, but then I tried counting your candles.
Two tips on your birthday: 1) Forget the past you can't change it 2) Forget the present, I didn't get you one.
Birthdays are good for you. Statistics show that people who have the most live the longest
You used to jump off the couch, jog five miles, and end with a snack in the kitchen. Now you use a short cut to the kitchen.
Birthdays are nature's way of telling us to eat more cake and throw a party. Enjoy your day!
Is it getting hotter in here or is it just all the candles on your cake?
You are the least famous person I know of who was born on your birthday.
One day a year you get to celebrate your birth. The other 364 days a year you get to celebrate mine.
At birthday time, it's good to remember our friends. Actually, it's good to remember anything
Tell us more about the days when rotary phones were in every house old timer. Just kidding, have a great one!
Congratulations on turning another year older and still looking like a teenager!/li>
Age is just a value; the higher the age the higher its value.
How old would you be in dog years?
Better to be over the hill than burried under it. Wishing you the happiest of days.
You think you are old? You're not old… you were old last year, this year you're ancient.
The nation's best kept secret – your true age!
Can you blow out all these candles or should I call the fire department?
Some words of wisdom for your birthday, "Smile while you still have teeth!"
You have reached the age where all compliments will be followed by "for your age."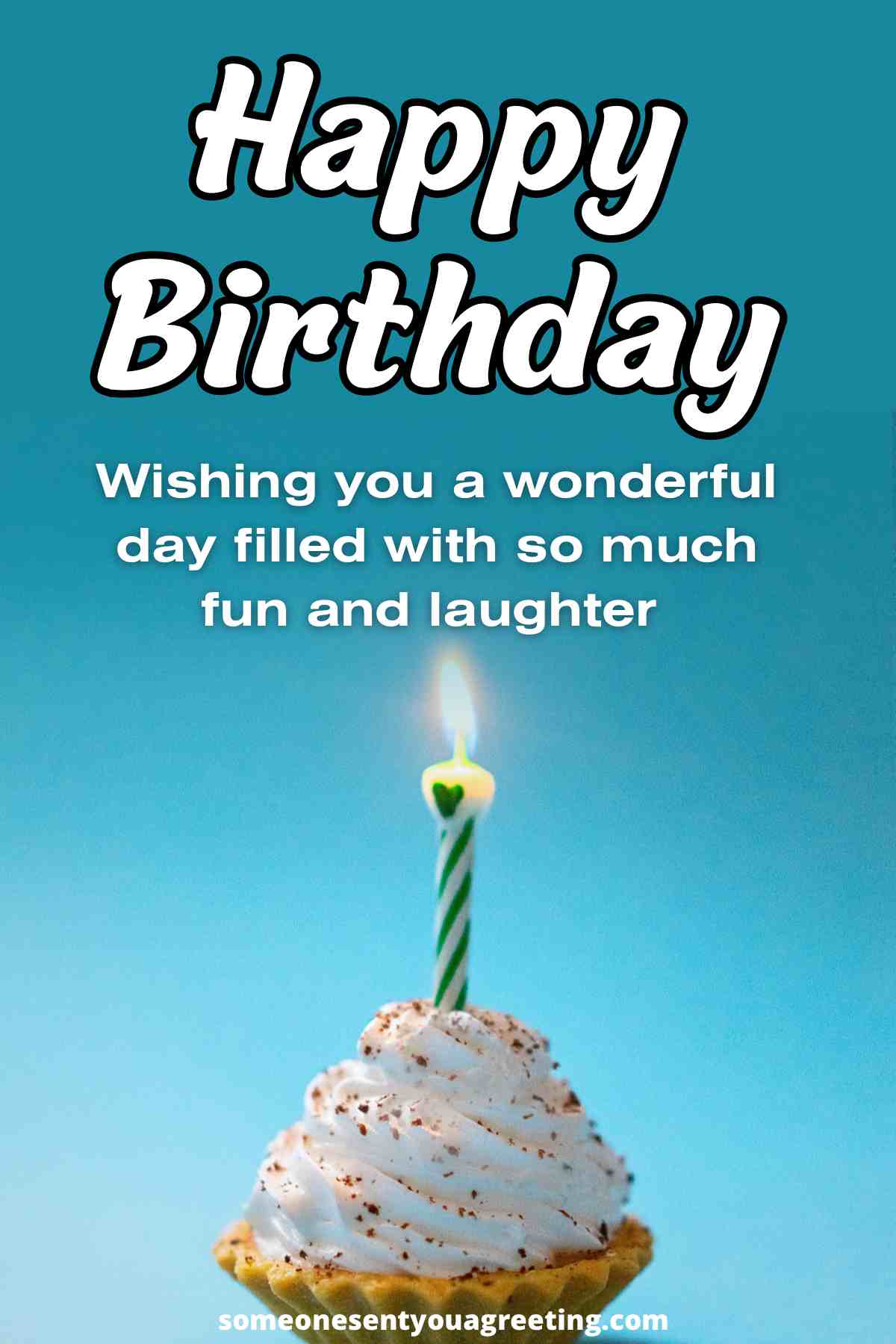 For Friends
Friends deserve only the best birthday card messages. Make them
personal, sincere and let them show just how much you treasure having them in your life. So use one of these sentiments to wish your friends a happy birthday.
To my bestie – have an awesome Birthday!
Surround yourself with your closest friends and family and enjoy your day in the company of those who love you the most
To my forever young best friend. Happy Birthday! We'll be friends forever.
Here's to another year of more amazing experiences, wild nights and fun times. Love you!
To a wonderful friend – enjoy your big day.
Enjoy your day then let's go out and party!
I'm always grateful to have you as a friend and in my life. Have a great day!
To one of my best friends, wishing you all the love and happiness in the world on your Birthday
Never forget I'll always be there for you. Happy Birthday friend!
Big Birthday hugs to a big friend!
Here's to another year of an awesome friendship
There's nobody who gets me like you do. Happy Birthday to my best friend
Birthdays come and go but friends are forever.
I'm so lucky to have such a brilliant friend in my life. Enjoy your day pal
You laugh at all my daft jokes and put up with my stupid ideas. If that's not friendship I don't know what is
As it's your Bday let's go out and cause some mayhem. Drinks are on me!
You may be getting older but at least I still look great!
Happy birthday to my best friend! We are such a great team: I am smart, good-looking and talented and you are great at being my friend!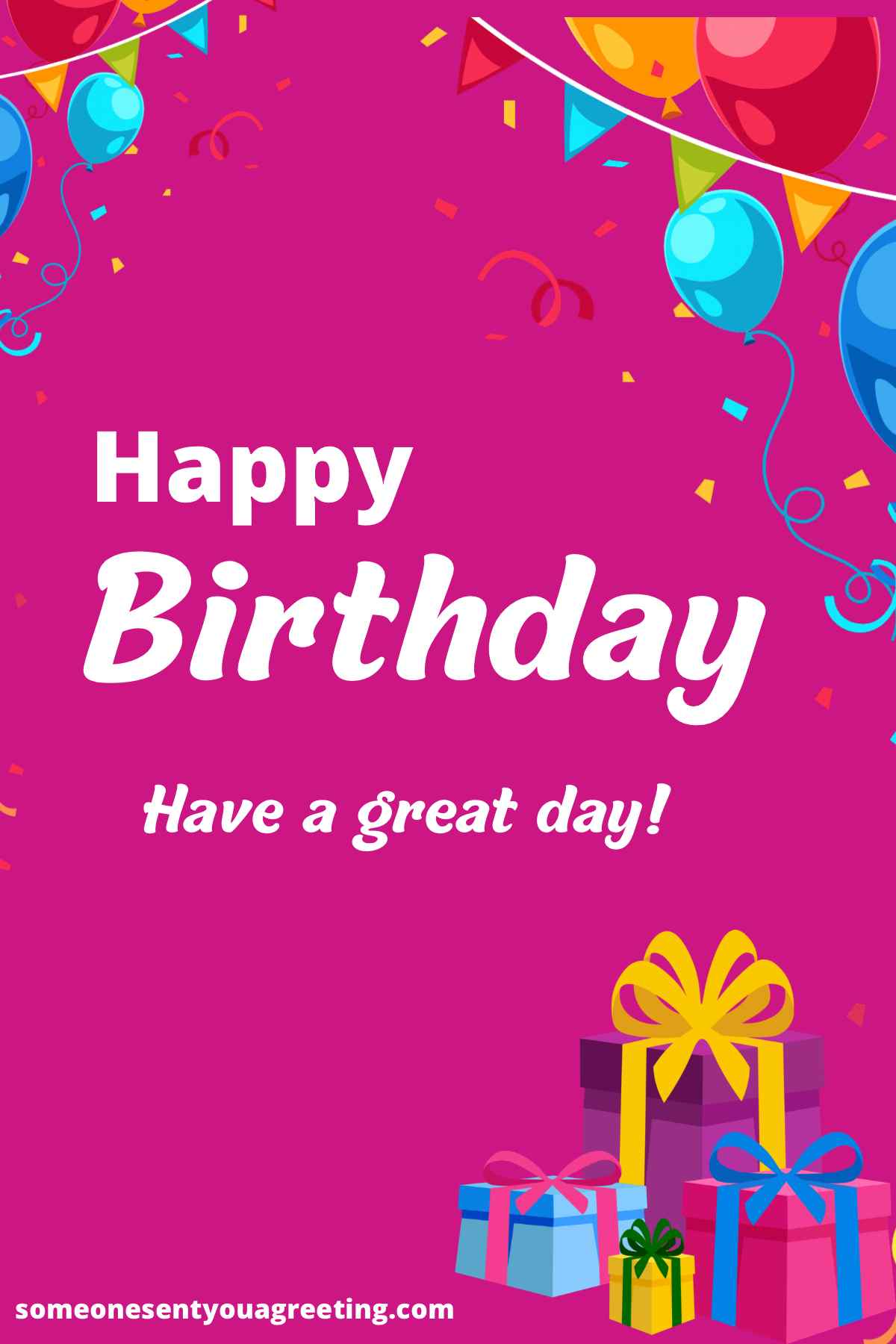 For Mom
Let your mom know how important she is to you by wishing her a special Happy Birthday.
To the best mom in the world! Happy Birthday!
To the person that has had such a great influence on me. Mom, have a wonderful Birthday
To the person that means the world to me. Happy Birthday Mom
I know I don't always show it but I love you so much mom. Have a truly special Birthday
I can't tell you how much I appreciate all you did for me and the sacrifices you made. From your grateful son – Happy Birthday
You've always been there for me, and I'll be there for you on your Birthday. Enjoy it Mom!
To my teacher, guardian and best friend – Happy Birthday mom
Enjoy a well earned rest on your Birthday mom. You deserve it after looking after us!
Best Birthday wishes to the best mom
Enjoy your day and make many special memories.
It's Birthday time Mom! Let's party!
As it's your Birthday we've convinced dad to do the washing up and cooking so you can have the day off. Who knows what he'll have left you to clean up tomorrow though!
Enjoy your Birthday mom – it's the only day you get off!
It shouldn't take your Birthday for me to tell you how amazing you are. Sorry I don't say it enough mom.
To the woman who brought me up, taught me right from wrong and was always there for me. Thanks for being such an incredible mom.
I can't imagine my life without you mom. Thank you for everything you've done for me.
May all your Birthday dreams come true this year mom.
To the most incredible mom I could have. And in fact anyone could have!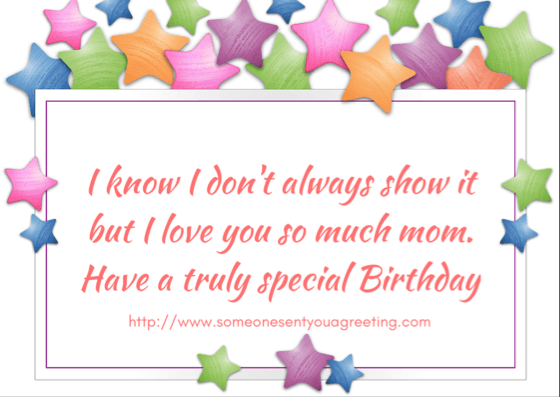 For Dad
Just like with your mom, tell your dad just how special he is to you on his birthday and let him know how much you care.
The best of Birthday wishes to you on this special day dad
I hope I grow up to be half the man you are. Happy Birthday dad!
Some people don't believe in super heroes, but they haven't met my father.
To the man who inspired me to be strong, honourable and honest. Have a wonderful day
You're not getting older dad, just more distinguished!
Thank you for always providing for us and keeping us safe. We love you dad, have an amazing Birthday
To my one and only daddy – wishing you the best Birthday
A happy dad = happy wife and happy kids. Thanks for making our lives so great.
We're going to spoil you rotten today dad. Enjoy it!
To the father who taught me to ride a bike and catch a ball – thank you for all you did.
Here's hoping all your Birthday wishes come true dad
What did you want for your Birthday dad? How about spending the whole day with me! Enjoy!
Happy birthday to the man I respect and love more than any other.
Happy Birthday pops! You work so hard, today is your day to relax.
To the man I can always rely on. I know I can always, always count on you.
You've always made me laugh, been there to cheer me up and support me when I've needed it. You really are super-dad!
We don't get to choose our dads, but rest assured if we did I would always choose you.
Real heroes don't wear capes, they make bad puns. Thank you for being a real hero dad. Happy birthday!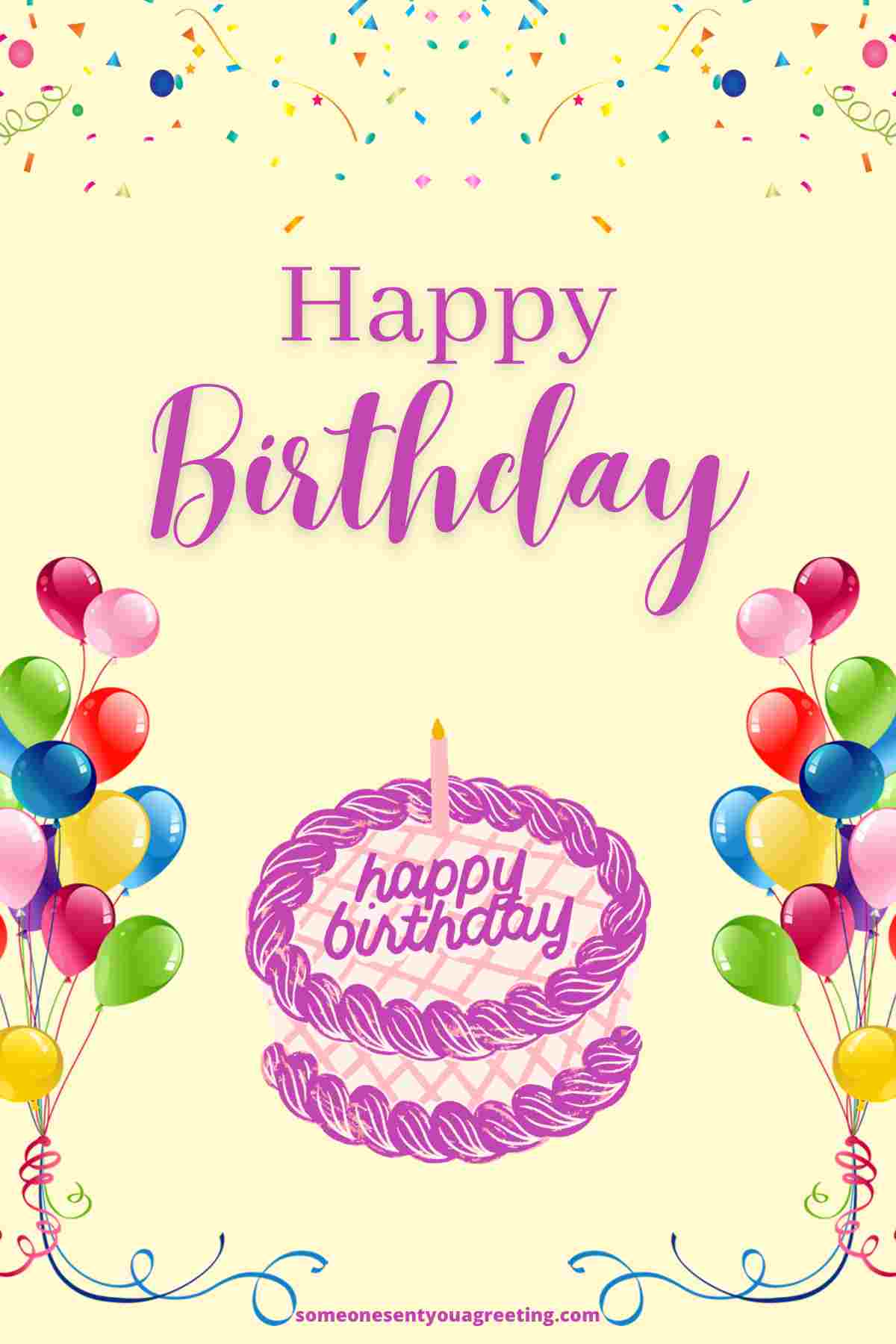 SEE MORE: 80th Birthday Quotes and Wishes
For Boyfriend
Tell your boyfriend just how much you love him with a sweet Birthday message or sentiment.
Happy Birthday to the man I love more than anyone in the world.
Happy Birthday to the best boyfriend in the world
To the hottest boyfriend, have an awesome Birthday.
Happy Birthday babe!
Big Birthday kisses to my amazing boyfriend.
To the guy who makes me happier than anyone. Have a great day!
You make my life complete sweetie. Have a wonderful day.
I don't know what I'd do without you honey.
I want you more than I want Birthday cake! And that's saying something!
Beautiful birthday wishes from just one of your lifelong admirers.
I don't know how you do it but you get sexier with each Birthday.
Not a day goes by that I'm not thankful for having you as my boyfriend. The biggest Birthday hugs
Happy Birthday, Baby. I promise that if I get mad today, I won't take it out on you. I'll wait until tomorrow. Enjoy your special day.
I love you so much babe! Have an amazing day.
Our love grows stronger each day and I cherish every moment we're together. Wishing you a happy birthday
Enjoy your day and maybe tonight I'll give you a very special gift!
Happy birthday to the reason I spend hours trying to look decent every day!
Happy birthday from your last and only girlfriend!
For Girlfriend
Use these messages and wishes for a sweet, cute and romantic Birthday greeting for your girlfriend.
Happy Birthday to my amazing girlfriend. I'm the luckiest guy in the works to have you
You make me so happy I can't express it in words. Just know that I love you. Happy Birthday sweetie
Darling, have a day as amazing and as special as you are to me.
Here's to the best girlfriend in the world. You look younger with each passing year
I feel blessed to have you in my life.
As another year passes I'm reminded of how lucky I am that we're together and you chose me. Here's to many more years of happiness.
To my special girl, let me make today as exciting and beautiful as you deserve
Sexy, smart and caring – they broke the mound when they made you darling.
To the most beautiful girl in the world, have a wonderful day.
I must have been an amazing person in another life because I found an amazing girlfriend like you in this life. I'm so in love with you! Happy birthday!
I could never get a gift for you as amazing as the one you gave me – your love.
Every day you rock my world sweetie. Here's to another year!
You're the last piece of the jigsaw that makes me complete. I treasure every moment spent with you. Happy Birthday my love
Every day with you is one great celebration and filled only with beautiful moments. I love you baby. Happy Birthday!
Today is the perfect day to tell you how you mean everything to me. I love you so much
Wishing the best of everything because you're the best. I love you. Happy birthday, sweetie!
You are my support and my strength. I need you like I need air in my lungs. Happy birthday Baby
Many things have changed over the years, but you're still that same wonderful person. Happy birthday!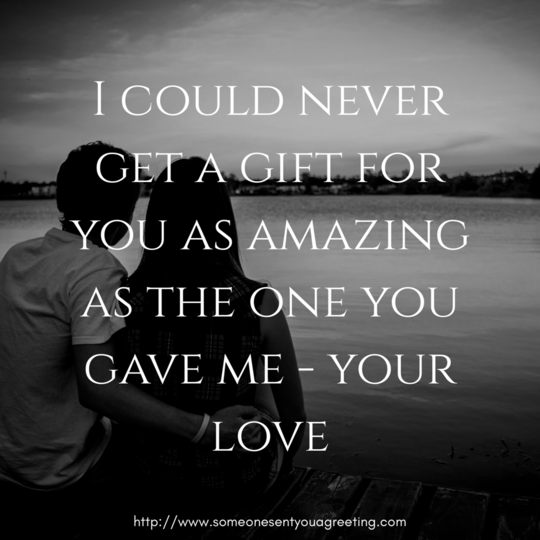 For Husband
These birthday card messages are for all the husbands out there who have been the backbone of the family and rock in your life.
To an amazing husband who means everything to me – have a wonderful Birthday
I'm so grateful to have you by my side. Have a great day honey
We've made the most incredible life together and you bring me happiness each and every day. Today is your day though, and I want you to have the best time
The joy you've bought to my life endures every day. I hope your Birthday is just as happy as you make me
Happy Birthday to my one and only
To the most important person in my life – enjoy your special day
You snore, leave the toilet seat up and are generally a pain in my backside, but I wouldn't change a thing about you! Have a great Birthday hubbie
I'm eternally grateful for the love and support you've shown me. Thank you for everything. Have a perfect Birthday
You light up my life darling. Happy Birthday
Nobodies perfect.. but you come pretty close! Enjoy your day honey
Thank you for bringing laughter and joy to my life. Happy Birthday
I was blessed with the kindest, most gentle man. You never cease to amaze me. Have a truly brilliant Birthday
Marrying was the smartest decision I ever made. Not a day goes past I don't count my lucky stars for you. Here's to this Birthday and many more together with you, the love of my life
Even after all these years you're still the man of my dreams.
The first day we met I fell head over heels in love, and to this day I'm still as madly in love with you. Let's celebrate this Birthday together
Thank you for being a part of our wonderful family. Together we'll all celebrate your birthday
I hate not being with you on your Birthday but know that I'm sending you love from afar.
For Wife
A wife is one of the most important people in your life so wish her a happy birthday with one if our messages.
To my beautiful wife – have a truly wonderful Birthday
Thank you for making my life complete. I couldn't imagine a single day without you. Happy Birthday
To my loving wife – I cherish you more than I can fully express. I hope you have a brilliant day
I know our best years are still ahead of us and I can't wait to Siena them with you. Happy Birthday
Where would our family be without you? It doesn't bear thinking about! We need you more than words can say and on your special day we'll try to show you just how much we appreciate all you do for us
The fact I have you by my side through thick and thin is a blessing. Happy Birthday to the most incredible wife
Who knows what the future holds but with us together, and you by my side I know it'll be alright. Happy Birthday my true love
Birthdays come and go but a wife like you is beyond special.
Love of my life and pain in my rear. It's difficult to do, but you manage to be both. Happy birthday to the best multitasker in the world: my amazing wife.
To an amazing mom, wife and friend – Happy Birthday perfection
You've earned a rest honey. Today let me pamper you. Enjoy your Birthday
You bring me more happiness than I could ever have imagined. Thank you for being you and have a great Bday
The woman who has managed to put up with me deserves a standing ovation on her birthday. Also, my undying love. Happy birthday!
I hope all your Birthday dreams come true today!
I never want to be without you. Happy Birthday wife
Happy Birthday my love. Know that each day with you is a dream come true for me.
This birthday know that while age hasn't spoilt you, I definitely intend to. You deserve the very best that life has to offer, and I hope to spend the rest of my days providing you with all your heart could ever desire.
SEE MORE: Birthday Wishes for Aunt
Famous Birthday Quotes
Include a famous and memorable Birthday quote in your card to make it stand out from the rest.
"Growing old is mandatory; growing up is optional" – Chili Davis
"The best way to remember your wife's birthday is to forget it once" -Cossman
"You know you are getting old when the candles cost more than the cake" – Bob Hope
"All the world is a birthday cake, so take a piece, but not too much" – George Harrison
"Love the giver more than the gift" – Brigham Young
"Our birthdays are the feathers in the broad wing of time" – Jean Paul
"Let them eat cake" – Marie Antoinette
"It is lovely, when I forget all birthdays, including my own, to find that someone remembers me" – Ellen Glasgow
"Every year on your birthday you get to start new" – Sammy Hagar
"A diplomat is a man who always remembers a woman's birthday but never remembers her age" – Robert Frost
Belated Birthday Messages
Sp you're a little late – who's counting? If you're trying to make amends or apologies for running late with a birthdays card or wishes then try one of these messages.
The bad news is that I forgot to wish you a happy birthday on time. The good news is I also forgot your age.
I may have forgotten your birthday, but at least I remember that I forgot your birthday.
A late birthday card is a lot like a bill from the doctor. Both tell you that you are getting older and both are a big surprise.
My best wishes to you, even though they are belated.
I am sorry I missed your birthday, you have had so many I lost track.
Sorry I missed your birthday. I swear that this only happens to me like once a year.
Knowing how much fun you can be, I assume that the party is still going and that I am not late for your birthday.
Don't think of these birthday wishes as being late, rather, extremely early for your next celebration.
How do you expect me to remember your birthday, when you never look any older?
A belated birthday wish that your life will continue to be filled with the happiness you deserve
Happy belated birthday to someone who now has free reign to forget mine.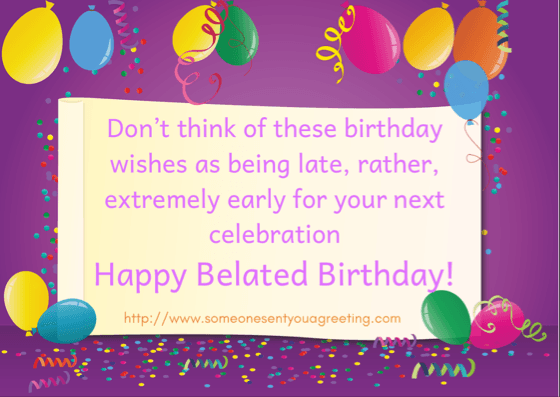 Facebook Birthday Wishes
Share these Birthday wishes on Facebook with friends and family. Maybe even include a Birthday picture or meme to go with them.
Here's to another year of experience
Happy Birthday and here's hoping it's a good one
May your Birthday be filled with happiness and all the love in the world
Hoping you had a brilliant day!
Happy awesome Birthday!
Here's to a special Birthday
Huge Birthday wishes to you on your special day
It's your Birthday? Let's party!
Have an awesome Birthday!
Hopefully these examples will have helped you find the perfect words for your card. Writing a message doesn't have to be difficult. Just take your time to think about what you want to say, and write from the heart. So, that's answered the question of what to write in a birthday card – now it's your turn to get writing!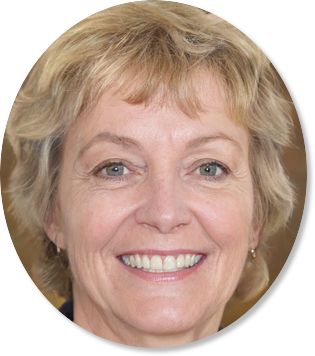 Sally Gibson is the founder of Someone Sent you a Greeting, a holiday/celebration website. Sally's writing work has been mentioned in Woman's World, Yahoo, Women's Health, MSN and more. If you have any questions get in contact with one of the team via the about page.