When you attend somewhere, begin a new job or meet new people it's always nice if everyone is welcoming. You want to feel like you're being embraced, welcomed as part of the group and that everybody is friendly.
But how do you say thank you for the warm welcome? Assuming you receive a lovely welcome how do you give your thanks.
You can send a thank you note or card with a few words to show your appreciation. Most people will enjoy receiving a card or note that says thank you for a warm welcome.
But if you aren't sure what to say then uses these welcome thank you messages to express your gratitude to those who were so welcoming and let them know what it meant to you.
Ways to Say Thank You for the Warm Welcome
Thank you so much for such a warm welcome. I feel quite overwhelmed and am lucky to have your full support. It really means a lot to me.
I have felt nothing but welcome since I first started working here. Everyone has been so friendly it has really made settling in easy. Thank you.
The reception I have received has been nothing short of amazing. It's touching how welcomed I have felt and I am very grateful.
I really appreciate the confidence that has been shown in me! Thank you for such a warm and generous welcome.
Thank you for such kind words as you welcome me. That support will only help with me reaching my full potential so I appreciate your kindness.
I have been made to feel like this was my home since I joined and that's down to the warm welcome I've had. Thank you and I promise I won't let you down.
Your kind words have really touched me and I have felt like I've been welcomed as part of the family. Thank you all for accepting me.
Many thanks for helping me to feel comfortable and giving me such a warm reception. It may not seem like much but it makes a big difference and I really appreciate it.
My welcome has been so thoughtful and generous. I can't say thank you enough to everyone. It has really made me feel wanted and needed.
Thanks for a lovely warm welcome. It means a lot to me that you would welcome me this way and I am looking forward to repaying that faith you have shown in me.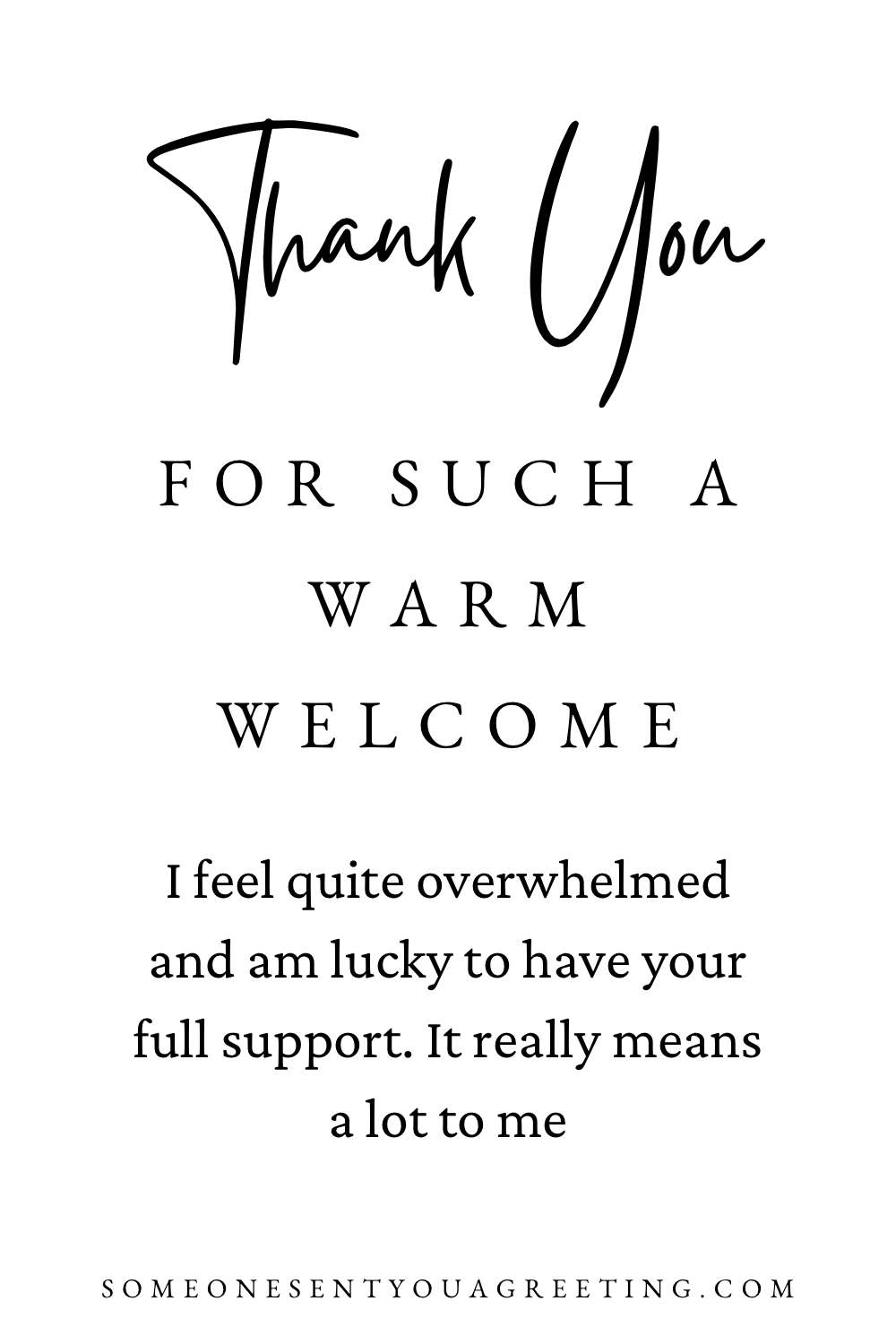 READ MORE: Thank You for Your Generosity and Kindness Messages
Thank You for the Warm Welcome Messages
Big thanks for the wonderful welcome! It feels great to be so appreciated and to feel wanted.
Thank you for making my welcome so special. It's the little things that make you realize people care and the small gesture of welcoming me so warmly really shows that.
I wanted to say thank you for welcoming me in a way that was both thoughtful and generous. It speaks to the type of person you are and helps me to feel like I belong.
Being welcomed is such a joy and I am very happy the way you have reacted to me.
It can be worrying when you aren't sure how you will be welcomed but thankfully I had nothing to be concerned about. I'm really grateful, thank you.
I received an amazing welcome when I arrived. It warmed my heart and made me feel very special. A big thank you, it was a very nice surprise.
Thank you to everyone who said such welcoming things. Your kind words mean a lot to me and especially when I feel a little bit like the odd one out. But I definitely sense I'm becoming one of the team.
I have felt accepted and welcomed from day one and that means the world to me. Thank you.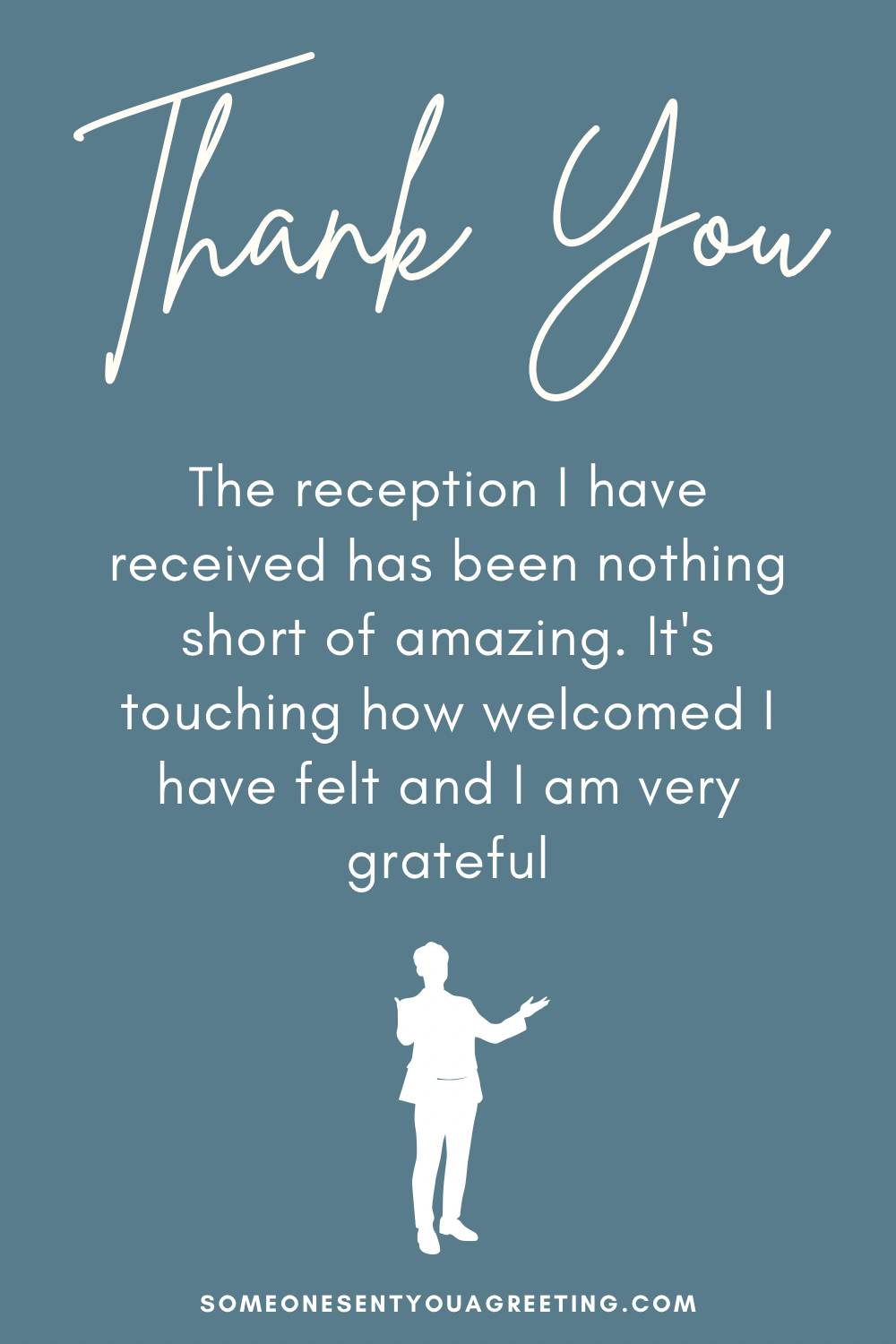 Thank You for the Welcome at a New Job
If you've started a new job or moved departments say thank you to your new colleagues for their warm welcome with these messages.
Thank you to everyone for a very warm welcome! I'm delighted to be a part of this company and excited to get started.
I have been welcomed by my new colleagues so warmly and it's made settling in much easier. I'm really grateful for the reception I've had and look forward to giving my all in this job.
The enthusiasm towards my appointment has been almost overwhelming. I genuinely appreciate the outpouring and warm welcome I have received. Thank you to all.
It can be daunting to join a new company but the welcome I've received has made it so much simpler. The transition has been smooth and that is down to the warmth and friendliness you've demonstrated and I'm very thankful.
Thank you to all my new colleagues who have welcomed me so graciously. I'm really overjoyed to be a part of the team and looking forward to getting down to some hard work.
Thank you for welcoming me aboard and making this place feel like home. I will strive to show that your faith in me was justified.
Thank you for such a generous welcome email. It really helped me when I wasn't sure of myself and definitely made the process of settling in far easier.
Thanks to the whole team for taking me onboard and making me feel super welcome. It's a fantastic opportunity and one I will make the most of.
I have felt welcomed aboard in such a loving way and wanted to express my gratitude to the entire team. You are awesome colleagues and I'm very lucky.
To get the seal of approval from my new coworkers is really important and you have all welcomed me with open arms. Thank you!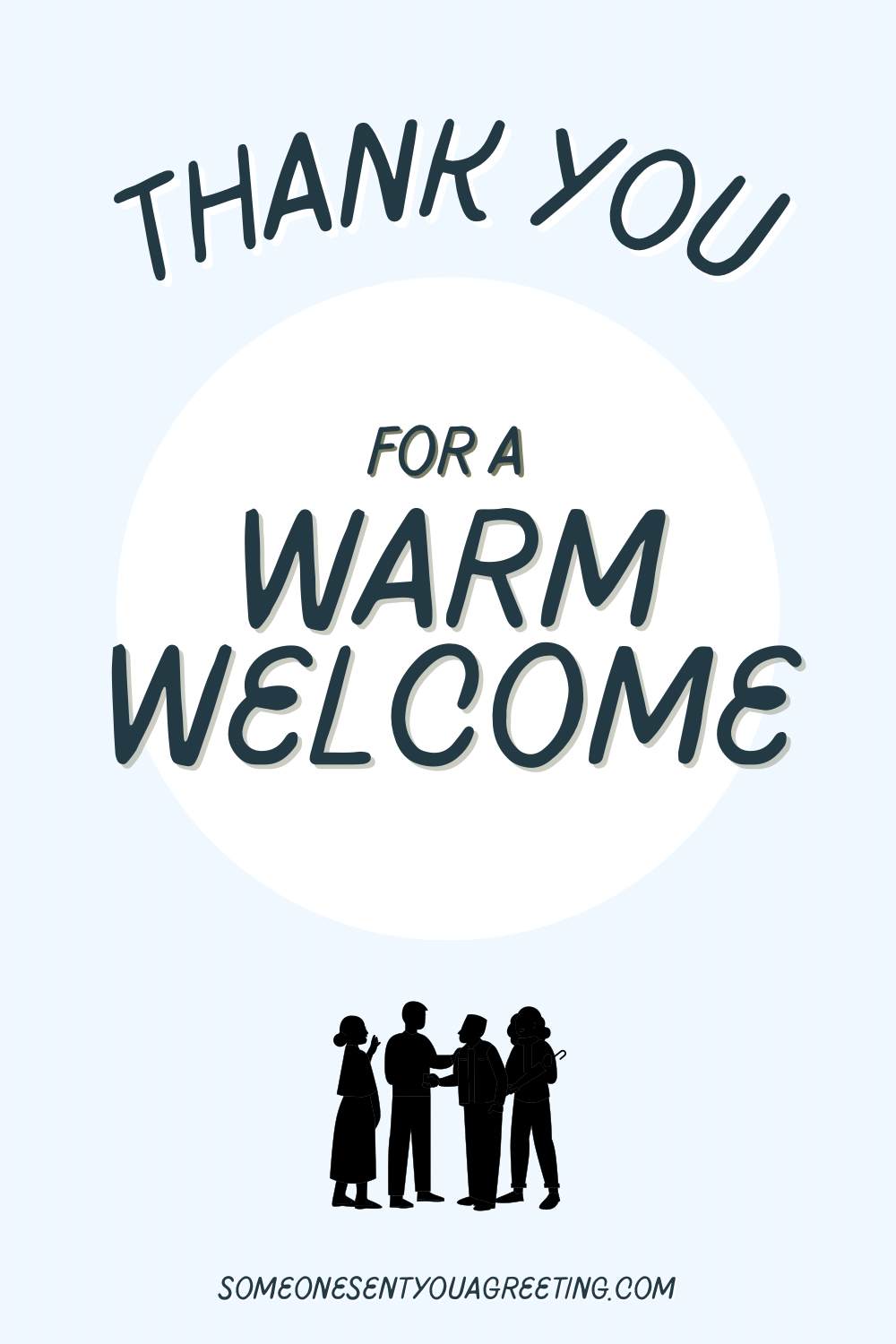 Thank You for Welcoming Me
Thank you for welcoming me in such a kind way. I am honored and excited to be a part of the group.
Please accept my thanks for the warm welcome I received. I feel blessed to be trusted like this.
It's a credit to you for how you welcome anyone who is new. I felt recognized and accepted and it meant a lot to me. Thank you.
You have taken me on and adopted me like I've always been one of you. That welcome has moved me and I am extremely grateful.
I can't express my gratitude enough for giving me a warm welcome and believing in me. Thank you very much.
Trust needs to be earned but you welcomed me from day one with kindness and belief. I'm amazed and eternally grateful.
Sending my thanks for the warm welcome I received when I joined you guys. I didn't expect it and was very pleasantly surprised.
I know I'm new and you aren't familiar with me but that didn't stop you giving me a really warm welcome. Thank you from the bottom of my heart.
We hope these ways to say thank you for the warm welcome will show you how to express your gratitude when you have been warmly welcomed by colleagues, friends and more.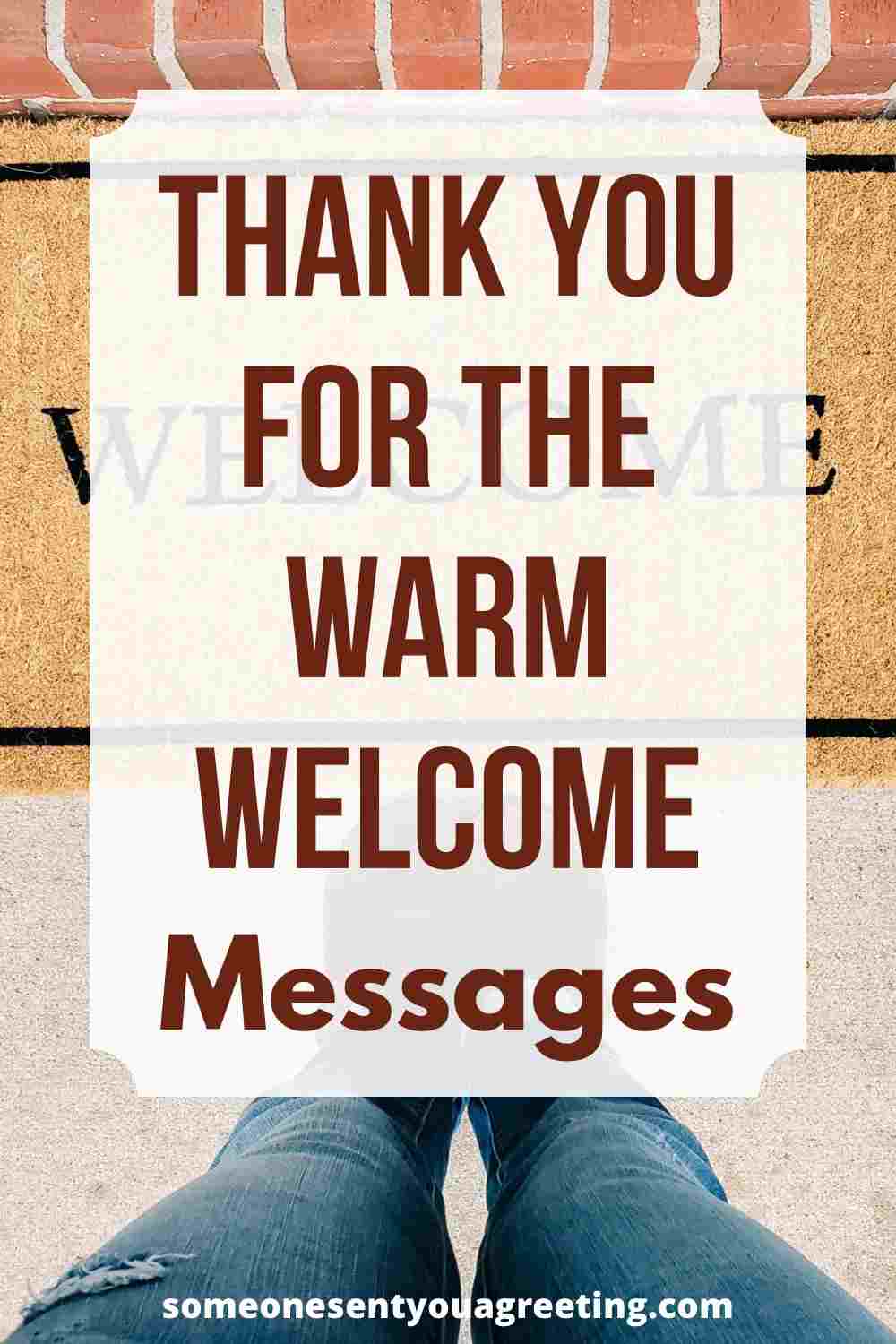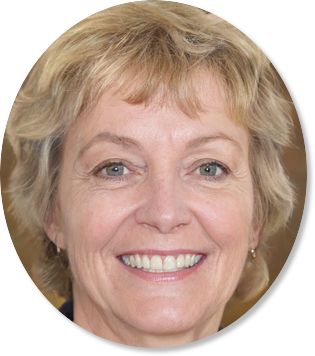 Sally Gibson is the founder of Someone Sent you a Greeting, a holiday/celebration website. Sally's writing work has been mentioned in Woman's World, Yahoo, Women's Health, MSN and more. If you have any questions get in contact with one of the team via the about page.