Lunch is always a welcome treat. It might be because we love food so much, or the company and spending time with others, or the opportunity to catch up etc.
Whatever the reason, lunch is great. But when someone invites or cooks for you then you should show your gratitude by saying thanks for lunch.
What do you say though? Well if you're not sure how to say thanks for lunch then use these examples thank you notes and messages to find the perfect wording to show your appreciation.
Thank You for Lunch Messages
Say thank you to whoever took you out of cooked lunch for you with these thank you messages.
Thank you for lunch, it was absolutely delicious and I had a really great time! We must do it again very soon – next time it's my treat!
Thank you for lunch yesterday, I had a blast. Great food and great company – what more could you want! I look forward to doing it again.
It was a real treat for you to take me out to lunch last week. I love spending time with you and grabbing lunch together was the perfect way to catch up. Thanks for thinking of me.
Thank you for including me in lunch last week. I really appreciated getting to know everyone and I loved the food. It was a very friendly and fun couple of hours and I'm so pleased to have been a part of it.
Many thanks for agreeing to join me for lunch yesterday. I needed a chance to talk to you and it was the ideal opportunity. I know you are very busy so I appreciate you making time for me.
I am so grateful we had the opportunity to have lunch together. Getting to pick your brains on [topic] has been so insightful and helpful to me. Thank you so much.
Thank you for cooking me such a lovely lunch. You're an amazing cook and the food was scrumptious!
It's always a pleasure seeing you so having lunch together was fantastic. Thank you finding the time. We really should catch up more often. I'm looking forward to when we can meet again soon.
Lunch was awesome! A big thank you for treating me. We had so much to talk about and the time just flew by. I'm always so grateful to have a friend like you.
I'm very lucky to have a friend like you who will take me out for such a wonderful lunch. The food was delicious and your company was as great as it always is. I can't thank you enough for how much of a good time I had and I look forward to doing it again soon.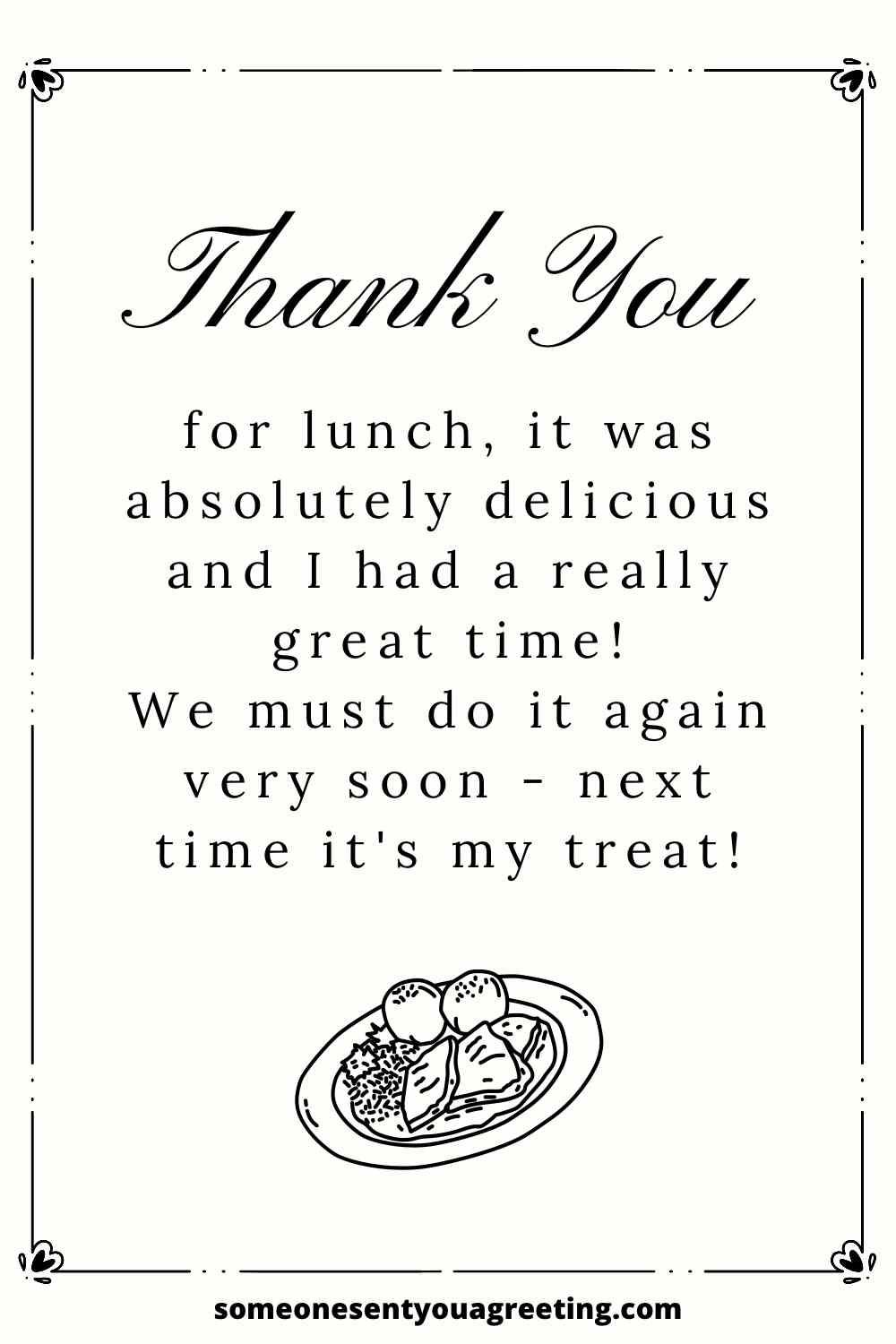 READ MORE: Ways to Say Thank You for Dinner
Thank You for Lunch Note Examples
Send someone a thank you note for lunch with one of the samples and examples found below.
Thank you for a delicious lunch. I had a really wonderful time with you and really enjoyed catching up. Hopefully we will have the opportunity to do it again in the near future.
It was a delight to join you for lunch yesterday. Getting away from work is always welcome but it was seeing you that was the real joy. Thank you for meeting me and being such great company.
Thank you treating me to a fabulous lunch. You spent far too much at that new restaurant but it was worth it! Amazing food and a total pleasure to catch up with you. Let's make sure we do it again as soon as possible.
I wasn't expecting you to take me to lunch but it was a very nice surprise. Not only was the food excellent but it was amazing to have a proper talk with you. I know I shouldn't need it but I was reminded of how good a friend you are. So thanks for today.
Thank you for inviting us to lunch. We had a brilliant time and were so impressed with your cooking! Where were you hiding those skills!? We will be coming over to yours a lot more after such great food. Thanks again!
That Thai food was fantastic, wasn't it? I'll definitely have to go there again. Thank you for taking me to lunch there and introducing me to it. I'll have to repay you by taking you out somewhere soon.
You knew I was having a rubbish day and so you took me to lunch and cheered me up! Thank you so much, I really needed it. You're a true friend.
It's always fun when we get together for lunch and yesterday was no different! We got up to quite a lot of mischief and I haven't laughed so much in a long time. Thank you for getting me out to the house and brightening my day.
Lunch yesterday was the first time I'd ever tried Japanese cuisine. I was a bit hesitant at first but after a few bites I was definitely sold on it! Thank you for the lunch, pushing me outside my comfort zone and helping me to try new things.
You needn't have taken me for lunch last week. Don't get me wrong, it was great, but I enjoyed helping you at work and didn't do it for any sort of reward. It was a lovely afternoon though and getting to know you better was a joy. Thank you!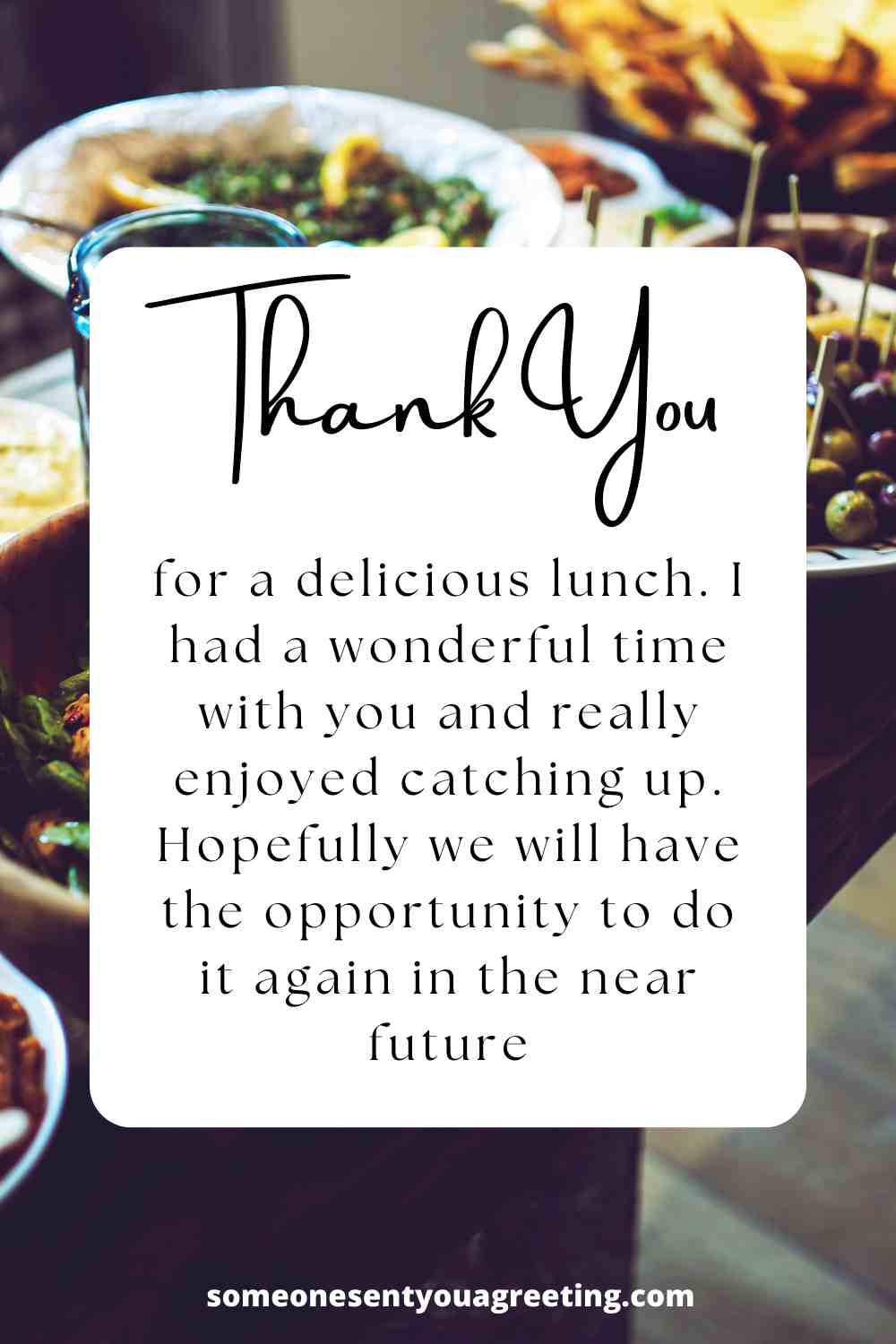 READ MORE: Thank you for your Kindness and Generosity Messages
Thank You for the Lunch Invitation
If you want to say thanks for the invite then the following ideas should help you to find the perfect wording for a thank you note.
Thank you for inviting me to lunch on Friday. I enjoyed myself so much! The food was flawless and getting to meet all your friends was great. I was made to feel very welcome by all. It was a lovely afternoon, thank you again.
I was so touched to receive your invitation to lunch. Thank you for thinking of me. The food was outstanding and I loved meeting so many of your friends.
It's not often I get invited to lunch so I was really excited when I received yours. And I was right to be excited because I had a great time! Thank you so much for inviting me.
Many thanks for thinking of me when inviting people to lunch. It's always nice to be included and being a part of a group lunch goes a long way to feeling like I belong.
I had such a marvellous time at lunch last Wednesday I wanted to say thank you for inviting me. You didn't have to and yet still went out of your way to make me feel included. So I'm extremely grateful.
Just a quick note to say thank you for the lunch invite. I really enjoyed myself and fun chatting to everyone. Thanks again.
I'm sorry I couldn't make it to lunch yesterday, I was so busy. Thank you for inviting me though, it was very kind of you and I promise I'll be there next time!
I wanted to send a note of thanks for the lunch invitation. It was a charming get together and I enjoyed myself immensely. Thank you for letting me be a part of it.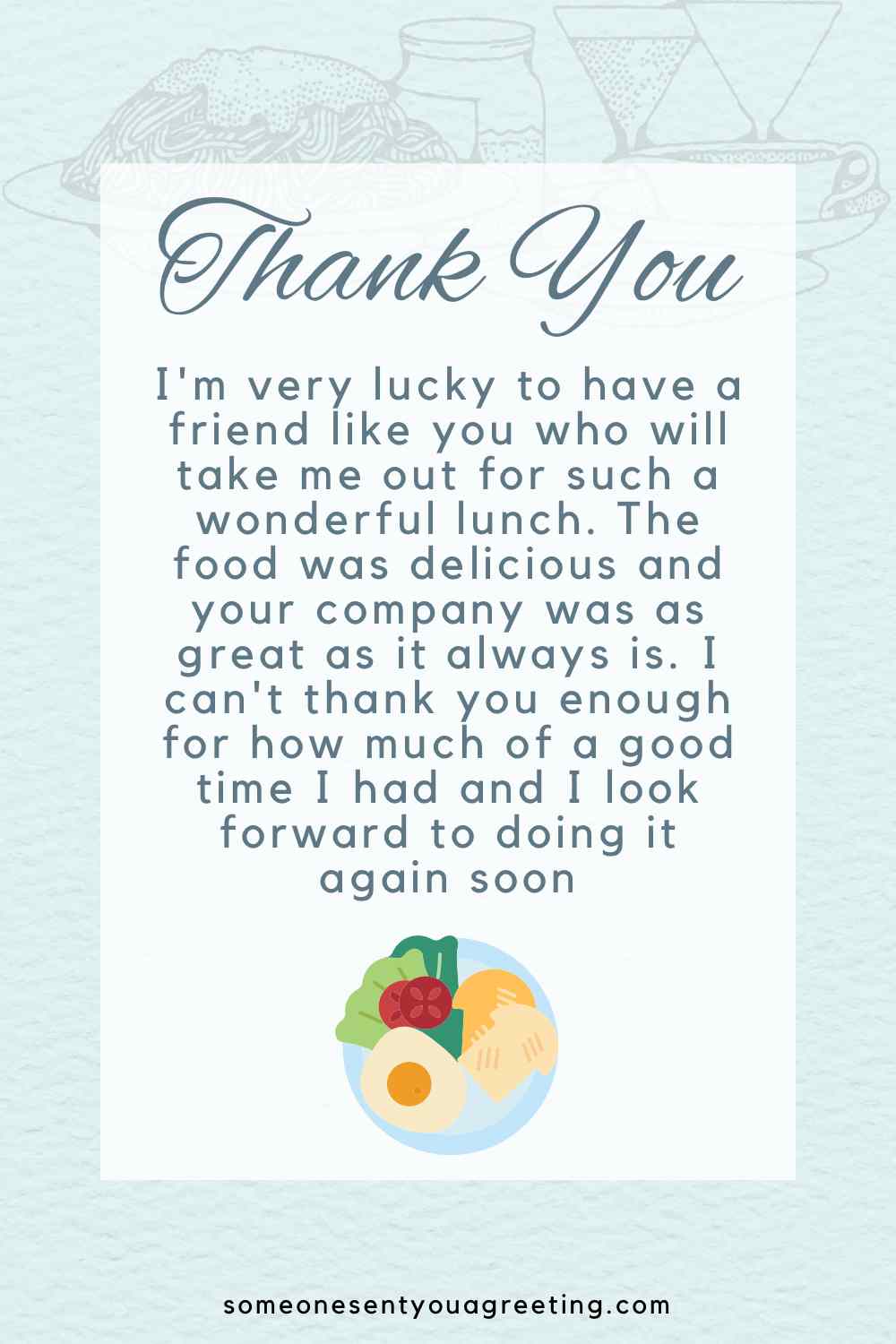 Thank you for a Birthday Lunch
If you've been taken out for a celebratory birthday lunch then thank whoever was responsible with a few kinds words from the heart.
Thank you so much for my birthday lunch! I had such a magical time and loved being surrounded by friends and family. It was a very special surprise and I'm super grateful to you for arranging it all.
Thank you for taking me out to lunch on my birthday. The food was amazing and I loved my cake! It was a fantastic way to celebrate and I was moved by all the effort that went into it.
It's one thing to take me out for a meal but to cook for me on my birthday is amazing! Thank you so much, you really didn't have to but the home cooked lunch was perfect and you are quite the little chef! You really are a true friend to go to so much trouble just for my birthday.
My birthday lunch was exactly what I love – great food and all the people that mean the world to me by my side. Thank you so much for making it happen.
You must have heard me talking about [restaurant] and knew I wanted to try it as that's where we ended up for my birthday lunch! It was worth the wait as I had a wonderful meal that lived up to all my expectations. Thank you arranging it – what a lovely birthday surprise!
Thank you for a yummy and very fun birthday lunch. I had a blast and feel very lucky to have friends like you.
What a brilliant way to enjoy my birthday. A lunch with all the best people in the world! Thank you for throwing it, I'm really grateful.
I wanted to extend my thanks for taking me out for my birthday lunch. I was deeply touched by you thinking of me and I had such a good time. Thank you, it really made my big day that little bit more special.
READ MORE: Ways to Say Thank You for Birthday Wishes
We hope these thank you for lunch messages and notes have given you some help with what to say to thank someone for taking you to lunch.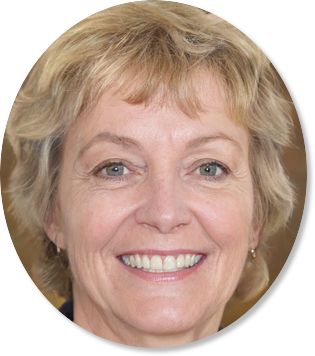 Sally Gibson is the founder of Someone Sent you a Greeting, a holiday/celebration website. Sally's writing work has been mentioned in Woman's World, Yahoo, Women's Health, MSN and more. If you have any questions get in contact with one of the team via the about page.