An anniversary is a time for celebration, love and happiness. It represents a commitment and enduring love between two people.
When it's your parent's anniversary then it's an even greater occasion. You get the opportunity to celebrate two of the most important people in your life and their lives together.
One of the ways you can celebrate it is by getting them an anniversary gift and card. A well thought out present can be a lovely way to commemorate a special day, and with that a card containing a touching or beautiful message wishing them a wonderful anniversary.
But when it's your own parents, wishing them well or writing a message can be tricky. Knowing what to write in any anniversary card can be tough but when it's your own parents there's a greater pressure to make it extra special or moving.
You know them better than most so should be able to express your feelings in a touching and emotive way. It's not always as simple that though, is it?
So if you're struggling with your anniversary wishes for parents then read on as we have got a large selection of wishes, messages, quotes, poems and more. Use them as they are or change them to fit your circumstances.
Anniversary Wishes for Parents
These anniversary wishes and messages are perfect to write in a card. They range from short and simple to the longer and more expressive.
I love you both so much, happy anniversary
Happy anniversary mom and dad! You were made for each other
Heres to another happy, joy filled year! Happy anniversary to the best parents
I'm proud to be your son/daughter. Have a wonderful anniversary
Your strong bond is the foundation of our families happiness. Happy anniversary
I feel lucky to have you as my parents! Happy anniversary mom and dad
Your love has been a real inspiration to me. I hope one day I can find someone just like you found each other. Have a wonderful anniversary
Your successful and enduring marriage, love and hope has given me the most incredible childhood. I love you both beyond words, have an amazing anniversary
Nothing has been able to come between you two and a love that has been rock solid from day one. Happy anniversary!
Fairytales are meant to be make believe but you guys have proved they exist. Best wishes and happy anniversary to the two best parents in the world
I know the love that first blossomed all those years ago is still as strong today. Happy anniversary!
As parents you've set an example as both the sort of parent I want to be and the sort of love I'd like to have. Happy Anniversary
If there was a picture next to "love" in the dictionary it would be the two of you. A family I couldn't have asked for a happier, more loving couple, and I'm so pleased to wish you a fantastic anniversary
You have both a lifetime of memories to look back on and time in the future to create so many more. Enjoy your anniversary mom and dad
Take the time to reflect on the true happiness you have both found on this special day. And know how much I appreciate all the love and care you've showered me with over the years. You're wonderful parents and deserve all the joy in the world on your anniversary
You've endured tough times, weathered storms and made it through with that love still intact. You're an inspiration to not only me but everyone. Happy anniversary
I know the sacrifices it must have taken to maintain such a happy family, and I can't tell you how much I appreciate all you did. I couldn't have wished for better parents. Thank you and have an amazing anniversary
Another year to create precious memories together. Another year to discover new things to enjoy about each other. Another year to strengthen a marriage that defines forever. Happy anniversary!
Even through the arguments, the money problems, the petty squabbles, I know your love has remained strong. Your bond is unbreakable and inspires me every day. Happy anniversary mom and dad
People say that true love isn't real. If it wasn't fit you two I would probably believe it. Happy anniversary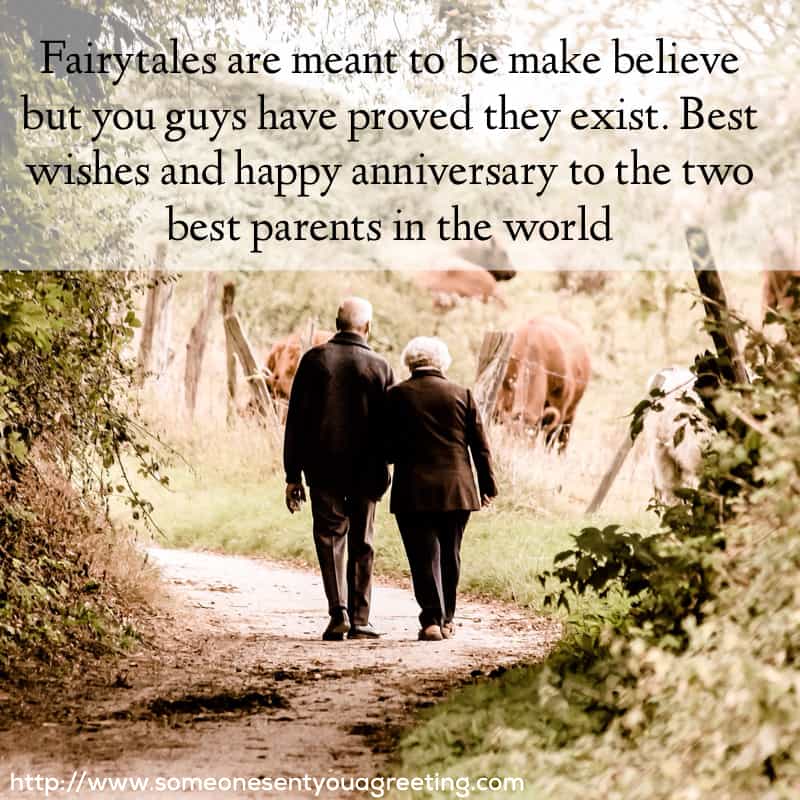 Funny Anniversary Wishes for Parents
It doesn't have to always be heart warming messages and wishes. If your parents are the type then a funny message could be the perfect inclusion in your card.
I couldn't imagine where I'd be without you two, quite literally! Happy anniversary
"Some people ask the secret of our long marriage. We take time to go to a restaurant two times a week. A little candlelight, dinner, soft music and dancing. She goes Tuesdays, I go Fridays" – Henry Youngman
If the apple doesn't fall far from the tree, I'm expecting to marry the girl of my dreams and being married X number of years. Thanks Mom and Dad.
You've been together so long you be granted an honorary P.H.D in EACH OTHER. Happy anniversary
The secret of a happy marriage remains a secret. But, whatever you two are doing is working. Stay happy and happy anniversary.
Dad, winning Mom's heart was actually my lucky victory. Happy anniversary!
Never laugh at your wife's choices, – you are one of them
Marriage lets you annoy one special person for the rest of your life
Being married is like having a bestfriend who doesn't remember anything you say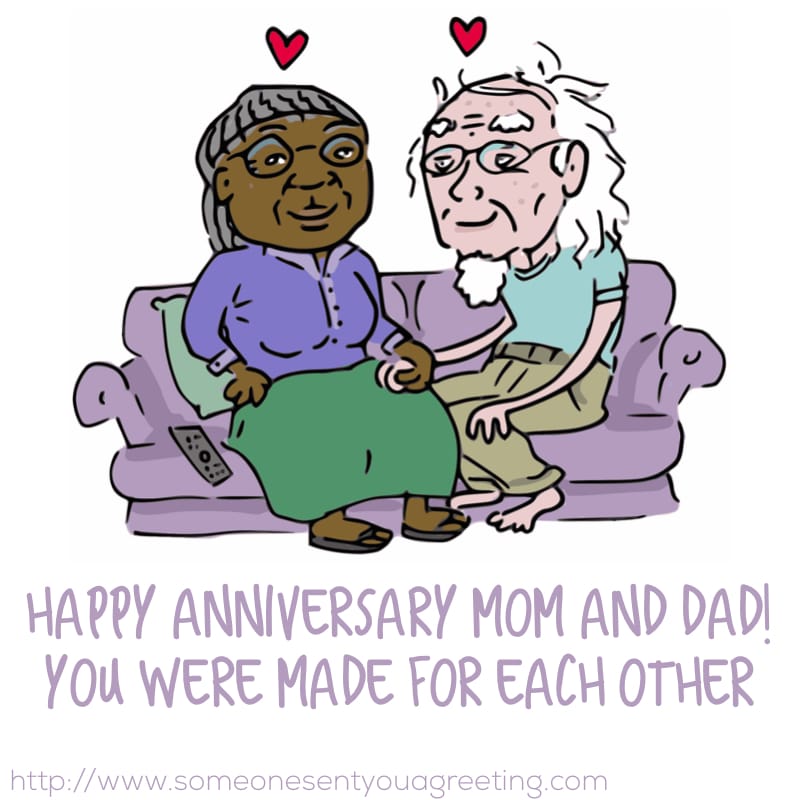 Anniversary Quotes for Parents
Quotes from famous names including authors, philosophers, musicians and more can often sum up your feelings in the most concise and fitting way. They get to the root of what you want to say but are struggling to.
"The best thing to hold onto in life is each other" – Audrey Hepburn
"Two souls with but a single thought; two hearts that beat as one." – John Keats
"Love is something eternal; the aspect may change, but not the essence." – Vincent Van Gogh
"A wedding anniversary is the celebration of love, trust, partnership, tolerance and tenacity. The order varies for any given year" – Paul Sweeney
"Love grows more tremendously full, swift, poignant, as the years multiply" – Zane Grey
"Chains do not hold a marriage together. It is threads, hundreds of tiny threads, which sew people together through the years
" – Simone Signoret
"The secret of a happy marriage is finding the right person. You know they're right if you love to be with them all the time" – Julia Child
"There is no more lovely, friendly and charming relationship, communion or company than a good marriage" – Martin Luther
"An anniversary is a reminder as to why you love and married this person" – Zoe Foster Blake
"Marriage is an act of will that signifies and involves a mutual gift, which unites the spouses and binds them to their eventual souls, with whom they make up a sole family – a domestic church" – Pope John Paul ii
From a Son
If you want to you can make your wishes relate specifically to your relation, ie being their son. Maybe talking about their impact on you and your growing up.
You've guided and shown me how happy a couple can be, and set the bar for the sort of husband I aspire to. Thank you and happy anniversary
Dad, the way you've treated mom and maintained such a happy family has been an inspiration. I wish you both the most special anniversary
You bought me into this world, helped me grow and set me on the path to success. Thank you both for making me the man I am today
If ever have a son I hope I can set an example of a happy couple the way you both have. Happy anniversary from your loving son
My life; our families life, has been a happy, loving environment all thanks to you: my incredible parents. From your grateful son have a joyous anniversary
From a Daughter
Much like above you can make your message about being their daughter and how they've been an influence on your life.
Mom, you put up with all my drama. Dad, you supported me when I struggled. I wanted to thank you both for being truly special parents. Have such a happy anniversary
A daughter couldn't have asked for better parents. Happy anniversary you two!
When I grow up, I want my husband and I to be just like the both of you. Happy anniversary!
I pray my children grow up to find partners and be as happy as you've been. You're a true inspiration. Happy anniversary
I still don't know how you found the perfect partner but I'm so glad you did. From your daughter thank you for my wonderful childhood. Happy anniversary!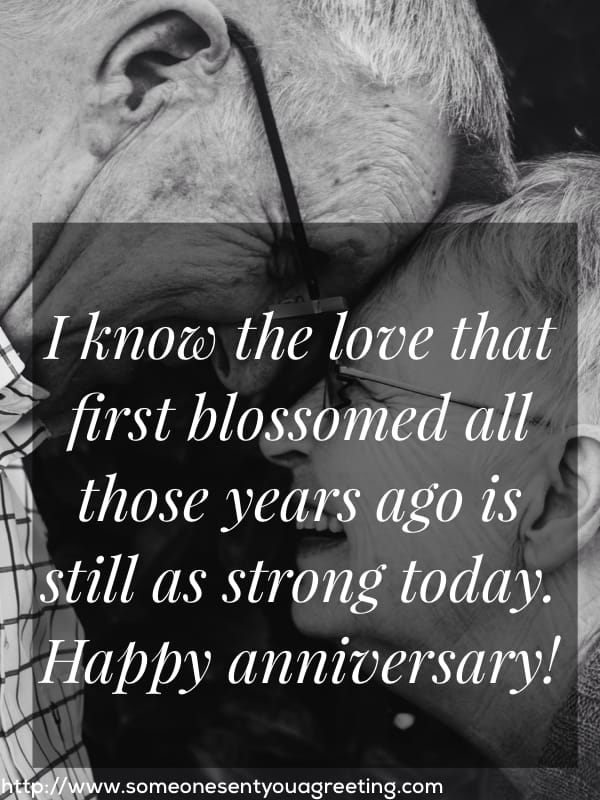 Poems
A thoughtful and beautiful poem can be a great way to wish your parents a happy anniversary. Poems can do a brilliant job of expressing your feelings in ways your words alone can't.
I know you want to spend time today
With each other without any interruption
But I will take just two minutes of your time
To make a sweet declaration
I love you for being my parents
And the kind of friends that you have been
Super cool mums and dads like you
I haven't yet come across or seen
Have an awesome wedding anniversary
Rekindle your love for each other
As I bask away in the pride
Of having the world's best father and mother
A clandestine code
A secret magic potion
An indecipherable logic
A formula number one
We wonder what is it is
That makes you both tick
Your marriage is straight out
Of a lovely romantic flick
Happy anniversary
Life wouldn't be as much fun
If it weren't for you and Mum.
Life would be pretty blue
If it weren't for parents like you.
I wish you a happy anniversary today;
For your health and happiness, I will always pray.
Everyone isn't as lucky
To have cool parents like me.
Everyone isn't as fortunate
To have such caring parents as a safety net.
Everyone isn't as blessed
To have parents who never look stressed.
More importantly, everyone isn't as excited as me
To celebrate your anniversary.
Dear mom and dad…
You have no idea about
How happy I feel today
As I see you both together
I join my hands and pray
May no sorrow touch you
May no pain come near
May your life be a breeze
Full of happiness and cheer
Happy anniversary
Having the childhood I had
Was the greatest gift for me.
If not for parents like you,
I don't where I would be.
Happy anniversary.
We hope these anniversary wishes for your parents will have helped you in wishing your mom and dad a happy anniversary. We owe so much to our parents it's not that much to ask for a little message of congratulations, is it?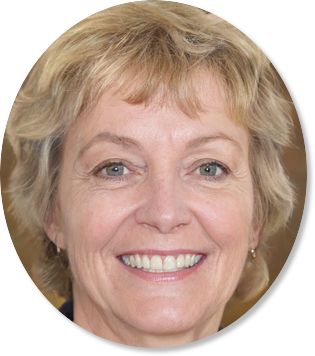 Sally Gibson is the founder of Someone Sent you a Greeting, a holiday/celebration website. Sally's writing work has been mentioned in Woman's World, Yahoo, Women's Health, MSN and more. If you have any questions get in contact with one of the team via the about page.