Well, the big day has been and gone. You're married now! Congratulations! It was probably a wonderful and special day, made even more so by having your friends and family there to see one of the biggest moments in your life.
Unfortunately there's a good chance you've now been bought back down to earth with a bang as you've remembered you have to send wedding thank you cards and notes out to those friends and family. They may have bought or sent you a gift, a lovely card or just attended the big day, all of which you will want to thank them for.
But what is the right thing to say? How long should the note be? When should it be sent? And how do you express your gratitude in the best way possible?
Fear not, as we've put together this guide to help with all your questions and worries, covering wedding thank you card etiquette, what to do and not to do, as well as providing a large selection of wedding thank you wording examples.
So whilst the idea of writing your own thank you notes and cards may seem daunting it doesn't have to be. Yes, the volume may seem vast and the wording tough to think up, but there are some tips you can use to make the process easier. Not to mention some things to avoid as to save embarrassment or seeming rude.
So follow our guide below to writing the perfect thank you notes or scroll further down for a wide selection of wording ideas and examples that you can use as inspiration, change to fit your situation or copy directly.
Preparation Before the Wedding
It's much more likely you're reading this after having had your wedding, and that's fine! If so then you can just skip this section. However if you're a forward planner and have thought about your thank you notes before the wedding you can get started now, saving you time and bother afterwards.
Choose Your Cards/Notes and Stamps – this will save you having to find the right ones when you really want to devote your time to actually writing the notes. You may decide to create your own thank you cards, perhaps with a picture of yourselves (the bride and groom) and do matching stamps to accompany them. Although you might find it's easier and best to just use the same designs or themes you used for the wedding invitations.
Create a List or Spreadsheet – If you haven't yet then make a list of everyone you sent a wedding invitation to, including their address. This is very important even if they don't attend. If you already have this list then make a copy of it and place that into something like Microsoft Excel or Google Sheets, with a row for the invitees names and a column for "gifts". (These applications make it easy to amend and add new details when you need to). When you receive or open a new gift you should make a record of what it was and who it was from on your list. Be specific with details as well, including the colour. size, why you liked it, how much of it was money etc. This will all be invaluable when you eventually come to write your thank you cards. You can also create columns such as "written" and "sent" that you can mark with a "yes" when you've done so. This will help you to keep track of who's thank you's you've finished and sent and who you've still got to do
Choose a Good Pen – as you're going to be writing a lot of thank you messages – and yes you should write them as it's a lot more personal – you're going to want a good pen. One that you feel comfortable and you can write easily with. Also make sure it doesn't smudge or bleed! You could also look into a calligraphy pen if you want to go for an extra special touch.
Choose a Date – you will know when your wedding and honeymoon are so pick a weekend and designate it your thank note writing day, or days. Have everything you need prepared and ready, find a good place to write like a desk you work from and maybe get a bottle of wine in the fridge all set to be opened!
Tip
Remember to stick to blue or black ink when writing your thank you notes. Any other colour can look a bit strange and inappropriate.
What to Write in Wedding Thank You Cards
Writing a thank you card or personalised note isn't really very difficult. You just have to express your gratitude for the gift, flowers, card etc. It doesn't have to be, and probably shouldn't be, very long. Just acknowledge whatever it is your thanking them for, mention how and why you appreciate it so much and then wish them well.
Follow these steps for writing your own:
The Name(s) Firstly, it may seem obvious but include their name! Something like "Dear _____" is absolutely fine.
Thank them for coming to the wedding next a simple thank you for attending your wedding. They made the effort to come so that deserves recognition as they helped to make the day the special occasion it was. If they couldn't make it then skip to the next part.
Thank them for the gift whether they got you a gift or money you should let them know how much you appreciate it – "thank you so much for the gorgeous cutlery". If it was money don't mention the amount.
Say why you liked about it this is where you should talk about the specifics of why you liked the gift and how you will use it – "we can't wait to use it for our upcoming dinner parties". If the gift was money then you can talk about what you are putting it towards
Signing this will depend on who the note is being sent to. Close friends and family will require a much warmer and informal closing such as "much love" whereas an acquaintance will need a more formal signing off like "Sincerely" or "Kindest regards"
Tip
If you wish you can write out some generic notes beforehand that you can then just fill in the appropriate names. This will undoubtedly save you time and effort but will lack the extra touch of personalising each note.
Who to send it to?
There are many people who you should take the time to thank for their involvement in your wedding. From guests, family and gift givers through to the vendors and anyone who helped with the planning.
Use this list to keep check of all the different people you need to send a thank you note:
All Gift Givers – anyone who gave a gift, including money, should receive a thank you note.
Your Parents – Even if they didn't play a huge role in the wedding they will have supported you throughout your life and been there for you.
The Hosts – the money they invested in helping make your wedding a reality was vital so they deserve huge appreciation.
Wedding Planner and Vendors – If you had a wedding planner then they should be thanked as well as the florists, rentals, lighting etc. who helped make your wedding vision come true
Wedding Guests – Even if they didn't bring a gift the fact they made the effort to attend means they should be acknowledged and thanked.
When to Send it?
The obvious answer to when to send wedding thank you cards is as soon as possible after the wedding. Up to 3 months after is seen as an acceptable time for sending them but don't leave it any longer than that. As wedding gifts can arrive at different times it's also acceptable to write your thank you cards as you receive them even if that's before the wedding.
Wedding Thank You Examples
If you still aren't confident about writing your own then we've put together some wedding thank you wording examples below for a whole range of different people. Hopefully we've covered all the types of guests or people involved with the wedding who you might need to thank.
So just use the ones that are most appropriate for your needs as either a starting point that you can edit and change or to copy it directly.
For a Gift

Dear _____,
Thank you so much for the lovely wedding gift. We absolutely love the champagne flutes – you'll have to come round and have a drink with us! Can't wait to see you!
All the best,


Dear _____,
Thank you for such a generous gift. We were so happy to share our perfect day with you. It meant the world to us.
Forever thankful,

For Money

Dear _____,
We were so thrilled to receive your generous gift. We're planning to have the kitchen remodelled and your generosity will go a long way to helping with that. Thank you for making our day extra special.
Love,


Dear _____,
We can't thank you enough for your generosity. We plan on moving house in the near future and that generosity of yours will help go towards making that dream come true.
With so much gratitude,

For Attending

Dear _____,
Thank you so much for attending our wedding! It was fantastic to see you and we just wanted to send this quick note to say how glad we were you were there. It wouldn't have been the same without you!
Best wishes,

Dear _____,
Thank you making the effort to come to our wedding. I know it was a long journey so we really appreciate you making it. Having you there to share in the magic was really important to us.
Many thanks,

For Family

Dear Mom and Dad,
Thank you for all the support and help with the wedding. We couldn't have done it without you and you just being there was enough to bring tears to my eyes. Thank you for helping our dreams come true.
Love,


Dear Sis,
Thank you for all the hard work and help with the wedding. The hours you put in and the help with my dress, make up etc. are so appreciated. I know we both were so pleased to have you by our side for the meaningful day.
So much love,
For Friends

Dear _____,
Thank you guys for being able to make the wedding. You know it wouldn't have been the same without our best friends! And thank you for the wonderful gift. No surprise you knew exactly what we wanted. We'll catch up soon.
Much love,

For a Group Gift

Dear _____,
Thank you all for the incredible gift! We're so blessed to have such a generous group of friends. We hope you enjoyed the wedding as much as we did!
Love,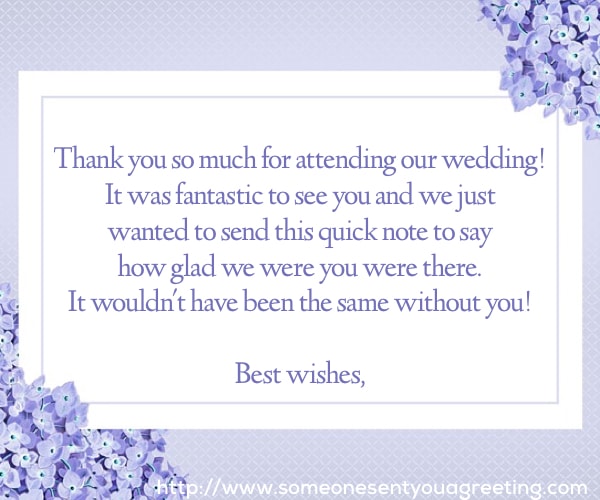 Hopefully this guide to writing your own wedding thank cards and messages will have provided you with some great wording examples as inspiration. All that's left is for you to get writing!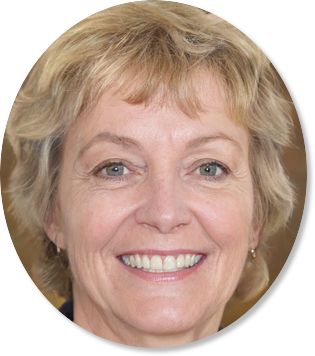 Sally Gibson is the founder of Someone Sent you a Greeting, a holiday/celebration website. Sally's writing work has been mentioned in Woman's World, Yahoo, Women's Health, MSN and more. If you have any questions get in contact with one of the team via the about page.