Retirement is a big event in anyone's life. Often when someone you know, be that a coworker, friend or family member retires then you celebrate or congratulate them. The most common way this is done is with a card or gift (or both!)
But knowing what to write in your retirement card can be tricky. You need to judge the tone and not offend. Also take into account how much they were looking forward to retirement and if they see it as a positive occasion. So treading carefully and choosing your words to match how they are feeling is important.
If you are struggling then you can try using one of the retirement sayings and quotes below. They range from inspirational to funny and happy wishes and are perfect for a card. You can change them or use more than one if you want.
Inspirational Retirement Sayings
Retirement can be a scary time, daunting because it's often when you enter the unknown. So an inspirational message for your card can help to lift the retirees spirits and show them how retirement can be a new chapter full of great moments.
Life begins at retirement
In retirement, only money and symptoms are consequential
Don't cry because it's over, smile because it happened
Slow down and enjoy every moment in life. It's not only the scenery you miss by going too fast, you also miss the sense of where you are going and why.
Living each day as if it were your last doesn't mean your last day of retirement on a remote island. It means to live fully, authentically and spontaneously with nothing being held back from you
It's nice to get out of the rat race in this world, but you have to learn to get along with less cheese
If we wait until retirement to enjoy ourselves, there may not be enough of ourselves to enjoy it
In the end, it's not the years in your life that counts. It's the life in your years that matters the most
"I am not giving into anyone else's idea of how I ought to feel and look at 70. 'Retirement' is not a word I can even visualize. I retire when I go to bed." – Carmen Dell'Orefice
"Age is an issue of mind over matter. If you don't mind, it doesn't matter" – Mark Twain
Retire from work, not from life.
Retirement is not an end, but rather a new beginning, an opportunity for growth, creativity, and the discovery of one's authentic self
"For many, retirement is a time for personal growth, which becomes the path to greater personal freedom." – Robert Delamontagne
"Retirement has been a discovery of beauty for me. I never had the time before to notice the beauty of my grandkids, my wife, the tree outside my very own front door. And, the beauty of time itself." – Hartman Jule
Happy Retiring Sayings
If the person you're sending a card to isn't worried about their retirement and actually looking forward to it then a simple message that wishes them well and a happy retirement may be just the ticket.
Retirement itself is the best gift. No gold watch could ever top it.
"The key to retirement is to find joy in the little things." – Susan Miller
Retirement is the new second time around
Goodbye tension – hello pension!
"Retirement is supposed to be the great escape from the stresses inherent in most jobs, a time to experience a fulfilling life derived from many enjoyable and rewarding activities." – Ernie J. Zelinsk
Stay young at heart, kind in spirit, and enjoy retirement living.
Sit back and relax and do the things you never got a chance to do
Enjoy a rest that's overdue. Take pleasure in the finer things that are awaiting you
"Retirement, a time to do what you want to do, when you want to do it, where you want to do it, and, how you want to do it." – Catherine Pulsifer
And so the adventure begins!
Retirement:
No Alarm Clock
No Commute
And No Problems.
Retirement is when having a good time is your only job
Happy days are here at last, the days of nine to five are past. You've worked your life and paid your dues and you could can do just what you choose!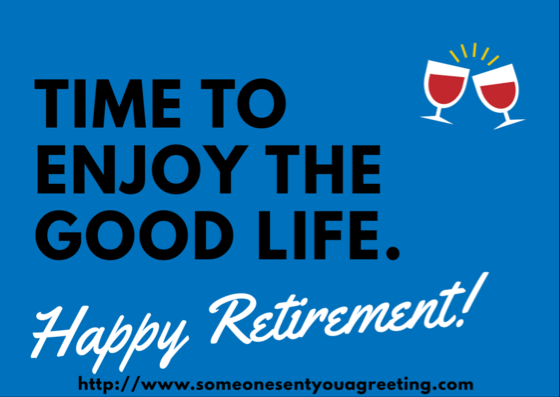 Funny Retirement Quotes
Something funny or comical is also ideal for a card or speech. So try one of these hilarious retirement sayings and quotes to put a smile on someone's face!
The best time to start thinking about your retirement is before the boss does
When men reach their sixties or Seventies and retire, they go to pieces. Women go right on cooking
Retirement is wonderful. It's doing nothing without worrying about getting caught at it
Retirement is having nothing to do and someone always keeping you from it
Retirement kills more people than hard work ever did in this world
Youth would be an ideal state if it came a little later in life
The main goal of retirement should be to live off your assets, not on assets
When you retire, think and act as if you were still working; when you're still working, think and act a bit as if you were already retired.
It doesn't take ages to retire, it takes money
Retirement can be a great joy if you can figure out how to spend time without spending money.
You never have to laugh at the bosses jokes anymore, just his face.
Sleeping in everyday means you're either retired or extremely irresponsible!
"Don't play too much golf. Two rounds a day are plenty" – Harry Vardon
"I have never liked working. To me a job is an invasion of privacy." – Danny McGoorty
"Retirement is like a long vacation in Las Vegas. The goal is to enjoy it the fullest, but not so fully that you run out of money." – Jonathan Clements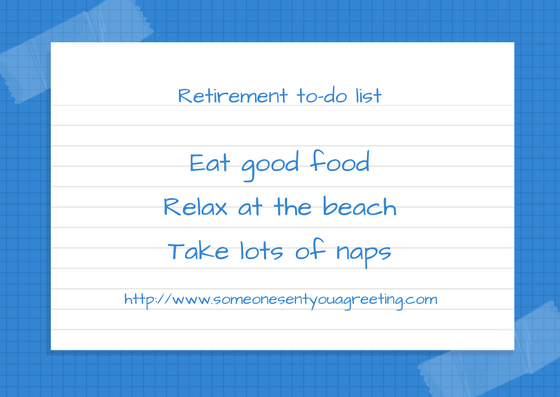 SEE MORE: 77 Beach Puns Perfect for Instagram
We hope these retirement sayings and messages will have helped you to wish someone a happy retirement as they hear off into the sunset.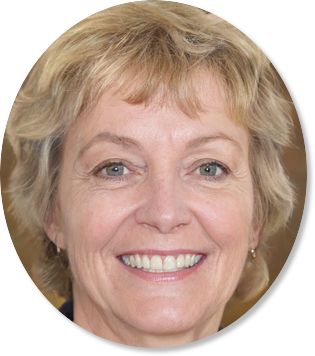 Sally Gibson is the founder of Someone Sent you a Greeting, a holiday/celebration website. Sally's writing work has been mentioned in Woman's World, Yahoo, Women's Health, MSN and more. If you have any questions get in contact with one of the team via the about page.