When you think about it 7 years is a really long time. Most relationships are measured on bigger, rounder numbers – 10, 20 etc. But lasting 7 years with your partner or spouse is a big achievement.
Not least because 7 years is that notorious time where you get 'the itch'. Yes the infamous 7 year itch where you start to wonder if you're with the right person, possibly feeling like there's better out there. But many couples either make it through that period unscathed or frankly never even notice it.
So if you and your partner are celebrating 7 years together then congratulations are in order. And if you want to wish your other half a happy anniversary, maybe alongside a gift or card, then have a look at these romantic 7 year anniversary quotes.
Show your husband, wife or partner just how special the last seven years have been and how wonderful being together still is.
7 Year Anniversary Quotes
Happy 7 year anniversary! Here's to another blissful 70 more
Thank you for the happiest 7 years of my life. I will be forever grateful that I found you
7 years in and we're still going strong. Happy anniversary darling
It feels like only yesterday that we first met, and yet 7 years later we've weathered the storms and are as solid as ever. I love you honey, happy anniversary
We defied the odds – when they said we wouldn't make it and look at us now. All these years later and each day our love grows greater. Happy anniversary my love
Seven years is just the start, and I want so many more with you. You complete me
We've been lucky enough to have seven wonderful years together and I want to celebrate every second of them with you. Happy anniversary
I know at times I can be difficult but that doesn't mean I don't love you like nothing else in this world. You've put up with me for seven years now and I consider myself the luckiest guy in the world
You still take my breath away after all this time. I'm never going to stop believing I hit the jackpot to have ended up with someone like you. Here's to decades more happiness together
It feels like seven years ago fate brought us together. Through thick and thin we're still standing strong. I love you more than ever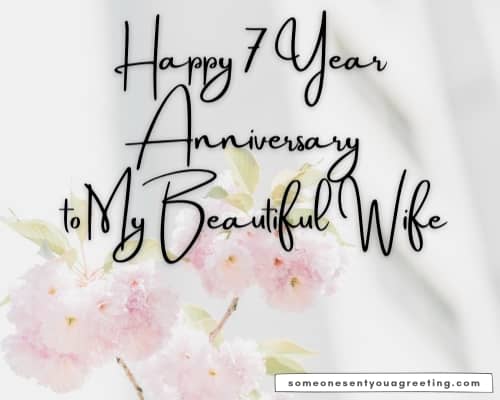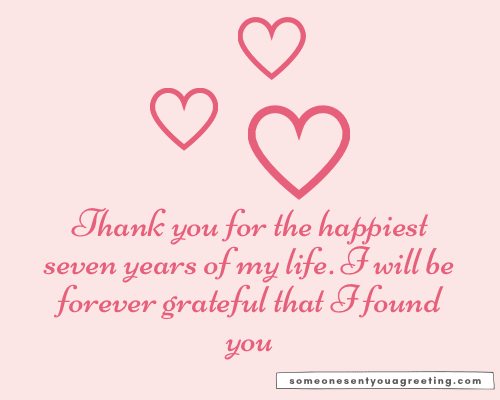 ---
Happy 7 Year Anniversary Wishes
On our anniversary I think back on seven years of total happiness. I'm still as deeply in love with you as the day we met, and will be forever more. Happy anniversary baby
Seven years ago my soulmate came into my life and turned my world around. Ever since it's been like a living dream having you by my side and I want to say on our anniversary how utterly in love with you. Thank you for being the most incredible partner I could ever wish for
These seven years have been the best of my life and I owe that all to you. Happy anniversary to my one and only
We make a great team and have enjoyed a whirlwind few years. I can only wish the next be filled with as much laughter and joy as these. Happy 7th anniversary
You are all I've ever needed and all I've ever wanted. Thank you for making the last 7 years feel like all my dreams came true
Every problem we've overcome or bump in the road we've encountered has lead us to this point. We are perfect for each other and I can't wait to spend the rest of my life and many more '7 years' with you. Happy anniversary
Even now I feel my heart beat faster every time I lay my eyes on you. You are the sexiest, sweetest man a girl could hope to have spent 7 glorious years with
Love is like some mysterious force that we can't explain. All I can say is that it hit me like a tonne weight when I met you. And 7 magical years later that love is still the most intense, amazing emotion I've ever experienced. I love you my darling
I've adored every minute of the last seven years with you. I hope you know just how much I care and how happy I am
Nothing and no one can compete with you. I am a better person for knowing and loving you. Thank you for seven years of heaven
What to Say on Your 7th Year Anniversary
Writing a romantic 7 year anniversary message may feel daunting but doesn't have to be. Your partner or spouse will appreciate you making the effort to let them know how special they are to you. And a few sweet, thoughtful words can help to remind them why they fell in love and keep the relationship on the right track.
This list of sweet 7th year anniversary messages has been compiled to assist you in getting the best wishes and hopefully inspire you to find those perfect words. However if you prefer to write your own, then you can adapt the messages here to suit your needs.
---
Who knows why some people work so well together, all I know is we're a perfect match. Like 2 pieces of a jigsaw we fit perfectly and I want countless more anniversaries with you
When times have been tough to know I could turn and lean on you has been such a relief. You've been my rock, my strength, and the one person who truly understands me. I love and cherish you more than these words could ever hope to say
Seven years of amazing times with you is just the start. Here's to so many more
The seven years with you has been the most joyous of life and I hope I speak for both of us when I say – bring on even more!
Happy anniversary my incredible husband/wife. Seven years with you may be good but I want so many more
I look in your eyes and see a love so pure it touches my very soul. I love you, happy anniversary
7 years ago you stole my heart and I never want you to give it back. Happy anniversary
You are everything to me, and that won't ever change. I've loved these 7 years just as I'll love the years we have in the future
You never cease to amaze me, and in my eyes are beyond perfect. I am indebted to the love you give me. Happy anniversary
I could write a million words here and still never get close to saying how I truly feel. All I can do is tell you I love you and wish you a happy 7th year anniversary
---
Sample Anniversary Message
We aim to ensure that writing an anniversary message is a simple task that allows you to be spontaneous and romantic. One way to make your wishes stand out is is by using your own words. Try personalizing these messages by adding some extra flourishes – memories anecdotes or stories from the last 7 years – a thing that will make it seem extra special.
7 Years Together Quotes
If you would like to make your partner laugh or then try a funny anniversary message. A funny quote can still be sweet and caring, but also demonstrate the more juniors side of your relationship. So think about a joke or pun to show the fun aspect of your lives together.
---
We may be celebrating seven years as a couple but all I want is seven more, then another seven.. I just want a lifetime with you!
Even after seven years you're still always on my mind. Love you!
Happy seven year anniversary to the most special person in the world. Every day with you is a bedding I don't deserve
I adore everything about you and have done so for every second of the past seven years. Happy anniversary my sweetness
When I found you, I found true love. Happy 7th anniversary
Every day I still fall in love with you over and over again. Happy anniversary
There hasn't been a single second if the last 7 years that I've regretted being with you. I am just amazed you put up with me! Thank you 7 incredible years of utter joy
These years together has been an amazing adventure and one that I dint want to ever end. I love you and can't wait to spend the rest of my life with you
My heart beats only for you and will do until the end of time. Happy anniversary
There can be no doubt about – we were made for each other
---
7 Year Marriage Wishes
Using love quotes is a really good way to find the best words that you may have had trouble expressing yourself. We have a huge choice of romantic love quotes and sayings right here. They can be used in an anniversary card or in said person to really show how you feel.
Romantic 7 Year Relationship Quotes
A poem is another really great way to show your partner just how much you still care about them after 7 years by each other's side. A poem that speaks from the heart and expresses all the sentiments and thoughts you have about them will be warmly appreciated.
All I will ever need is your love. It sustains and strengthens me
Happy 7th year anniversary. I will never let you down
You have made my life so much better, I will forever be grateful for the day we found each other
After seven years I can firmly say I believe in us. We are perfect together and will be celebrating so many more anniversaries
Every time I hold you my heart swells with a love so great it's overwhelming. I love you honey
From the bottom of my heart I love you with every breath I take
We have such a special relationship I can't believe how lucky I got finding you. Here's to another 7 years of just as much fun!
My own fairytale came true when I met you. It's been 7 years of happiness Disney would be proud of!
Sometimes I just lose track of time thinking of you. Your face, your smile.. you're just perfect
It's all the little things you do that make me love you so. Happy anniversary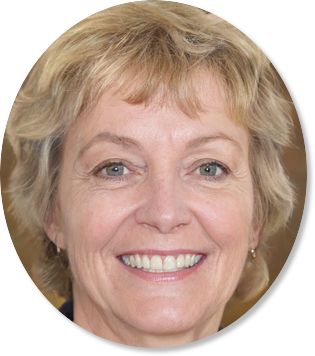 Sally Gibson is the founder of Someone Sent you a Greeting, a holiday/celebration website. Sally's writing work has been mentioned in Woman's World, Yahoo, Women's Health, MSN and more. If you have any questions get in contact with one of the team via the about page.