When we're in love we want to keep in touch all the time. That desire to keep telling the special person in our lives how much we love them is strong. So what do we do? We use our phones. We send each other love text messages or use social media.
And so the way in which we let people know how much we care about them is to send a love sms message. Just a few words that expresses how important that person is to us or adds a bit of romance to a relationship.
Even a small gesture can go a long way when telling someone how much we care about them.
So use one of these 100 I love you text messages to find the perfect words to let them know how much you're thinking of them.
Touching or inspirational love quotes and messages may be just what you need to inject a little romance into your life. So get your phone out and start tapping!
Love Text Messages
There aren't enough words in the dictionary to describe how much I love you or stars in the sky to match your beauty
Words fail me when I think of all you've brought to my life. I love every part of you with all my heart
Just a quick note to let you know I love you more than life itself!
No one on the planet could ever compete with your breathtaking beauty, kindness and wonder
As each day passes I'm reminded more and more of how much I love you
The only real thing in this world is our love, it made me feel alive. I love you, baby
I hope this message let's you know how much I care about and couldn't live without you
I can't imagine a day without thinking of how much you mean to me
Hoping that this message to say you're the most incredible person I've ever met will brighten your day
SEE MORE: Love Paragraphs for Him
Missing you, the love of my life, more than words can say
A thousand scientists could spend a thousand years trying to explain our love and they wouldn't come close
My heart beats only for you my darling
My life is perfect because of you. You complete me
To spend time with you is the definition of happiness. It is where I long to be
I'm not a poet but you make me want to write sonnets about our love
My love for you is a part of me. It runs through my veins like blood and is my reason for living
Thinking of you always, and wishing you were by my side
Words, cards, gifts – none of them can ever truly show you what you mean to me
Love is a feeling that can't be explained. It's more than we can comprehend and doesn't fit in any words, especially these three simple words "I love you". I want our love to be special and unique. I want it to be eternal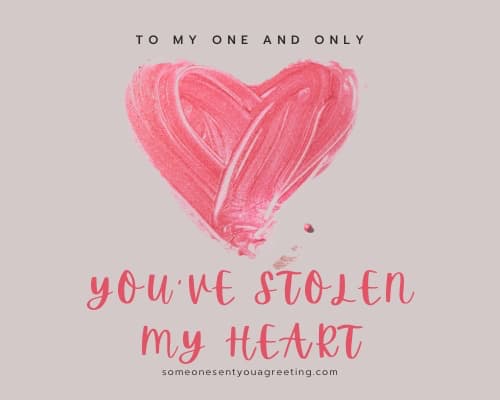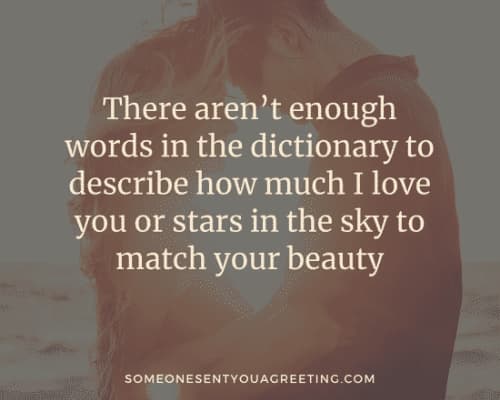 ---
READ MORE: I Love You With All My Heart Messages
Love SMS Messages
Your presence has shone a light into the darkest corners of my soul. I am nothing without you
Your smile makes my heart melt
Together we can get through anything, as long as we have love on our side
I love you truly, madly, deeply
I would move mountains for you my angel
The day I met you was the greatest of my life. I've been blessed every day since
I would sacrifice whatever it took for you. There is no one more special to me than you
True love cannot be defined, it can only be experienced. And until I met you I couldn't begin to understand what it was. You and you alone are my one true love
When I wake up every morning and when I go to sleep every night you are my and last thought
You will be a part of me forever
I know these words may seem like nothing but I hope they show you just a little of how much my heart aches for you
I can't count the ways you have made my life better. I'm indebted to you for the love you give me every day
The reason I know happiness and the reason I know love is due to one person alone, and that is you
The day we met all my prayers were answered
You have breathed love into my world, in ways I could have only dreamed of
If I had one last dying wish it would be to see your face and feel your warmth just one more time
I would never have believed one person could come along and change everything. You made it all better
What to Write in an I Love You Text
Writing an inspirational I love you text message may seem tricky but can be achieved without too much trouble. Your partner or friend will appreciate you telling them how special they are to you. And sweet, romantic words can really help to boost relationships and keep them exciting.
We've put together this list of 100 love text messages to help you get the best message and hopefully inspire you. However if you want to write your own, with your own words, you can follow some simple steps.
Pick your words carefully, being respectful and not obscene or offensive.
Be sweet. Being risqué has a time and place but it's best to stick with something cute and touching if you're not sure.
If you feel it's appropriate then you can use a funny message or pun. Be certain they won't take offence with something a bit jokey and playful.
Mention you are thinking of them. For a loved one to know they are in the thoughts of the person who loves them is very romantic.
Finally just speak from the heart
What Not to Say
As said above, avoid anything too rude. You want your what you say to be a sweet message, not a leering one.
Don't declare your love for someone you haven't yet done so in an SMS message! That should always be done in person.
Don't make it too long. Text messages are meant to be short and concise.
---
I'm terrible at writing these messages but just wanted to tell you that you are my world and I'd be lost without you
My love for you is deeper than the ocean and stronger than gravity
My world goes round because of you and because of your love
I would capture a star from the sky and part the seas for you. Your love makes the impossible possible
Feel that? That's my never ending love for you growing by the second
When I dream, I dream only of you
I'm missing your warmth and kindness
You could try to measure my love for you and it would be off the charts every time
I knew I loved you even before we met
I love you and need you. I always have, I always will. Until the end of time
My heart only points to one person, the love of my life, my world – you
I felt like jigsaw with a missing piece until I found you
Our love is immeasurable and everlasting
Without you I am nothing. Your love sustains me
The love we share is like an immovable object. It cannot be damaged or shaken – it is forever
There isn't a single thing about you that I don't love. You are perfect
You never have to say anything. Just knowing you're there is enough, my love
A day without you is like an eternity
There is nothing in this life or the next that could stop my love for you
Your love is like a drug I'm an addict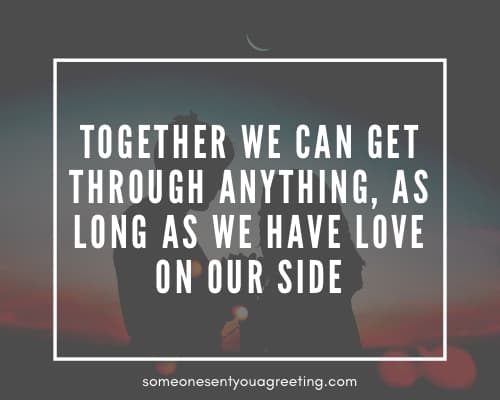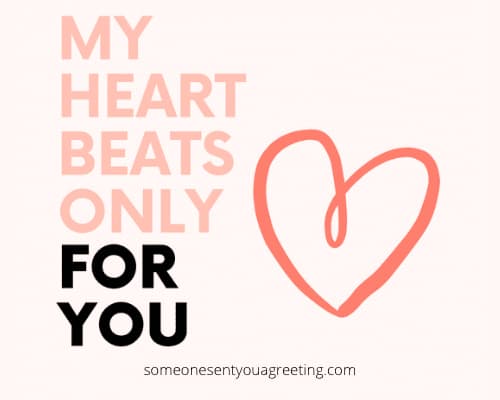 ---
Sample Love Message
Our aim is to make writing a love sms much simpler and allow you to be romantic and spontaneous. A good way to make your sms that extra bit special is by using your own words. Try personalizing our cute texts with a love quote for more inspirational words.
Funny Love Wishes
If you want to make the recipient of your SMS smile or have a laugh then try our funny romantic sayings. A funny message can still be loving and deep, whilst demonstrating your fun side too. So add in some humour and show your funny as well as romantic side.
---
Is it a problem if I bother you at work with a message to say I love you so much? Oh well, I've done it now!
I have nothing more to say than you're my light in the dark and my reason for being
You've got my heart, you have my love
The only reason I know true love is because of you
Your love inspires me like nothing else
God answered my prayers when I met you
With our love we will never be alone
You have brought a joy so pure to my life I can hardly believe it
There is nothing in this world I like more than cuddling up on the sofa with you
I will shout it from the rooftops so that everyone knows – I love you!
I lie awake thinking of how it's possible to love anyone as much as I do for you
You make colours brighter, tastes sweeter and the world a better place
My heart was locked to everyone until you found the key
---
I Love You Quotes
A love quote is a great way to express your feelings and really show you care, and you can find a whole range of touching love quotes right here. Send them in your text message or share them on Facebook to let others see just how much that person means to you.
Cute Love Sayings
A love poem for your boyfriend or girlfriend is another really good way to let someone know you're thinking of them. A poem that expresses your deepest feelings and shows what true love is will be received with warmth and gratitude.
I know I don't say it enough but I hope you know that you mean more to me than I could possibly hope to put in words
Just to see your smile is enough to fill my heart fit to burst
I am blessed to have the love of someone as amazing as you
Your love is the melody that makes my heart sing
I never dreamed I could be as happy as you make me
Everything in my life has lead me to you. I am made whole by your love
Was I just lucky to find the most perfect person who completes my life? Whether it was fate or chance I consider myself blessed like no other to have you
Your love is everything. It's all I have and it's all I need
Sometimes I wonder if I deserve all the love you give me
You give me something no one else can – you're undivided love. And I am so grateful
A little message of love to my one and only
All my fears, my worries and my stress float away when I think of the love of my life – you!
I wish everyone had the chance to feel the love I feel towards you
You bring more joy to my life than I thought was possible. Your love is everything
I close my eyes and am taken to the most wondrous thoughts of you. You are my dream, my muse and the most cherished thing in my life
Despite all my flaws you still love me through and through, and because of that I am the luckiest man alive
I can't begin to imagine what my life would have been like without you in it. I will never forget the way your love brought such warmth and light to my dark world
You are the best thing that has ever happened to me
If I could I would fall in love with you every day, again and again
Your love lights a fire in me I never knew existed
There are no words to describe your beauty and love. It can only be experienced
I will move heaven and earth to be at your side
You give my life a meaning it never had before. I am awestruck by your overwhelming love
That I get to spend my days with you by my side is all I ever wanted. I can face anything with the knowledge you're there for me
It may sound corny and cheesy but I love you with the very fibre of my soul
You're the inspiration in my life who's love strengthens me and gives me hope
I used to think true love was just for movies and TV – until you came into my life. I now know love is as real and alive as anything could be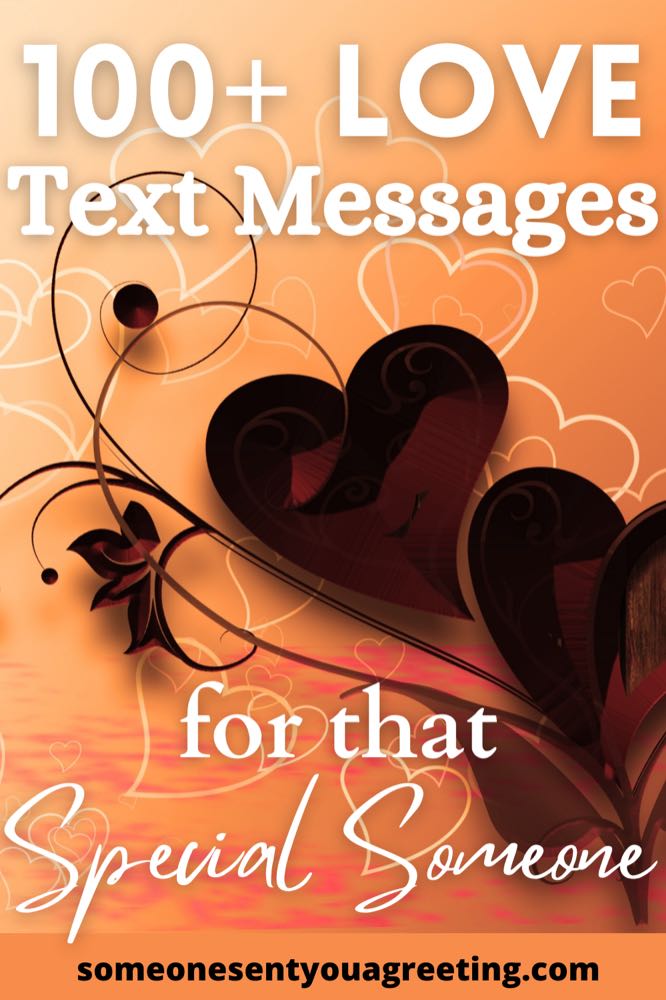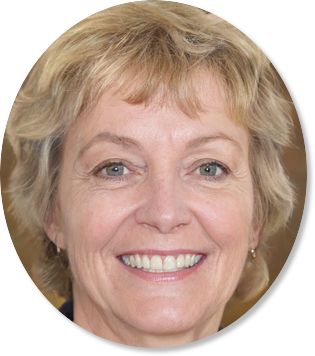 Sally Gibson is the founder of Someone Sent you a Greeting, a holiday/celebration website. Sally's writing work has been mentioned in Woman's World, Yahoo, Women's Health, MSN and more. If you have any questions get in contact with one of the team via the about page.