Your wife's birthday is a special day. It's a chance for you to celebrate the woman you love.
If you aren't sure how to say happy birthday to your wife then you aren't alone. Many husbands and partners struggle to find the right words!
So use these inspirational birthday wishes, messages and quotes to show your wife how much she means to you and to make her day memorable.
Birthday Wishes for Wife
Share these heartfelt messages and wishes to express your love on her special day.
Wishing the most beautiful and amazing wife a very happy birthday! You deserve all the happiness in the world, my love.
You are the love of my life and my best friend. I hope your birthday is as special as you are to me.
Thank you for filling my life with so much joy. I can't imagine what it would be without you, and I only hope your birthday is filled with as much happiness as you bring me.
A special day like today was meant for someone as special as you. May you enjoy every moment of your birthday and make memories for years to come.
I am the luckiest man alive to be married to such an incredible woman. Happy birthday to the most gorgeous and amazing wife in the world!
Every day with you feels like a gift, and one I feel like I hardly deserve. Thank you for being the light of my life, and on your birthday I hope you feel as loved and treasured as you are.
Wishing you a day filled with love and laughter. Happy birthday, my darling! I love you today and I always will.
Happy birthday to my loving wife! Every year with you is one I cherish and I can't wait to celebrate another milestone with you.
The day I married you was the happiest of my life. You bring me so much joy. Happy birthday from your devoted husband.
It may be your birthday today but every day with you feels like a celebration. I love you more than words can say, happy birthday my sweet wife.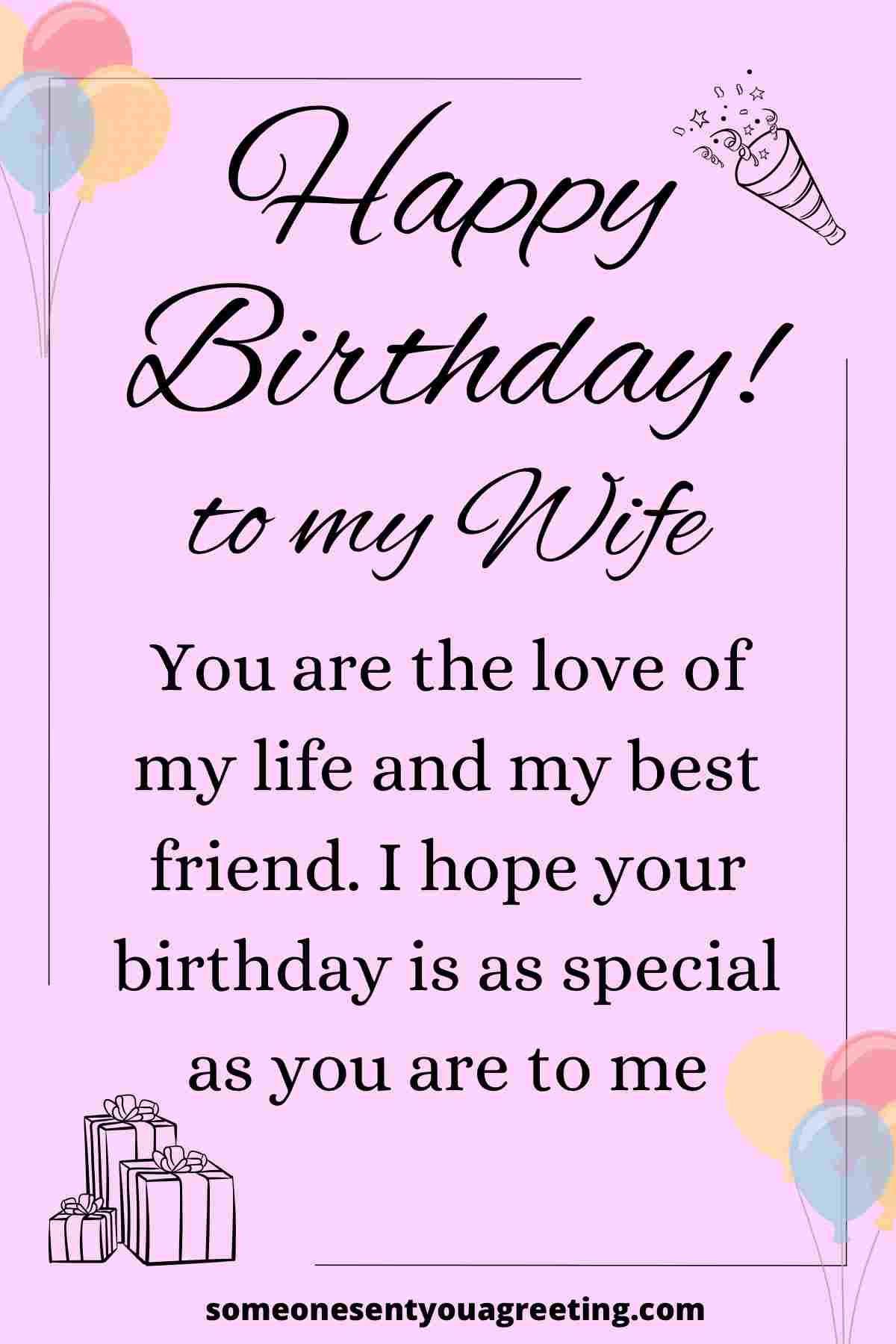 Romantic Birthday Wishes for your Wife
Add some romance to your wife's birthday with these passionate and intimate messages.
Happy Birthday to the love of my life. I am nothing without you and cherish every moment we are together.
On your special day I want you to know that my love for you only grows stronger with each passing moment. Happy Birthday.
To the most amazing woman in the world, you are just as beautiful today as the day I met you. Happy Birthday, my darling.
You have brought such joy and happiness into my life. You are the greatest thing to ever happen to me. I can't wait to celebrate even more amazing years together. Happy Birthday, my sweet wife.
On this special day, I want to remind you of how much you mean to me. You are more than simply my wife, you are my best friend and soulmate. I love you so much. Happy birthday.
You have always been by my side with love and support when I've needed it. I can't express how much you mean to me. On your birthday, all I can say is I love you with all my heart and always will.
Birthday Quotes for your Wife
Include a thoughtful quote that expresses your feelings for your wife on her birthday.
"The best thing to hold onto in life is each other." – Audrey Hepburn
"There is only one happiness in this life, to love and be loved." – George Sand
"To the world you may be one person; but to one person you may be the world." – Dr. Seuss
"In all the world, there is no heart for me like yours. In all the world, there is no love for you like mine." – Maya Angelou
"Love recognizes no barriers. It jumps hurdles, leaps fences, penetrates walls to arrive at its destination full of hope." – Maya Angelou
"We loved with a love that was more than love." – Edgar Allan Poe
"Where there is love there is life." – Mahatma Gandhi
"The best thing to hold onto in life is each other." – Audrey Hepburn
"Love doesn't make the world go round. Love is what makes the ride worthwhile." – Franklin P. Jones
"Grow old along with me! The best is yet to be." – Robert Browning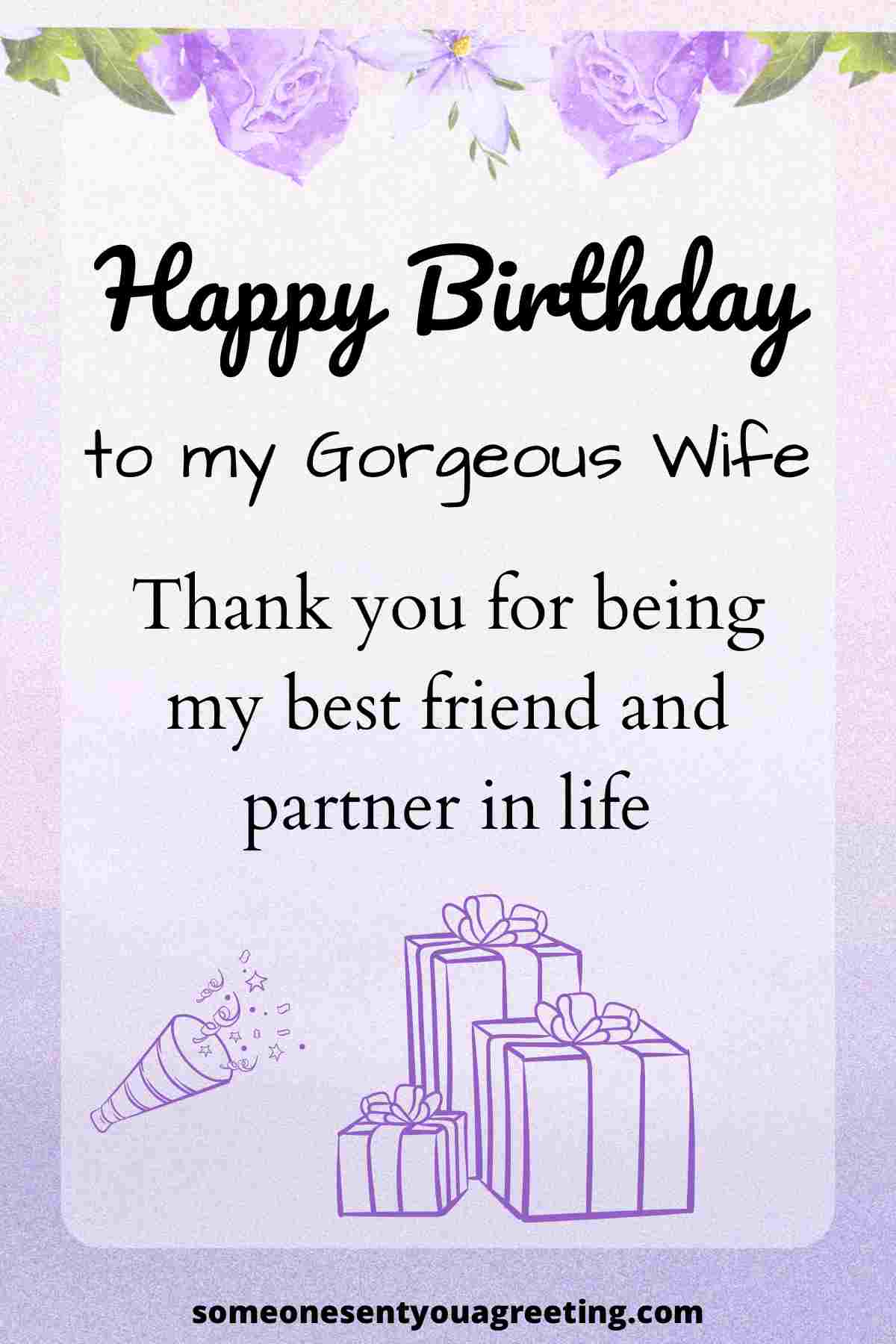 Happy Birthday to My Loving Wife
Try using these examples to help you write a personalized message to make her birthday that little bit more special.
Happy birthday to my gorgeous wife! Thank you for being my best friend and partner in life.
Wishing the woman who makes my world go round a very happy birthday! Here's to today being a wonderful day.
To the sweetest wife there ever was – happy birthday. Always know how much I love and care about you.
Happy birthday! Another year has passed with the woman I love and it's another year I feel privileged to spend with someone as special as you.
I hope you have another hundred birthday's we can celebrate together! Happy birthday my love!
May all your birthday wishes come true today my beautiful wife. You deserve it all.
On your birthday I hope you know how much the whole family loves you. We wish we could express those feelings better than this simple message but always remember you are the most special person to us. Happy birthday my darling wife.
May your birthday be full of lots of laughter, fun and maybe a few presents too! Happy birthday to the best wife.
What could be more fun than celebrating my perfect wife's birthday. You haven't aged a day since we first met and I love you even more now than I did then. Happy birthday!
Have a wonderful birthday and enjoy all the love and wishes coming your way. You're the most incredible wife and mother.
Funny Birthday Wishes for your Wife
You want your wife's birthday to be fun. So use these funny messages to give her a laugh on the big day.
Happy birthday to my wonderful wife! Don't worry, I promise I won't remind you of your age…
Hope your birthday is as amazing as you are, honey. And I got you the one thing I know every wife wants – a vacuum cleaner!
Happy birthday to my wife! Congratulations on turning 40 (for the 3rd year in a row!)
Happy birthday, darling! You're like a fine wine – only getting better with age… and sometimes you make me feel a little tipsy too!
To the love of my life, happy birthday. Remember – age is just a number… a really big and scary number!
Best wishes to the most awesome woman I know. A little piece of advice today: don't count the candles, just enjoy the glow!
Happy birthday and thank you for putting up with me for another year! You deserve a medal not a cake!
Happy birthday! We all got together and made you this lovely cake.. we wouldn't recommend you actually eat it though!
Belated Birthday Messages for your Wife
If you're late or forget your wife's birthday then you can make for it with these heartfelt belated birthday messages.
I'm so sorry my love. Please accept my sincere apologies for these belated wishes. I hope you can forgive me and know that I'll be wishing you a year full of happiness and laughter.
Better late than never! Wishing the most amazing wife a very happy belated birthday!
Please forgive me for the late birthday message! You know I wouldn't have forgotten if it wasn't a really good reason (I just need to think of one!)
I'm so sorry I missed your special day. Work has been so busy. But I'll be sure to celebrate properly when I'm home!
Apologies for missing your big day. You know how much you mean to me and that I would have been there if possible. Instead I'll send my belated birthday wishes and see you soon.
I feel terrible for not wishing you a happy birthday on time. Forgive me? I'll make it up to you, I promise.
I know I'm a little late but I hope you had a great birthday. I'll make it up to you with kisses!
I'm so rubbish at remembering your birthday! I'm really sorry and hope we can still enjoy some time celebrating your big day.
I hate the fact I had to miss your birthday but I hope you had a great day. Love you lots and can't wait to see you soon.
Sending belated but loving birthday wishes. I miss you and am so sad to not be there for your birthday.
I hope you have found these birthday wishes for your wife helpful. Use them as inspiration to wish your wife a very happy birthday and tell her how much she means to you on her day.
More Birthday Wishes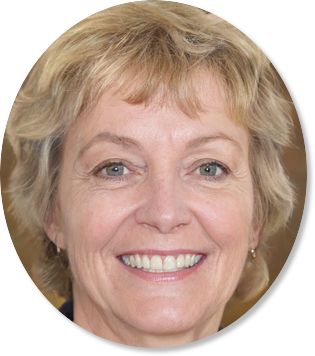 Sally Gibson is the founder of Someone Sent you a Greeting, a holiday/celebration website. Sally's writing work has been mentioned in Woman's World, Yahoo, Women's Health, MSN and more. If you have any questions get in contact with one of the team via the about page.