Celebrate your fathers birthday and show him how much he means to you. Reach out to him with a thoughtful message on his birthday.
If you're not sure what to say though then you're in good company. It's hard to find the right words to express how you're feeling.
So use these heartfelt birthday messages, funny wishes and touching quotes to make his day memorable. Get inspiration for the perfect birthday note for your dad.
Birthday Wishes for Dad
Share a thoughtful birthday message with the man who helped raise you. Show him you appreciate everything he's done for you over the years with these example wishes.
Dad, your love and support means everything to me. Thank you for always being there for me. Have an amazing birthday!
I appreciate your constant support and love. Thank you for helping me become who I am today. Happy birthday!
I hope your birthday reminds you of all the special memories we've shared. I treasure them just like I treasure you. Happy birthday dad, you mean the world to me.
Today is your day, dad! Sit back, relax and let us treat you like the king you are. Happy birthday!!
Thanks for always being there no matter what, dad. Hope you have a wonderful birthday surrounded by loved ones.
Your advice and wisdom has always guided me well throughout life. I owe you so much. On your birthday I hope you know how much I look up to and admire you.
The older you get the more I appreciate everything you've done for our family. Enjoy today – you've earned it!
I hope your birthday is as amazing as you are! We love you so much.
Happy birthday to the world's best dad! You're the glue that holds our family together and we love you with all our hearts.
We are so blessed to have you in our lives. Have the best birthday and enjoy every moment of it.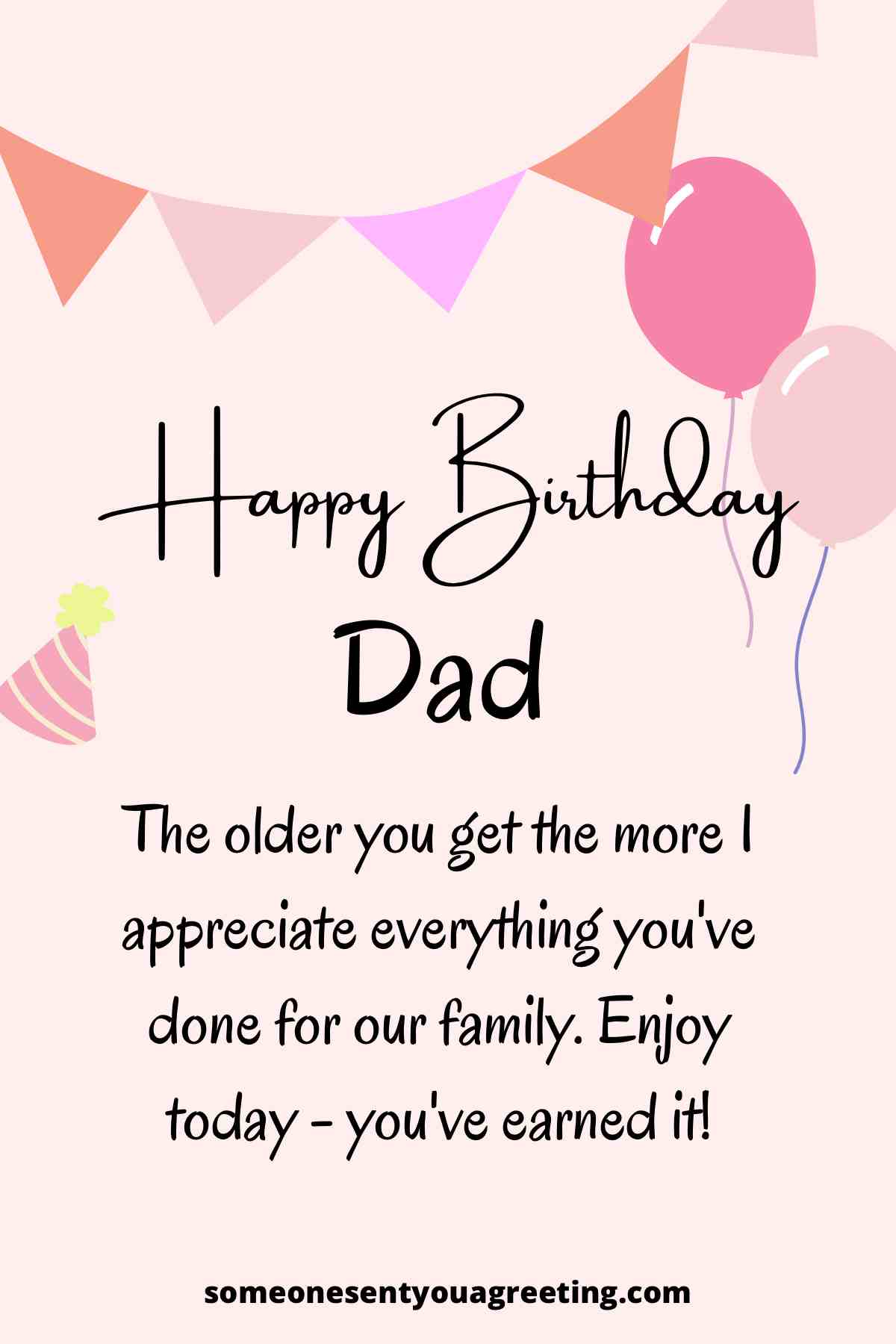 Happy Birthday Messages for your Dad
On his special day, let your father know how much you appreciate him with a heartfelt birthday message. These happy birthday wishes will make him smile.
Dad, thank you for supporting me in everything I do and being my biggest fan. Happy birthday from your loving son/daughter.
Happy birthday to the world's most reliable father. You never let me down! Have a fantastic day.
Today is all about celebrating you! And that's what we're going to do! So look forward to a lot of fuss and attention today. Enjoy it all, Dad, because you deserve it.
Wishing the greatest father in the world an amazing birthday! I promise it will be a good one!
Dad, I am who I am because of the guidance and love you have always provided. I can't thank you enough for everything you've done. Happy birthday from an always appreciative daughter/son.
Happy birthday to my role model and superhero! You may make me cringe a lot but I still think you're awesome!
I've learnt so many life lessons from you dad and feel able to tackle any challenge that comes my way. Thank you for teaching me so much. Happy birthday.
May your birthday today be full of joy and laughter. All the family will be by your side to celebrate a very special day.
Sending the happiest birthday wishes to you dad! Enjoy your day and let us pamper you for once!
Today we celebrate you, dad! After doing so much for all of us it's your turn to kick back and have some fun. So have a brilliant birthday!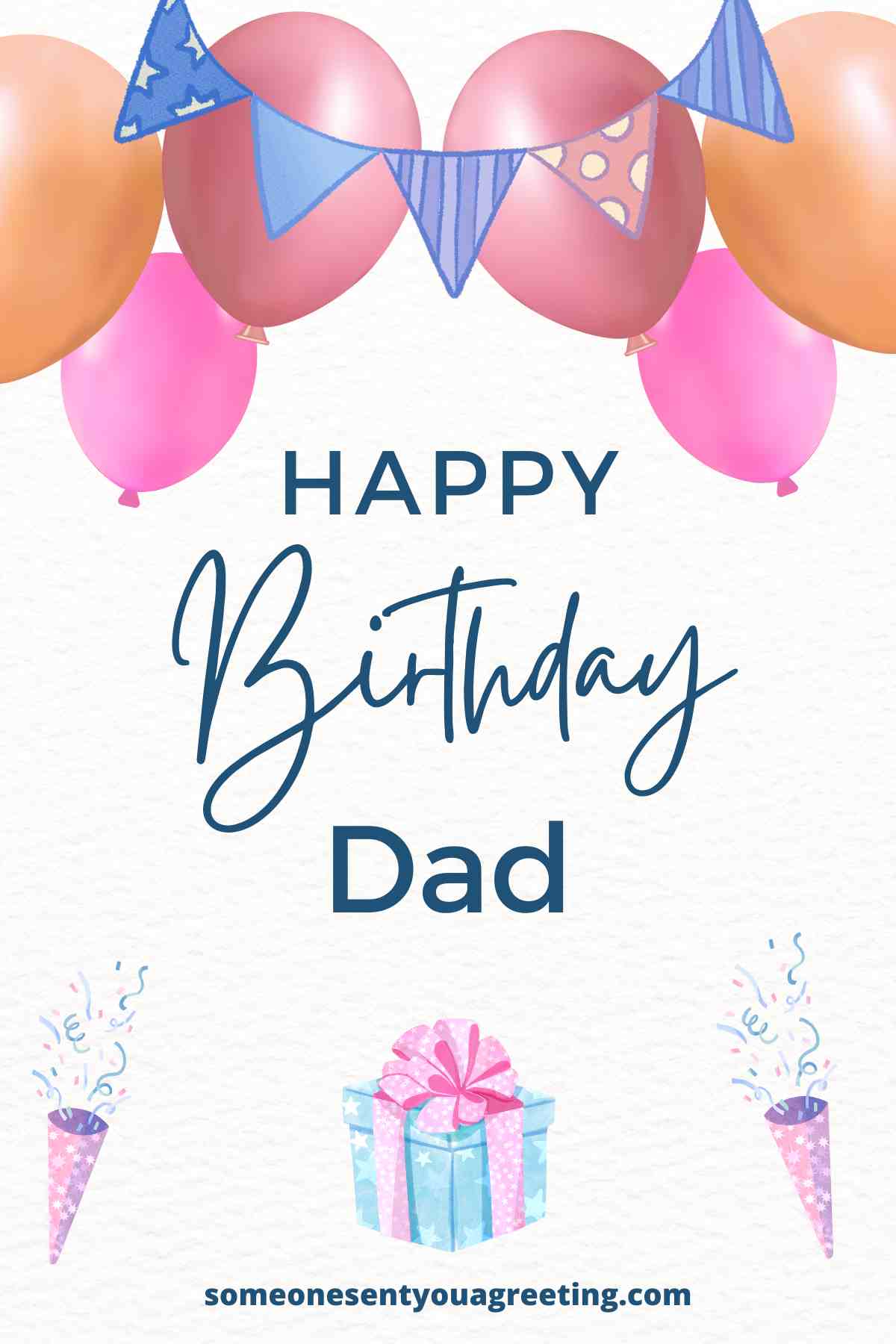 Birthday Quotes for your Father
You can share with your dad an inspiring quote about fatherhood on his birthday. The following quotes are a great way to show the bond between a father and child.
"A father is someone you look up to no matter how tall you grow."
"The heart of a father is the masterpiece of nature." – Antoine F. Prévost
"My father gave me the greatest gift anyone could give another person: He believed in me." – Jim Valvano
"A father's smile has been known to light up a child's entire day." – Susan Gale
"Old as she was, she still missed her daddy sometimes." – Gloria Naylor
"It is admirable for a man to take his son fishing, but there is a special place in heaven for the father who takes his daughter shopping." – John Sinor
"There will always be a few people who have the courage to love what is untamed inside us." – Alison Lohman
"I've said it before, but it's absolutely true: My mother gave me my drive, but my father gave me my dreams. Thanks to him, I could see a future." – Liza Minnelli
"Any man can be a father, but it takes someone special to be a dad." – Anne Geddes
"When I was a boy of fourteen, my father was so ignorant I could hardly stand to have the old man around. But when I got to be twenty-one, I was astonished at how much he had learned in seven years." – Mark Twain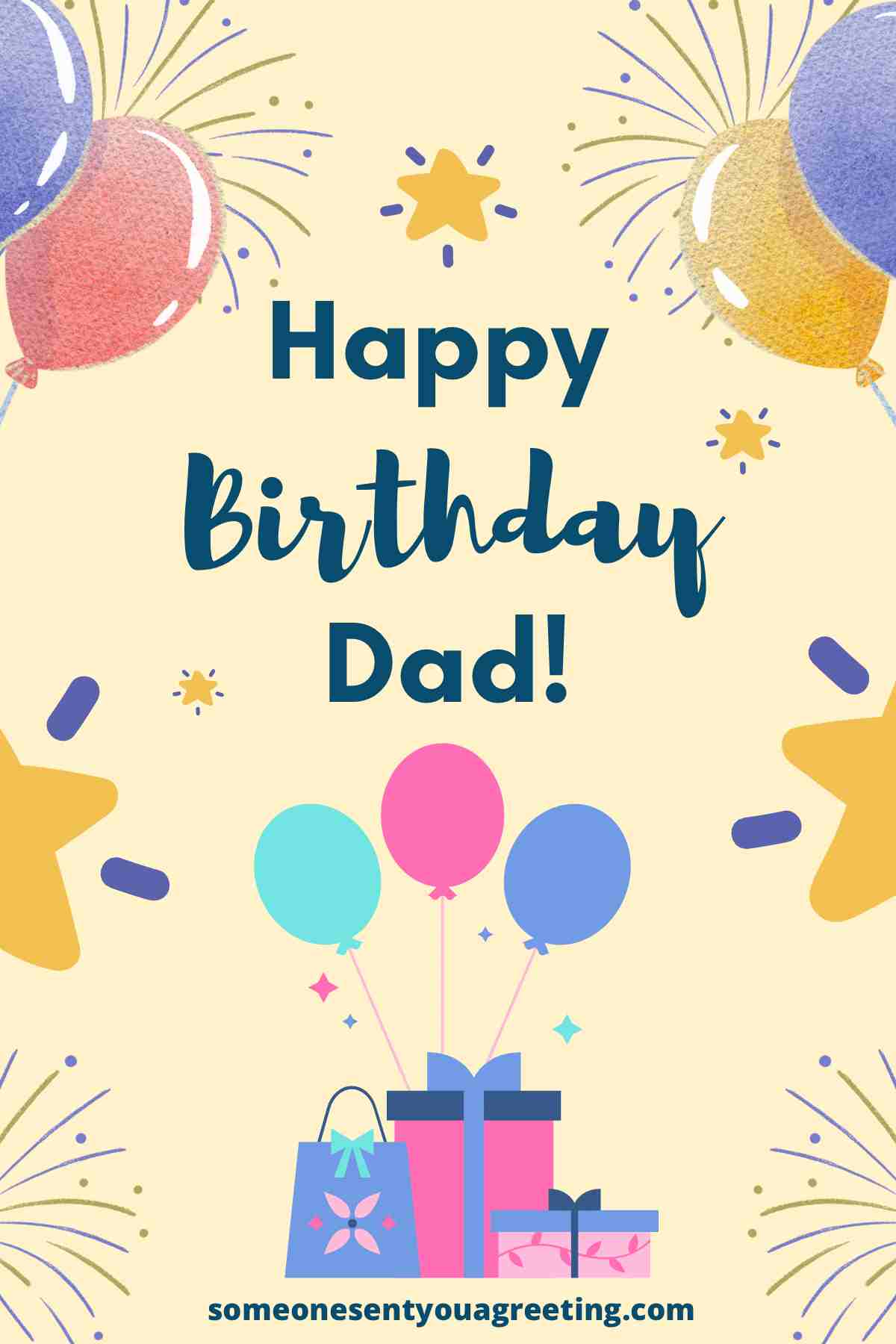 Funny Birthday Wishes for your Father
Give your dad a laugh on his special day with these funny birthday messages. Some humor and gentle poking fun at your dad on his birthday is a great way to celebrate with him.
Birthdays are nature's way of telling you to eat more cake. Enjoy it today, dad!
Feel free to be as grumpy as you want today – it is your birthday after all! Love ya, dad.
You're not getting older, dad, you're just getting wiser. Although I think we both know that's a lie! Happy birthday!
Happy birthday to the dad who raised the best kid ever. Oh wait, that's me!
I hope all the candles on your cake don't set off the smoke alarm! Only joking. Happy birthday, old man!
Happy birthday to the man who taught me everything… which explains why I'm so useless!
To the man who always claims he knows everything, happy birthday dad! Here's to another year of us pretending to listen to your 'expert' advice!
No one tells a dad joke like you do! Happy birthday to our resident comedian!
Birthday Wishes for your Dad from a Daughter
Happy Birthday dad. You are the most caring and loving man in the world and you mean absolutely everything to me.
Dad, you're my hero, my role model, and my greatest inspiration. On your birthday I'm reminded of how much I look up to you and how much you've achieved. Have a fantastic birthday.
You've given me such love and support I can't begin to find the words to say how grateful I am. Happy birthday, dad.
Whenever I've needed help I've looked to you for guidance and wisdom. You're my rock and you always will be. Happy birthday.
To the man who taught me so much and kept me going – happy birthday. I am proud to be your daughter.
Birthday Wishes for Dad from a Son
You've been my mentor and guide as I've grown. If I become half the man you are I'll be pleased. Happy birthday, dad.
You've taught me the value of hard work and integrity. Thank you for your strength and patience. Have a wonderful birthday.
You're not just my father, you're my role model and my best friend. And so I hope you have a brilliant birthday!
I am the person I am today because of your influence and guidance. I have you to thank for so much. So have an amazing birthday.
On a special day like today I want to say how grateful I am for everything you've done for me. There's too much to list but you know that I am indebted to you for giving me the best start in life. Thank you and happy birthday.
Belated Birthday Messages for your Father
If you've missed your dads birthday for some reason then you can still send some wishes. Your dad will appreciate receiving a belated birthday message. It's never too late to tell him how much he means to you.
Dad, I'm so sorry for being late with this message but I hope your birthday was as special as you are to me! Love you.
Big apologies for the delay. Wishing you all the best on your birthday and always dad!
I can't believe I forgot your special day. I'll make it up to you dad, I promise. Hope you can forgive me!
Please forgive my belated birthday wishes. I'm thinking of you always dad and I will see you soon!
I feel terrible for missing your birthday. I can only hope you had a great day and celebrated with loved ones. I'll make it up to you for missing it.
I'm kicking myself for how late I am! No excuses, I just forgot and feel awful about it. I really I hope your birthday was amazing though.
Better late than never, as they say! I hope your birthday was a great one, dad. Love you lots.
So sorry for missing your special day. I've been so busy at work I couldn't get away. May these belated wishes make up for it, if only a little bit!
Hoping you had a wonderful birthday even without my birthday message! I'm sure you coped but I wanted to say sorry for being late.
I know, I know, I'm the worst for forgetting your birthday. I'll make it up to you this weekend. It'll be something worth waiting for!
More Birthday Wishes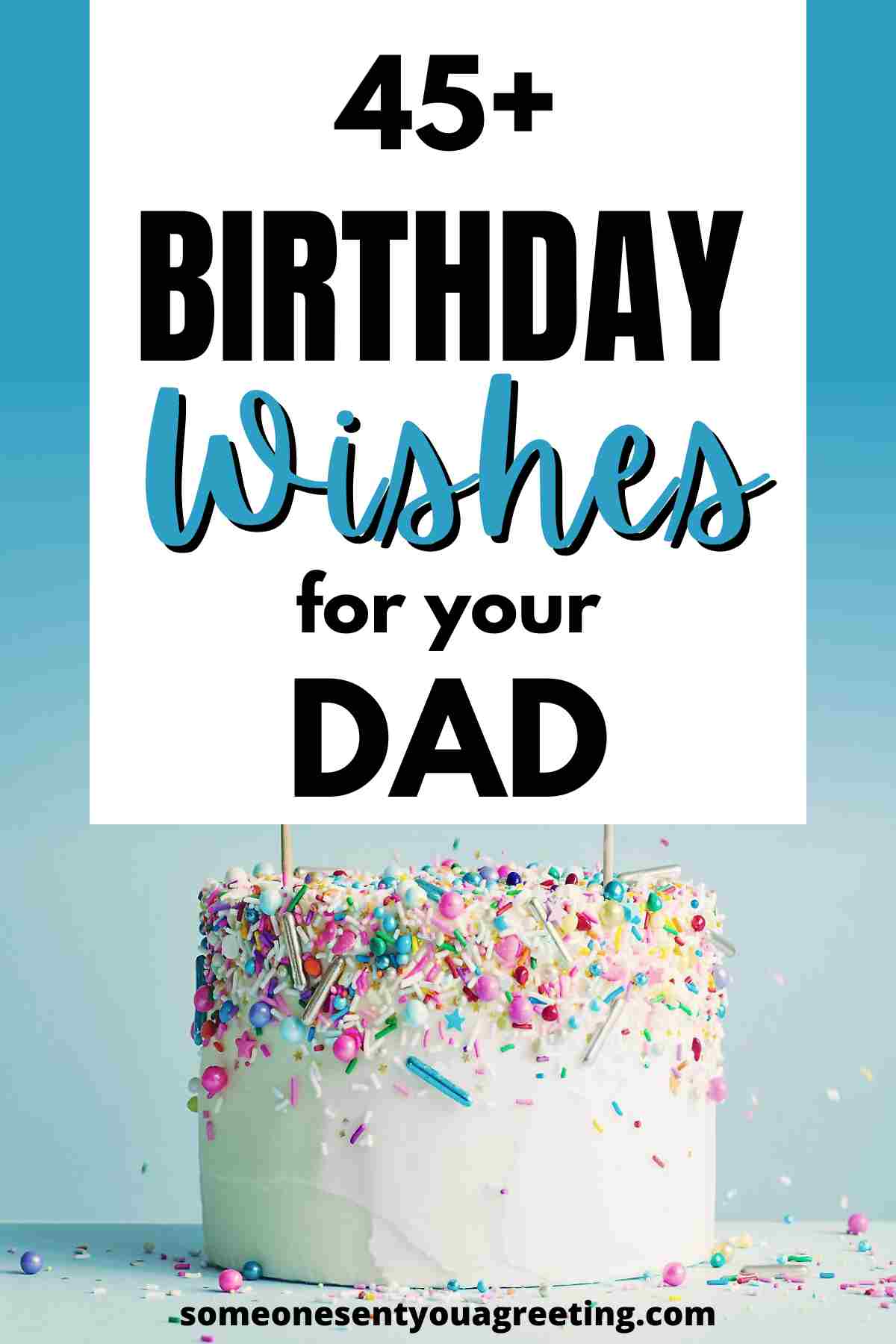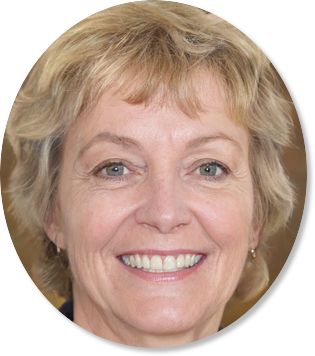 Sally Gibson is the founder of Someone Sent you a Greeting, a holiday/celebration website. Sally's writing work has been mentioned in Woman's World, Yahoo, Women's Health, MSN and more. If you have any questions get in contact with one of the team via the about page.