Birthdays are fun. They're meant to be a day of celebration and happiness. But when we send birthday wishes or messages they tend to be boring and repetitive.
How many times have you heard or seen a variation of "happy birthday, have a really great day!". It's a bit overdone.
So how does a huge list of clever and funny ways to say happy birthday that will make you seem hilarious sound?
You don't even have to give us credit! You can pretend you thought them up all by yourself.
Hopefully they'll give the birthday boy or girl a laugh or smile and be something original they receive on their big day.
Funny Ways to Say Happy Birthday
Use these funny birthday wishes as a way to say happy birthday to a friend or loved one and put a smile on their face.
1. Go easy on these birthdays. Too many will eventually kill you.
2. Another year without dying. Good on you!
3. Didn't we just celebrate this like a year ago?
4. Happy better than the alternative.
5. If you count the day you were born as your first birthday, you are actually a year older than you think you are. Just sayin'
6. I wish you a happier birthday than anyone else has wished you.
7. I noticed in the right column of my Facebook timeline that today is your birthday. I am now writing a message of acknowledgement and well wishes, as is the socially appropriate custom.
8. Happy anniversary of the day you were abruptly ripped from the warm comfort of your mother's womb into this cold, unforgiving world.
9. Defriend all of those who did not recognize the anniversary of your existence.
10. Happy birthday to you and 1 in 365 people worldwide.
11. I'm going to overlook the existential futility of life for a moment and wish you a happy birthday.
12. Wee! Another spin around the sun!
13. Happy year-older-you day.
14. Ebola. Hurricanes. Earthquakes. Tornadoes. Overdose. Car accidents. Murderers. Meteorites. Autoerotic asphyxiation. Quicksand. Congratulations. You've beat 'em all for another year.
15. It's your birthday, yet you are a gift to the world.
16. You're still hot after all these years… just not as hot as your birthday cake will be once all those candles are lit!
17. Your birthday is the perfect time to recognize all your wonderful qualities, including the fact that you're older than me.
18. Did you know that birthdays are good for you? Studies have shown that the more of them you have, the longer you live!
19. Yours is one of increasingly fewer birthdays I approve of.
20. Don't fret over another birthday. You were already old.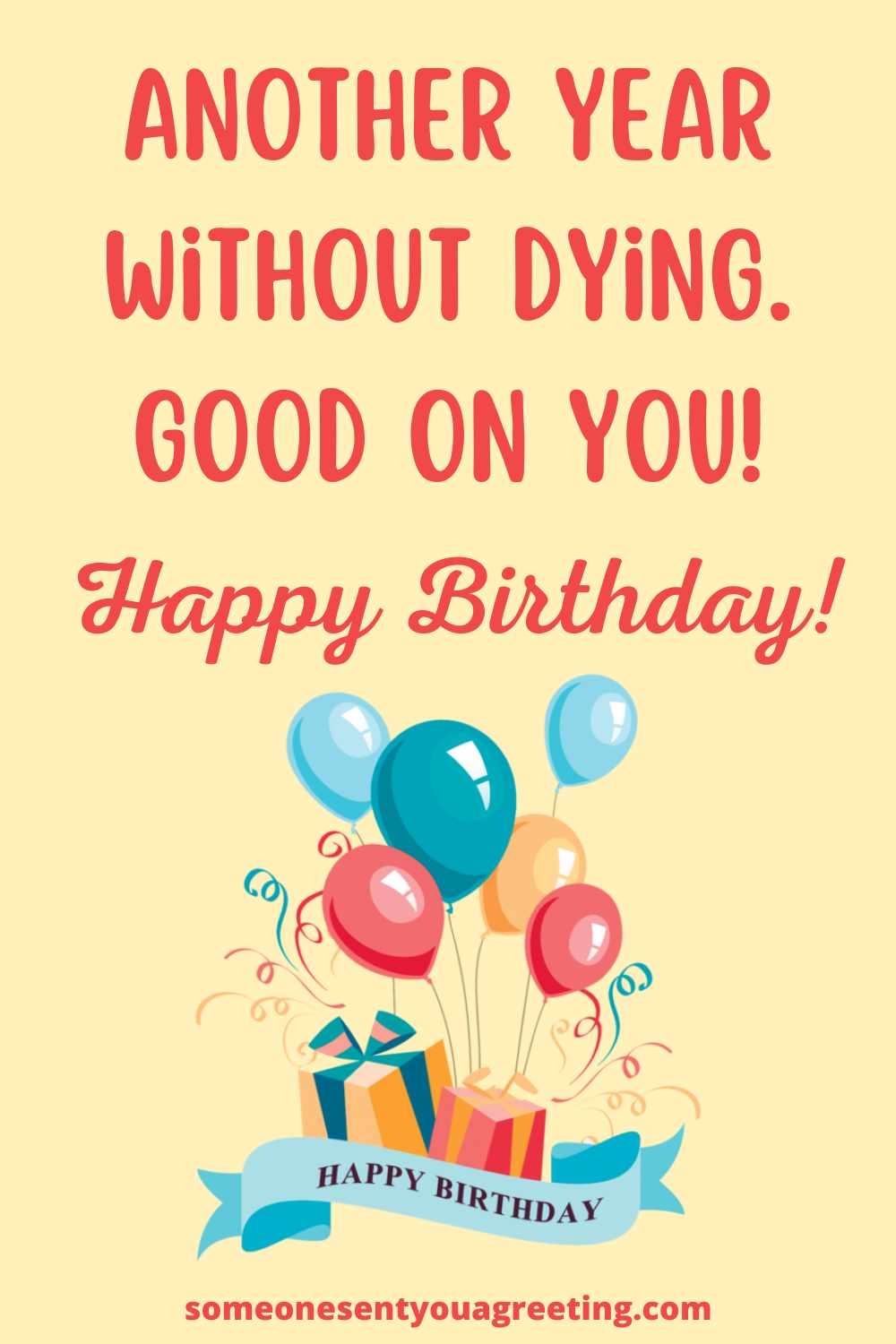 READ MORE: The Best Funny Birthday Wishes: 45 Hilarious Examples
Creative Ways to Say Happy Birthday
Some birthday messages are boring and overused. These creative birthday wishes are a different way to say happy birthday.
21. Your birthday cake has an impossible job. Because no one holds a candle to you.
22. Another year, another 584 million mile trip around the sun. May your next lap be your best yet.
23. Of all the people I know, you are one who's birthday is today.
24. Enjoy the dash between the two dates on your tombstone.
25. Don't worry about turning a year older. Pretty soon you won't be able to remember your age anyway.
26. Congrats on escaping the womb many years ago.
27. Happy stuff your face with cake day!
28. I always limit my budget on buying birthday gifts according to what that person gave me as a gift on my birthday. Enjoy your gift of nothing!
29. May the best of your birthdays be today, and today be the least of the best yet to come.
30. Wishing you happiness despite hardship, success despite struggle, and a birthday that becomes memories of dancing gold.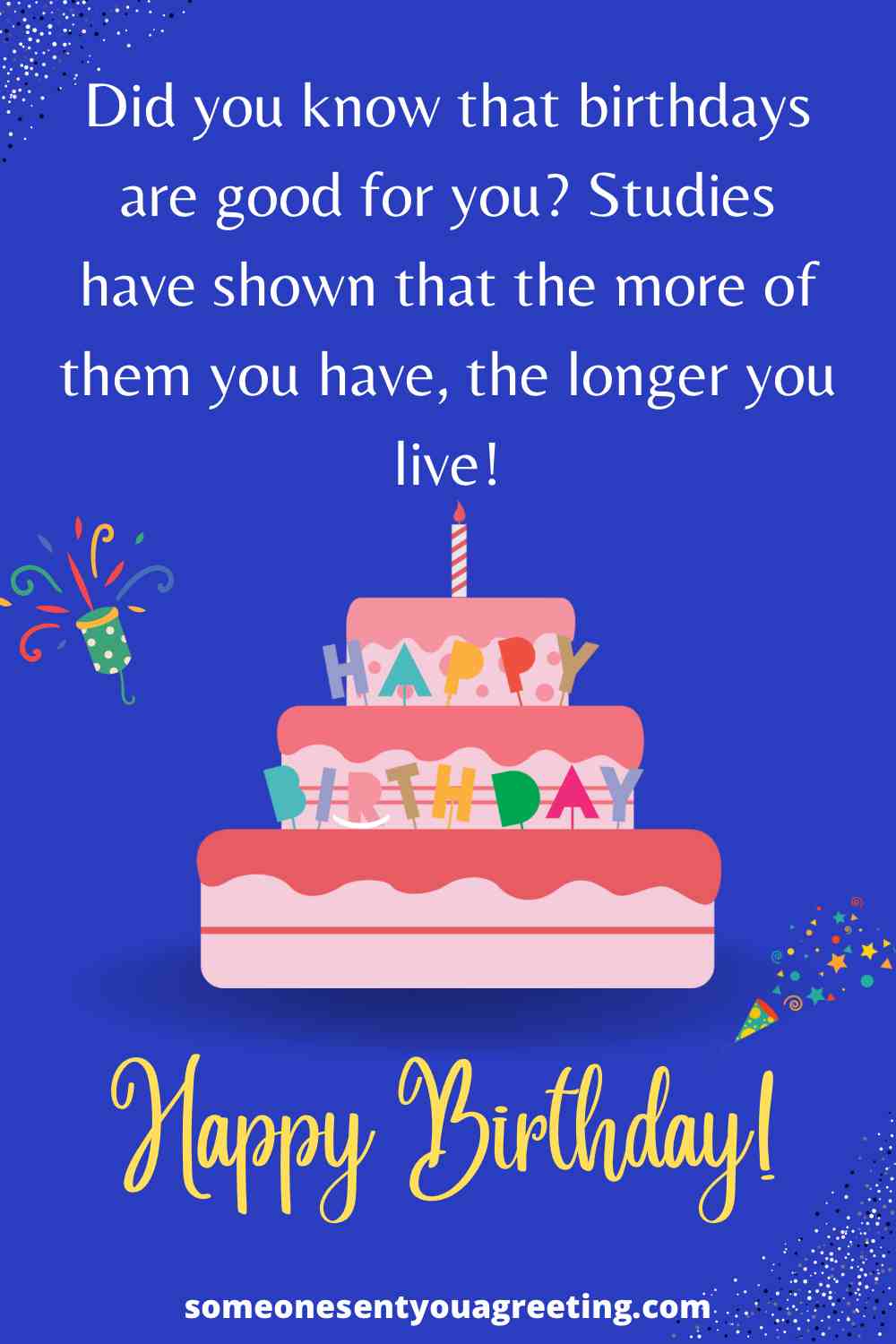 READ MORE: The 41 Best Ways to Say Thank You for Birthday Wishes
Rude Ways to Say Happy Birthday
Some people don't mind sarcastic or rude birthday messages. The sort of things that really stick the knife in and make fun of how they're getting. Use these rude birthday wishes if that's the sort of way to say happy birthday you're looking for.
31. Happy increased-likelihood-of-getting-oral day.
32. I don't know how you made it over any hill with gravity pulling everything else down!
33. Happy anniversary of the nine-month anniversary of your mom getting laid. Oh, and tell your mom happy one-day anniversary of that again tomorrow night.
34. Have a happy birthday. That's an order, maggot.
35. Happy 'over the hill' day!
36. Happy day you came out of your mom's vagina!
37. I didn't get you a gift or a card, but please accept this half-assed Happy Birthday wish sent via social media.
38. Happy oldest-you-have-ever-been and youngest-you-will-ever-be-again day.
39. Tell me again: how old you are? Wasn't your childhood pet like.. a dinosaur? Ha ha… happy birthday you ancient old, awesome human.
40. Before I found Pinterest, you were the most creative, interesting, and coolest person I knew. Well, nice job for trying. Happy birthday.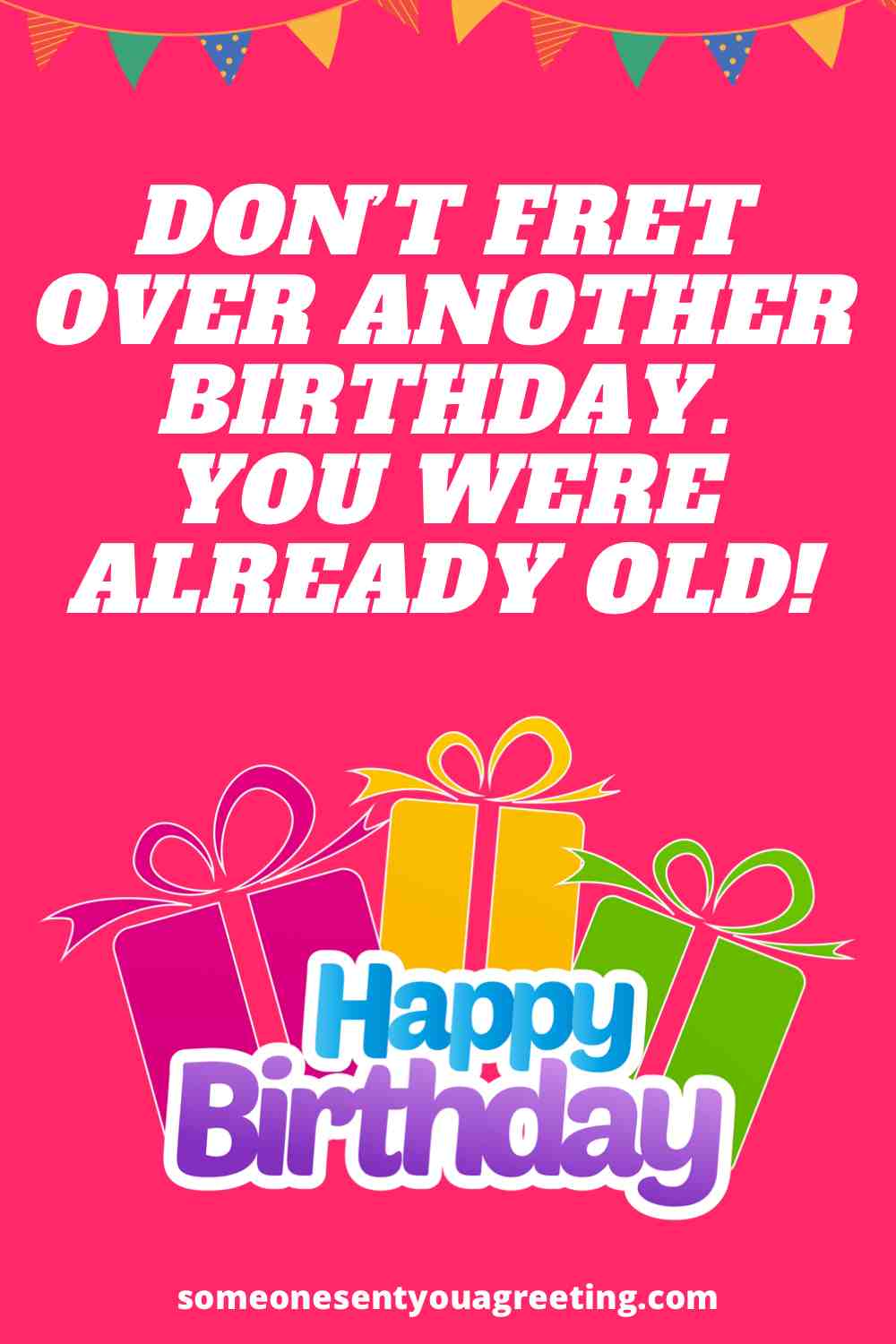 READ MORE: Birthday Wishes for Colleagues and Coworkers
Funny Ways to Wish Someone a Belated Happy Birthday
Sometimes we forget birthdays. It happens, right? A good way to avoid the birthday boy it girl getting too mad is with a funny belated message.
39. I know I'm a little late but that's only because I wanted to be the last one to wish you a happy birthday!
40. You know what they say – if somebody forgets your birthday you don't get any older – you're welcome!'
41. Sorry I forgot your birthday – here's an excuse to make today all about you too!
42. Why celebrate a birthday when you can have a birth-week/month? Happy birthday!
43. Sorry I missed your birthday… hopefully you'll have another one next year…
44. I'm sorry my birthday wishes are belated—I honestly didn't think you'd live this long. Happy birthday!
45. You're amazing, wise, super cool, fantastic, brilliant, intelligent – but don't get too excited. I'm only saying all these things because I'm a couple of days late! Happy birthday!
READ MORE: Belated Birthday Wishes and Messages
Hopefully you've enjoyed these different and funny ways to say happy birthday to someone. Birthdays are all about having a good time and enjoying the day and now you can contribute to that fun with a funny birthday message.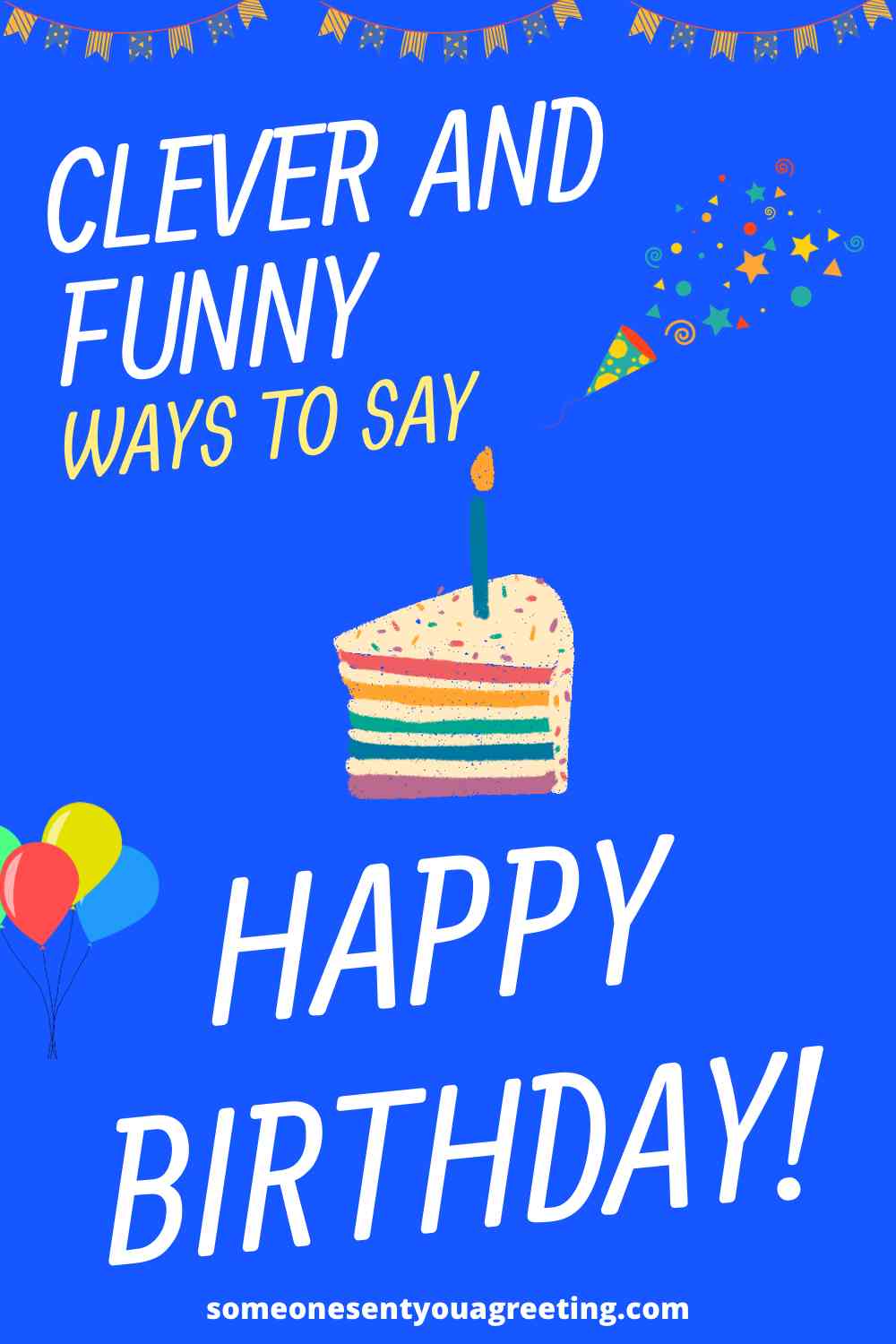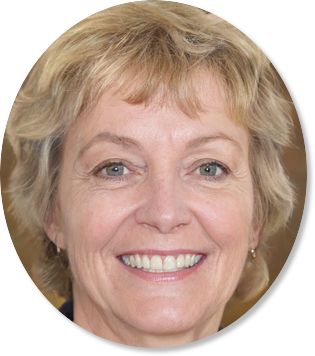 Sally Gibson is the founder of Someone Sent you a Greeting, a holiday/celebration website. Sally's writing work has been mentioned in Woman's World, Yahoo, Women's Health, MSN and more. If you have any questions get in contact with one of the team via the about page.