Getting a new job or promotion is a major achievement. It's a huge milestone in a persons life, and something many strive for.
So when someone you know, be that family member, friend, colleague or even boss gets that new job they've been after it's only polite to congratulate them on their success. It's a simple but touching gesture, and if we're looking at it from a selfish point of view, keeping that connection with a colleague at a new company could be beneficial to you in the future. They may even be a client of yours in the future!
You can send them a quick note with a simple message, or a congratulatory card to wish them well. You may prefer to write them a letter though, or if it's a colleague or someone you don't know as well then a formal email may be more appropriate.
So use one or some of the congratulations messages below to inspire your own or copy them directly as they are.
Congratulations on a New Job Messages
These are some short and simple wishes congratulating a person on their new job or promotion. Use them in cards, a note or even on social media like Facebook or Twitter.
Congratulations on your new job! I knew you'd get it!
It was a pleasure to work with you and I wish you all the success in your new position. Congratulations
We're all going to miss you so much! But we're so pleased for you as well. Congratulations!
Huge congratulations on the well deserved promotion. You earned it
It's a mystery it's taken so long for your talents to be truly recognised! But better late than never. Congratulations on a very deserved new position
I know how much you wanted that new job so I'm delighted you've finally got it! Well done and congratulations!
Best wishes and congratulations on your new job
I hope your new job brings you greater fulfilment and enjoyment in your work. Congratulations
Congratulations on taking a chance and making your dreams come true! Go get 'em!
This is just the beginning of a new and exciting chapter in your life. Enjoy your new job
Your new job sounds like the perfect position for you! All the best and good luck!
I wish you all the success and happiness in your new job
I won't lie, I'm sad you're going to be leaving. But really pleased for you, and wish you all the best. Congratulations!
We're all going to miss you so much but excited for your new chapter. Best of luck from all of us
You've proved that hard work, dedication and loyalty are the path to success. Congratulations on the promotion!
Congratulations! You've grabbed your chance, taken the opportunities presented and are seeing the rewards of your hard work.
Our loss is your new employers gain. We'll miss you. Good luck
It sounds like a once in a lifetime opportunity. Go grab it and make your dreams come true! Congratulations
The office just won't feel the same without you. I'm really going to miss you. But congratulations and best wishes
You've been like a mentor to me and taught me so much. Thank you and best of luck with your new job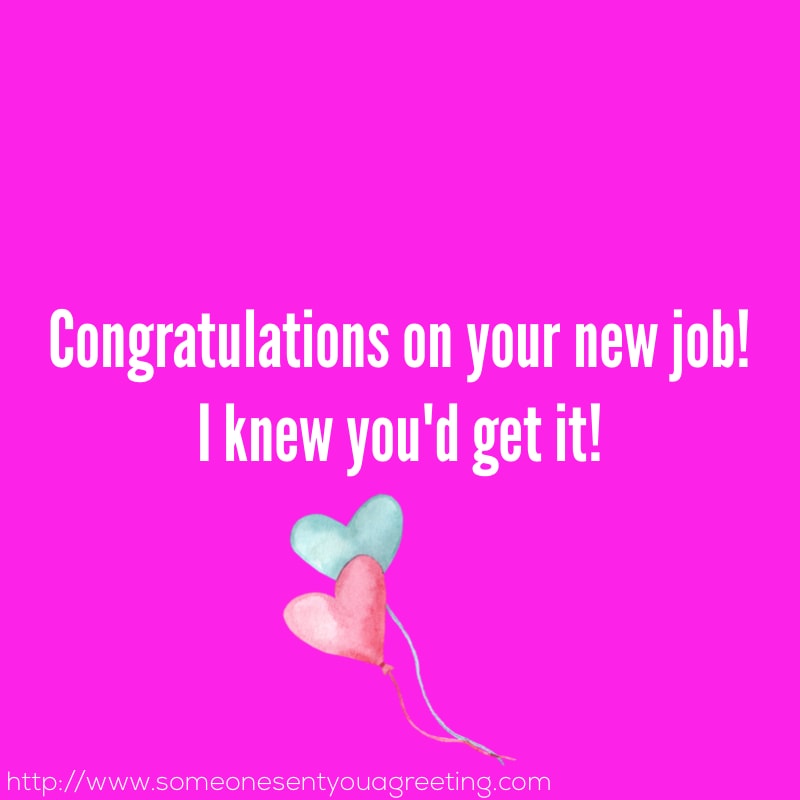 New Job Quotes
Including an inspirational or touching quote in your note or card is a great way to motivate the recipient. It can help to remind them of what it took to get where they are or to never stop striving for future success. See some great quotes below:
"The only way to do great work is to love what you do. If you haven't found it yet, keep looking. Don't settle." – Steve Jobs
"Choose a job you love and you'll never have to work a day in your life." – Confucius
"If you don't feel it, flee from it. Go where you are celebrated, not merely tolerated." -Paul F. Davis
"Opportunities don't happen, you create them." – Chris Grosser
"Wake up with determination and go to bed with satisfaction." – Unknown
"Find out what you like doing best, and get someone to pay you for doing it." – Katherine Whitehorn
"The future belongs to those who believe in the beauty of their dreams." – Eleanor Roosevelt
"Keep away from people who try to belittle your ambitions. Small people always do that, but the really great make you feel that you, too, can become great." – Mark Twain
"There are no shortcuts to any place worth going." – Beverly Hills
"The future depends on what you do today." – Gandhi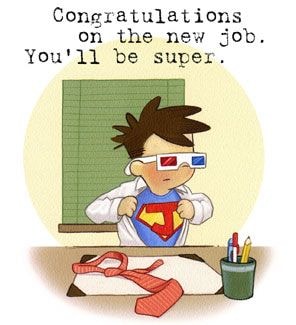 New Job Funny Quotes
A new job can also be the time for humour. Put an even bigger smile on someone's face with a funny joke or poke some fun at them over their new job or promotion.
You were too good for this place anyway!
Thank God you're leaving!
Congratulations in finding a new job before you seriously injured someone at your old one!
Here's to your new job and no one finding out how much you lied on your application
Congratulations on your new job! We knew that you could beat the embezzlement charges and get back out there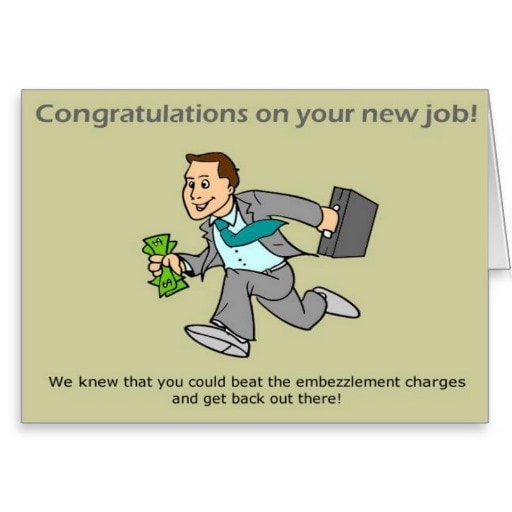 How to Write a Congratulations Letter or Note for a New Job
Writing a congratulatory letter, email or note to someone doesn't have to be difficult. There are a few things to consider though.
Remember to keep in mind who you're writing your note or letter to. If it's a co-worker or friend then you can be a lot more informal and even jokey than if it were a boss or manager. Otherwise stay formal and respectful of the senior personnel.
Even if the letter/email/note is to a colleague or friend try to remain somewhat professional. From a personal perspective keeping a network of business friends is important to your own career and so making sure you maintain a good impression is necessary.
What to Say
Don't worry about making it too wordy or complicated. Congratulating is, obviously, the main thing you should be aiming to get across.
Whoever the recipient is make it clear you are pleased for them and wish them all the best in their new job.
If it's for a coworker or colleague you will probably want to mention how you and everyone will miss them at the office. If you've worked closely with them at any point then you can take the opportunity to reminiscence on the successes or funny times you had together.
If the note/letter/email is to a colleague who you haven't seen recently then you can mention where you found out about their new job. If it was through another colleague or friend, or even on something like social media then you can let them know. You can also ask to meet them for a drink or coffee if you want to catch up or offer your support in person. If so then don't forget to include your contact details like phone number or email address.
Maintaining a relationship with someone after they have left your company is not only polite but could lead to further opportunities for yourself that you wouldn't want to miss out on.
Congratulations Letter Examples
If you'd prefer to send a more formal letter then use some of the examples below as an inspiration.
Dear _____,
Congratulations on your new position. I've no doubt your skills will be a great asset to your new employers and the amount of experience you have a valuable addition to their organisation.
We're all going to miss you here and I know I'm speaking on behalf of the whole team when I say we wish you all the best in your new job.
Best regards,
Dear _____,
Congratulations on the amazing new opportunity! We're going to miss and struggle to replace you but we know you'll be a massive hit at [company name]
On a personal note I'm really going to miss you around the office. It won't be the same without you! But I know you've made the right choice and wish you so much success!
Love,
Dear _____,
I was delighted to hear you had been promoted! I know how much you'd wanted it for such a long time now, but as they say – good things come to those who wait!
I'd love to catch up soon and you can tell me how you're getting on (and maybe all the new gossip!)
Hope everything goes well in the first few days. Don't worry though, you'll be fine!
Kind regards,
Email Examples
You might want to send an email rather than a letter however. Emailing has become so prominent and is such a big part of many jobs and businesses that sending an email of congratulations is perfectly acceptable. See the example emails below to give you a idea of what to say.
Subject: Congratulations on the New Job
Hi _____,
I was so pleased to hear of your new position at [company name].
Your hard work and dedication to your job have not gone unnoticed and you're being rewarded for that now. I have no worries that you will they've in your new position.
If there's anything I can do to help with your moving between roles then don't hesitate to to get in touch.
Best wishes,
Your email address
Your phone number
Your social media handles (if you have any)
Your website (if you have one)
You should now have more than enough inspiration to say to a friend or colleague "congratulations on your new job". Whichever way you decide to – letter, email, a funny message – they will appreciate you reaching out and offering your best wishes for their new job.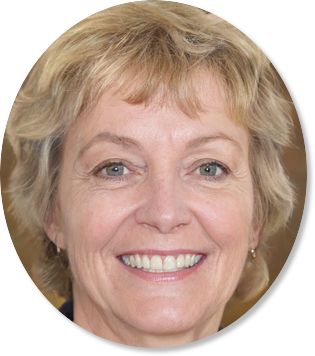 Sally Gibson is the founder of Someone Sent you a Greeting, a holiday/celebration website. Sally's writing work has been mentioned in Woman's World, Yahoo, Women's Health, MSN and more. If you have any questions get in contact with one of the team via the about page.