Becoming a grandparent is such an exciting time. The thrill and joy of knowing you'll be welcoming a lovely little grandson or daughter is hard to explain.
I was so happy when I found out I was going to be a grandmother. And all my friends and family sent me congratulations messages and best wishes.
So if you're looking to congratulate someone on becoming a grandparent then these messages should help you to find the perfect words.
Congratulations Messages for Becoming Grandparents
Congratulations on becoming a grandmother! The love you will have for your grandchild will be like nothing else you've ever experienced.
Your family has grown by one more precious little one and I absolutely delighted. Congratulations on becoming grandparents!
Congratulations on becoming grandparents! What an exciting time for your family. All my love.
Wishing you all the happiness and joy that comes with being grandparents. Congratulations!
Your grandchild is so lucky to have such loving and caring grandparents like you both. Congratulations on a really wonderful milestone!
You must be over the moon with excitement! Congratulations, it really is a one of the greatest joys.
Congratulations on your new role as a grandparents. May you always inspire your grandson/daughter with love and guidance.
Congratulations on the arrival of your grandchild! It's an incredible journey you're about to go on – enjoy every moment of it.
The joy of becoming a grandparent is indescribable. Sending my congratulations.
Huge congratulations! You must be bursting with pride and joy.
Becoming a Grandmother
Being a grandmother is such a special role, and one I know you will excel at. Congratulations!
The love and joy that comes with being a grandma is unparalleled. Congratulations on this wonderful new chapter of your life.
Congratulations! This new bundle of joy who will bring you and your family so much love and happiness.
You will make a fantastic grandmother. Enjoy all the new love and emotions you're going to experience.
I can't wait to see the adorable pictures of the new baby! Congratulations- you're a granny now!
Becoming a Grandfather
Congratulations on becoming a grandfather! You're going to be an amazing role model and I know you will provide your grandchild with so much support and love.
There's something truly magical about being a grandparent. I just know you're going to love it. Congratulations!
I'm so happy for you as you are about to become a grandfather. Your grandson/daughter is lucky to have you in their life.
Cherish every moment you get to spend with your new grandchild. It's a total blessing. Congratulations.
To a brand new granddad – congratulations! You're going to experience a love like no other.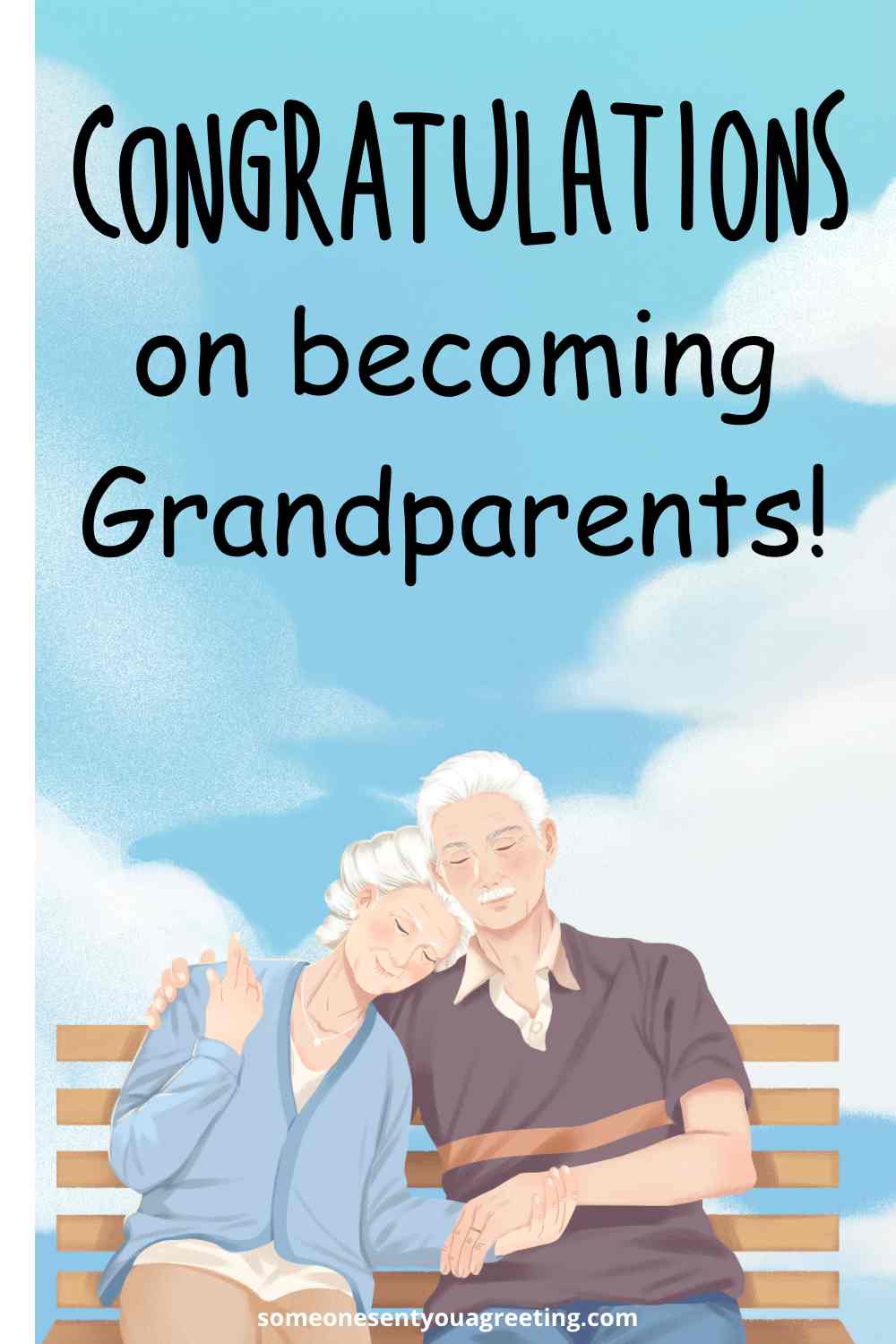 Funny Congratulations Messages for New Grandparents
Put a smile on the face of the new grandparents and help them to enjoy the momentous news with these funny messages.
Congratulations on becoming a grandparent. You can now practice all the parenting skills you've forgotten over the years!
Being a grandparent means you get to spoil your grandchild rotten and then hand them back to their parents.
You've officially upgraded from "mom" to "grandma."
Welcome to the Grandparents Club! We meet for coffee, talk about our grandkids and brag about them to anyone who will listen.
Congratulations on becoming a grandfather – you can now officially tell dad jokes to a new audience.
You're grandparents now which means it's time to dust off the old toys and books and prepare for your new role.
Big congratulations! Now get that credit card out and let the spoiling begin!
Here's to getting to change diapers that aren't yours!
Inspirational Messages for Becoming Grandparents
Not much is more exciting and life affirming than becoming a grandparent. So share in the moment with these inspirational congratulations messages.
You can be sure that becoming grandparent will being you wonderful memories and new experiences. Many congratulations.
You have the opportunity to make a huge impact on your grandson/daughters life. Be there for time with your love and support and they will thank you for life. Congratulations on becoming new grandparents.
Grandchildren bring even greater love to your family. Treasure every moment you have with. Congratulations.
The memories you will make with your grandchild will be some of your most beloved. Look forward to and appreciate every moment with them. Congratulations.
Use your wisdom to guide and help your grandson/daughter at every turn. Be there for them and you will be rewarded with a bond unlike any other. My congratulations on becoming grandparents.
Your grandchild will be lucky to have grandparents as loving as caring as you are. Congratulations on such an exciting and wonderful new phase of your life.
You have so much to offer as grandparents and I'm sure you will give your grandson/daughter all the love they need.
Grandchildren are one of life's most amazing blessings. Warm congratulations to you both.
Religious Congratulations Messages on Becoming Grandparents
If one or both of the new grandparents are religious or have a strong faith then you can send them a congratulations message that reflects that. These religious messages are appropriate to share with new grandparents.
Congratulations on becoming a grandparents. May God bless you and your grandson/daughter with a lifetime of love and happiness.
Your grandchild is a gift from God and my prayers will be that you cherish this blessing for many years to come. Congratulations.
May God bless you and your grandchild with a bond that is everlasting. Many congratulations.
As you begin this journey as grandparents may God's compassion and wisdom guide you through everything you do. Congratulations.
May God's light shine upon you and your family as you welcome your grandson/daughter into the world. Congratulations on such a joyous occasion.
Your grandchild is a reflection of God's love and grace. May you feel His presence with you as you embrace this new role. Congratulations.
May God's grace and guidance be with you every step of the way as you become grandparents. Let His teachings and love help you in all you do. My congratulations.
Your prayers have been answered and you have been blessed with a wonderful grandchild. Congratulations.
Becoming a grandparent is such a joyous time. The soon-to-be-grandparents will be on cloud nine after the amazing news and you can share in the moment by congratulating them. Hopefully these messages will have helped you to do so in the best way possible.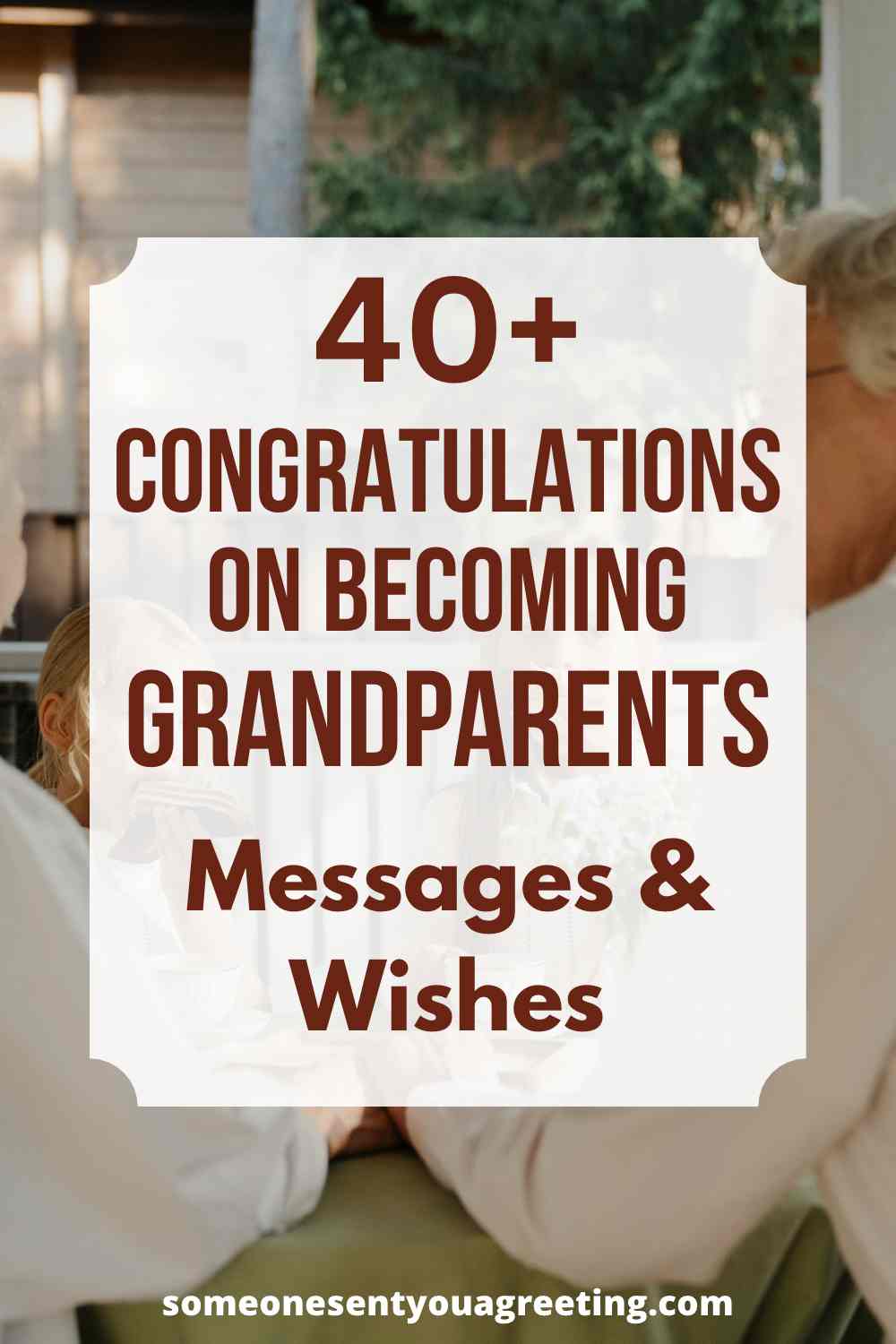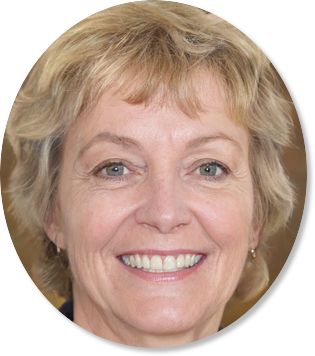 Sally Gibson is the founder of Someone Sent you a Greeting, a holiday/celebration website. Sally's writing work has been mentioned in Woman's World, Yahoo, Women's Health, MSN and more. If you have any questions get in contact with one of the team via the about page.