Pregnancy is a life changing event. The arrival of a new baby brings so many amazing and wonderful experiences.
It's also extremely challenging, and can even be frightening. During a couple's or soon-to-be mothers pregnancy they might need support and reassurance, or just a friend to cheer them up.
A way to show your support or just acknowledge their joyous news is to send them a card. And in that card you can include a pregnancy congratulations message or good luck wishes.
A lovely card congratulating a couple or mom on a pregnancy can let them know you're there for them, offer support or help, amuse them or just offer your congratulations and best wishes. It may seem trivial but small gestures can have big impacts.
So use one or more of the pregnancy congratulations messages below.
Pregnancy Wishes
Use these messages to wish the new mother or couple congratulations and good luck on their pregnancy and upcoming new baby.
Congratulations on the miracle that is pregnancy
Wishing You a happy healthy pregnancy and delivery
I can't believe the good news! I'm so happy for you, congratulations!
I know you're going to make a brilliant mom! Congratulations on the amazing news
Congratulations and best wishes on the joyous news
You're in for a wild ride. But the most incredible, joy filled one. Congratulations on the amazing news
Congratulations! If you need any help don't hesitate to get in touch
We can't wait to meet the new arrival. Congrats
Our family will have a new member soon, we're so excited! Congratulations
We know your going to be great parents. Best wishes
A baby is a blessing from God. Your little one is already blessed with great parents
You have been blessed with a new baby and we couldn't be more excited for you. Enjoy motherhood
You're going to get experience all the incredible and exciting things a new baby brings. Enjoy it all, it doesn't last forever
Please accept our warmest congratulations and wishes for your pregnancy
What an exciting time in your life and one we're so glad to be a part of. Congratulations!
I couldn't believe it when I heard it! Well done, I'm so happy for you!!
We'd guessed something like this might be coming but now it's confirmed we're so pleased! Congratulations!
You're having a baby! Congratulations!
We've popped the champagne and started celebrating. Congratulations
Having a baby is the gift of God, it is one of the best blessings given by the Lord. Congratulations.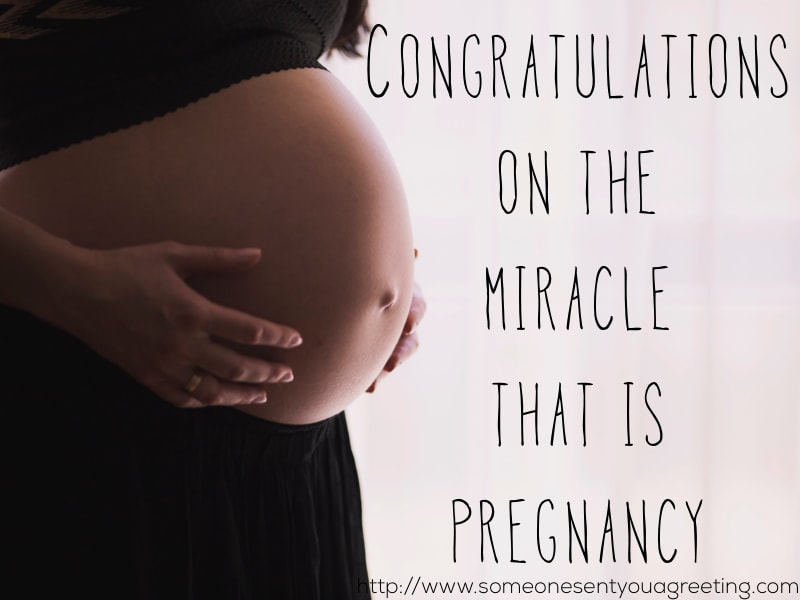 Funny Pregnancy Messages
Want to make the new mom/couple laugh? Have something witty or humorous to say about pregnancy? Then you might want to use something funny in your pregnancy congratulations card. If so then take a look at the funny wishes below:
When you are choosing a name for your baby, don't forget the names of the important people in your life, like me!
The more pregnant you get, the more often strangers are going to smile at you. Why? Because you''re fatter than they are
If you are worried about having enough space after the baby comes, you can get rid of your bed. You won't be using it much for awhile, anyway
Your pregnancy will be a celebration for your family, disaster for your career and a calamity for your husband. Good luck and congratulations
Now that you are pregnant, can I borrow all your nice dresses? You won't be able to fit in them anyways. Congratulations
Hello, baby! Goodbye, sleep!
Celebrity moms make parenting look glamorous because they are rich and can hire help for just about everything. You my dear… will be heating milk bottles and changing nappies day and night. Congratulation
Sit down. I think it's time to have 'the talk.' Babies don't really come from storks.
Pregnancy is a journey of going through many INGs including nauseatING, sweatING, bloatING, burpING, itchING, swellING and fartING. Enjoy
Don't let the cuteness of a newborn fool you. Think of newborn babies as future 15-year-olds with bad attitudes
Being pregnant is all about putting your feet up on the couch – so that your husband can massage them. Congratulations
Pregnancy – the roller coaster ride which has no seat belts. Congratulation
Don't worry about the difficulty of raising a child. It is just as easy as running a marathon, doing your taxes, and wrestling an octopus at the same time, every day
I never knew that a person who is still a baby by heart could also have a baby herself. Congratulations for your pregnancy
"People always say that pregnant women have a glow. And I say it's because you're sweating to death." – Jessica Simpson
Tip
Be careful when writing a funny message. Some people will think that pregnancy is not the time to be joking, and may take offence. Be sure beforehand that you know the recipient well enough that they won't be offended.
Pregnancy Quotes
These quotes about pregnancy are great to include in a card. They offer extra insight or a better way to express what you're feeling if you can't find the right words yourself. Try one of the selection below
"A baby is something you carry inside you for nine months, in your arms for three years, and in your heart until the day you die" – Mary Mason
"Life is a flame that is always burning itself out, but it catches fire again every time a child is born." – George Bernard Shaw
"Whether your pregnancy was meticulously planned, medically coaxed, or happened by surprise, one thing is certain – your life will never be the same" – Catherine Jones
"Giving birth and being born brings us into the essence of creation, where the human spirit is courageous and bold and the body, a miracle of wisdom." – Harriet Hartigan
"A baby fills a place in your heart that you never knew was empty." – Unknown
"A baby is God's opinion that life should go on." – Carl Sandburg
"Making a decision to have a child–it's momentous. It is to decide forever to have your heart go walking around outside your body" – Elizabeth Stone
"Giving birth should be your greatest achievement not your greatest fear." – Jane Weideman
"Pregnancy is a process that invites you to surrender to the unseen force behind all life" – Judy Ford
"There is such a special sweetness in being able to participate in creation" – Pamela Nadav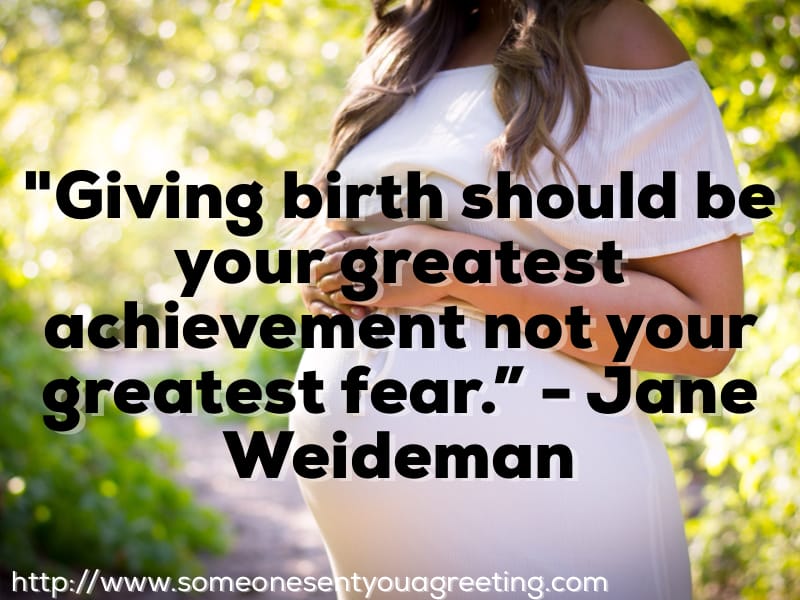 Pregnancy Poems
A sweet or touching poem is another great way to celebrate the announcement of a new baby.
We celebrate the coming birth
Of an angel come to Earth,
Resembling now a basketball,
But soon our love, our life, our all.
Your eyes are bright and sparkling.
Your cheeks have got a glow.
Your belly's being touched and rubbed
by people you don't know.
You're craving weird, exotic foods
and calories don't matter.
You can't remember life without
an elbow in your bladder.
You're getting medical advice
from everyone you see
Welcome to the joyous days
of Motherhood-to-be.
These nine months may not always be bliss
But they are the ones you would not want to miss
So when your feet hurt and your tummy feels amiss
Fan away and think of baby's first big sweet slobbery kiss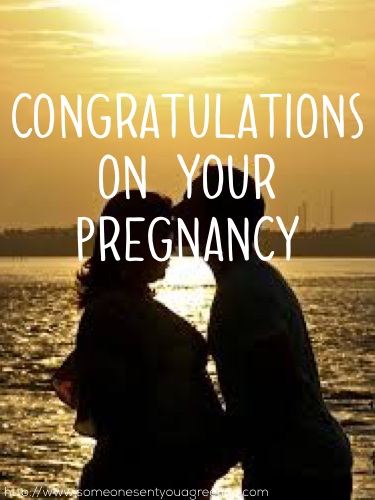 We hope the examples here will have helped you to send your own pregnancy congratulations. Wish a mother all the best with the exciting news of her baby and show her just how pleased you are.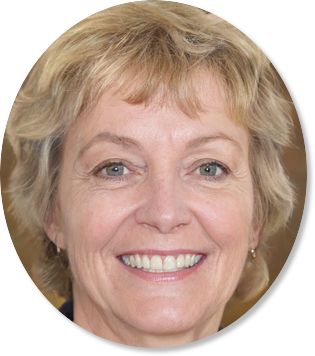 Sally Gibson is the founder of Someone Sent you a Greeting, a holiday/celebration website. Sally's writing work has been mentioned in Woman's World, Yahoo, Women's Health, MSN and more. If you have any questions get in contact with one of the team via the about page.