Easter is a fantastic time for everyone, both religious and non religious. It can be celebrated by all, with fun activities for children like egg hunts, and the whole family can come together.
If you're looking to send a card then you'll want to include a nice message. Writing Easter wishes for a card is surprisingly hard though.
Outside of something very basic like "Happy Easter" not a lot else might come to mind. If you're in that situation then read on for a large selection of Easter wishes and messages.
Simple Easter Wishes
Happy Easter!
Have a wonderful Easter
Best Wishes for a lovely Easter
Don't eat too much chocolate!
Sending you joy and happiness this Easter
Wishing you a very Happy Easter that is filled with plenty of love and happiness.
Enjoy a happy Easter
I hope you got lots of eggs!
Have a peaceful and joy filled Easter
Hope your Easter was a brilliant celebration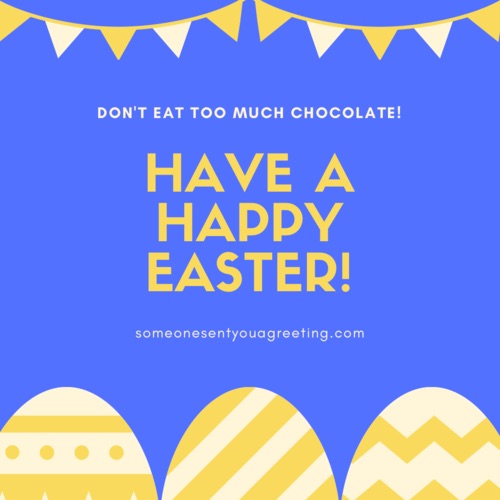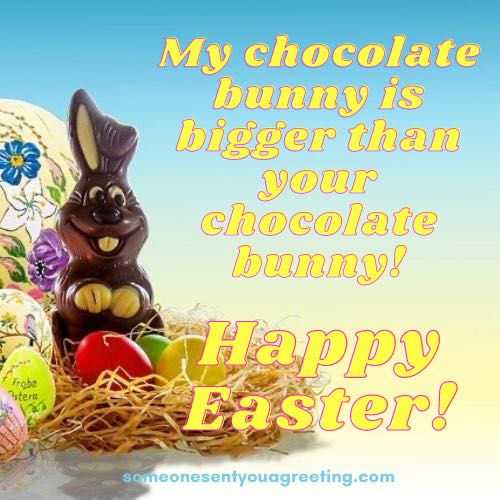 ---
Easter Wishes for Family
Wishing you and your family a very happy Easter
Many wishes of Easter to you and your family
I hope this holiday fills your heart and your home with love and joy.
Wishing your whole family a prosperous Easter
May you and your family have a blessed Easter
Hope you enjoy a great Easter with all your family and friends
I wish you and your loved ones the renewal of love, happiness and life. Have a wonderful Easter!
Family is so important during this time. Enjoy your Easter surrounded y the love they bring
Easter symbolizes the renewal of life. I wish you and your family the renewal of life, love, and happiness.
Celebrate a joyous Easter surrounded by the love of family and friends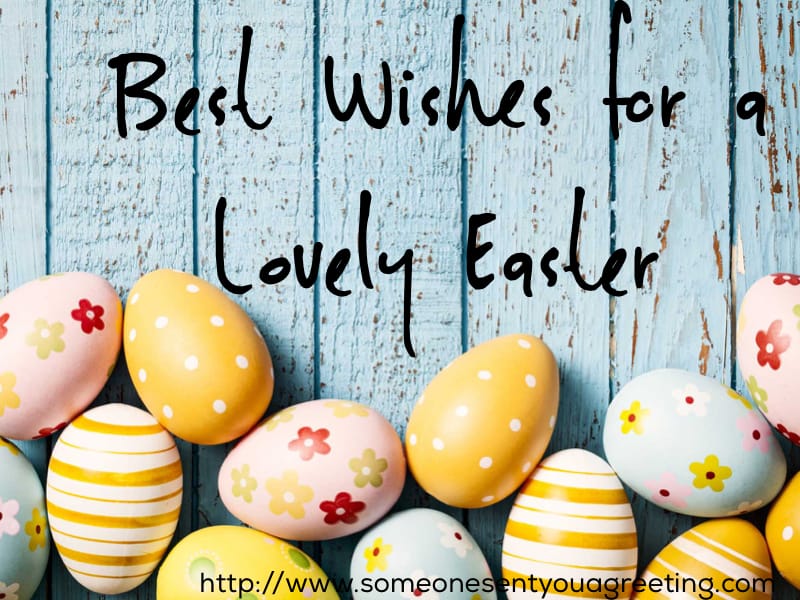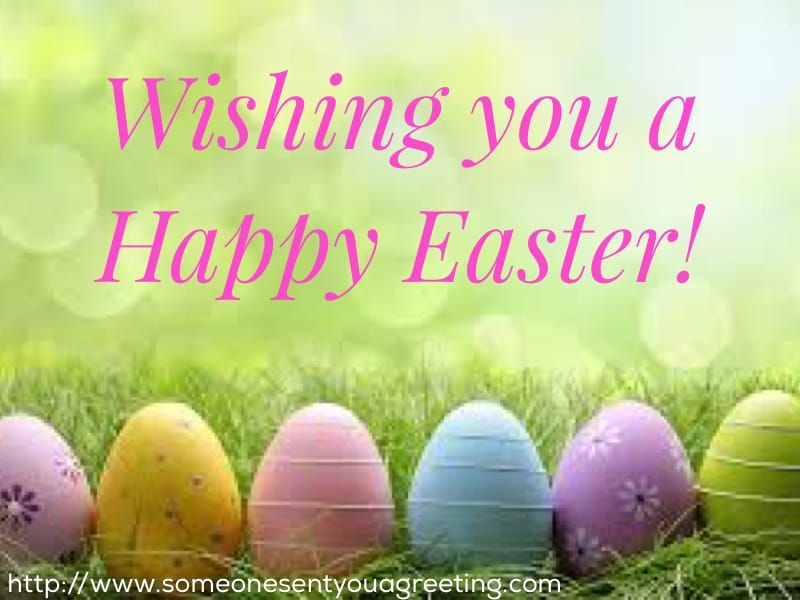 ---
Religious Easter Wishes
Easter is the perfect time to celebrate all Christ has done for us. Happy Easter!
May the spirit of the Lord fill your home this Easter and all the rest of your days.
Easter is the time to repent our sins and thank God for his blessings. Happy Easter
May the Lord bless you on this special day. Happy Easter
May the Lord show you the way this Easter
Easter symbolizes the renewal of life. I wish you and your family the renewal of life, love, and happiness.
May you find the renewal of hope, health, love and the spirit of God. Happy Easter to you and your lovely family.
In him, we could rest our hope upon, For he brings life he authors our victories.
May Lord Jesus' blessings always be upon you and may you achieve greatness in whatever you do
May the Lord bless your home with happiness and unwavering faith this Easter.
Funny Easter Wishes
My chocolate bunny is bigger than your chocolate bunny!
Easter is the best time to look for chicks. They're everywhere! Happy Easter!
Why did the bunny cross the road? Because it was the chicken's day off. Happy Easter!
Easter is the time of year when all of the Halloween candy miraculously makes it into the Easter Basket.
Easter egg hunts – proof your child can find anything when they want to
A chocolate Easter Bunny? No thanks, I've got enough men in my life who are hollow and empty
I've hidden all the Easter candy for the kids inside my stomach.
Easter is the only time when you can put all your eggs in one basket and get away with it.
If you believe in Easter Bunny it means you believe in a fat, purple bunny, which is pooping multicolor eggs in your garden.
Any Holiday which starts with a "Good Friday" can't be all bad.
Easter Quotes and Sayings
"Here is the amazing thing about Easter; the Resurrection Sunday for Christians is this, that Christ in the dying moments on the cross gives us the greatest illustration of forgiveness possible" – T. D. Jakes
"There's nothing better than a good friend, except a good friend with CHOCOLATE." – Linda Grayson
"Easter is meant to be a symbol of hope, renewal, and new life" – Janine di Giovanni
"To a Christian, Easter Sunday means everything, when we celebrate the resurrection of Jesus Christ" – Bernhard Langer
"What is the real purpose behind the Tooth Fairy, the Easter Bunny and Santa Claus? They seem like greater steps toward faith and imagination, each with a payoff. Like cognitive training exercises" – Chuck Palahniuk
"If Easter says anything to us today, it says this: You can put truth in a grave, but it won't stay there. You can nail it to a cross, wrap it in winding sheets and shut it up in a tomb, but it will rise!" – Clarence W. Hall
"Do not abandon yourselves to despair. We are the Easter people and hallelujah is our song" – Pope John Paul II
"Easter spells out beauty, the rare beauty of new life." – S.D. Gordon.
"The spirit of Easter is all about Hope, love, and joyful living" – Anonymous
"He has risen" – Matthew 28:6
Easter SMS/Text Messages
Happy Easter everyone!
Don't eat all your eggs in one go!
Hoppy Easter!
Hope you have an "eggcellent" Easter!!
Enjoy your Easter all
Easter greetings!
The spirit of easter is all about Hope, Love and Joyfull living. Happy Easter!
Happy Easter to you!
Easters awesome! Enjoy yours everyone
Hopefully these Easter wishes will have helped you to wish someone a happy Easter and enjoy the big day.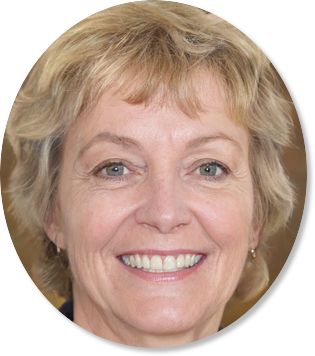 Sally Gibson is the founder of Someone Sent you a Greeting, a holiday/celebration website. Sally's writing work has been mentioned in Woman's World, Yahoo, Women's Health, MSN and more. If you have any questions get in contact with one of the team via the about page.