Mortar boards at the ready! It's time to celebrate the achievements and hard work put in by graduates.
You may know one or more people graduating from high school, college or even just a course. Their dedication to academia is a huge accomplishment and you will probably want to send a gift or card.
If so then you need to consider what you're going to write in your card. Graduation wishes and messages can be tricky to write but fear not because they don't have to be.
We've put together an extensive list of graduation wishes and messages, including quotes, funny wishes, and specific messages for sons, daughters, college and high school graduates. You can choose to use them however you like, be that as inspiration for your own, personalised for your specific situation or exactly as they are.
Graduation Wishes
For a graduation card or to go with a gift use one of these simple yet touching graduation wishes. You can copy them as they are or use them as inspiration for writing your own.
All of the hard work and long hours have paid off. You're going to be a huge success, deservedly so. We wish you all the best!
Enjoy and savour the reward from your hard work. Graduating is a real achievement and I wish you all the success in the world
Please accept my warmest graduation wishes
Wishing you so much happiness on your graduation! You've earned it!
The passion and drive you've shown to make your dreams come true is inspiring. I can only wish you so much success in the future! Well done
Best wishes on a lovely graduation
Wising you so much love and happiness on your graduation day!
We're so sorry we couldn't be there but wanted to wish you a fantastic graduation day. Promise we'll see you soon!
Have a wonderful day and enjoy all the plaudits and celebration. You really deserve it all
Have an awesome graduation day! And don't party too hard!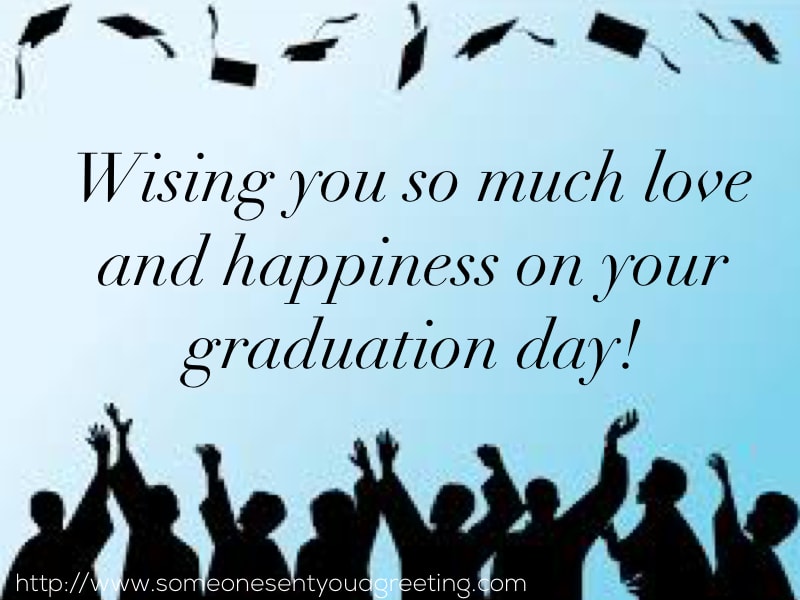 SEE MORE: Thank You Messages for Friends and Family on Graduating
Graduation Congratulations
If you prefer to congratulate the graduate rather than wishing them well or success then use one of the congratulations messages below.
Congratulations on graduating! We know you're going to go far
You're achievements are an inspiration to us all. Congratulations on your graduation
You must be so proud, and rightly so! Congratulations
You set yourself a goal and never gave up on it. That dedication has led you to this day and a huge achievement. Congratulations!
Congratulations buddy on graduating!
Congratulations! I know how hard you've worked so enjoy yourself today
I know you'll be thinking about the future now but take a little time off to enjoy this huge day. Congratulations!
Congrats big bro, can't quite believe you managed! I'm proud of you though.
Wishing you many congratulations on such a big day!
Congratulations and best wishes on your graduation. It's a real pleasure to see you doing so well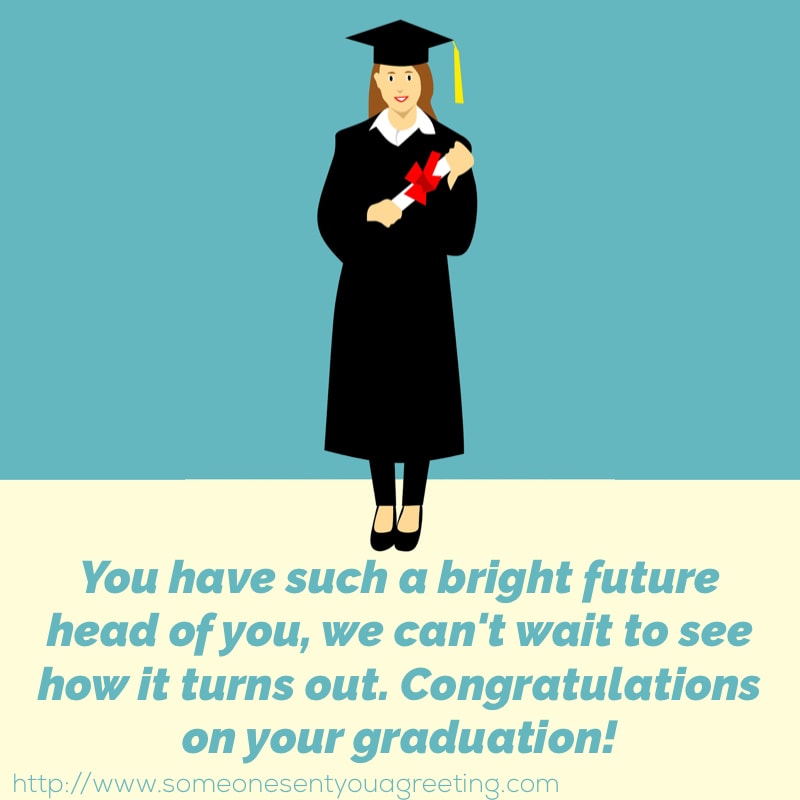 Graduation Quotes
A clever or insightful quote can be a great way to really capture the moment. There have been many famous people over the years who have spoken or written astute things regarding graduation. They work very well in cards so use one of the selected few below.
"The true sign of intelligence is not knowledge but imagination." – Albert Einstein
"If your uniform isn't dirty, you haven't been in the game." – Ben Bernanke
"Graduation is a time of completion, of finishing, of an ending, however, it is also a time of celebration of achievement and a beginning for the new graduate." – Catherine Pulsifer
"Don't take life too seriously, nobody makes it out alive." -?Elbert Hubbard
"Success is relative. It is what we can make of the mess we have made of things." – T.S. Eliot
"The secret of success in life is for a man to be ready for his opportunity when it comes." – Benjamin Disraeli
"My dear terrified graduates, you are about to enter the most uncertain and thrilling period of your lives. The stories you are about to live are the ones you will be telling your children, and grandchildren, and therapists." – Lin-Manuel Miranda
"We've come not to celebrate your achievements, but to celebrate who you are." – Dr. Kevin Leman,
"Congratulations! You made it! It's time to celebrate all the hard work that led to this joyful occasion. The road to graduation is a long, steep climb, so take a moment at the summit to be proud of your accomplishments." – Sheryl Sandberg
"Most graduates have a mixture of emotions at this time. You probably have a tremendous sense of relief and accomplishment for finishing a major course of study." – Michael Farris
Funny Graduation Messages
Whilst graduation can be a serious celebration there's no harm having some fun on the day! It is a time for joy and happiness, so what better way to show that than with laughter?
Without Google and Wikipedia, would we even be celebrating your graduation today?
Well.. that wasn't like High School Musical at all.
"A graduation ceremony is an event where the commencement speaker tells thousands of students dressed in identical caps and gowns that "individuality" is the key to success." – Robert Orben
Good looks AND brains now! You're a double threat! Congratulations!
"In school, you're taught a lesson and then given a test. In life, you're given a test that teaches you a lesson.
" – Tom Bodett
Congrats on getting through the easiest part of life.
Graduation is a tough day for parents. They go to the ceremony as parents. They come back home as contemporaries. After twenty-two years, they are unemployed.
"As you set off into the world, don't be afraid to question your leaders. But don't ask too many questions at one time or that are too hard because your leaders get tired and/or cranky." – Will Ferrell
Congratulations on four years of pretending your third pick school was your first choice.
We'd like to apply for a refund on your college education.
I could have said something profound, but you would have forgotten it in 15 minutes – which is the afterlife of a graduation speech. – Art Buchwald
So, what's it like in the real world? Well, the food is better, but beyond that, I don't recommend it.
For College
College graduation is a massive achievement and one that shouldn't be taken lightly. The four years it takes requires hard work and dedication, all of which should be celebrated and congratulated.
Congratulations on graduating from college!
You've proven your determination and skill. Go chase those dreams now! Congratulations
You have such a bright future head of you, we can't wait to see how it turns out. Congratulations!
Congratulations on a brilliant achievement! You're a college grad now!
College is a challenging time and you've made it through with flying colors. Congratulations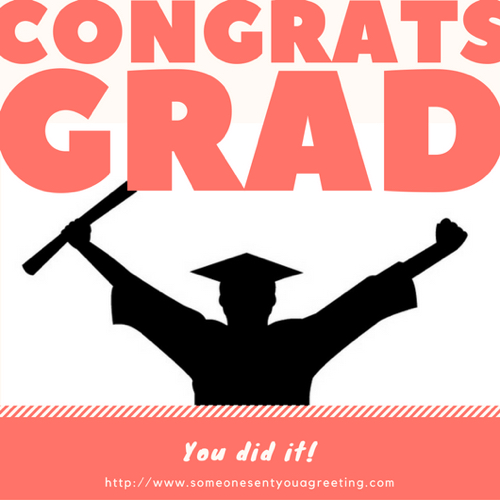 For High School
Graduating high school is one of the biggest moments in a young persons life. It marks the start of a new phase in a persons life, be that going on to college or into work. This change and the new chapter of someone's life means wishing them success and congratulations is only fitting.
This is such an exciting time with limitless possibilities. What an achievement and good luck with the future
Dream big and never believe you can't. Congratulations on your graduation
It'll probably have felt like yesterday you were just starting school and now it's over! Congratulations on making it out alive!
We wish you success in happiness in whatever you choose to do next
I know how tough High School is so just wanted to congratulate you on the achievement of graduating
For a Son
When it's your son graduating the pride and love you'll feel will be overwhelming. It also represents the growing up of your once little boy, moving on to greater things. Let him know just how proud of him you are and congratulate him on a wonderful achievement.
We can't believe our baby boy is graduating! Time goes by so quickly. Know that we couldn't be more proud of though
Whatever you decide to do and wherever you go remember how proud of you your parents are. Congratulations on graduating son
We've watched you work so hard and now to see that work realised is such a joy. You've earned this success and we are so proud of you.
It's hard to believe how fast the time had gone by, it seems like yesterday you were still in diapers. But we always knew our little man would go far! Congratulations on a well earned achievement son
We're proud not only of your graduation but of the fine young man you've become. We love you so much and will be forever proud of you
For a Daughter
As with a son, a daughter graduating will fill you with just as much love and pride. Let her know how proud of her you are, and that seeing her become the independent, strong woman she now is has been such a pleasure.
We are so proud of all your accomplishments. To us you'll always be our little girl but we know you've grow into a strong, independent woman. Congratulations!
Remember to keep learning and keep growing. We love you, congratulations
To have seen you work so hard to achieve your dreams has been such an inspiration. Seeing it all come true for you is an even greater joy. Congratulations baby
You've become a beautiful young woman who has the world at her feet. Remember that you can do anythang if you put your mind to it and your parents will always be there for you
To our daughter on her graduation day, we will always be proud of you, whatever you do. We love you and wish you all the happiness and success in the world
Enjoy all the new opportunities and exciting times ahead. We are fit to best with pride to see our little girl achieving so much
Hopefully you will now be fully equipped to write a graduation card. Just follow some of the examples here for inspiration (or copy them as they are), and you'll have the perfect graduation wishes for any occasion.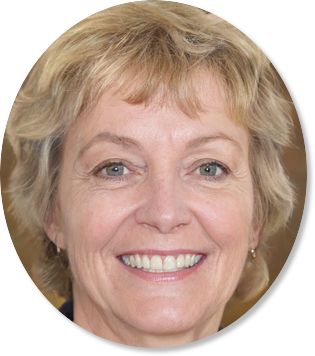 Sally Gibson is the founder of Someone Sent you a Greeting, a holiday/celebration website. Sally's writing work has been mentioned in Woman's World, Yahoo, Women's Health, MSN and more. If you have any questions get in contact with one of the team via the about page.