If you've got a wedding to attend or if you're the best man for one then you will be aware of the little bit of pressure on you. It may be that you've got to send or give a lovely wedding card to the happy couple, or if you're the best man then the pressure is even greater as you will be giving a speech.
In fact if you're the couple getting married then you may also be giving a speech. Knowing what to say in these situations isn't easy though.
A good choice if you're struggling is to make people laugh. Everyone then relaxes and the pressure eases on you a bit. But being and saying something funny is a lot harder than it might sound.
One great way to add some humor to a wedding is by using a funny wedding quote or saying. You can avoid some of the more mushy and soppy quotes and speeches and go straight in with something witty or even self depreciating.
So try one of the many wedding and marriage quotes below and use them to spice up your wedding card or speech.
Tip
Be absolutely certain that the couple you are sending your card to or delivering a speech for are the types who will appreciate something a little off the wall and funny. You have the real possibility of offending if not so be 100% sure before going ahead. And if any doubt, play it safe and don't!

Funny Wedding Quotes
These funny wedding quotes are a hilarious take on the madness that is a wedding and relationships. You can use them in a wedding card for the couple or a speech if you're the best man.
"Music played at weddings always reminds me of the music played for soldiers before they go into battle."
– Heinrich Heine
"Bride: I do!
Groom: I do what she says"
"My prince is not coming on a white horse… He's obviously riding a turtle, and definitely lost." – Unknown
"May your wedding day be extra fun because tomorrow the hard work starts!"
"By all means marry; if you get a good wife, you'll be happy. If you get a bad one, you'll become a philosopher."
– Socrates
"Do you know what late nights, parties and weekend hanging out with friends have in common? You won't have all of them from now on…"
"I am" is reportedly the shortest sentence in the English language. Could it be that "I do" is the longest sentence?" – George Carlin
"Congrats for signing your life away…"
"You may be married, but you don't have to grow up! Congratulations on your wedding!"
"If my husband doesn't start crying when he sees me walking down the aisle, I'm turning around and doing it again."
"Always get married early in the morning. That way, if it doesn't work out, you haven't wasted a whole day."
– Mickey Rooney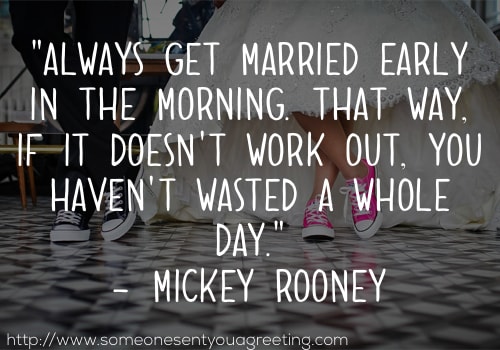 "Drink 'till she's cute, but stop before the wedding."
"Wedding. A funeral where you smell your own flowers."
"In olden times, sacrifices were made at the altar, a practice that still continues." – Helen Rowland
"I hate weddings. Old people would poke me saying You're next. They stopped when I started going up to them at funerals and poking them, saying, You're next."
"The most dangerous food a man can eat is wedding cake." – Unknown
"Did you hear about the two cell phones who got married? The reception was terrific."
"When a girl marries she exchanges the attentions of many men for the inattention of one." – Helen Rowland
"Our wedding gift to you is two life preservers."
"When two hearts love each other, don't forget the prenuptial."
"Look, I know a good travel agent if either of you changes your mind. If not, have a wonderful wedding!"
"Thank you for completely ignoring our wedding registry and instead getting us something you thought we should have but that we'll never use."
"You are really lucky, as you got an opportunity to choose your prison. Happy wedding!"
"I hope that my actual wedding will be more elegant, magical, and beautiful than my Pinterest wedding."
Funny Marriage Quotes
Much like the funny wedding quotes above these are a hilarious look at marriage and all the pitfalls and oddities involved. They are also a great fit for a best man speech or wedding congratulations card.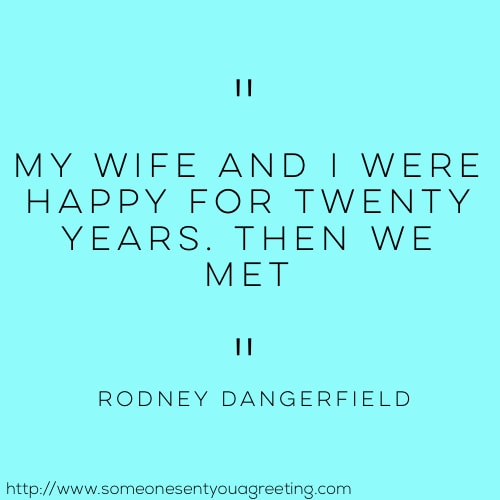 "My wife and I were happy for twenty years. Then we met." – Rodney Dangerfield
"The secret of a happy marriage remains a secret." – Henry Youngman
"Marriage has no guarantees. If that's what you're looking for, go live with a car battery."
"All my friends are getting married. I guess I'm just at that age where people give up." – Amy Schumer
"Keep your eyes wide open before marriage, half shut afterwards." – Benjamin Franklin
"Women marry men hoping they will change. Men marry women hoping they will not." – Albert Einstein
"Marriage is really tough because you have to deal with feelings … and lawyers." – Richard Pryor
"Marriage is not just spiritual communion; it is also remembering to take out the trash." – Dr. Joyce Brothers
"Marriage: sometimes soulmates, sometimes cellmates." – Rory Elder
"Love is one long sweet dream and marriage is the alarm clock!" – Zeenat Essa
"My wife, Mary, and I have been married for forty-seven years, and not once have we had an argument serious enough to consider divorce; murder, yes, but divorce, never."
"Marriage is like a phone call in the night: first the ring, and then you wake up." – Evelyn Hendrickson
"The most important four words for a successful marriage: "I'll do the dishes." – Anonymous
"Before we got married, I caught her in my arms. Now I catch her in my pockets."
"To keep your marriage brimming, with love in the loving cup, whenever you're wrong, admit it; whenever you're right, shut up." – Ogden Nash
"The only mistake for which people are congratulated is marriage." – Ratna Deep
"Always get married in the morning. That way if it doesn't work out, you haven't wasted the whole day." – Mickey Rooney
"Marriage is an adventure, like going to war." – G. K. Chesterton
"It is sometimes essential for a husband and a wife to quarrel – they get to know each other better."
"There is nothing in the world like the devotion of a married woman. It is a thing no married man knows anything about." – Oscar Wilde
"The husband who wants a happy marriage should learn to keep his mouth shut and his checkbook open." – Groucho Marx
"I love being married. It's so great to find one special person you want to annoy for the rest of your life"
"Marriage is a wonderful invention: then again, so is the bicycle repair kit." – Billy Connolly
"If you love 'em in the morning with their eyes full of crust; If you love 'em at night with their hair full of rollers, chances are, you're in love."
"A good marriage would be between a blind wife and a deaf husband." – Michel de Montaigne
"Before you marry a person you should first make them use a computer with slow Internet to see who they really are." – Will Ferrell
"Marriage is like a deck of cards. All you need in the beginning is two hearts and a diamond. After 10 years you need a club and spade." – Carrie
"I'm going to get married again because I'm more mature now, and I need some kitchen stuff."
"When you see a married couple walking down the street, the one that's a few steps ahead is the one that's mad." – Helen Rowland
"Marriage is the bond between a person who never remembers anniversaries and another who never forgets them." – Ogden Nash
"All marriages are happy. It's the living together afterward that causes all the trouble." – Raymond Hull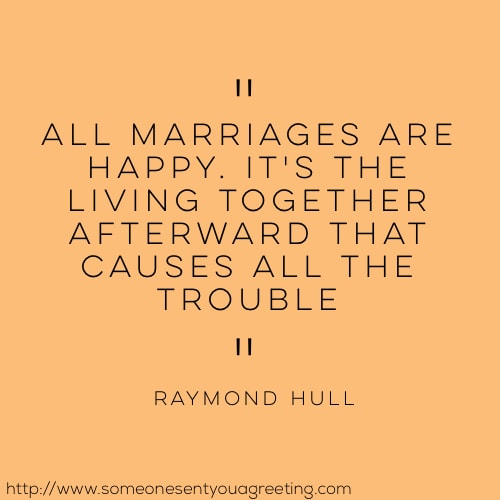 "Before I got married I had six theories about raising children; now, I have six children and no theories." – John Wilmot
"Some mornings I wake up grouchy. And some mornings I just let him sleep."
"I'm going to get married again because I'm more mature now, and I need some kitchen stuff." – Wendy Liebman
"Marriage: A legal or religious ceremony by which two persons of the opposite sex solemnly agree to harass and spy on each other for ninety-nine years, or until death do them join." – Elbert Hubbard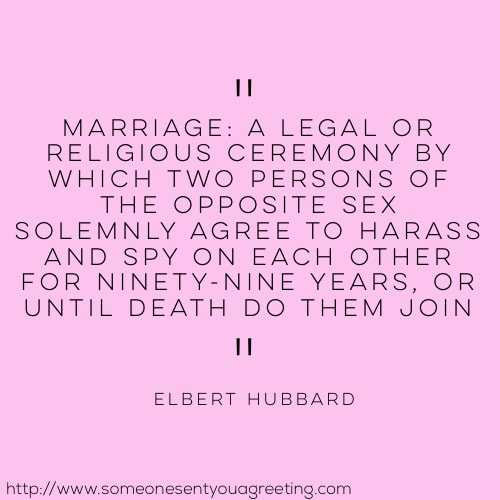 "Before marriage, a man declares that he would lay down his life to serve you; after marriage, he won't even lay down his newspaper to talk to you." – Helen Rowland
"Marriage is when a man looses his bachelors degree and woman gets her masters degree." – Rama Kochhar
"More marriages might survive if the partners realized that sometimes the better comes after the worse." – Doug Larson
"Marriage is getting to have a sleep over with your best friend, every single night of the week." – Christie Cook
Funny Marriage Sayings
These funny and witty marriage sayings are similar to the marriage quotes but are shorter and a clever take on the truths of married life.
Marriage is like a walk in the park… Jurassic Park.
Marriage is like a public toilet, those waiting outside are desperate to get in and those inside are desperate to come out.
A good marriage is one where each partner secretly suspects they got the better deal.
What's the best way to get your husband to remember your anniversary? Get married on his birthday.
"Marriage is a workshop… where the husband works and the wife shops." – Riaz Nassurally

I thought I was stupid until I got married. My stupidity was confirmed.
I now pronounce you husband and wife. You may now update your Facebook status.
Marriage is like vitamins: We supplement each other's minimum daily requirements.
Marriage is a bond between a person who never remembers anniversaries and another who never forgets them.
We weren't sure about this until we read about all the tax breaks.
The best thing to ever happen to marriage is the pause-live-TV button.
I'm yours 100%! All sales final!
I like your last name … can I have it?
Today we're kind of a big deal!
Two less fish in the sea
I vow to always love you, even during the football season.
Marriage is just a fancy word for adopting an overgrown male child who cannot be handled by his parents anymore.
Marriage is like a deck of cards. In the beginning, all you need is two hearts and a diamond. By the end, you wish you had a club and spade.
Marry a man your own age; As your beauty fades, so will his eyesight.
Marriage is like 'I accept the terms and conditions' without actually reading them. Happy Wedding Day!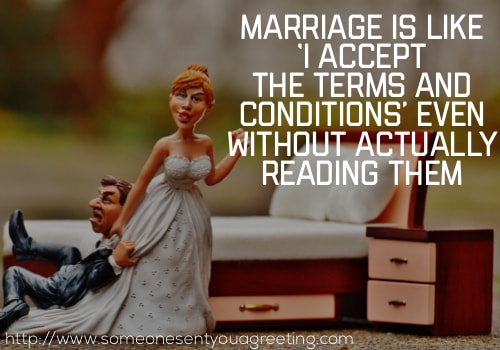 It's like a give or take relationship. You either give or she knows how to take it. Happy married life ahead
Marriage-the only day people cheerfully escort you to your sufferings ahead. Have a nice married life!
Never forget these two powerful sentences that can spell the difference between war and peace. Those are "You're right, dear" and "Okay, buy it".
When a man opens a car door for his wife, it's either a new car or a new wife.
We hope some of these funny wedding quotes will have tickled your fancy and make it into your speech or wedding card!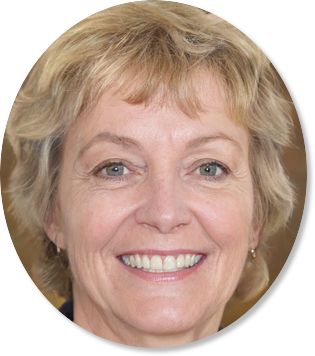 Sally Gibson is the founder of Someone Sent you a Greeting, a holiday/celebration website. Sally's writing work has been mentioned in Woman's World, Yahoo, Women's Health, MSN and more. If you have any questions get in contact with one of the team via the about page.