Ahh, the beach. Who doesn't love spending some at the sea side? Whether you're going surfing, swimming, topping up your tan or just relaxing with the family the beach is the perfect place to be. And what better way to celebrate all things sun and sand than with some hilarious beach puns.
A cracking pun about the ocean, sea, shells, sand or more is ideal for your Instagram captions from a day at the beach or a beach themed party invitation. Or maybe you just want to impress your friends with your funny beach puns. Whichever it is these puns and quotes are a great way to enjoy the beach and all it has to offer.
Beach Puns
We're shore these beach puns will tide you over and help you have a whale of a time. In fact we've put together so many you better be careful not to drown in them all!
Beach hair, don't care!
Sun of a beach
Keep Palm and Carry On
With you, life's a beach
Beach life is shore perfect.
Adios beaches!
The beach gives me porpoise.
Resting Beach Face
Just a couple of beach bums
Snow more winter please, bring on the beach!
Beach you to it.
You used to call me on my shellphone
Tropic like its hot.
You had me at aloha.
If there's a will, there's a wave.
Shell we dance?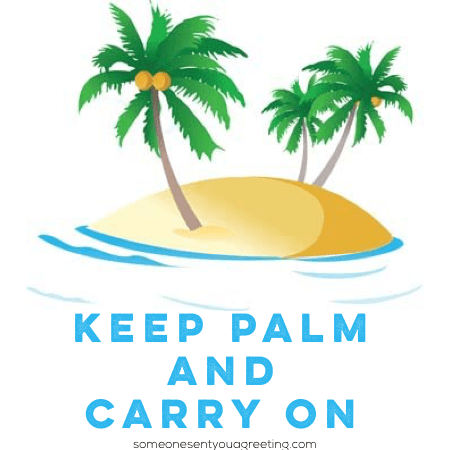 Beach Instagram Captions
Looking for a funny caption for your beach photos? Use some of these puns and sayings as your Instagram captions and sit back and watch the likes roll in.
Desperately seeking beach therapy
Good times and tan lines
Girls just wanna have SUN
Throwin' shade
Hangin' with my gull-friends
Gone to the beach. Be back never.
The tans will fade but the memories will last forever.
Dreams are made of sun and sand.
Live by the sea. Love by the moon.
Palm trees and 80 degrees.
Life's a wave – catch it!
Currently pretending I'm at the beach.
Don't need a man if you've got a tan.
B.E.A.C.H = Best Escape Anyone Can Have
The beach is calling, and I must go.
Life is better in flip flops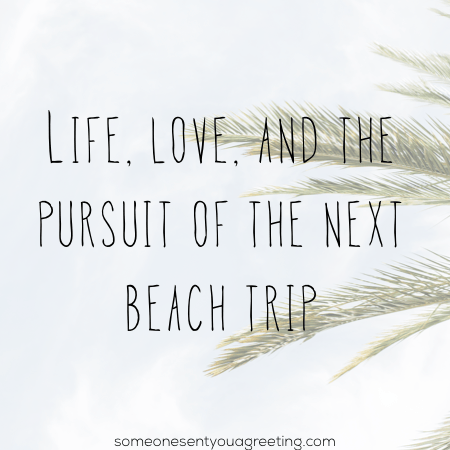 Beach Quotes and Sayings
The beach has inspired artists, musicians and more which has lead to some profound and moving insights about it. Try these inspirational beach quotes and sayings to really understand what the beach means to people.
Time seems different at the beach. All too fast, yet somehow, all too slow.
They say summer bodies are made in the winter
Life, love, and the pursuit of the next beach trip.
"Don't grow up too quickly, lest you forget how much you love the beach" – Michelle Held
Eat. Beach. Sleep. Repeat.
You can shake the sand from your shoes but not from your heart.
High tide or low tide, I'll stay by your side
"The sea, once it casts its spell, holds one in its net of wonder forever." – Jacques Cousteau
A pineapple a day keeps the worries away.
I'll have a side of beach with my morning coffee.
An ocean breeze puts the mind at ease.
Beach more – worry less.
Salt water cures all wounds.
As endless as the ocean, as timeless as the tides.
Memories are made in flip flops
It was love at first sight the day I met the beach
"Live in the sunshine. Swim in the sea. Drink in the wild air." – Ralph Waldo Emerson
Ocean air, salty hair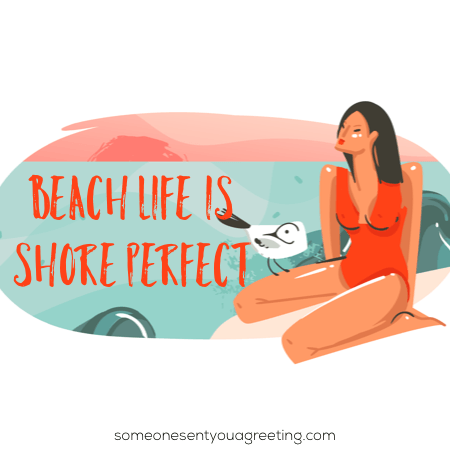 Beach One Liners
I think we're all agreed: Monday out. Beach in.
Life is better in a bikini.
Even filled with clouds, this beach can't bring me down.
The lower the latitude the better the attitude
You, me, a drink and the sea.
How to be a beach body: 1. Have a body 2. Go to the beach.
Palm trees. Ocean breeze.
If you're not barefoot, then you're overdressed
Sandy Puns
All I need is the salt in my hair and the sand between my toes
Let the waves hit your feet and the sand be your seat.
Sandy toes. Sunkissed nose.
The sun and the sand and a drink in my hand
Life is a beach, I'm just playing in the sand.
Sandy toes, sun-kissed nose
Sea Puns
All I need is some Vitamin Sea
You, me, and the sea
Seas the Day!
Let the sea set you free
Whale hello!
I'm an aqua-holic
Fish you were here!
Water you doing right now?
Sea more of the world, one beach at a time
Happy as a clam
Water we doing here?
Water we waiting for!
More salty than the sea.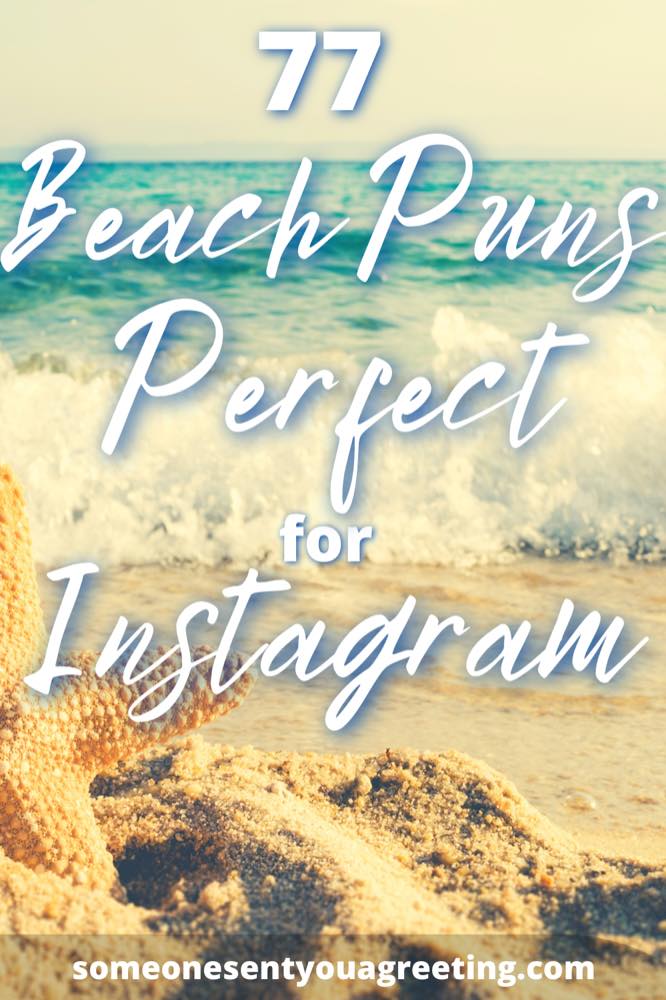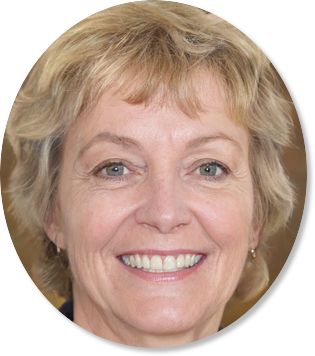 Sally Gibson is the founder of Someone Sent you a Greeting, a holiday/celebration website. Sally's writing work has been mentioned in Woman's World, Yahoo, Women's Health, MSN and more. If you have any questions get in contact with one of the team via the about page.