When you send someone or a couple an anniversary card you would usually write a short message or note congratulating them on their big day. A simple few words that wishes them well and congratulates them on reaching a significant milestone.
However, there might be occasions when you want to include something more than a basic message. If they are a close relative, family member or your partner then going a bit further on such a special day seems natural.
And we think that anniversary poems are a great way to show how much you care, express your feelings in a better way than a quick note would and be a touching way to celebrate an important day.
But unless you're Robert Frost or Emily Dickinson then writing your own poem can be ridiculously hard! Not to mention when you do they often end up being cheesy and making you cringe.
So, what could be better than a compiled list of anniversary poems for different people and occasions? Need a poem for your husband or wife, funny ones, specific anniversaries (1st, 50th etc) then read on as we're sure you will find the perfect poem for whichever anniversary you need.
Happy Anniversary Poems
These poems are perfect if you want to wish your partner or someone you know a happy anniversary. Make your card standout with a clever or touching poem.
All those years ago, my dear,
You made my world complete;
You became my perfect partner in life,
And you've been a world-class treat!
We've loved and worked and made a home
That fills me with pleasure and pride,
And it's all because of the wonderful one
Who has lived through the years by my side.
Thank you my treasured and cherished love;
You've made my dreams come true.
Your loving and caring have made our marriage
A blissful adventure for two!
HAPPY ANNIVERSARY!
By Joanna Fuchs
(and Karl)
---
Every year that I'm with you
Has been better than before;
It's hard for me to even think
How I could love you more.
Every year you've graced my life
Has been full of happiness;
I love your caring face, your voice,
Your tender, sweet caress.
Every year when this day comes,
I'm filled with love and pleasure;
Happy Anniversary, Love,
My joy, my delight, my treasure.
By Joanna Fuchs
---
Even after so many fights
So many sleepless nights
Even after so much stress
After going through so much mess
We both have ploughed through
For which credit goes out to you
Let's forget everything and start again
Let's wade out of this emotional pain
This is a promise that we make
To each other on this very day
I want to thank destiny for sending
A life partner like you, my way
Happy anniversary
---
May all the precious moments
That set this day apart,
Stay with you long after
As keepsakes of the heart…
And often through the future
May you relive in thought,
The very many pleasures
This happy day has brought
Happy Anniversary
---
Your anniversary marks the day
When you both said "I do."
The two of you became as one,
A marriage bright and new.
Now time has passed; your love is strong;
You passed the early test.
Your tender bond grows with passing time;
Your marriage is the kind that's best!
Joanna Fuchs
SEE MORE: 7 Year Anniversary Quotes
Anniversary Verses for Him
Sending, or even reciting a poem for your husband or partner is a great way really express your feelings for them. The poems below are all written specifically for the special man in your life.
To my dear husband…
My life is like a painting
Full of vibrant bold strokes
Feelings of euphoria
It always evokes
Every mesmerizing color
Each tone and all the hues
Are touches of a great artist
None other than you
Happy anniversary
---
I am wondering what it is
That you and I should do
On the date of our anniversary
To make things seem new
Loving each other madly
We do that daily anyway
Sharing our thoughts and feelings
We do that every single day
Between us as a couple, there is nothing
But happiness in our equation
Maybe that is the reason why
Our married lives are a constant celebration
Happy anniversary
---
Should I call you my friend
Or should I call you my hubby
Should I call you my companion
Or should I call you my buddy
Should I call you my chum
Or should I call you my mate
Should I call you my pal
Or should I call you my comrade
Although you are all-in-one
These three words suit you perfectly
'My Dear Husband'
Wish you a happy anniversary
---
If I had to ever explain
What makes the perfect man
I would take my husband's name
Of whom, I am a diehard fan
He is the perfect life partner
There can never be
I am the luckiest wife ever
This, I declare again on our anniversary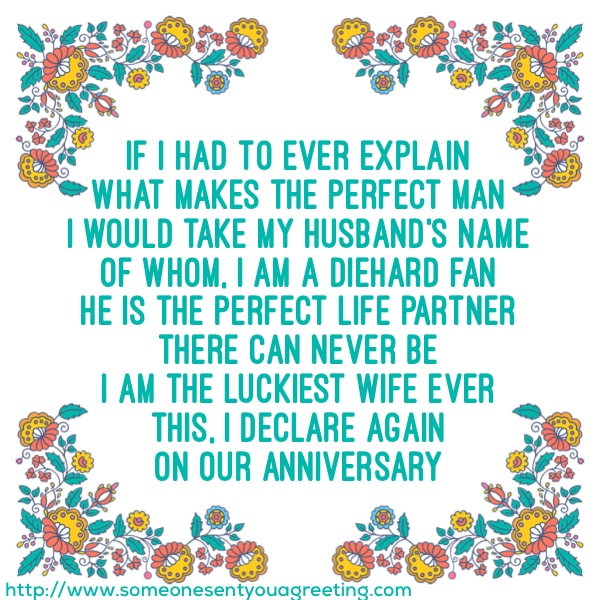 ---
Every year, our anniversary
Becomes more and more special
With every passing moment
I find you more adorable
Every year seems to bring
More and more happiness
Every year we seem to make
Memories that are priceless
Every year I thank my fate
For giving you as my hubby
Every year makes me realize
How lucky I am to be your wifey
Happy anniversary
For Wife or Girlfriend
If you want to add a bit extra to a bland card or really impressive your wife/partner then these poems written for her are a fantastic starting point. A touching anniversary poem will really demonstrate how much you care.
As long as you love me
I'll stay by your side.
I'll be your companion,
Your friend, and your guide.
As long as you love me,
as long as you care,
I'll be do anything for you.
I'll go anywhere.
I'll bring you the sunshine.
I'll comfort your fears.
I'll gather up rainbows
To chase all your tears.
As long as forever
My love will be true
For as long as you love me,
I'll only love you.
Happy Anniversary
---
No other love story
could compare
to the love story
that you and I are so lucky to share.
(Years) ago today
we finally said, "I do"
And that's when all of
our wildest dreams came true.
Happy Anniversary!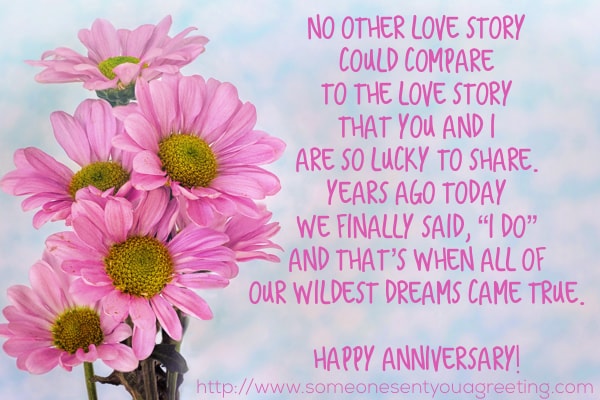 ---
If I could go back in time today,
Way before we met,
I'd search and find you right away,
To form our loving duet.
Far, far back, I'd go for you,
To marry you much sooner;
We'd tie the knot, and you would be
My amorous honeymooner.
I love our anniversary now;
I'm happier every year;
I just wish there'd been more time
For me to love you, Dear!
-Joanna Fuchs
---
When I look up and see you, my love,
My whole world is filled with pleasure.
Through all the years we've shared, my love,
You've been my greatest treasure.
The sun shines brighter when you're near;
The air seems fresher too.
Everything that's dear to me,
Seems perfect, because of you.
The years go by, it's anniversary time,
My love for you keeps growing.
The pleasure it brings to be by your side,
Holding hands, makes me feel like I'm glowing.
So my love, on this special day,
Please believe what goes on in my heart.
Know that it's true; I really love you!
And I've loved you this way from the start.
-Karl Fuchs
---
When years are passing by like days,
and in my hand your hand is placed,
A knowing smile crosses your face,
A simple touch can still make my heart race.
When I can see my soul in your eyes,
and you see your soul in mine, we realize
That a love so deep can harbor no lies,
Where our only tears shed were happy tears we've cried.
Funny Anniversary Poems
Whilst a love poem is what you might first think of for an anniversary, using a funny poem can work just as well. If your partner or the person the card is intended for has the right sort of humour then a funny anniversary poem could provide a good laugh.
You're a wonderful husband,
I'm not gonna lie.
This poem won't make you,
vomit nor cry.
Let's get a few things,
out of the way.
You're in plenty of trouble,
if you forgot what's today.
Time to take a ride,
down memory lane.
I think I found you,
underneath an old train.
I'd need a book,
to list all your flaws.
So let's just stick,
to a few basic laws.
You've always made me laugh,
you're hilariously funny.
I didn't care,
that you had no money.
The way you hold me,
in your manly arms.
Your voice and smile,
results in charms.
Ok, now wake up,
you're in real deep.
If my gift,
is super cheap.
by anitapoems.com
---
We have a gift that's sweet
And rare.
It's just that we're a perfect pair.
The years go by
With no regret
Because we are a perfect set.
What matter if this thought is sappy?
So long as
Both of us
Are happy.
Happy Anniversary!
by Denise Rodgers
---
I'll Go On Wrinkling
I know that you love me,
And I love you, too.
And nothing in life
Is as straight or as true.
Today may be special –
A mark for the year.
But living each day
Is a gift
That is clear.
So I'll go on wrinkling
And you go on graying –
So long as "I love you!"
Is what we are saying.
---
I know we aren't as young as we used to be
My hips pop, my joints knock, and I can barely see
But I still remember getting down on one knee
And asking you sweetly if you'd marry me
At least…I think that was you
I have to admit, you've changed a lot too!
You're skins a bit looser and your hair is blue
And you're favorite food's the kind you don't have to chew
We've had our ups, we've had our downs
we've have our smiles and our frowns
we've both learned to make some interesting sounds
we've both put on a couple of pound
We've wheeze and coughed, we grunted and grumbled
we've yell and screamed, we muttered and mumbled
And there have been times when we've faltered and fumbled
But you've been there to catch me whenever I stumbled
There's really nowhere I'd rather be
Than sitting with my hand on your knobby old knee
Swinging and singing, just you and me
On the day of our anniversary.
---
The years have gone by
And we're still together
We've learned to get along
Despite all kinds of stormy weather
I still have all my hair
And you still have all your teeth
We're both hearing impaired
And have trouble getting out of our seat
There are lots of years ahead
You've told me again and again
But I still get out of bed
And wonder should I say Amen?
One Month Poems
A one month anniversary is right at the beginnings of a relationship when feelings are probably at their strongest. Use those and the poems below to really show what this new person in your life means to you.
So many good things going on in my life
I was thinking how I miss you and our talks
The way I used to be able to tell you anything
I felt a little hurt that you're not a part of my life
Then I realized it was your choice to shut me out
Therefore our first anniversary here
I can count the people I trust on one hand
The number gets smaller and smaller but
I have learned to be thankful
For what and who I do have
Hopefully, you're happy with your life as well,
I will always wish you the best despite your wishes for me
---
Today we perfectly completed
One whole month
In each other hearts
In each other arms
In and out of sweet home
Up and down of emotions
Silly one liner and long movies
On TV, on radio and on phones
The world is same as before
But
The world of my heart
Is changed for forever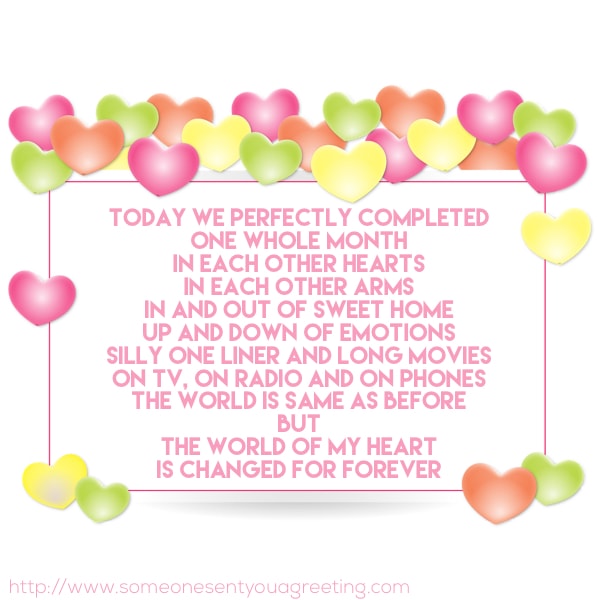 1st Year Poems
The 1st year anniversary of any relationship is a big moment. It's a significant milestone and one that deserves to be celebrated and acknowledged. One of the best ways to do so is with a fitting anniversary poem, just like the ones below.
Call it a benchmark
Or a milestone in life
Today is the first anniversary
Of us being husband and wife
Call it an achievement
Or a glorious accolade
All I know is that
I'll never let the love fade
Call it the launch of a journey
Or the start of a new phase
What matters the most is that
I look forward to happy days
Happy 1st anniversary
---
Everybody calls us
A young couple who will grow
But there is something
That they do not know
The fact that we have already
Grown so much together
Inside out and thoroughly
The way we know each other
Let's make it our habit
To prove other people wrong
By having a marriage which is
Beautiful and strong
Happy first anniversary
---
Thanks for giving me
Three hundred and sixty five days
Of so much happiness
With your lovable ways
I'm sure the coming years
Are going to be as happy too
And the only reason for that
Is because I married you
Happy first anniversary
50th Anniversary Poems
Reaching your 50th anniversary is a huge achievement. 50 years is an incredibly long time, and what better way to celebrate with your partner than with a lovely poem to say just how much you love them.
Our marriage, middle aged and thrifty,
Had a milestone, turning fifty.
Fifty years of sharing bed, of sharing kids, and life.
Instead of looking back to see the score,
let's look ahead to fifty more!
---
A Golden Couple
Half a century ago, they say,
A wonderful marriage began that day.
Two beautiful people joined as one,
And worked together to make living fun.
We celebrate now those fifty years;
We raise our glass and give three cheers:
To partners in life in both work and play,
It's our pleasure to share your golden day.
Happy 50th Anniversary!
By Joanna Fuchs
(and Karl)
We hope you can now wish that special someone in your life a happy anniversary with one of these anniversary poems.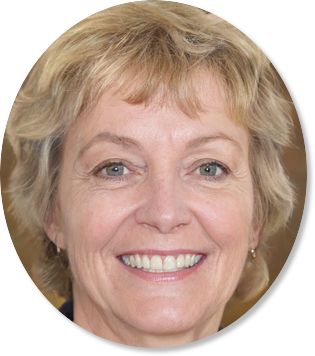 Sally Gibson is the founder of Someone Sent you a Greeting, a holiday/celebration website. Sally's writing work has been mentioned in Woman's World, Yahoo, Women's Health, MSN and more. If you have any questions get in contact with one of the team via the about page.