Do you want to wish someone a Happy Thanksgiving? But you need some help finding the right words for happy thanksgiving wishes for everyone you know? Family, friends, even acquaintances?
We've got you covered!
Thanksgiving is a time for celebrating with friends and family. We come together to share good times and be thankful for all that we have.
That's why you should be making an effort to wish everyone you know a Happy Thanksgiving. So to help you find the perfect words we've put together some of the best Thanksgiving wishes to show how thankful you are for having them in your life.
So use the Thanksgiving messages and quotes below to help with ideas and inspiration for what to say and show those loved ones just how special to you they are.
Happy Thanksgiving Blessings
Use these Thanksgiving wishes to let anyone and everyone know how happy a Thanksgiving you hope they have.
Happy Thanksgiving blessings to you and your whole family
Have a blessed thanksgiving that is surrounded by your family and friends
Here's a big thanks to you on Thanksgiving for all the happiness you have brought to my life
I hope you are with the your loved ones this Thanksgiving and the holiday season brings you joy and happiness
Sending my Thanksgiving wishes to you and hoping for a blessed day
May your Thanksgiving be filled with laughter and joy amidst those who mean the most to you. Happy Thanksgiving
Sending you the warmest of wishes this Thanksgiving and hoping that you remember all the wonderful things you've been blessed with
May your Thanksgiving be surrounded by family and friends and a lovely day that spreads love and hope to all
Today is the day to be thankful for all we have. Thankful for those special people who we love. And you are one of those. Have a wonderful Thanksgiving my friend!
I wish you and everyone you hold dear a very happy Thanksgiving
May Your Thanksgiving be a time of thoughtful reflection, peaceful gratitude and the love of your family. Happy Thanksgiving
Enjoy your Thanksgiving, especially the food and the good company!
May all you have good health, good times and blessed – from this Thanksgiving and the year onwards
May the blessings of Thanksgiving be with you throughout the coming year
My biggest Thanksgiving wishes to you!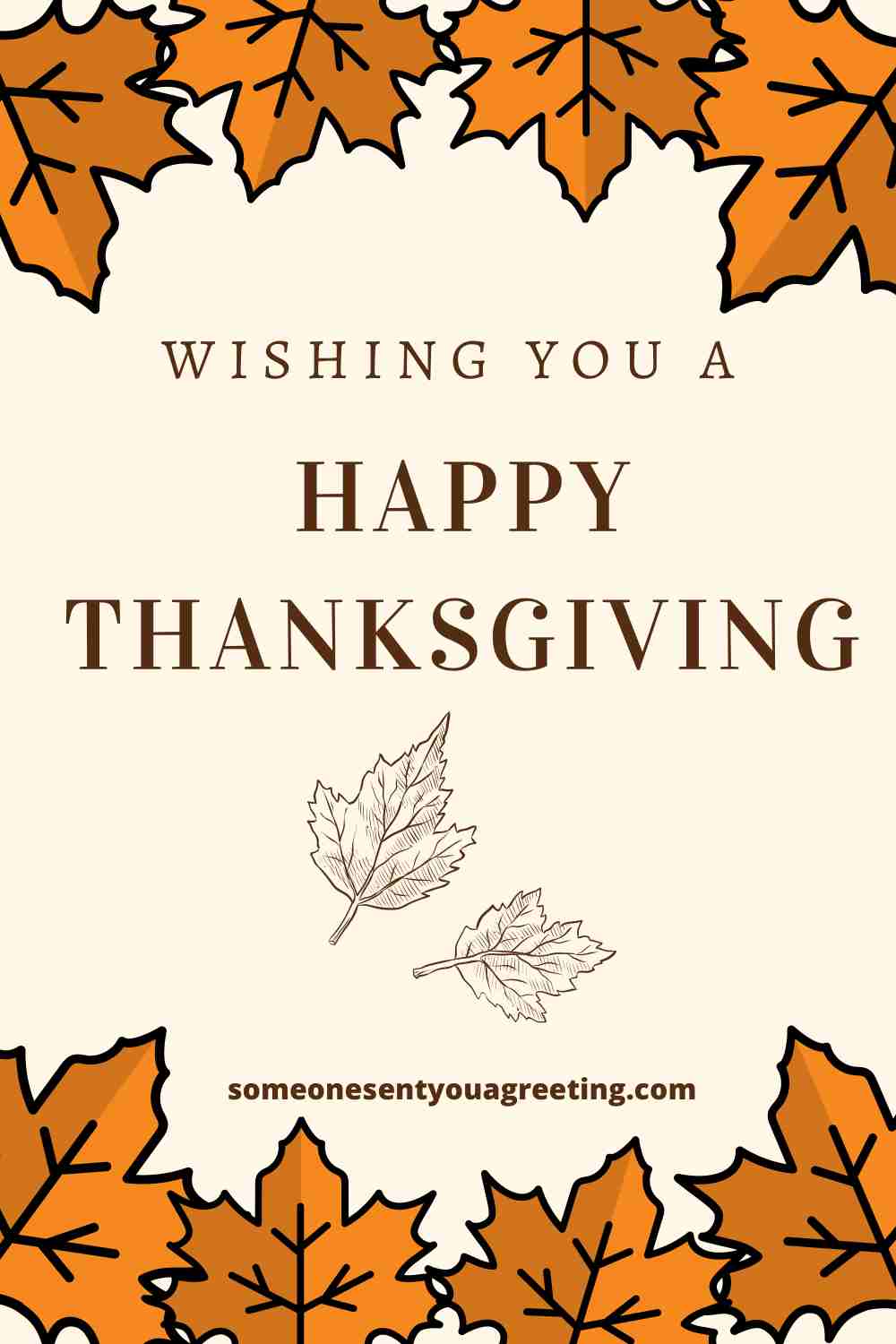 Thanksgiving Messages to Friends
Wish your friends a Happy Thanksgiving with these sweet messages that express how special they are to you.
Wishing you a magical Thanksgiving filled with an abundance of joy and happiness
To my best friend – have a great Thanksgiving! I'm thankful for having such an amazing friend who is there through thick and thin
May your Thanksgiving be everything you hoped for and bring with it years of happiness and good times
May your Thanksgiving be the start of a truly outstanding year. I hope you enjoy today and the holiday season
It is with great pleasure that I get to wish you a very Happy Thanksgiving. May it be blessed with good luck and god health
Thanksgiving is such a special day and you are such a special person, so it only feels right to tell you how much I appreciate how awesome you are! Happy Thanksgiving!
This message is to let you that I appreciate what a true friend you are. I am so thankful for having you in my life, and wish you a happy Thanksgiving
Thanksgiving is a time for remembering how lucky we are and counting our blessings. We are privileged in woman's ways but one of those is by having such incredible friends. I am grateful for that the most. My best wishes for your Thanksgiving
Wishing you a very happy Thanksgiving and hoping you have a lovely day with your friends and family
Wishing you a great Thanksgiving and that your dinner and all the food you eat doesn't result in you putting on too many holiday pounds!
May your Thanksgiving be a day if beauty and happiness that reminds you of all you've been blessed with
I try to bring people into my life that enrich it, that are valuable and ones I can treasure because of their friendship and love. You have brought all that to my life and more, and for that I am so thankful. Enjoy your Thanksgiving
Happy Thanksgiving bestie! May your turkey be moist and your stuffing tasty!
Time to celebrate the holiday season and remember all that we have to be thankful for. Enjoy your Thanksgiving
Enjoy a Thanksgiving surrounded by friends and remembering how much they mean to you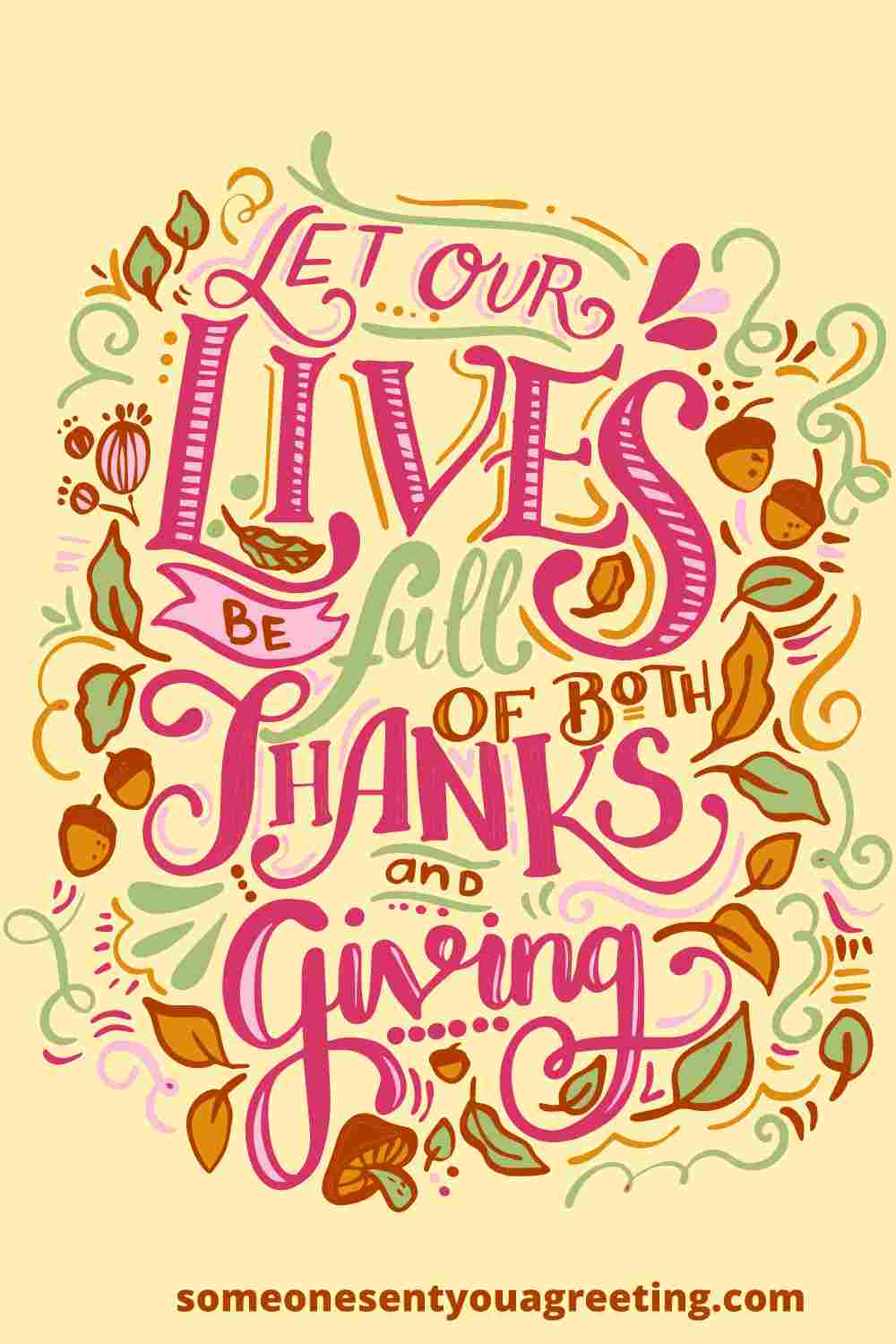 Thanksgiving Messages for Family
Use these messages to tell your family how much you appreciate them not just at Thanksgiving but all year round.
This Thanksgiving I am thankful to you, my family, for all the love and support you show me. I don't know where I would be without you
Thank you mom and dad for all you do. The food, warmth, shelter and love you provide me is everything I could ask for. This Thanksgiving I will be thinking of all you've done for me and how much I appreciate it
I'm so pleased that I have you as my family. I thank God that I have you with me on this day
Thanks to my mom for your love, kindness but most of all your amazing Thanksgiving dinners! I can't wait to get stuck in!
Thank you dad for always being there for me, for the support, love and guidance when I've needed it most. Happy Thanksgiving
I am so grateful to have a family as truly amazing as you all. It reminds me how lucky I really am. Happy Thanksgiving to you all
Sending loving wishes from my family to yours and hoping you have a wonderful Thanksgiving
May today be a reminder of how lucky we are to have such brilliant friends and family. Happy Thanksgiving
Today we enjoy the company of our beloved family and recognize just how special they are
Having a family and being a part of it is such a blessing. It means you are always guaranteed people who love and will be there for you. Happy Thanksgiving to my family
We gather for Thanksgiving to be thankful for those friends and family that make our lives complete. Have a blessed holiday
Wishing you a Thanksgiving blessed with hope and faith
You may be miles away but you're always in my heart. Have a great Thanksgiving
We can use today to look back on the amazing memories we've made and the great times we've had. Thanksgiving is a time for reflection and I will always be so grateful for you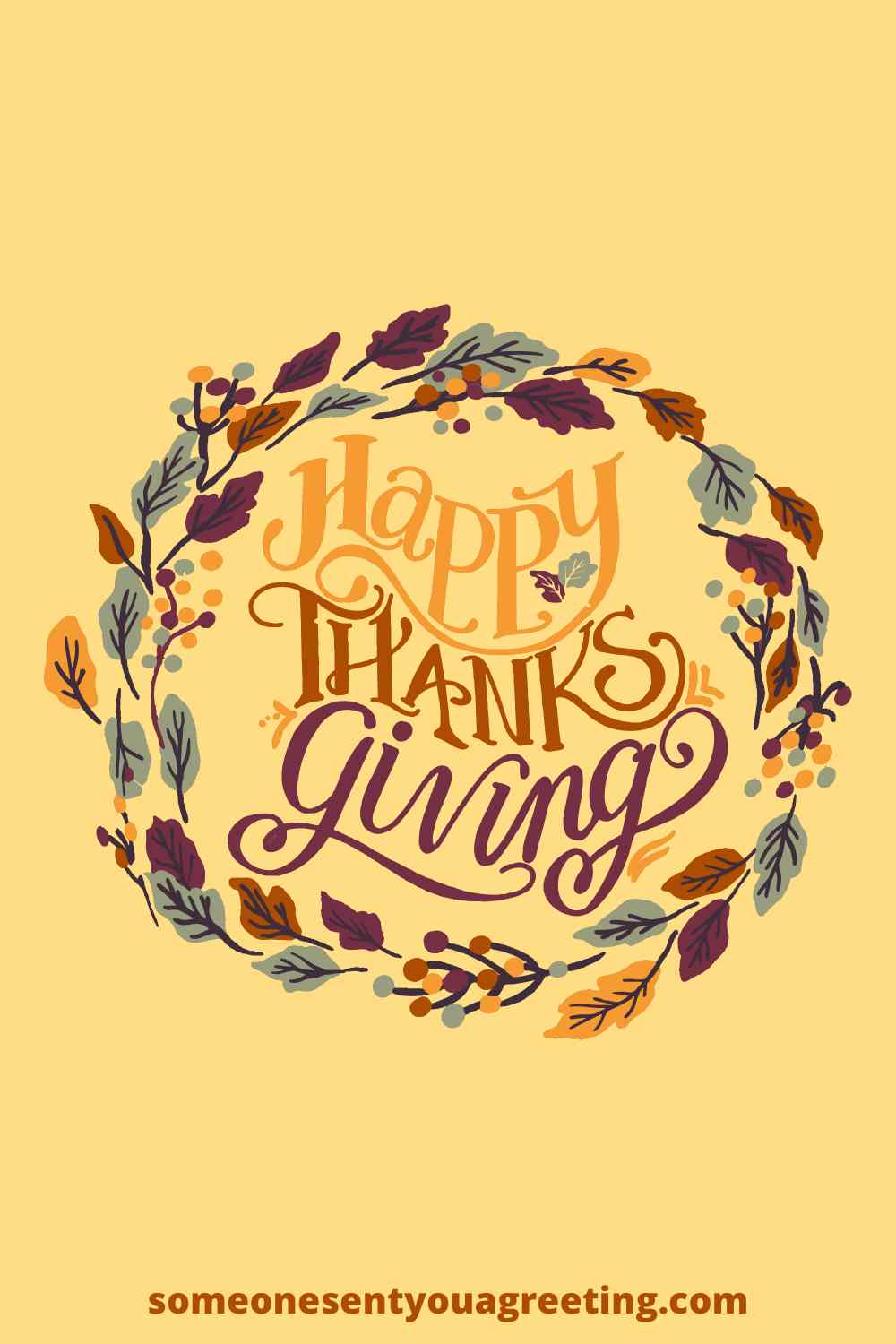 We hope you have found the words to wish those special people in your life a Happy Thanksgiving.
Be thankful for the people who are closest to you and cherish the time you have with them.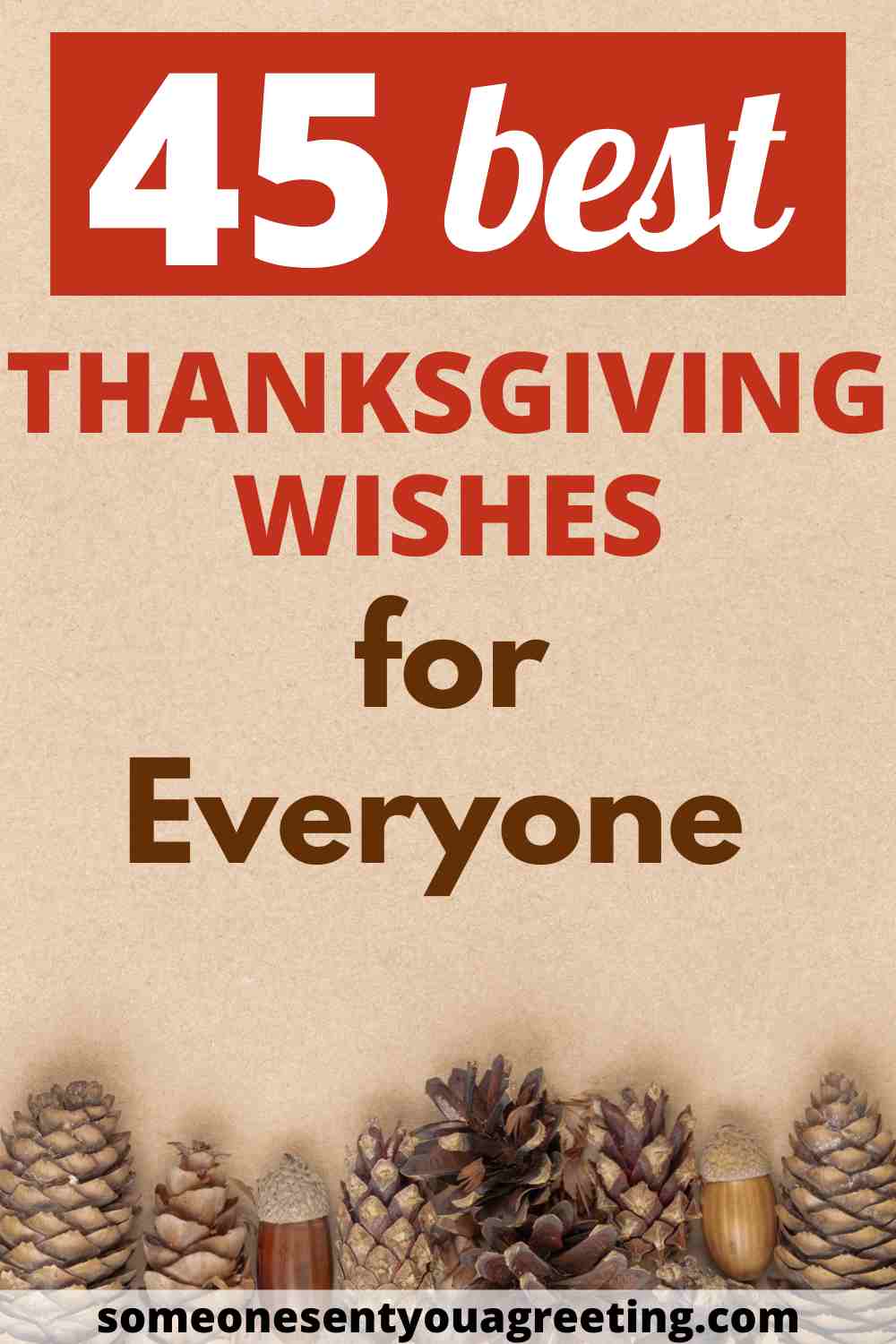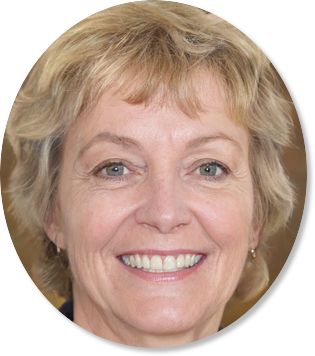 Sally Gibson is the founder of Someone Sent you a Greeting, a holiday/celebration website. Sally's writing work has been mentioned in Woman's World, Yahoo, Women's Health, MSN and more. If you have any questions get in contact with one of the team via the about page.