Do you find yourself lacking motivation? Need some inspiration to find your mojo and some get up and go? Try these motivational quotes to help you get motivated and achieve your dreams.
We need motivation to succeed in life. Whatever is it you want to accomplish – success at work, a promotion, achieving the goals you've set yourself – then you require determination and drive to get there.
So being motivated is key. But it can be difficult to find ways to get motivated though.
You often need inspiration. Seeing others succeed helps push us on. And words. Words are powerful tools that can light that fire in us.
That's what these motivational quotes do. They make us feel like we can do anything.
They give us the kick up the backside to do something.
So use these inspiring quotes about motivation to really get yourself motivated and the get up and go to achieve all that you want to in life.
Short Motivational Quotes
"We can do anything we want to if we stick to it long enough." – Helen Keller
"Dreams don't work unless you do." – John C. Maxwell
"Begin anywhere." – John Cage
"Go the extra mile. It's never crowded there." – Dr. Wayne D. Dyer
"Make each day your masterpiece" – John Wooden
"Wherever you go, go with all your heart" – Confucius
"Keep your face always toward the sunshine – and shadows will fall behind you." – Walt Whitman
"Turn your wounds into wisdom" – Oprah
"What defines us is how well we rise after falling." – Lionel from Maid in Manhattan Film
"Act as if what you do makes a difference. It does." – William James
"When you have a dream, you've got to grab it and never let go." – Carol Burnett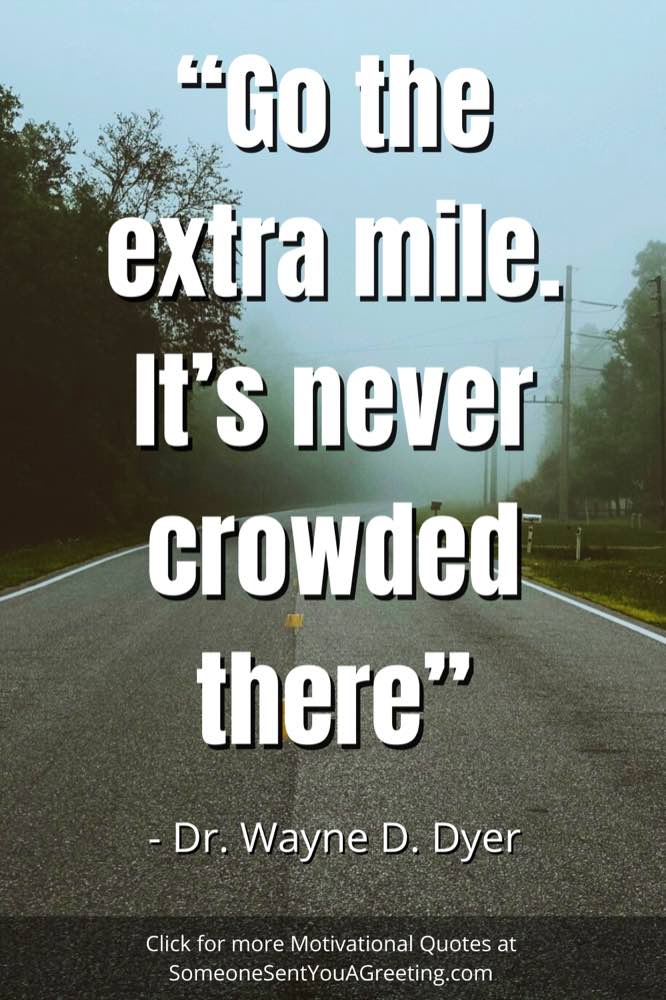 Motivational Quote of the Day
"Do one thing every day that scares you."― Eleanor Roosevelt
"Everything you can imagine is real."― Pablo Picasso
"Whatever you are, be a good one." ― Abraham Lincoln
"Do what you feel in your heart to be right – for you'll be criticized anyway."― Eleanor Roosevelt
"You've gotta dance like there's nobody watching, love like you'll never be hurt, sing like there's nobody listening, and live like it's heaven on earth." ― William W. Purkey
"When one door of happiness closes, another opens; but often we look so long at the closed door that we do not see the one which has been opened for us." ― Helen Keller
"It's no use going back to yesterday, because I was a different person then."― Lewis Carroll
"Fairy tales are more than true: not because they tell us that dragons exist, but because they tell us that dragons can be beaten."― Neil Gaiman
"Happiness is not something ready made. It comes from your own actions." ― Dalai Lama XIV
"Smart people learn from everything and everyone, average people from their experiences, stupid people already have all the answers." – Socrates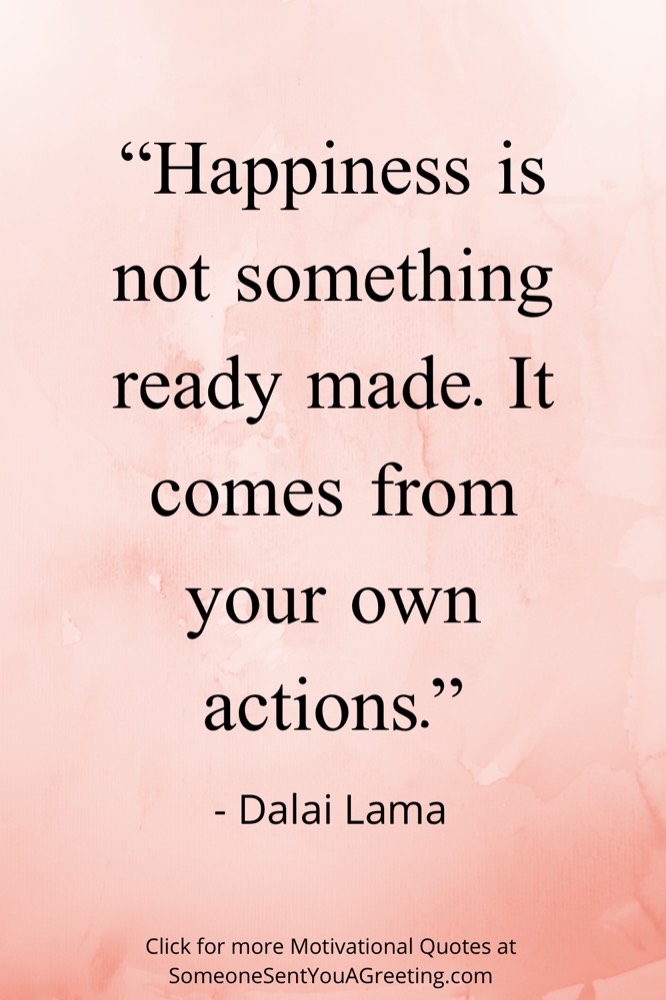 Quote of the Day
"Don't be afraid to give up the good to go for the great." – John D. Rockefeller
"You can either experience the pain of discipline or the pain of regret. The choice is yours." – Unknown
"Magic is believing in yourself. If you can make that happen, you can make anything happen." – Johann Wolfgang Von Goethe
"The same boiling water that softens the potato hardens the egg. It's what you're made of. Not the circumstances." – Unknown
"Impossible is just an opinion." – Paulo Coelho
"People who wonder if the glass is half empty or full miss the point. The glass is refillable." – Unknown
"Your passion is waiting for your courage to catch up." – Isabelle Lafleche
"Hold the vision, trust the process." – Unknown
"If something is important enough, even if the odds are stacked against you, you should still do it." – Elon Musk
"If we have the attitude that it's going to be a great day, it usually is." – Catherine Pulsifier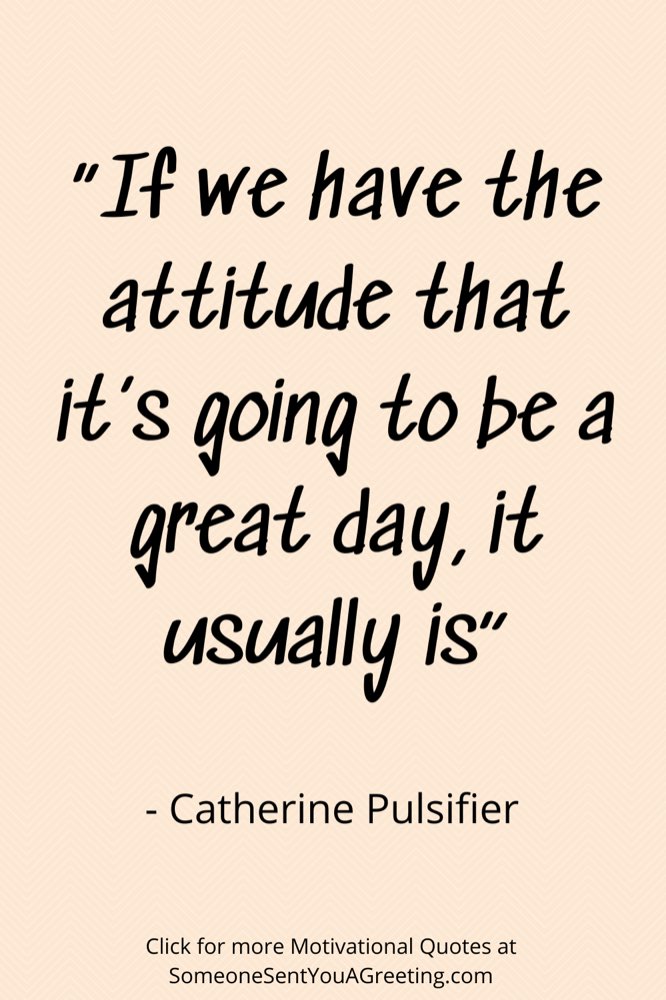 Super Motivational Quotes
"In a gentle way, you can shake the world." – Mahatma Gandhi
"If opportunity doesn't knock, build a door." – Kurt Cobain
"You can waste your lives drawing lines. Or you can live your life crossing them." – Shonda Rhimes
"I now tried a new hypothesis: It was possible that I was more in charge of my happiness than I was allowing myself to be." – Michelle Obama
"You've got to get up every morning with determination if you're going to go to bed with satisfaction." – George Lorimer
"The hard days are what make you stronger." – Aly Raisman
"Don't be pushed around by the fears in your mind. Be led by the dreams in your heart." – Roy T. Bennett
"Work hard in silence, let your success be the noise." – Frank Ocean
"Keep your eyes on the stars, and your feet on the ground." – Theodore Roosevelt
"If you believe it'll work out, you'll see opportunities. If you don't believe it'll work out, you'll see obstacles." – Wayne Dyer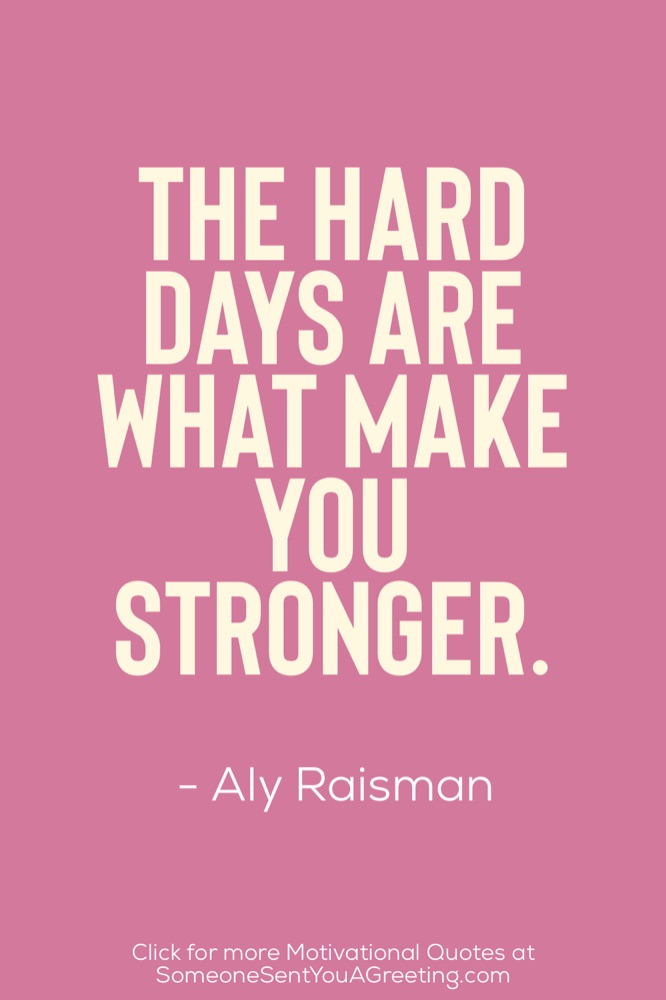 Encouraging Quotes to Motivate You
"In the middle of every difficulty lies opportunity." – Albert Einstein
"Don't limit your challenges. Challenge your limits." – Unknown
"Don't quit yet, the worst moments are usually followed by the most beautiful silver linings. You have to stay strong, remember to keep your head up and remain hopeful." – Unknown
"Good. Better. Best. Never let it rest. 'Til your good is better and your better is best." – St. Jerome.
"When written in Chinese the word "crisis" is composed of two characters – one represents danger and the other represents opportunity." – John F Kennedy
"Some luck lies in not getting what you thought you wanted but getting what you have, which once you have got it you may be smart enough to see is what you would have wanted had you known." – Garrison Keillor
"Whenever you find yourself doubting how far you can go, just remember how far you have come." – Unknown
"Start where you are. Use what you have. Do what you can." – Arthur Ashe
"Sometimes when you're in a dark place you think you've been buried but you've actually been planted." – Christine Caine
"Everyone has inside them a piece of good news. The good news is you don't know how great you can be! How much you can love! What you can accomplish! And what your potential is." – Anne Frank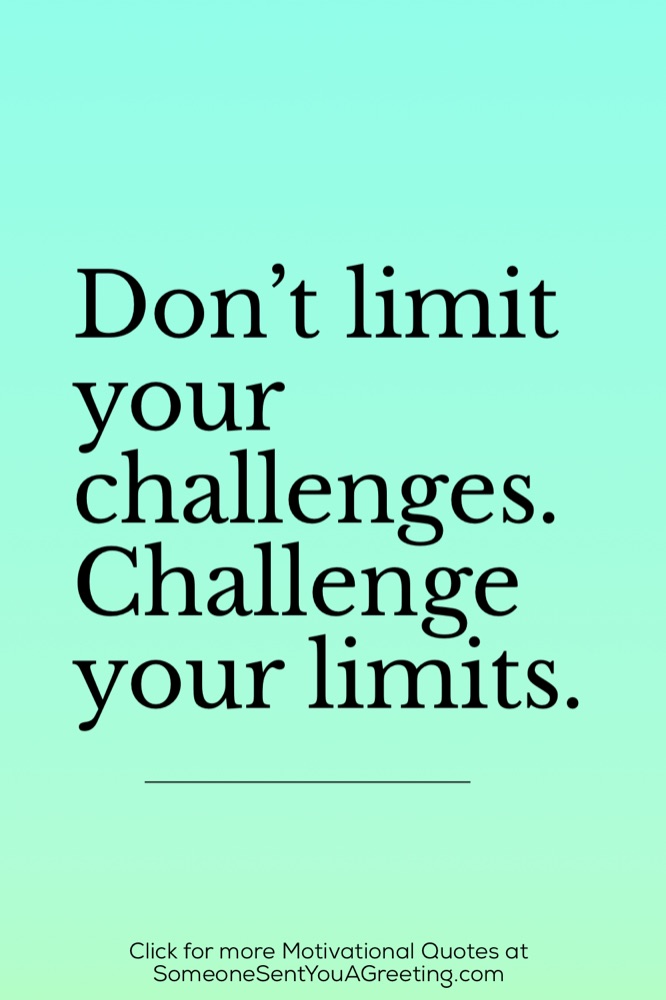 Motivational Quotes
"Nothing can dim the light that shines from within." – Maya Angelou
"If you don't get out of the box you've been raised in, you won't understand how much bigger the world is." – Angelina Jolie
"This is a reminder to you to create your own rule book, and live your life the way you want it." – Reese Evans
"Take criticism seriously, but not personally. If there is truth or merit in the criticism, try to learn from it. Otherwise, let it roll right off you." – Hillary Clinton
"Be so good they can't ignore you." – Steve Martin
"I choose to make the rest of my life, the best of my life." – Louise Hay
"Don't tell everyone your plans, instead show them your results." – Unknown
"You're so much stronger than your excuses" – Unknown
You Can Do It Quotes
"You never know what you can do until you try." – William Cobbett
"If you can dream it, you can do it." – Walt Disney
"Do what you can, with what you have, where you are." – Theodore Roosevelt
"Twenty years from now you'll be more disappointed by the things you did not do than the ones you did." – Mark Twain
"Do the best you can. No one can do more than that." – John Wooden
"All we can do is the best we can do." – David Axelrod
"It's never too late to be what you might've been." – George Eliot
"Don't let what you can't do interfere with what you can do." – Unknown
"Trust yourself that you can do it and get it." – Baz Luhrmann
"You can do anything you set your mind to." – Benjamin Franklin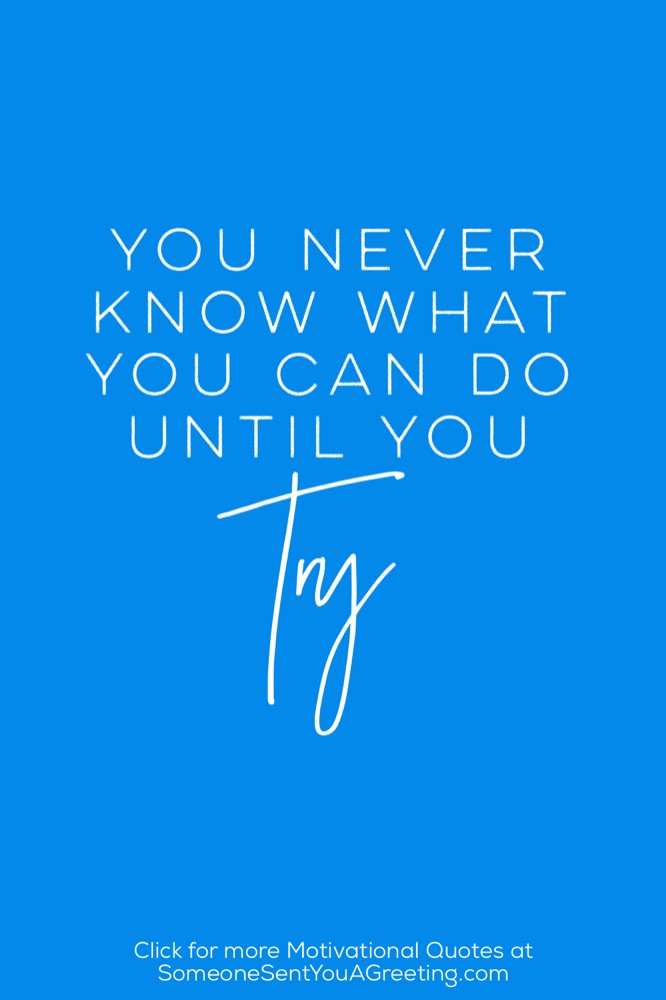 Best Motivational Quotes
"It's not what you do once in a while it's what you do day in and day out that makes the difference." – Jenny Craig
"You must do the kind of things you think you cannot do." – Eleanor Roosevelt
"The best way to predict your future is to create it." – Abraham Lincoln
"Wealth isn't about having a lot of money it's about having a lot of options." – Chris Rock
"Successful people are not gifted; they just work hard, then succeed on purpose." – G.K. Nielson
"Work until your rivals become idols." – Drake
"You can't have a million dollar dream on a minimum wage work ethic." – Unknown
"Don't watch the clock; do what it does. Keep going." – Sam Levenson
"There may be people that have more talent than you, but there's no excuse for anyone to work harder than you." – Derek Jeter
"Falling down is how we grow. Staying down is how we die." – Brian Vaszily
"Don't let yesterday take up too much of today" – Will Rogers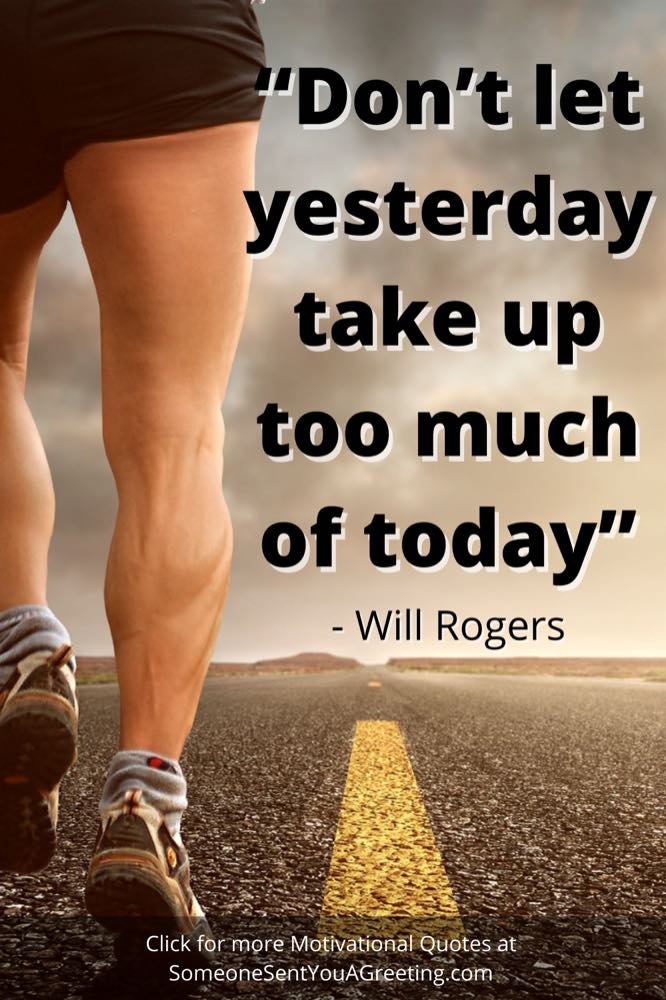 Motivational Quotes of the Day
"Even if you're on the right track, you'll get run over if you just sit there." – Will Rogers
"Never regret a day in your life. Good days bring you happiness and bad days give you experience." – Unknown
"Very little is needed to make a happy life; it is all within yourself, in your way of thinking." – Marcus Aurelius
"The woman who follows the crowd will usually go no further than the crowd. The woman who walks alone is likely to find herself in places no one has been before.' – Albert Einstein
"Life is either a daring adventure or nothing at all." Helen Keller
"Act as if what you do makes a difference. It does." – William James
"Either you run the day, or the day runs you." – Jim Rohn
"Life's like a movie, write your own ending. Keep believing, keep pretending." – Jim Hensen
"Only I can change my life. No one can do it for me." – Carol Burnett
"Life is 10% what happens to you and 90% how you react to it." – Charles R. Swindoll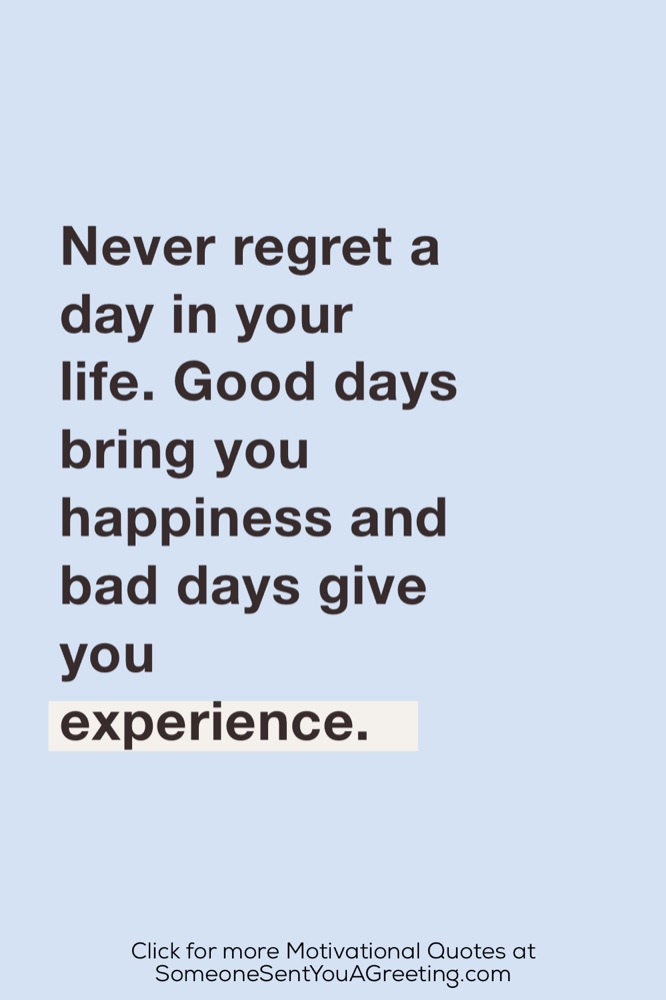 Positive Motivational Quotes
"Your only limit is your mind." – Unknown
"Stop being afraid of what can go wrong and start being positive about what can go right." – Unknown
"Your mind is powerful. When you fill it with positive thoughts your whole world will change." – Unknown
"Dwell on the beauty of life. Watch the stars, and see yourself running with them."― Marcus Aurelius
"What is coming is better than what is gone." – Unknown
"It takes nothing to join the crowd. It takes everything to stand alone." – Hans F. Hansen
"The difference between who you are and who you want to be is what you do." – Unknown
"The greatest weapon against stress is the ability to choose one thought over another." – William James
"Attitude is a choice. Happiness is a choice. Optimism is a choice. Kindness is a choice. Giving is a choice. Respect is a choice. Whatever choice you make makes you. Choose wisely."― Roy T. Bennett
"Do something today that your future self will thank you for." –Unknown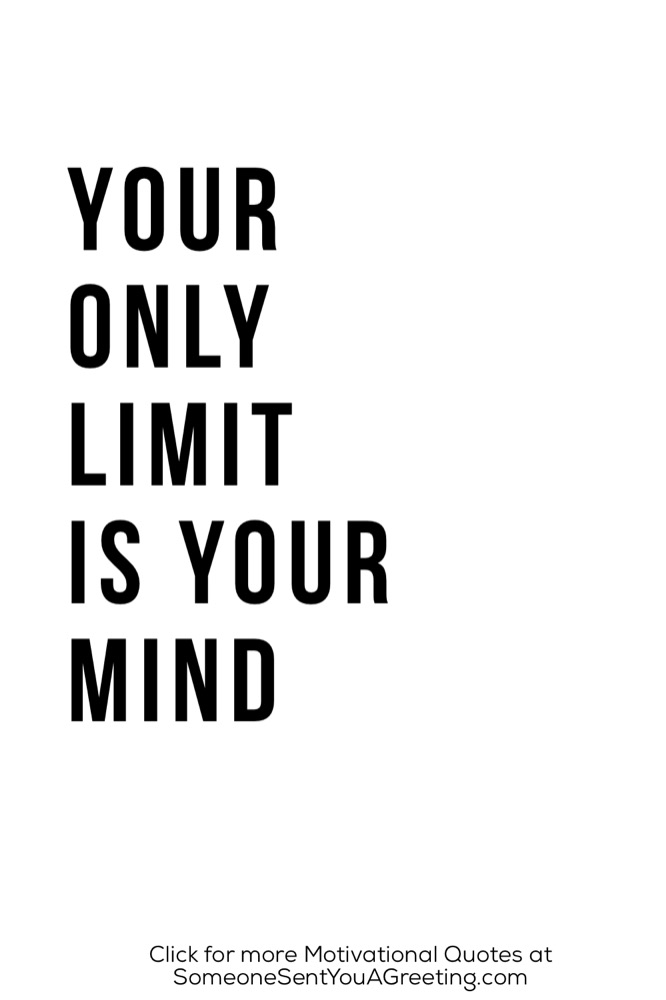 Motivator Quotes
"It might not be easy but it'll be worth it." – Unknown
"It is never too late to be what you might have been." – George Eliot
"Don't stop when you are tired. Stop when you are done." – Unknown
"Motivation may be what starts you off, but it's habit that keeps you going back for more." – Miya Yamanouchi
"Words can inspire, thoughts can provoke, but only action truly brings you closer to your dreams." – Brad Sugars
"I will not erase all my hard work this week because it's the weekend." – Unknown
"Revenge is a powerful motivator." – Marcus Luttrell
"Don't tell people about your dreams. Show them your dreams." – Unknown
"I'm not a product of my circumstances. I am a product of my decisions." – Stephen Covey
"You will never always be motivated, so you must learn to be disciplined." –Unknown
"Make your fear of losing your greatest motivator." – Unknown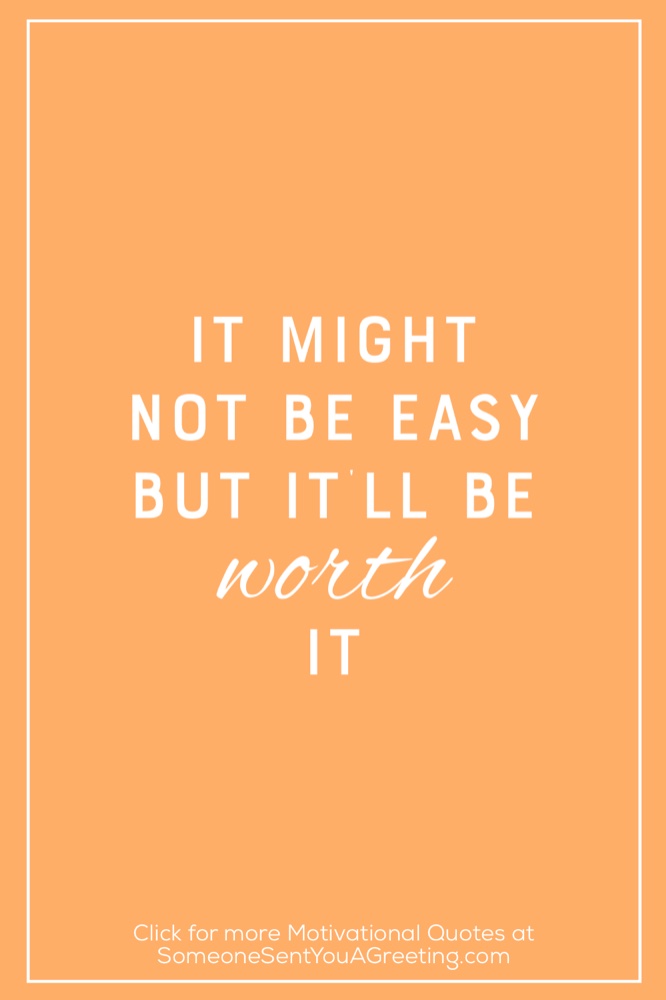 Conclusion
We hope you've found some inspiration and motivation from one or more of these motivational quotes. But they alone can't get you all the way. That still has to come from you. From your own desire to finish what it is you've started and accomplish your goals. So use the motivating quotes to inspire you, to help in that first step then push on and absolutely smash it yourself!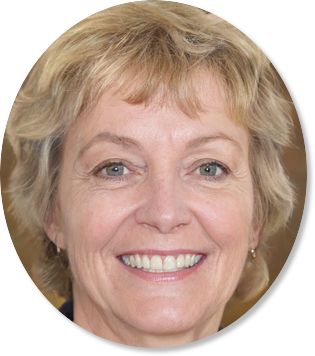 Sally Gibson is the founder of Someone Sent you a Greeting, a holiday/celebration website. Sally's writing work has been mentioned in Woman's World, Yahoo, Women's Health, MSN and more. If you have any questions get in contact with one of the team via the about page.