Top o' the mornin' to ye! You must be looking for some St Patrick's Day quotes and sayings to get in the spirit of things.
There's nothing like a bit of craic, as the Irish say, and St Patrick's Day is one of the most fun holidays. Think shamrocks, four leaf clovers, and of course, beer (or Guinness, if we're being accurate). The Irish sure know how to enjoy themselves!
And you can get in on the fun too. Whether it's a clever St Patrick's Day Instagram caption to share with friends or some wonderful Irish blessings to get you in the mood. St Paddy's Day is full of laughs and celebrating in a way only the Irish know how to do.
So mark March 17th in your diary, grab your paddy cap and hopefully get the luck of the Irish and celebrate with these St Patrick's Day sayings that sum up what it means to be Irish (no leprechauns or gnomes necessary)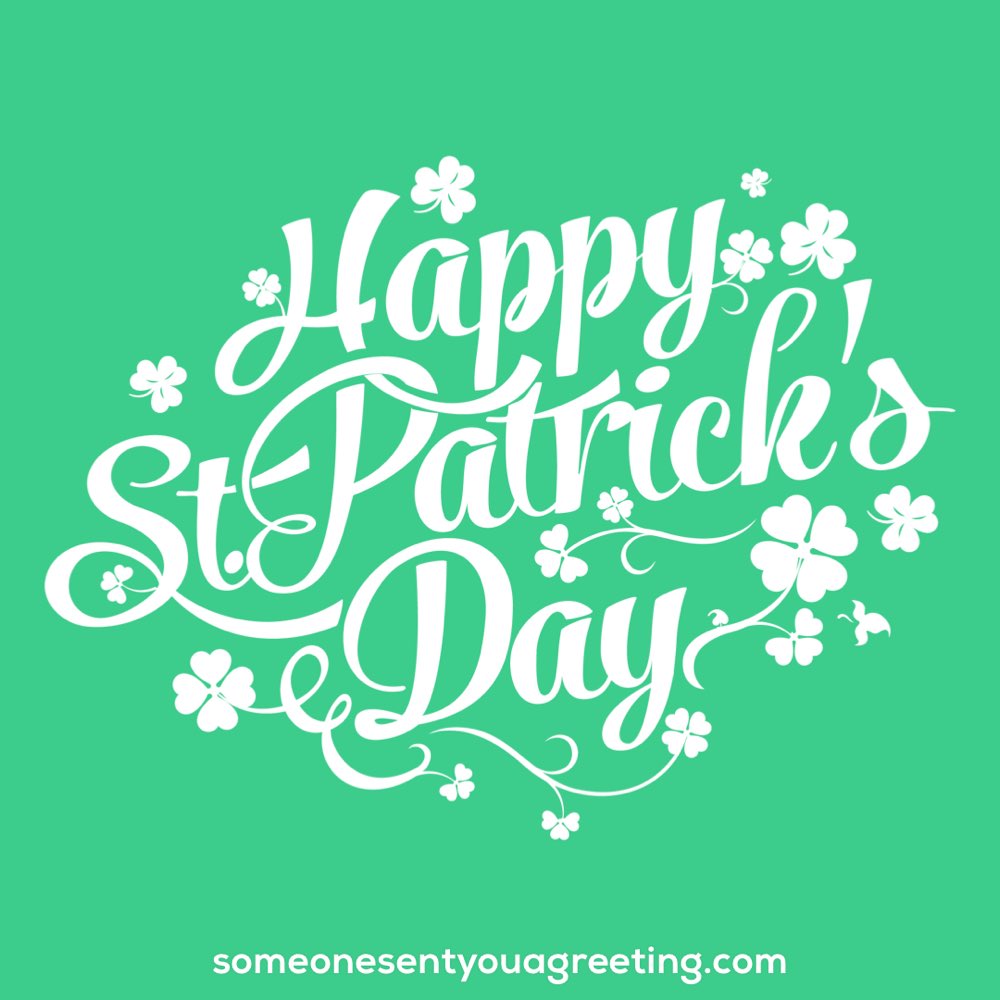 St Patrick's Day Sayings
"A good friend is like a four-leaf clover, hard to find and lucky to have" – Irish Proverb
"May St. Patrick guard you wherever you go, and guide you in whatever you do and may his loving protection be a blessing to you always." – Irish Blessing
"The best luck of all is the luck you make for yourself" – Douglas McArthur
"May your best day of your past be the worst day of your future" – Irish Proverb
"The amount of good luck coming your way depends on your willingness to act" – Barbara Sher
"Grant me a sense of humor, Lord, the saving grace to see a joke, to win some happiness from life, and pass it on to other folks" – Irish Prayer
"The heart of an Irishman is nothing but his imagination" – George Bernard Shaw
"Oh, Paddy, dear, an' did ye hear the news that's goin' round? The shamrock is forbid by law to grow on Irish ground! No more St. Patrick's Day we'll keep, his colour can't be seen, For there's a cruel law agin' the Wearin' o' the green" – Anonymous
"Ireland is a land of poets and legends, of dreamers and rebels" – Nora Roberts
"Luck is believing you're lucky" – Tennessee Williams
St Patrick's Day Quotes
"You gotta try your luck at least once a day, because you could be going around lucky all day and not even know it" – Jimmy Dean
"Whenever I want to know what the Irish are thinking, I look into my own heart." – Eamon de Valera
"For the whole world is Irish on the Seventeenth o' March!" – Thomas Augustine Daly
"St. Patrick's Day is an enchanted time – a day to begin transforming winter's dreams into summer's magic." – Adrienne Cook
"We may have bad weather in Ireland, but the sun shines in the hearts of the people and that keeps us all warm" – Marianne Williamson
"If you're Irish, it doesn't matter where you are – you'll find family." – Victoria Smurfit
"The list of Irish saints is past counting; but in it all no other figure is so human, friendly, and lovable as St. Patrick" – Stephen Gwynn
"If you hold a four-leaf shamrock in your left hand at dawn on St. Patrick's Day you get what you want very much but haven't wished for" – Patricia Lynch
"Whether I drink often, or just once in a while; I'm always sure to raise a glass to the dear old Emerald Isle" – Pat Maloney
"St. Patrick's Day is a day to celebrate our green heritage. The ancestry of Ireland. It is a day to celebrate what it means to be Irish and of Irish descent" – Anthony T. Hicks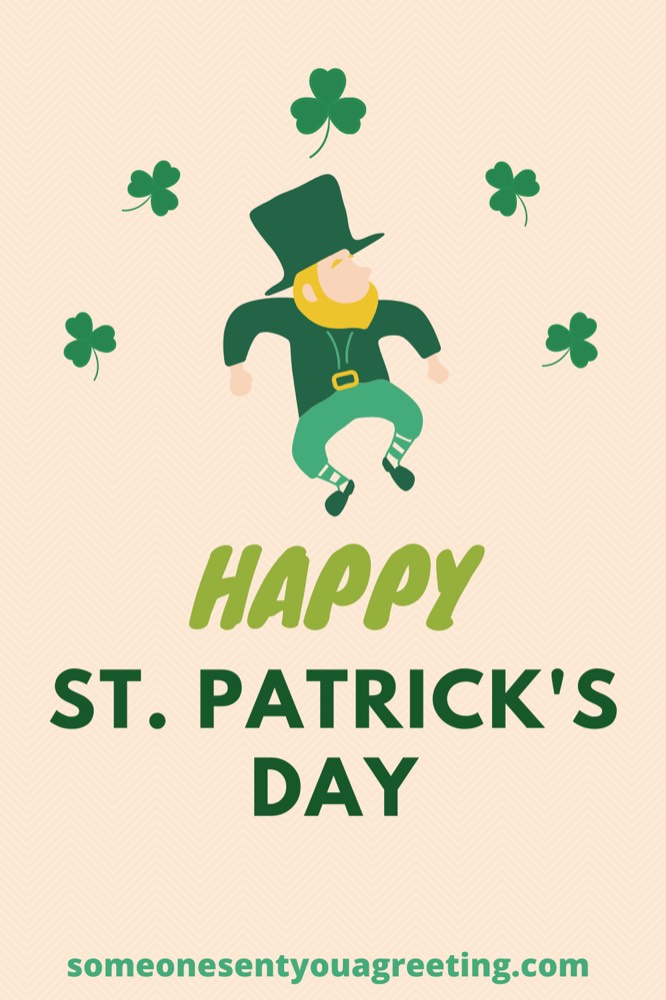 Funny St Patrick's Day Quotes
"Never iron a four-leaf clover, because you don't want to press your luck" – Unknown
"Ireland is the only place in the world where procrastination takes on a sense of urgency" – Dave Allen
"May the winds of fortune sail you, may you sail a gentle sea, may it always be the other guy who says this drink's on me" – Irish Blessing
"Ireland has one of the world's heaviest rainfalls. If you see an Irishman with a tan, it's rust" – Dave Allen
"Every St. Patrick's Day every Irishman goes out to find another Irishman to make a speech to" – Shane Leslie
"Here's to you and here's to me, I pray that friends we'll always be, but if by chance we disagree, the heck with you and here's to me" – Irish Toast
"May your St. Patrick's Day be beery, and oh so cheery" – Unknown
"I have a lot of fond memories of St. Patrick's Day in Chicago. Vague, but fond" – Joel Murray
"As you slide down the bannister of life, may the splinters never point in the wrong direction" – Irish Blessing
"May you have food and raiment, a soft pillow for your head. May you be forty years in heaven before the devil knows you're dead" – Irish toast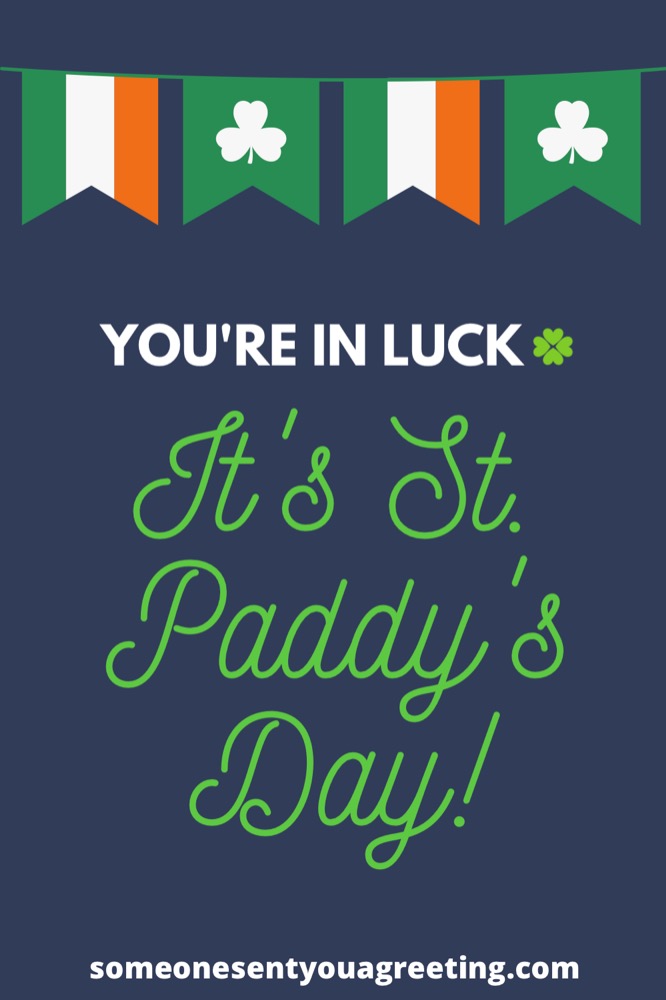 Blessings for St Paddy's Day
"A wish that every day for you will be happy from the start and may you always have good luck and a song within your heart"
"May the road rise up to meet you. May the wind be always at your back"
"May the roof above us never fall in. And may the friends fathered below it never fall out"
"May your blessings outnumber the shamrocks that grow. And may trouble avoid you wherever you go"
"May your thoughts be as glad as the shamrocks. May your heart be as light as a song. May each day bring you bright, happy hours. That stay with you all the year long"
"May your pockets be heavy and your heart be light, may good luck pursue you each morning and night"
"May the luck of the Irish lead to happiest heights, and the highway you travel, be lined with green lights"
"Like the warmth of the sun And the light of the day, may the luck of the Irish shine bright on your way"
"For each petal on the shamrock, this brings a wish your way: Good health, good luck, and happiness for today and every day"
"May the mist of Irish magic shorten every road and may your friends remember the favours you are owed"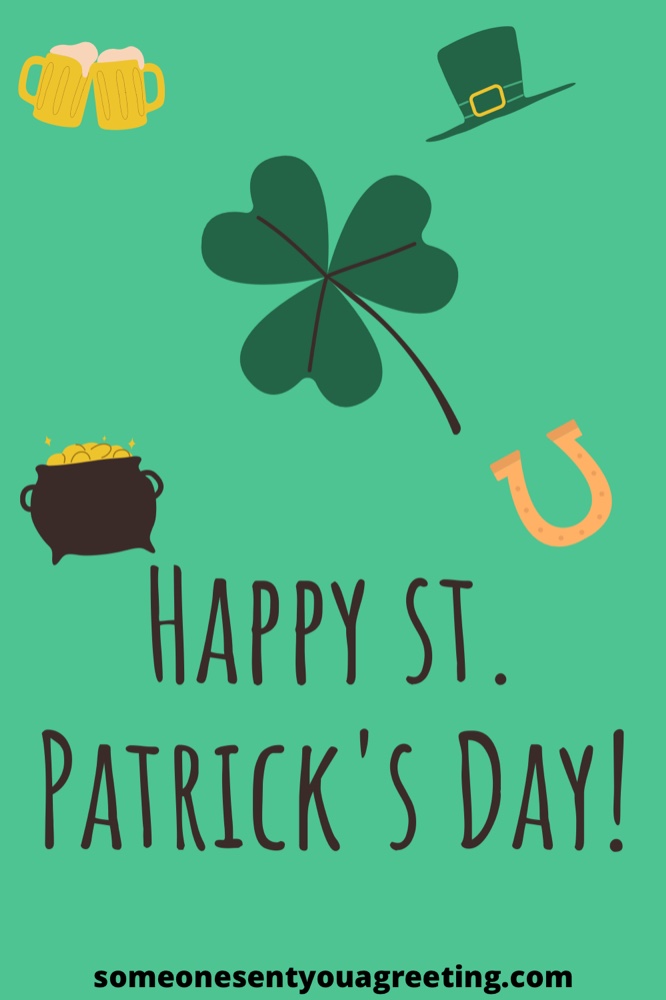 Quotes about being Irish
You can take a man of Ireland, but you can't take out the Irishness of the man." – Tyson Fury
That's what the holidays are for – for one person to tell the stories and another to dispute them. Isn't that the Irish way?" – Lara Flynn Boyle
"The heart of an Irishman is nothing but his imagination" – George Bernard Shaw
"Being Irish is very much a part of who I am. I take it everywhere with me" – Colin Farrell
"There is no language like the Irish for soothing and quieting" – John Millington Synge
"This microscopic nation in the Atlantic has little economic or political clout in the world. But somehow, Ireland's influence seems to pop up everywhere, whether you prefer to travel in the realms of high or low culture"- Robert Sullivan
"Irish history stretches back into the dark days of the Celts, yet there is a light, laughter and a sense of laissez-faire in the Irish men and women of today" – Richard Benson
"You cannot conquer Ireland. You cannot extinguish the Irish passion for freedom. If our deed has not been sufficient to win freedom, then our children will win by a better deed" – Patrick Henry Pearse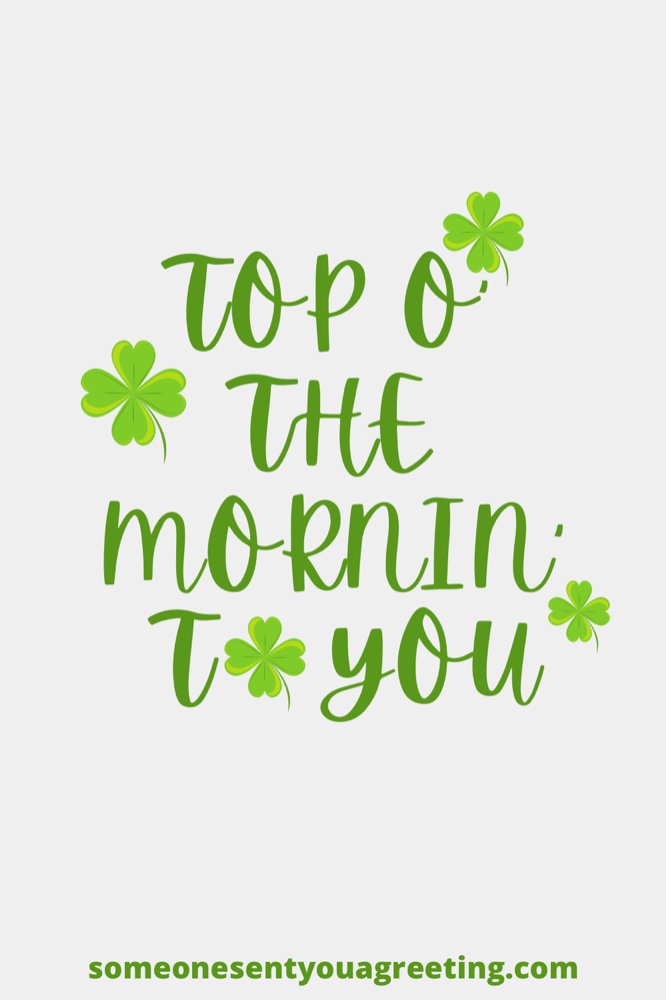 Famous Irish Quotes
"You're not in America now, you're in Ireland. So have a drink and shut up" – Matthew Goode, "Leap Year"
"Yeah, it's St. Paddy's Day. Everyone's Irish tonight" – Norman Reedus, "The Boondock Saints"
"Ireland is a land of poets and legends, of dreamers and rebels" – Nora Roberts
"Love is never defeated, and I could add, the history of Ireland proves it" – Pope John Paul II
"I wish that I could stop feeling that I want to be an Irish girl in Ireland" – Saoirse Ronan, "Brooklyn"
"If it was raining soup, the Irish would go out with forks" – Brendan Behan
"I'm not going to a distant world. I'm of Ireland, and I'll stay in Ireland until I die!" – Tom Cruise, "Far and Away"
"Be still and know that I am.

Be still and know.

Be still.Be." – St Patrick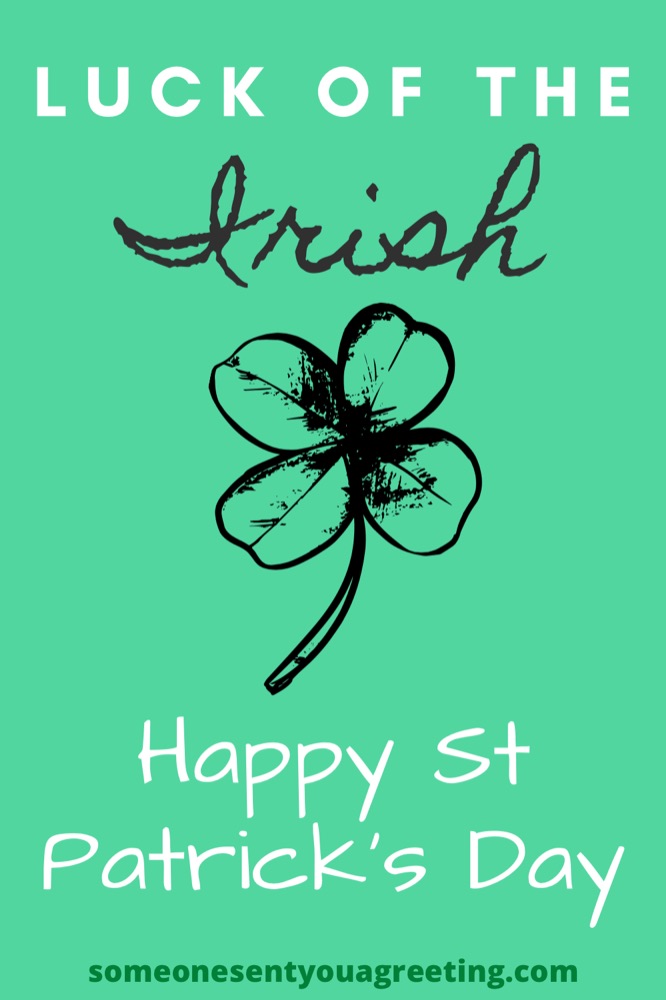 We hope you enjoyed these St Patrick's Day Quotes and they have got you feeling very Irish and into the festivities and fun of St Patrick's Day.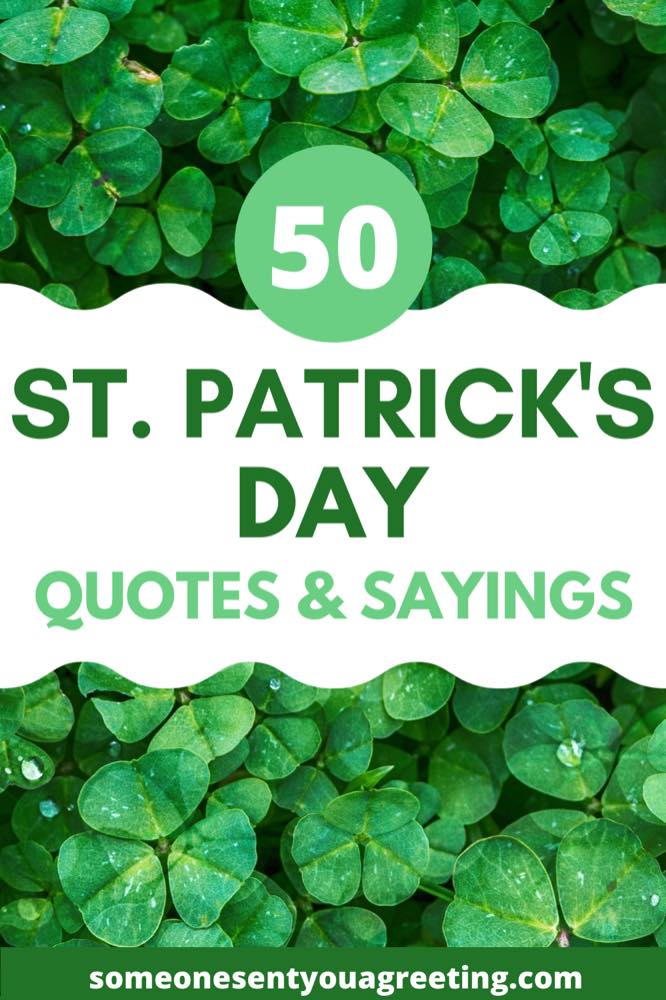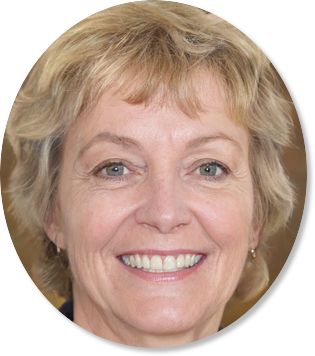 Sally Gibson is the founder of Someone Sent you a Greeting, a holiday/celebration website. Sally's writing work has been mentioned in Woman's World, Yahoo, Women's Health, MSN and more. If you have any questions get in contact with one of the team via the about page.