Retiring is such a major event. The end of a career represents the beginning of a new chapter in someone's life. It can be a time for joy and celebration, looking forward to the start of new challenges or a well earned rest. But also fear and trepidation over a loss of identity or what might come next.
For most though this will be a period where they are being celebrated for their achievements and contributions to their field or work. And what's the best to celebrate and commemorate a colleagues lifetime of work – with a retirement party!
If you're in charge of or have volunteered to take on the planning of the party; deciding on the theme, decorations, games etc. then you might be looking for a little help. Deciding on all the different aspects can be tricky. So if you need some hints and tips then read on.
As this guide will give you a complete rundown on everything you need for the best retirement party. We'll look at what a retirement party is, who to invite, where to hold it, different theme ideas, music choices, gifts decorations and much more. Phew! Who knew a retirement party involved so much? Thankfully if you read this then you'll be totally prepared to throw an absolutely brilliant party that sends the retiree off in the best way.
What is a Retirement Party?
A retirement party is get together, gathering, do (or whatever you want to call it) of people to celebrate and pay tribute to the person that is retiring. It commemorates their longevity in work, their accomplishments and what they have offered to the work place they are retiring from. It also gives colleagues and friends a chance to wish them well, maybe deliver a speech and commemorate their career.
The parties can be work based and thrown by the employer or colleagues but families often have their own retirement parties that focus more on friends and celebrating away from work. The two can also be combined into one big event if that is preferred.
The type or theme of the party will come down to either what the retiree wants or the decision will be taken by whoever is planning it. It can range from a quiet dinner with just a few friends and family through to a big get together of work colleagues, acquaintances and more.
Tip
Before throwing a retirement party make sure the retiree is happy or accepting of their retirement. If they're upset or angry about it then the last thing they will want is to go through a party in their honour. So keep that in mind when planning the party and don't be afraid to tone it down to something smaller or more intimate (or even scrap it entirely if need be).
When is it Held?
Usually it takes place very soon after the person has retired. No more than a few weeks. Often the party is directly after their final day of work as this allows for colleagues to go straight to the party. Or it may be held in the office so everyone is already present.
If it's a family party or meal then this can take place whenever you wish, although leaving it too long after the last day of work would be a little odd. As above: within a few weeks is most common and makes sense.
How long Should it Last?
There are no set rules for this but it will probably depend on the type of party. If it's the quieter family meal then it may only be a few hours. If it's a party thrown by the office or colleagues and is taking place at a specific venue then it's quite likely to be longer. But again it will depend on the sort of celebration it is. And if it's a family or friends party at someone's home then it can last as long as you like!
How to Plan a Retirement Party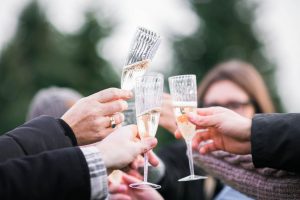 So, with the basics out the way we can get down to the important stuff – planning the party. There are quite a few different parts to a retirement party you may need to deal with. If you're intending to have a very casual get together then much of this won't apply or be necessary. But for a large party, possibly at a special venue and with lots of guests then you'll want to do a fair amount of planning to keep track of everything and make sure it all goes smoothly.
Who to Invite?
If you're intending to make your retirement party a surprise then you will need to decide who to invite without involving the retiree. A good idea is to talk to friends and family about who they think would make good guests to invite and make your guest list with them. You could look for people from their past as well; other jobs and associates they had a connection with. Current colleagues, friends and family are the most important though.
If the party is being arranged in the full knowledge of the retiree then you can ask them exactly who they would like to attend. This ensures you get a guest list they will be completely happy with and no one turns up they might not be too keen on seeing.
Invitations to Use
You'll want to send your retirement party invitations out with enough time before the party so people can rearrange plans if need be. Don't send them out a few days before the event as you'll probably find you only get a few guests turning up!
The invitations should also contain as much information as possible about the party. The theme you have picked (see further down for theme examples and ideas) will determine the type of invitations you use. For example, a party that's formal and at a fancy venue should have an elegant invitation and will need to include things like dress code, dining arrangements, maybe even directions. An office party that's a lot more casual wont need anything like that however and the invitation can reflect this.
If you're going to let any guest make a toast or speech then that should be mentioned in the invitation too so they can prepare if they so wish.
Location – Where to Have the Party
The location you hold the retirement party will also depend on your theme. An office party won't need any real preparation, aside from maybe finding a clear room or moving some desks. Whereas a party that's going to be a formal event with is going to need to be hired and
A few location examples you might want to consider:
Drinks after work at a favourite bar of theirs
A family meal at their favourite restaurant
A picnic or BBQ in the local park
A sporting event – you can hire boxes and function rooms
A big gala or fete
Those are just a few ideas but you can hold a retirement party in most places. Just think of what the retiree will like the most and base it around that.
Tip
Something to consider: if the party is a surprise and being held somewhere away from the office then you'll need to take into account getting the retiree to the venue. This might be a job for you, or a member of their family.
Decorations
As with the invitations and location the decorations are going to need to reflect the theme of the party. If you're basing it around a hobby or interest of the retiree then the decorations will need to match that. If it's going to be a formal party at a special venue then opt for elegant decorations. A good way to enhance the decorations is by using meaningful retirement quotes and messages as part of the place settings at the table.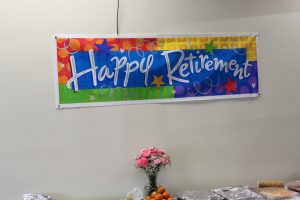 An office party will require you to be a little more ingenious with your decorations. You can buy fairly standard streamers, balloons and bunting but you might want to try and tailor the decorations around their job and the work they've done for the company.
Gifts and Cards
Before the party you can circulate a large retirement card around colleagues and coworkers for them to sign. This can then be presented to the retiree at the party. If you're the crafty type, or a coworker is, you could think about making the card yourself. This makes it extra special and more meaningful to its recipient. Be careful not to let the on what you're doing though and have it seen by the retiree before the party.
Another option is to create a scrapbook of memories and photos that coworkers have contributed. Ask them for their thoughts and feelings on the retiree, have them write them down and put them together with some special photos from over the years.
A good way to get a really top retirement gift is by getting all the attendees of the party or al the colleagues to put a little into gift fund. Then as a group you can buy something bigger and more special. It also means each individual doesn't have to worry about finding a good gift, two people getting the same thing and allows for a more expensive, memorable present.
However, if for some reason that won't work and individuals will be getting seperare gifts then try to get something the retiree will use or need during their retirement.
Speeches
Speeches and speakers are an important part of a retirement party. You should try to choose and ask who you want to speak beforehand and get an idea of what they're going to say. Ensure that the speeches aren't too long or controversial – the last thing you want is someone saying something offensive or boring everyone for 30 minutes. Short, to the point and honouring the retirees career. Either funny or touching is the way to go.
You might have thought about having an open mic section, and if you're confident enough that your guests will behave then go for it. But be wary of alcohol fuelled speeches getting into unwanted territory. If you're having an MC then they can be there to cut people off if things get out of hand or offensive.
Once all the allocated speakers have given their speeches then it's time for the retiree to give a speech (if they want to). Hopefully they will keep to similar theme and timeframe as the other speakers, talking about their time at work or the company and recounting their favourite memories.
Commemorations
The speeches that colleagues, friends and family give are a great way to commemorate the retiree. But there are some other ways that everyone at the party can get involved and celebrate their achievements. A few good examples are:
Each guest can be videotaped giving their memories, thoughts and dedications to the retiree for them to keep (see below)
Have a book or scrapbook that guests can write their dedications and memories as a keepsake for the retiree
Use photos from throughout the retirees life and either make them part of the decorations or as a video collation that plays on a big screen/projector during the party
Purchase a plaque that's inscribed with either the dates the retiree worked or the number of years
As well as speeches you could arrange a retirement roast, where friends and family gently make fun of the retiree alongside commemorating them
Those are just a few ideas that will hopefully give you some inspiration for some great commemorations.
Photographs and Videos
A great way to remember the day is with photographs or a video. If your budget can extend to it then you could consider hiring a professional videographer or photographer to get some footage of the party. Alternatively you could ask around the attending guests to see if there are any accomplished or amateur photographers/videographers.
For video try to get some good footage of the speeches, maybe some dedications to the retiree and generally capture the enjoyment of it all. The same for photographs – you will want to show everyone having fun. And of course lots of the person the party is for. Keep in mind it's the sort of thing they will look back on in years to come and will want to remember it fondly, so try to make it reflect that as much as possible.
Retirement Party Ideas
Right, you've sorted your guest list out, hired the venue, decorated it fittingly and got your speakers all lined up. Now you can decide on the actual party theme and what you want to include. We'll take a look at some of the different party ideas and themes you could use, games to play or involve and even the music choices.
Here are a few retirement party ideas that will hopefully give you some inspiration when deciding on yours:
A Meal or Gala type Event – alongside an office party the most common type of retirement celebration will be a fancy meal or something similar to an evening gala. Hire a venue, have a nice meal with coworkers and family, a few speeches and celebrate the career and working life of the person retiring.
A Picnic or BBQ – gathering lots of friends and family at an outdoor event like a picnic is a great way to celebrate. It's a very informal and relaxed and let's the retiree mingle and easily talk to the important people in their lives. You can invite kids and grandchildren to this sort of party as well, which is nice addition if the retiree is close to theirs.
A Sporting Event – is the retiree a big golf fan? Would they like a day at the races? A golf tournament or other sporting event of a similar nature is a great alternative idea for a party. And a day at the races allows you to enjoy some drinks, maybe have a bet and win some money and celebrate a life of hard work.
A Fishing Trip – probably more suited to a man, going away with some friends and family and enjoying the tranquility of nature and peaceful fishing is the idea of heaven to some people.
A Spa Day – If the retiree is a woman then you could plan a spa day with friends and family. Enjoying a massage, facials, a manicure or pedicure and generally being pampered is absolute bliss for some people. And after years of a strenuous career what better way to begin a life if retirement than by fully relaxing.
Retirement Party Themes
The theme of your retirement party shouldn't be too difficult to decide on. It should be centred around the person retiring and so something to do with them. You can keep it related to work and their career, focus on their hobbies or if they've got something big planned for the future after their retirement then use that as your theme. Make it clear in the decorations and set up of the venue what the theme is and the second the retiree joins the party they will understand and enjoy the
These are a few examples of themes you could use:
Future Plans/Travel – if the retiree is planning to move away or is travelling after the retirement then you could theme the party around that and the location they're going to. The food and decorations could reflect the place or city and what it's known for. Guests could even dress in a way that the destination is known for – Hawaiian shirts if they're going to Hawaii for example. You can also make the celebration a sort of farewell party as well.
Hobbies – if the retiree has a real passion for something then theming the party around that makes sense. Have the decorations, food, invitations etc all based on their favourite hobby and it will end up with a real personalised feel. It would be a stretch but getting a venue to link in with the same theme and hobby would be even better.
Career – this is one of the most popular retirement party themes as it's something you'll be very familiar with and leaves lots of room for real creativity. For example if they were a builder/tradesman you could have a builders hat cake, drinks served in thermos', construction signs as part of the decor etc. You can really get creative and have a lot of fun with this sort of theme.
This is Your Life – this is also a popular theme as it looks back on the retirees entire life. The planning and sourcing of what you'll need is a little trickier though. You will need family and close friends help to get a full history, old and childhood pictures, people able to talk about their younger years etc. But if you can manage it then it's worth the effort.
Hire Year – this can be a really fun theme. Base the entire party around the year the retiree was hired. Have guests dress appropriately for that year or time, have decorations reflect it as well and try to get photos of the person retiring from that year and their early days of work. A nostalgic but fun way to celebrate a retirement.
Retirement Party Games
Depending on the type of party you're arranging you might be considering some retirement games. They can be a bit silly but that's sort of the point! Just a bit of fun and a good way to relax everyone and get them laughing.
Try some of these to liven your party up:
You could create a quiz all about the retirees life and have out a prize or prizes to the winners.
A silly retirement take on pin the tail in the donkey – 'Pin the retiree on their Vacation'. Get a large map and create a few pinnable pictures of the retiree and have guests try to pin the retiree on where they will be vacationing first. (Stolen from
A Moms Take who have some great ideas!)
Print out some generic outline pictures of a man or woman and then have guests draw on the pictures what they think the retiree will be wearing now they don't have to be in a suit and tie every day.
Smash the Alarm Clock. Have guests bring old alarm clocks to the party, put them in a pillow and then let the retiree smash them with a hammer. No more alarm clocks Needed now you've retired! Just be sure to clean up and recycle the remains if the clocks!
Retirement Party Food
The food you serve will very much depend on the type of party you're throwing. If it's a themed event then the food will probably match that.
If you've hired a venue or are going for a special meal then chances are you'll have a set menu that people can decide from.
If you've chosen to have a picnic or BBQ then the food will reflect that – probably lighter and more buffet like or self serve. The same will apply for a lunchtime party – sandwiches, salads and maybe soup.
After work drinks will also be light. You probably won't want a full meal so finger foods that people can pick up easily would fit best.
You can also hire a catering company to handle all the food if hot budget will stretch to it.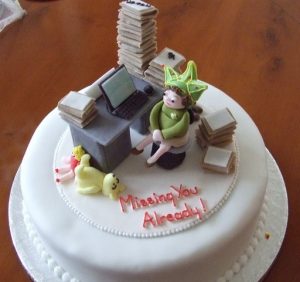 And of course you'll need a cake! Again, if it's a themed party then the cake will probably match in with the theme. Aside from that you can either go for something elegant and traditional or maybe a one with a funny message or design.
Retirement Party Music
You may or may not want to have any music at the party. It will depend on the type of party you're throwing and also the person it is for. If they're not really a music fan then obviously it won't really work. If they're a big music lover or are known to like belting out a tune then you could even consider a karaoke party! That's not for everyone though!
However, if you are going to have music then you could think about making a retirement themed playlist with songs all related to retiring and ageing. If you've got a laptop, wi-if and a decent set of speakers you can create a Spotify playlist with all your retirement songs on and easily play it throughout the party. Here are a few ideas of songs to include:
Working 9 to 5 – Dolly Parton
I'm Free – The Rolling Stones
Hit the Road Jack – Ray Charles
The Best is Yet to Come – Frank Sinatra
When I'm 64 – The Beatles
Take This Job and Shove it – Johnny Paycheck
My Generation – The Who
Another One Bites the Dust – Queen
Leaving on a Jet Plane – Peter, Paul and Mary
We Gotta Get Out of This Place – The Animals
There are many more but that should give you a starting point for your musical choices.
Retirement Party Favors
Not all parties will suit having party favours but for the ones that do you'll want to make them as special as possible. Having a small gift to leave with is a nice way of showing appreciation for having come to the party and celebrated their colleagues/friends career and retirement.
You don't need to go overboard with this though. Retirement party favours shouldn't be large or ostentatious. Something small will be enough, although if you can then try to personalise or have them fit in with the theme if the whole party.
Here's a few retirement party favor ideas to give you some inspiration:
Personalised Playing Cards
Personalized Wine Glasses
Bottle Opener
Personalised Beer Mug/Pint Glass
Personalised Chocolates
Personalised Coasters
Personalised Keychain
Mints or Candy
After the Party
After you've said your goodbyes and the party is over it can be easy for everyone to lose touch with whoever has retired. You can make it part of the party to help everyone to stay in contact by taking some simple steps:
Get the new contact details of the retiree; address, phone number, email address etc. and give it to all the guests before they leave.
Make sure everyone is 'friends' on Facebook.
Create a retirement website or blood for the retiree who can update it and let colleagues and friends let in contact through that.
Well, that should have covered pretty much everything. Try to keep in mind that a retirement party should above all else be fun. As long as you create a joy filled atmosphere with the retiree surrounded by their best friends and family then your party will be a success and they will thank you for all your efforts.
Now we want to hear from you.
What type of the retirement party ideas are you going to use? Or have you got an idea for one we haven't featured here?
Either way we'd love to know so leave a comment below right now.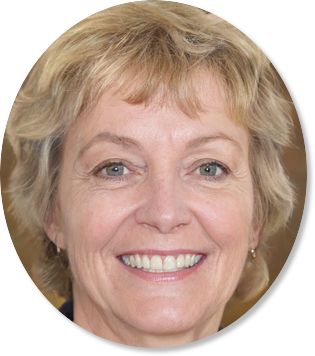 Sally Gibson is the founder of Someone Sent you a Greeting, a holiday/celebration website. Sally's writing work has been mentioned in Woman's World, Yahoo, Women's Health, MSN and more. If you have any questions get in contact with one of the team via the about page.