Wishing your own son a Happy Birthday is pretty darn easy. You've known him all your life, you have a strong connection and bond – he's a member of your closest family. So writing a birthday message or getting him a card isn't anything you have to worry or stress about.
But saying "Happy Birthday son-in-law" can be a different story altogether. You may not know him as well, what he likes and dislikes, and you may be fearful of causing offence.
Let's be completely honest: you're not his mother or father. So there's always the possibility you over step the mark and say something inappropriate or that he isn't comfortable with. So something that on the surface seems easy has the potential for problems.
But that's why we've put together this guide on what to write in a birthday card for a son-in-law. You'll find a great range of birthday wishes and messages for your son-in-law, from sweet and touching to funny and insightful quotes.
You can use them in cards, on social media like Facebook, or even use them to say to your son in law in person.
Birthday Wishes for Son-in-Law
Wish your son-in-law a happy birthday with these messages and greetings. They are fairly general and non specific so should be suitable for most situations.
Happy Birthday and thank you for making our daughter so happy
Please know how special you are to us. Have a wonderful Birthday
Happy Birthday! We're proud to call you not only our son-in-law but our son
At first it was just our daughter who was crazy about you, and now we all are! Happy Birthday
You've become such an important part of our family we couldn't imagine it without you. Have a wonderful Birthday
Thank you for making our daughters dreams come true. Happy Bday
We're glad to have you as part of the family, even though you weren't born into it. Happy birthday, son!
We were never lucky enough to be blessed with a son of our own. But when our daughter found you, it felt like we'd finally got that son. Happy Birthday
On a piece of paper, we're related by law. But in our hearts, we are related by love. Happy birthday son
It may have been chance you became our son-in-law but it was our choice to keep you as part if the family. Enjoy your day.
We couldn't have asked for a better son-in-law. Happy Birthday
The love and warmth we've felt since you came into our lives had been incredible. We're honoured to have you as part of the family. Best wishes son
SEE MORE: Happy Birthday Messages for Niece
Birthday Messages for Son in Law
I'm so pleased we have such a fess relationship. You're a truly special son-in-law, happy Birthday
I hope you have a special and joyous Birthday!
May your birthday turn out to be like the life you've given our daughter – amazing. Happy birthday
When I see you and our daughter together I see a happiness in her like never before. The true love you have is inspiring, and for that I want to wish you a truly Happy Birthday
We may not say it very often but we're so pleased with the choice our daughter made! Have a brilliant Birthday!
You have my daughter the gift of true love. Unfortunately whatever we get you won't quite march up! Happy Birthday though!
A kind heart, a good soul, and a great son. Happy Birthday
Happy Birthday to our favourite son-in-law.
To the best son-in-law in the world – have a fantastic day!
Enjoy a great Birthday and don't eat too much cake!
Wishing you a happy and memorable Birthday.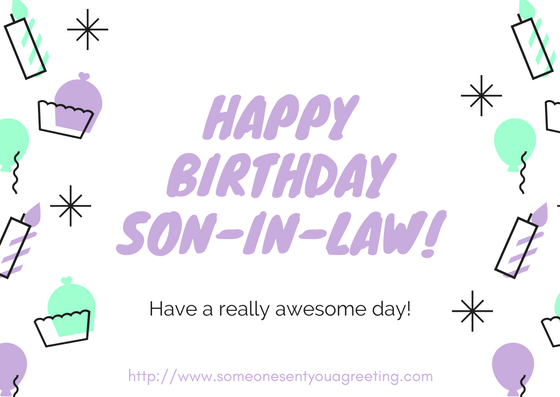 Funny Birthday Messages
A good way to celebrate a birthday is with laughter and joy. So a joke or funny message is a great way to put a smile on your son-in-laws face and enjoy his big day.
You're looking great considering you married into our crazy family! Happy Birthday!
Happy Birthday to a son-in-law who has the most amazing in-laws!
We forgave our daughter for marrying you when she let us know just how rich you are!
As your in-laws, normally it's our job to make your life miserable, but since it's your birthday, we'll take a day off! Happy Birthday
We love calling you our son so much we've decided to remove the suffix 'in-law'. Happy Birthday!
You deserve to have a relaxing birthday. You work hard keeping our daughter happy!
Tall, handsome, sensitive, intelligent, funny, brave, musical and athletic. Ben was am all those things — so why on earth did my daughter have to go and marry you!?
We hope your birthday is the happiest day of your life… Wait! The day you married our daughter should be the happiest day of your life!
We're glad you were born… to take care of our daughter. She's your responsibility now.
We don't need to give you a birthday present. We already made you the perfect gift – our daughter!
We've always thought you
were a complete fruitcake – Sweet, nutty and totally wonderful!
I have no doubt of your qualities as a husband, but as a son-in-law we'll have to see. Will you pop round to see us every Sunday, or will I continue to have to mow the lawn and wash the car myself?
Sweet Birthday Wishes
Wish your son-in-law a touching and sweet Happy birthday, letting him know just how special he's become to you.
On your survival day we want to thank you for being such a wonderful son-in-law and for bringing happiness into not only our daughters, but our lives. Happy Birthday
You've not only become a member if the family but also a friend to all of us. Have a great Birthday
I hope you celebrate today and find it filled with joy and happy memories. Happy Birthday
Surround yourself with family and loved ones today and enjoy a special day of laughter and fun
Wishing a magical day to the man responsible for always putting a smile on our daughter's face. Happy birthday.
Youve become an integral part of the family, and provide love and strength when we all need it. We cherish having you as our son-in-law, have a fantastic Birthday
Wishing a fabulous birthday to a wonderful son-in-law
Your loving care and good nature is an inspiration to the whole family. Enjoy your day
The world might see you as our son-in-law, but to us you're just like a true son. Have a very happy birthday, dear.
May good fortune and good health follow you today and the rest of your life. Happy Bday
SEE MORE: Happy 15th Birthday Quotes
Birthday Quotes
A different but equally good way to wish a son-in-law happy birthday is with an insightful or inspirational quote.
"If your son-in-law is good, you gained a son. if he is bad, you've lost a daughter" – Hebrew Proverb
"A good son-in-law is like the acquisition of a new son; a bad one is like the loss of your daughter" – Jewish Proverb
"Never praise your son-in-law until the year is out" – Irish Proverb
"It is a sad situation for a son-in-law when his mother-in-law praises him" – Chinese Proverb
SEE MORE: Happy Birthday Aunt Wishes
Happy Birthday Son-in-Law Images
You can use these sweet, joyous and funny Happy Birthday son-in-law images to share on Facebook or Twitter, either directly to your son in law or for the world to see.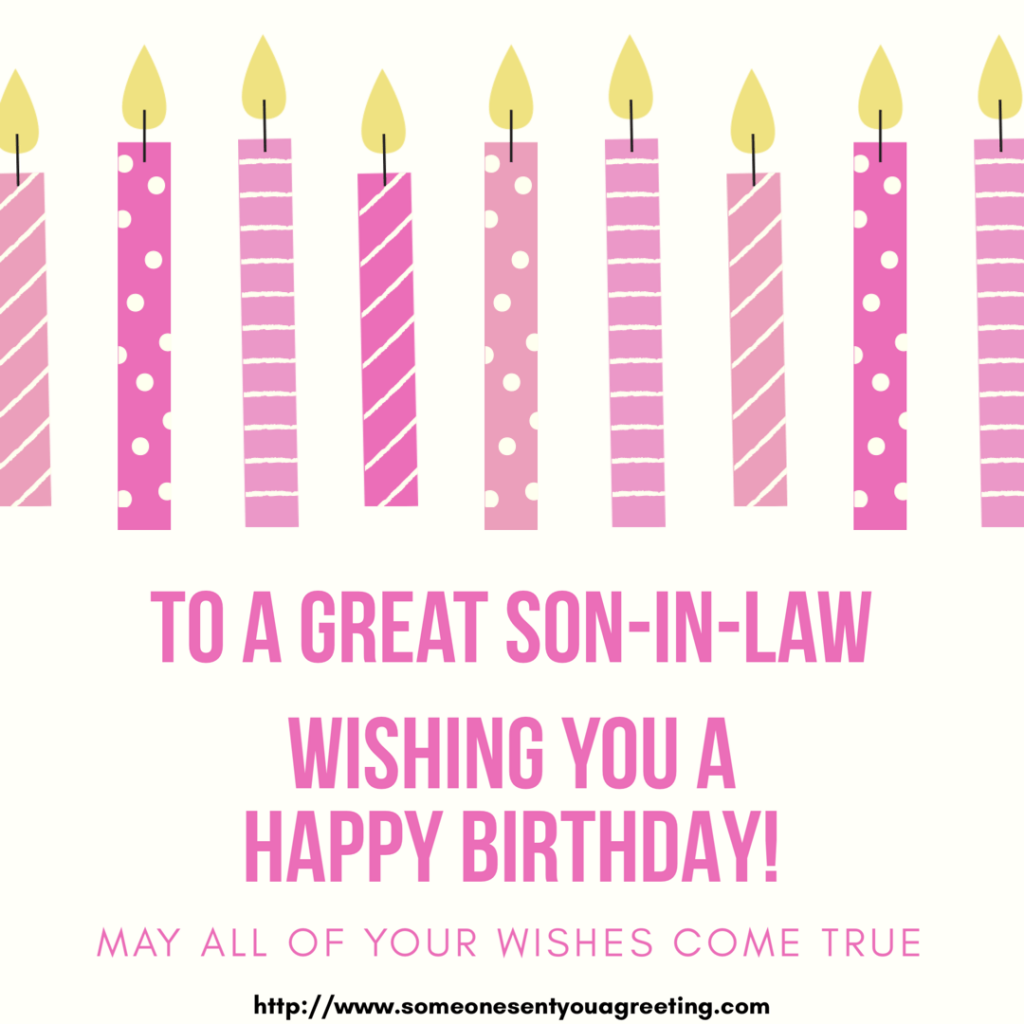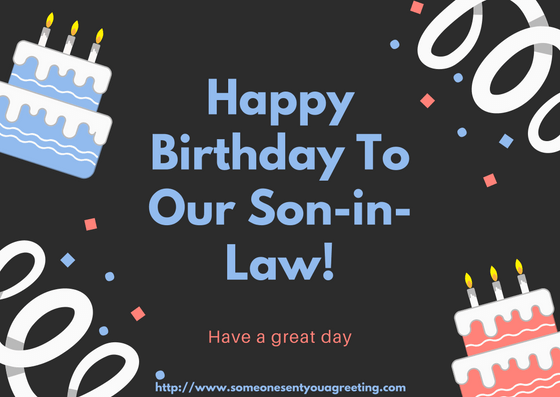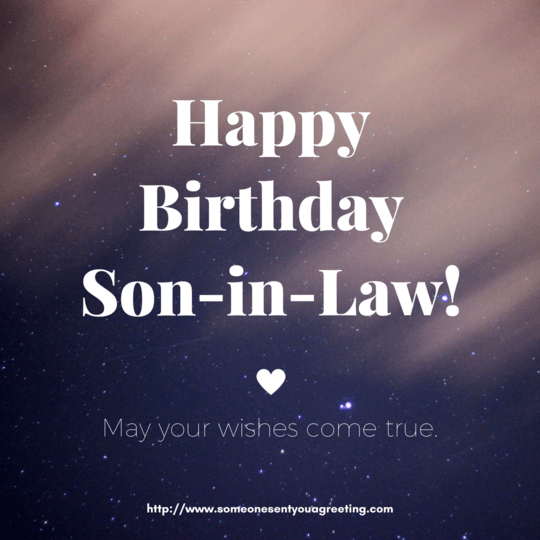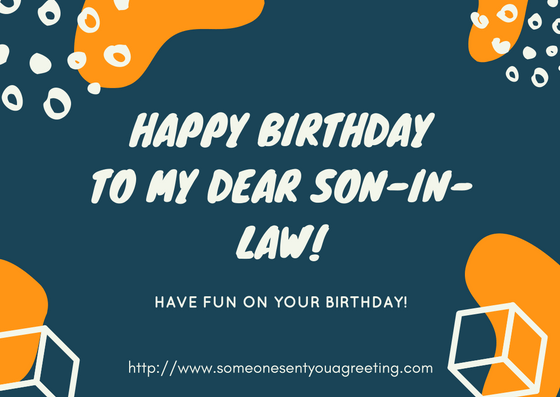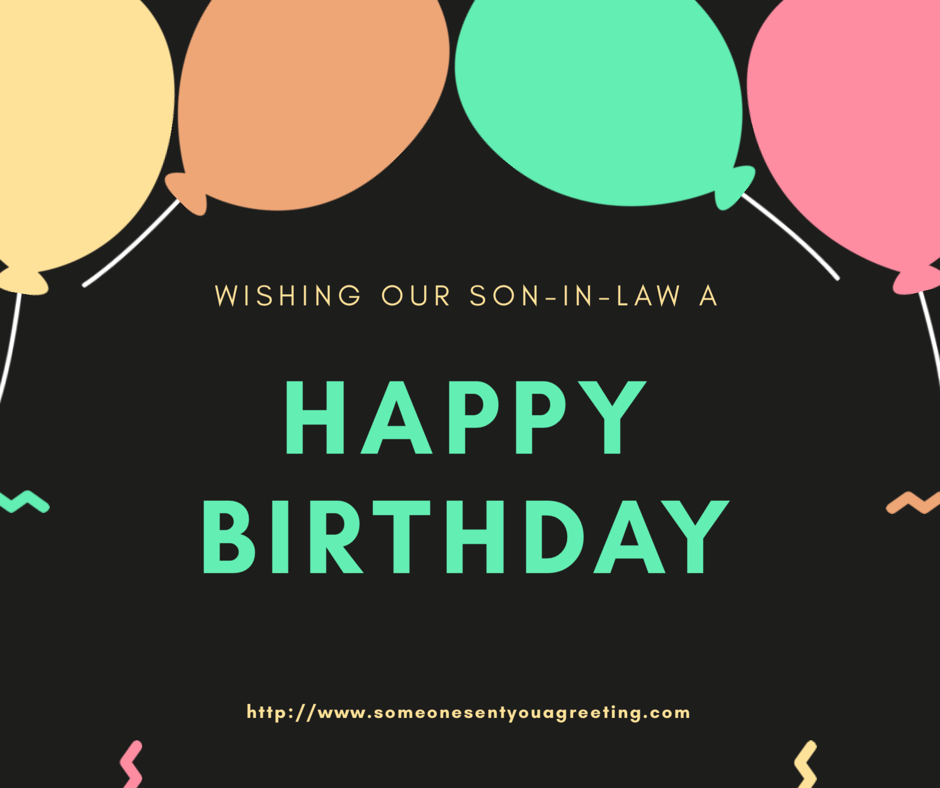 SEE MORE: Happy Birthday Beautiful Sexy Lady
We hope these ideas and examples will help you to say happy birthday to your son in law in the most fitting and loving way.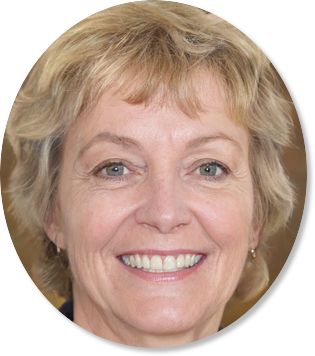 Sally Gibson is the founder of Someone Sent you a Greeting, a holiday/celebration website. Sally's writing work has been mentioned in Woman's World, Yahoo, Women's Health, MSN and more. If you have any questions get in contact with one of the team via the about page.