A step daughter is a wonderful blessing. Whilst they may not be a blood relative the connection and bond that can be formed is just as strong as with a member of your own family. So when you want to send them a card or let them know how special they are you will want to use something touching, inspirational and from the heart.
That's why we've put together these amazing step daughter poems and quotes. They cover all the needed occasions – weddings, birthday etc. As well as inspirational poems to show you care and a big selection of step daughter quotes that can be used in cards for the same occasions.
So use the below poems and quotes in cards, wedding toasts/speeches or just to say in person. And make your step daughter feel special and loved.
Inspirational Step Daughter Poems
These poems about step daughters should be touching and inspiring snd a great way to let your step daughter know how important she is to you.
---
I hope you realise that when I told your dad "I do"
I promised you forever, too
I will never try to take your mom's place
But I will always be here when you need me
---
My precious step Daughter
How I wish the path to you was shorter
I moved a distance away
But my love for you will always stay
A better friend I can not find
You are ever respectful and kind
You have a golden glorious heart
Some are trying their best to break us apart
Their poisonous words does not succumb you to fold
As our bond is meant to hold
You and I are much the same
As others plays us like a game
At least in each other there is joy to be found
Always an encouraging voice sweet and sound
One word of advise
When in need for comfort, do not think twice
Pick up the phone
And remember you are never alone
You always think your sobs to me are tiring
But speaking about heart ache is very admiring
Even after all these years
Your sadness still brings me to tears
Our crossing paths were no mistake
And a promise to you I did make
I have said this a million times before
This you should never forget or ignore
My promise to you I will not break
I will be there for you until eternity
I will love you till infinity
And again I promise…you'll stay in my heart
My precious step Daughter, gorgeous and smart
by Zia Eybers
---
I came into your life ten years ago and for the longest time you just didn't want to know.
I understood your feelings, but still it caused me pain.
On the day I entered your life, I changed what I am.
No more being selfish, time to be a better man.
For you deserved more than the life had gave you.
You were separated from your mother, by a cold and evil hand.
All I could do was watch, and weep where I stand.
All the while you hated me, and so you took a stand.
I wanted to be there for you, to support you, and to hold your hand.
They all told lies to you, about who and what I am.
So for your hatred, I get it, I truly understand.
In recent times you have grown into the finest young lady I know in all the land.
In recent times I've tried to show you, and make you understand,
Just who, what and why I am the way I am.
I feel we have grown closer, but that may just be where I stand.
I hope you grow to love me, and respect who I am.
But if you don't, I get it, I truly understand.
I will always be where you need me, no matter where you stand.
Because to me you are my daughter, I hope you understand.
I had no part in making you, because I'm not your real dad.
If I was your father maybe a better life would be had.
Maybe not for you, but definitely for me.
These people tried to separate us and prevent us from this bond.
But no matter the circumstances, for you I will always try to be strong.
It brings me joy to see you succeed,
It tears me apart when I hear you weep.
I just hope that one day you'll want to come to me.
---
I've seen little kids with 'I Love My Daddy' on their shirts
The longing for a child to love always hurts
I didn't know then that life would be so giving
Now that I have you as a child, I'm not longing, I'm living
You don't have to be a 'daddy's girl' for me to tell
You're a sweet and strong person, growing up well
Still, now that you are my stepdaughter
I will strive to be the best stepfather
I will teach you how to drive, survive, achieve, and succeed
I'll interrogate your dates and ensure you have all you need
I'm honored that you are the child I get to love
My wish has been fulfilled by the heavens above
Gerardo Campbell
---
To my dearest stepdaughter
I've watched you grow for years
Tried my best to provide growing light
To nourish your soul and to dry your tears.
From a dainty flower you have blossomed
Now a young woman reaching for the dawn
Aside from all I tried to do to help you along
Your strong heart and mind is what fueled you on.
Stepdad With Stanford Stepdaughter
As you now begin to seek the light of the world
Remember you can still seek my listening ear or advice
Getting to be your stepdad is a rare and precious gift
We are always family, and that is worth any price.
I wish I could keep you young, daddy's little girl
But I know I must watch you grow and even let you go
I am amazed, so proud of the young woman you are
I believe in you, I'm always here for you, just want you to know.
Stiles Expressions
---
You brighten up my life with memories and dreams, As the years pass they get better it seems
You're someone I can count on, When I need a helping hand
Your Compassionate and loving, you always understand
I am so thankful to have a stepdaughter like you – There is no other that could fill your shoes.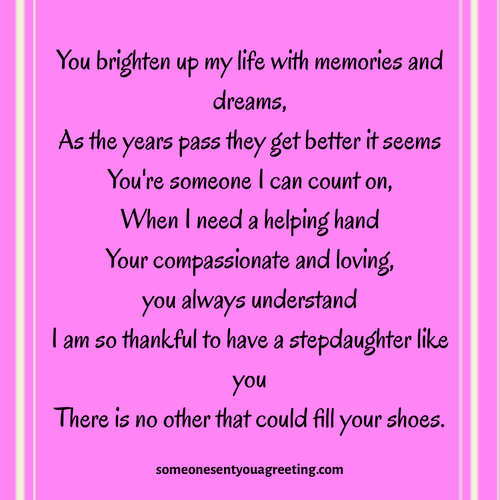 Birthday Poems for Step Daughter
Wish a step daughter happy birthday with a loving poem that shows the positive world effect she has had on your life and how much you care on her big day.
---
It doesn't matter that we don't have a past
What matters is that we're going to make it last
The gift of life I may not have given you
But to be the best parent I can be
Is all I want to be to you
Happy Birthday
---
If daughters are called angels
Stepdaughters are much more
They're the truest form of love
I have one, who I absolutely adore
Yes, I'm talking about you
My little angel, my little darling
Thanks for being
My life's most precious thing
Happy birthday
---
The feeling of having you in my life
In words, cannot be explained
It's as if happiness that I'd lost
Has now, been reclaimed
We may not be joined by blood
But what we share, is much more
Being a part of your life
Is all that I could have ever asked for
Happy birthday
---
Everyone knows what it's like
To love your own
But our love is stronger
Forever, written in stone
Fate and destiny
May have brought us together
But by choice, our love
Is forever and ever
Happy Birthday Step Daughter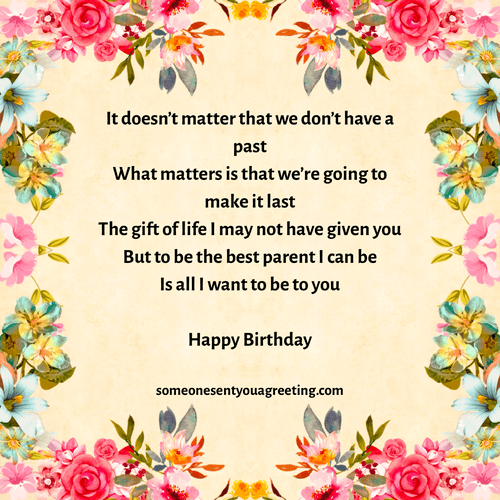 Wedding Poems for Step Daughter
A wedding a such a special day, and if you're going a speech or want to include something special in your wedding card for your step daughter then use one of these wedding poems for a step daughter.
---
Hey, little girl! What do you think you're doing?
You think you can go off and get married
Without some words of wisdom from your old man?
Well, I've got something important to say
So, listen up, do you hear me, young lady?
Always let your light shine, and keep your dreams alive
You're off to be two together with a wonderful young man
But remember always that you are still one,
One unique and amazing young woman
So smart and beautiful, I'm just so proud.
Fatherly advice here is but a cover, I know you know what to do
You're loving, passionate, driven, and self-aware
I know you'll persevere and that you'll succeed
Just don't go and forget old papa bear here
I'm always good for a hug, a talk, and a chocolate chip cookie.
There I go, remembering when you were such a little one
I may not have been the one to welcome you to the world
But I am so blessed to be able to call you my daughter
I'm honored to be a dad to you, proud of your strength and maturity
As you go on your way, don't ever stay away too long.
And that's the "pearl of wisdom" I really had to say
Congratulations on your joyous wedding day and new life path.
Gerardo Campbell
---
I remember the days of childhood dreams and hopes –
Watching as a father would,
Seeing a girl grow into a woman.
I remember the days of dating and proms
Watching as a father would,
At awkward bodies and shy smiles.
I remember wondering which man would captivate you,
Watching as a father would,
As love grew and blossomed before me.
I remember your excitement at the news of your marriage
Watching as a father would,
The promise of a life all girls dream of.
Marriage Stepfather Stepdaughter Dance
Today I watch again
As a father would,
At the ultimate prom –
The vows with your betrothed,
The dance with your lover,
The eyes of a bride.
Today I watch again
As a father does,
With a full heart and soul –
With eyes that see beauty
The humility of a parent,
The eyes of pride.
Lorraine Brooks
---
My Stepdaughter
Today, the beautiful bride
My heart is filled with love and pride
I wish the best of everything for you
As you walk today, right by my side
That little girl
Yesterday, gentle and shy
With questioning eyes, wondering why
And who on earth, was this strange man
Who tried to be a funny guy
This humble man
Then, newly in love
With a wonderful lady with a little dove
A little girl, so perfect and small
Who I needed to treat with the softest kid glove
My Wedding Day
All day long, I smiled
I had a new wife and a beautiful child
What more could I ask for, I did not know
From then evermore, I was truly beguiled
Our family life
Years passing, a learning curve
But a life of happiness to observe
Ebbs and flows, many lessons learned
But the rewards we reaped were well deserved
Your Wedding Day
This day, of joy and celebration
We are both so very proud, and filled with admiration
For all achieved together, and all you have become
My Stepdaughter
May your new life fulfill every aspiration
Gerardo Campbell
Step Daughter Quotes
You can use these insightful and heartfelt quotes in a birthday card, as a wedding wish, share them on Facebook or just say to your step daughter.
"I don't have a step daughter. I have a daughter who happened to be born before I met her"
"I didn't give you the gift of life. Life gave me the gift of you"
We aren't "step", we aren't "half", we're just family.
"Families don't have to match. You don't have to look like someone else to love them." – Leigh Anne Tuohy
""Intimacy between stepchildren and stepparents is indeed proverbially difficult." – Murasaki Shikibu
"Parenthood requires love, not DNA." – Unknown
"A step parent is a truly amazing person. They made a choice to love another's child as their own." – Unknown
"A stepparent doesn't just marry a spouse: they marry their spouse's entire situation. They have to find a balance between supporting and defending without overstepping visible and invisible boundaries" – Unknown
"Though my step daughter and I may not state the same blood, we will always share the same love"
"You may not have my eyes or my smile, but from that very first moment you had my heart"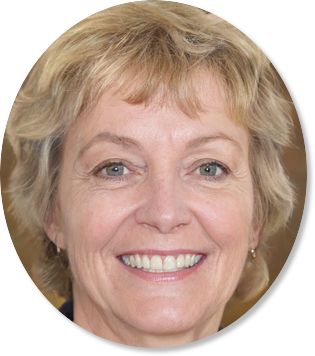 Sally Gibson is the founder of Someone Sent you a Greeting, a holiday/celebration website. Sally's writing work has been mentioned in Woman's World, Yahoo, Women's Health, MSN and more. If you have any questions get in contact with one of the team via the about page.